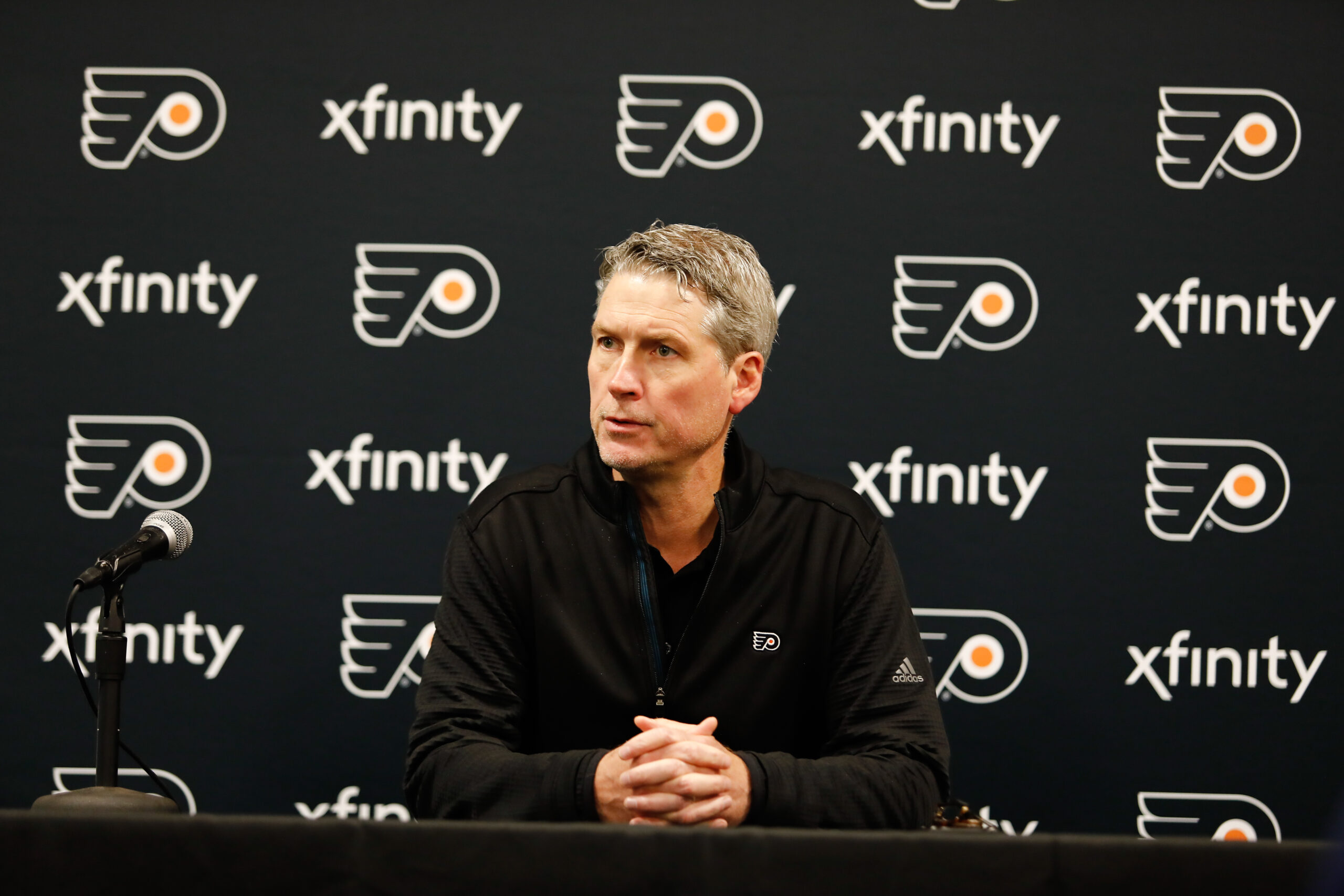 Stabilization? Rebuild? Whatever the Flyers are labeling it as, it's not what it seems
Being in Canada, you're subjected to the whims of Rogers and Sportsnet when it comes to watching hockey games as NHL Gamecentre or Centre Ice no longer exist. With the Flyers' back-to-back on the weekend I was fortunate enough to watch both games with the opposition's broadcasting crew, instead of having a choice and choosing the Flyers broadcast on NBCSP.
One thing I noticed with both games is the notion that the Philadelphia Flyers are currently rebuilding and that was something that I have heard all season from media members outside of Philadelphia. I can't help but cringe a little bit every time I hear someone from Ottawa or Dallas or St. Louis believing that the Flyers are rebuilding, because it's hard to believe that a front office headed by Dave Scott, Chuck Fletcher, Bobby Clarke, and Paul Holmgren are doing so.
This has nothing to do with the coaching staff, this has nothing to do with the actual players and personnel, it has everything to do with the front office and their cyclical patterns of behaviour that never seem to change. For what they have on a nightly basis, they've done much better than most anticipated but it's tough to beat teams with one line of offensive talent and then a mishmash of grinders completing the compliment of 12 forwards. We are now to believe that they went from aggressive re-tool to stabilization to rebuilding in a matter of months? The same front office that chastised Ron Hextall for his tenure as a general manager? I am the furthest thing from a fan of Ron Hextall as the general manager, but they have come out in the last few years disparaging everything he did in the name of a rebuild, while looking to the future with Chuck Fletcher.
The reason the Flyers didn't make any "aggressive" moves over the summer wasn't because they decided on a whim that it was time to rebuild, it was because the price of acquisition for the players they wanted – or in some instances wanted to get rid of – was sky high and something they didn't want to pay. On top of that, they currently have a roster assembled with several overpriced and overpaid players that other teams wouldn't be interested in unless you attached a high draft pick.
Alex DeBrincat could've been a Flyer but the price was a first, second, and a third round pick plus being able to sign him long term with money they didn't have. Johnny Gaudreau could've been a Flyer and he could've been signed to a contract that was more digestible than some currently on their books. It wasn't because it didn't make sense or because they didn't want him, they just weren't able to find a way to alleviate money to make everything work.
Signing Rasmus Ristolainen to a five-year extension is not a rebuilding move, trading for and then signing Tony DeAngelo is not a rebuilding move, extending Travis Sanheim for 8 years doesn't feel or seem like a rebuilding move, buying out Oskar Lindblom to sign a 31-year-old veteran in Nick Deslauriers to a four-year deal is not a rebuilding move, having your entire team signed through for multiple seasons is not a rebuilding team.
The Flyers are one of 13 teams with no projected cap space, according to CapFriendly, and they also have the 9th-highest projected cap hit in the NHL which includes teams like Vegas, Toronto, Tampa Bay, Edmonton, and Carolina. The team was constructed in such a way that they really had no contingency plans if things fell through as we saw last year with the injuries to Sean Couturier, Kevin Hayes, and Ryan Ellis.
They didn't have time or the resources to replace the injured Couturier, who was supposedly on track to start the season, and they put all their eggs in the basket of Couturier, Hayes, Cam Atkinson, Joel Farabee, and Travis Konecny all being available to play and run the offense. Farabee made a quick recovery from his injury, Atkinson is currently a mystery, and the duo of Hayes and Konecny are keeping the Flyers' offensive game afloat. This was never the plan, it just happened and the Flyers didn't have a contingency plan in place for setbacks or reoccurring injuries.
There's nothing wrong with the idea that the Flyers are rebuilding, but you can't operate a rebuild with the same men in charge that have gone through multiple retools and have an eye for aggressiveness and a roster filled with players who are tough to trade away or move on from. You also can't call it a rebuild when that was never your intention from the beginning. Certain things took place that made you swerve into a different direction, while trying to play devil's advocate.
Certain moves were made to satiate the rebuilding, while certain moves were made and demonstrated as aggressive and forthcoming. In other words, it doesn't seem like there is a concrete plan in motion. Injuries took a toll again, which will be made as somewhat of a scapegoat this year if things fail. If the Flyers struggled then it was obvious because of the lack of talent on the roster, but if the team performed well and/or admirably then it was because the right pieces were clicking and the coaching staff was able to get the best out of their bunch. They got shot in the foot one too many times and decided to label it a rebuild until another day.
It's what the majority of the fan base wants and it's technically what the Flyers need, but unfortunately they aren't going to execute it properly because of their apprehensive behaviours. Chuck Fletcher legitimately believed they were in contention for a playoff spot this season and to his credit, just by how they've played this season out so far, if you gave John Tortorella a healthy Couturier and Atkinson and even stretch it out to Ryan Ellis returning, things would be a lot more interesting. However, everyone outside of Fletcher could tell Ellis was not returning and not putting him on LTIR immediately was a strange decision that was only made stranger when he said during his presser that he didn't want to make a move in the chance that Ellis was cleared. For someone who opted against surgery, hasn't skated in what seems like forever, and has one of the most strangest injuries in recent memory, what made you believe that course of action?
The one season you should've emptied the barn, recouped anything and everything you've lost to date by trading whoever was expiring and then some, while playing all the young kids in a lost season was a lost opportunity in the end. Keeping Martin Jones around for a month of two because you didn't want Felix Sandstrom to be left out to dry is a strange reasoning and then keeping Rasmus Ristolainen instead of recouping a first round pick and more was even stranger.
If the Ron Hextall experiment was to teach you anything, it's that a half-attempted, faint-hearted rebuild is never going to bear the fruits you anticipated and/or want. Hoarding draft picks and prospects, while trying to be as competitive as possible has bit them in the rear end because in the end all they got was two very short David-and-Goliath-type playoff series against far better opponents.
John Tortorella is the right guy to coach this franchise at this given moment and the Flyers will have some pretty decent-to-good prospects in Bobby Brink, Tyson Foerster, and Cam York knocking on the door at some point this season, but this organization is a mess from top to bottom and the way their financial books are written, it's not going to get any easier. The LTIR could help and if Sean Couturier is placed there, there will be a bit more leeway with money but it eventually balances itself out when he does make his eventual return. For a rebuilding team, they are tied to Kevin Hayes for 4 more seasons, Couturier's 8-year extension started this year, Ristolainen has 4 more years, Sanheim's 8 years start next year, Atkinson has 2 more years, Deslauriers has 3 more, Laughton has 3 more, Konecny and Provorov each have 2, and if you want to count Ellis then he has 4 more left.
Montreal is building around Cole Caufield, Nick Suzuki, and Kirby Dach. Buffalo has Tage Thompson, Rasmus Dahlin, Owen Power, and $32 million in free cap next season. Arizona is going to have over $40 million in cap space next year once they trade away Jakob Chychrun while also having a cupboard full of draft picks. The Anaheim Ducks have Trevor Zegras, Mason McTavish, Jamie Drysdale, and over $40 million in cap space next year. In other words, the teams who are currently rebuilding and in the same stratosphere as the Flyers are doing it the right way. According to CapFriendly, they have the Flyers with a shade over $8 million in cap space next year, and they have no second round picks for the next two years and their own third round pick is missing – but they have Florida's and the Rangers' thirds in 2023.
Whenever the season ends we are going to hear the same buzzwords we heard this year and as much as the Flyers would love to improve this roster, that can't happen with the limited funds they carry in a salary cap world. Whatever happens this year, Ellis, Couturier, and Atkinson will be brought up during the offseason as healthy "reinforcements" on their way to salvage another season.
The Ducks moved to Pat Verbeek, the Detroit Red Wings moved to Steve Yzerman, the Colorado Avalanche moved to Joe Sakic, and the Canadiens moved to Kent Hughes all in recent years. Whoever they replaced had to go because their motives, their actions, their philosophy didn't match the on-ice product and success that was required. The Flyers are in the exact same spot as the aforementioned teams before they made their general managing changes. Fletcher has had many cracks at the whip, made all these different moves that were supposed to help, and whatever the reason may be they never panned out. A rebuild cannot be orchestrated by the same voice of a retool – better yet an aggressive retool – and by the same voices who came before Fletcher.
When the Flyers will learn this lesson is beyond any of our predictions, wit, and comprehension and until they do things will remain the same and they will be in the same insane cycle that Albert Einstein once coined. You can parade certain moves as a way for the future but if you're not fully committed then your plans will blow up in flames, and the worst part of all that is that you're eventually going to have to commit to the rebuild you tried to avoid because it would take too long, which in essence is going to take another 3-4 years off your plans. It should've been done after the 2020-21 season, but if you thought that shortened campaign was an anomaly, then after the 2021-22 season. Not many general managers would've survived that.
Tortorella has to work even harder on a game by game basis to get every ounce from the roster that has been so terribly constructed. The cracks have been there since day one and now that they are finally outshooting their opponents, the goals aren't coming from their sticks as they sit at the bottom of the NHL in that category. The goaltending looks human again, the defense hasn't gotten any better, and the offense is tough to watch outside of the top line – or better yet the top two performers.
Public perception is everything for the Flyers, and so far they have the media believing in the malarkey they're trying to sell.