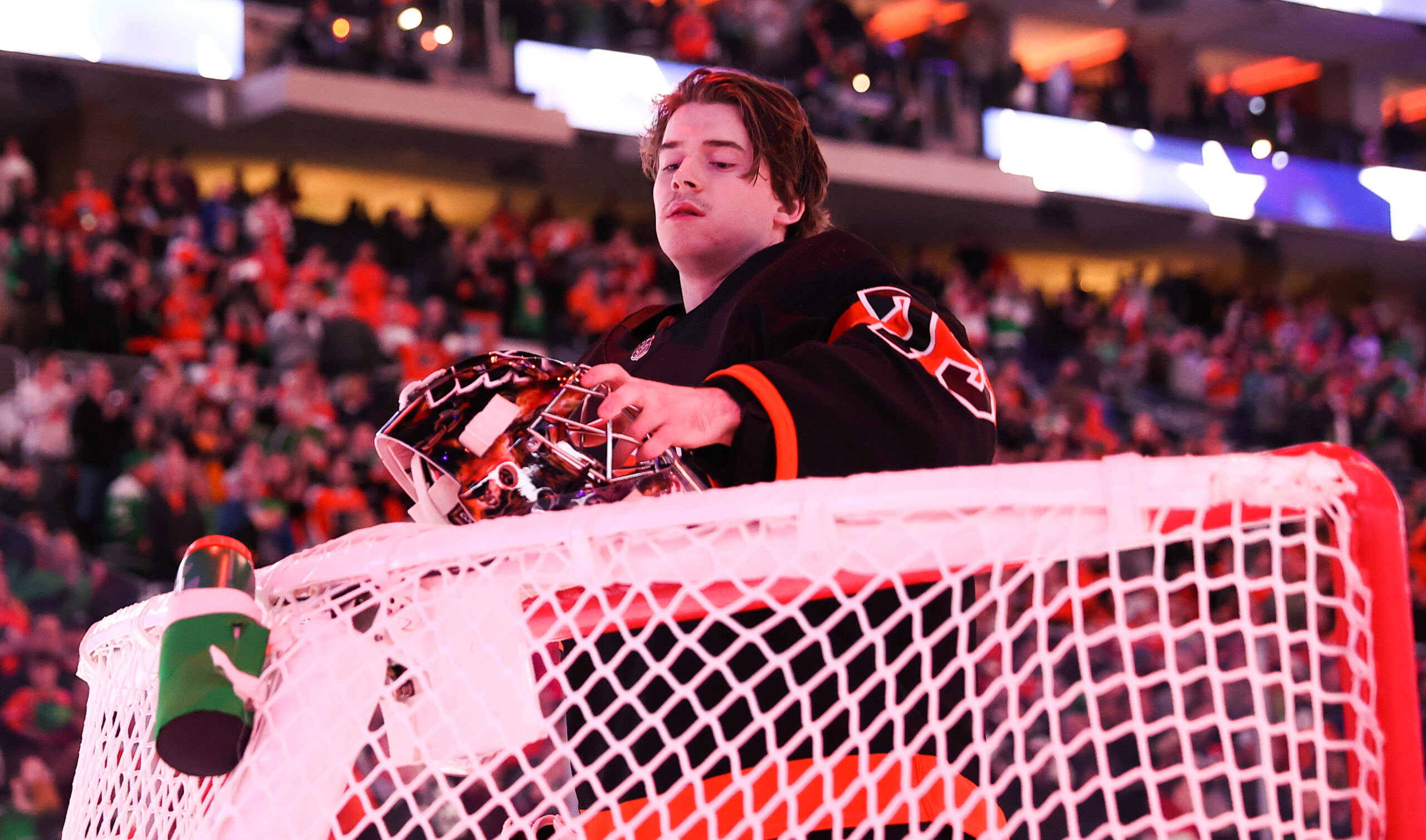 Carter Hart – That's All That Needs to be Said
I'm not entirely sure there's just one word that can exemplify or personify the season that Carter Hart is currently having.
Yes, it is only one month in and we've seen a similar song and dance before, but the difference between last year's start or even the season before that is that Hart looks a lot better, a lot more confident, a lot sharper, and doesn't really have too many weaknesses to point out.
The Flyers have never been this bad with shot attempts and shots on goal against, Hart has seemingly worked on his angles and rebound control, and the team in front of him – in the weirdest of ways – is playing a better brand of hockey even though sometimes they are pinned in their own zone for too long. Analytics will show a different story, the eye test will show something else, but there's a different feel to this team and it all boils down to how Hart is playing.
As we were painfully reminded by the broadcast crew at ESPN, Carter Hart's four-year career prior to the start of this year could be split right down the middle with two good years versus two bad years. He started off his career going 40-26-4 in 74 games with a .915 SV% and a 2.59 GAA while also posting a 9-5 record in his first postseason with a sparkling 2.23 GAA and a .926 SV%. That was followed up by a two-year stretch where he finished 22-35-12 with a 3.34 GAA and an .895 SV% and even had the unfortunate honour of being one of the worst – if not the worst – statistical goaltender in 2020-21.
2022-23 was going to be a big year for the young netminder as the Flyers desperately needed him to bounce back with what looked like a lacklustre offense and defense in front of him. The Flyers are 7-3-2 on the season but Hart remains unbeaten in regulation with a 6-0-2 record. On top of a near-perfect record, he has sparkling peripherals in a .946 SV% and a 1.97 GAA and that includes games against the Tampa Bay Lightning, Florida Panthers, Carolina Hurricanes, and New York Rangers. Some analytical numbers show a vast improvement such as his QS% (quality start percentage) which is 87.5% and GSAA (goals saved above average) which is a ridiculous 12.1.
He also has a HDscSV% (high danger scoring chance save percentage) of .933, he's already faced 131 scSA (good scoring chance shots against), has faced 45 HDscSA (high danger scoring chances shots against) and has a scSV% (scoring chance save percentage) of .954. Those are incredible numbers and it's an incredible start to the season, but now the most important question is whether or not any of this is sustainable.
You look at his career numbers and you're going to say no. You look at the history of the NHL and all the great goaltenders he follows and you're going to say no. You look at his teammates and you're going to say no. He's coming off a 2021-22 campaign where his GSAA was -3.0 and then the year before that it was -22.6. You look at his scSV% and over his career he started at .854 and then .876, .797, and .877 last year. Even his HDscSV% has gone from .764 to .799, .874, and then .826 last year.
It's funny because his analytical numbers from last year aren't as bad as you'd think, he truly did improve from his 2020-21 season but the team in front of him was so much worse that it stuck out like a sore thumb. However, when you compare some of the numbers to more elite options around the NHL like an Andrei Vasilevskiy, the differences aren't too far off. Vasilevskiy's HDscSV% over the last 5 years (including this year) are .747, .836, .873, .818, .791. His scSV% also reads as .883, .884, .918, .891, .879.
Now of course his numbers still outweigh those of Carter Hart's, but Vasilevskiy has been established as the best goaltender in the NHL for years, he has carried his team to two Stanley Cup championships, a third trip to the Finals, and has won a Vezina Trophy along the way while playing behind one of the best all-around teams in the NHL.
Now in no way, shape, or form am I actually considering that Hart and Vasilevskiy are on the same level, or let alone in the same tier of goaltending. Vasilevskiy's playoff numbers are even better than his regular season stats, so much so that he won himself Conn Smythe Trophy honours in 2020-21. Vasilevskiy has also led the league in wins for 5 straight seasons – 44, 39, 35, 31, 39 – and with the team in front of him, he is truly an immovable force in net. It's just a mere exercise in comparing a great goaltender on a great team versus a good goaltender on a very poor team.
We've seen it on a game-by-game basis this year, where the Flyers just leave Hart out to dry time and time again. He's faced an insane 296 shots in 8 games for a whopping average of 37 shots per game. He is the beacon of light on a very dark night, the lighthouse for the Flyers' dreary ship, and if he can even play at 80% of what he's doing right now for the rest of the season, the Flyers are in good shape.
He started off the season allowing the soft goals, bad angle shots, and juicy rebounds, but he has adjusted in the last 4-5 games to where he's playing lights out on top of shutting down the scouting report that many teams have on him. The Flyers have to do a better job at securing his porch, taking away a lot of the scoring chances he has to deal with, and maybe even pot in a few more goals – have the puck on their sticks for a change.
This could very well be the season that everyone was waiting for, the encore performance to his stellar 2019-20 season. He hasn't given us any indication of slowing down as he looks just as calm, cool, and collected as he did in the COVID-bubble, and his momentum shifting saves are back on display.
The one blip in his career that he can't seem to outrun is his health. He hasn't appeared in more than 45 games in a single season and he usually has some sort of ailment near the end of the year that keeps him sidelined, and he has only appeared in 60% or more of the games in one season – which is required for a team that hasn't had the best backups.
Nevertheless, for what it's worth, I think we can all agree that Hart has returned to form but whether or not it can be sustained, let alone if he can stay healthy for the whole year, is up for debate.
For now, we are to enjoy the successful start he's currently showcased and hoping for many similar games ahead as he is most likely tending the net in at least two of the next three games this week.