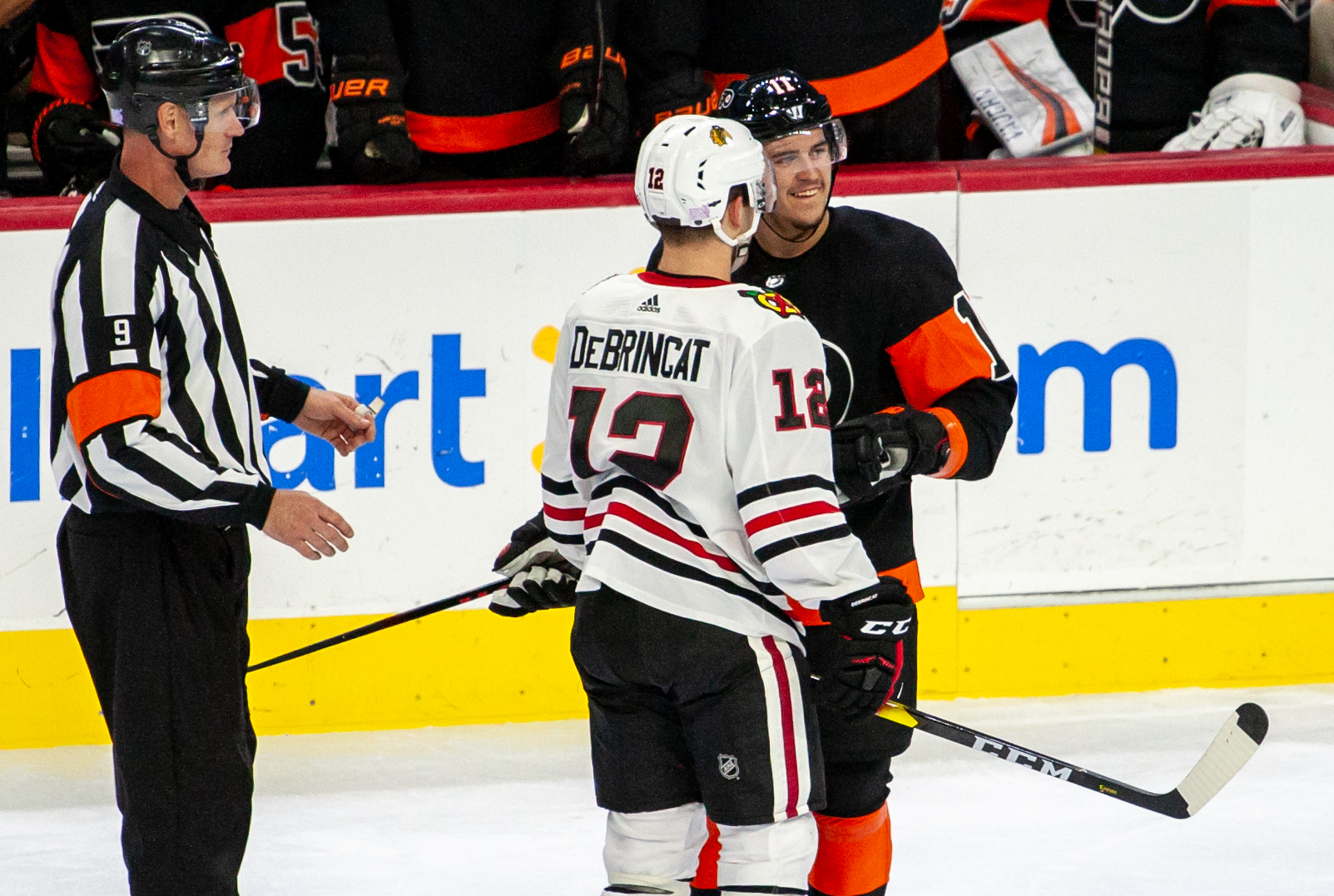 The Alex DeBrincat Rumours are Getting White-Hot
With the NHL Draft only a few days away, the trade rumours are ramping up and the Philadelphia Flyers are in the thick of it in regards to Chicago Blackhawks forward, Alex DeBrincat. The Blackhawks are waving the white flag and have essentially given notice to the rest of the league that every player is available but the asking price for some is rather gargantuan. DeBrincat trade rumours have been swirling around since April but it didn't seem like a real possibility because of his age, his production, and with the Blackhawks trending towards a rebuild; you'd assume they'd want to build around the 24 year-old phenom. However, that is not the case and the Flyers have been all over DeBrincat since the rumours began of his availability, as well as the Los Angeles Kings, New York Islanders, and New Jersey Devils.
The asking price is a package of high picks and prospects that can help jumpstart the rebuild as soon as possible and luckily for the Blackhawks, they're dealing with an aggressive Flyers front office that currently holds the 5th overall pick, future first round picks, and a decent pipeline of wingers. As it stands, Chicago has $20.154 million in projected cap space with only RFAs to deal with unless they have plans on bringing back Calvin de Haan and/or Erik Gustafsson. In a heavy gamble last summer, the Blackhawks traded the 12th overall selection in 2021, a second round pick in 2021, and a first round pick in either 2022 or 2023, alongside their top defensive prospect in Adam Boqvist for Seth Jones, the 32nd selection in 2021, and a 6th round pick in 2022. Seth Jones was then extended to an 8-year deal worth $9.5 million annually. The gamble did not work out and the Blackhawks finished 27th in the NHL standings and were awarded the 6th overall selection, however it was handed off to the Columbus Blue Jackets as part of the trade. So now the Blackhawks – as it currently stands – don't own a first round pick in 2022 but they do have 2 second round picks and 3 third round picks but they most definitely want to add to that, especially in the way of a high first round pick.
In comes Philadelphia with their aggressive re-tool back in action, having hired a new head coach who wanted no part in a rebuild, and a general manager who is currently dangling the 5th overall selection like a piece of bait over a pool of swarming fish. Elliotte Friedman wrote in his latest "32 Thoughts","So, here's the question: what if this means the prudent path in Philadelphia is to target two to four pieces instead of one big one – especially if Ellis need to be replaced?" He then continues by saying that the Flyers are one of few teams who have "legitimately pitched Chicago on DeBrincat – more than just tire-kicking – and they've tested the market on many of their players. I've always assumed they were a legit landing spot for Gaudreau. It may be a draft-week smokescreen. but are they considering a late-game audible."
In terms of his thoughts on Chicago, he mentions, "I refused to believe DeBrincat would be traded. Now with each passing day, the scales tip more in favour of it happening. One player made a good argument: He's two years from unrestricted free agency. If this rebuild is going to be as painful as we think, is he going to want to stay here? He wants to win." Chicago has made it known that their two pillars – Patrick Kane and Jonathan Toews – aren't necessarily available but they can be if they choose that direction. They also have just one year left on their identical 8 year pact that paid them 10.5 million annually. The Blackhawks would love to see what they could get for either player but they seemingly want to let them dictate their futures – for at least the final year of their contract – based on what they've done for the team and the city over their careers. Friedman also mentioned that Kirby Dach is seemingly available and that "a lot of research is being done…"
Nothing could be confirmed 100%, but there was a rumour tweeted out by "NHL Watcher" that an unnamed team offered a high first round pick, a future first round pick, and a mid-tier prospect that can fill a hole but not the best they could offer for DeBrincat but it wasn't enough to get the deal done. Rumours were circling that statement like vultures because not only did it come from Friedman but it seems like that could very well be the Flyers who have stated on record numerous times that their 5th overall pick is up for grabs for a player that fits their under-25 core. Alex DeBrincat is seemingly the one that got away during the early stages of the 2016 NHL Draft after being selected with the 39th overall selection in the second round by the Blackhawks. The Flyers had two cracks at the whip but opted for German Rubstov and Pascal Laberge – both of whom are no longer with the Flyers organization and combined for just 4 NHL games. All DeBrincat has done in parts of 5 seasons is score 160 goals, chip in with 147 assists, in only 368 games. He also hit the 40-goal plateau twice and would've easily hit it 3 times if it wasn't for the shortened season in 2020-21, where he scored 32 goals in 52 games. A lot of his scoring comes off passes and setups by Patrick Kane, but let's also not forget that he's only 24 – turning 25 in December – and has two 40-goal seasons, three 30-goal seasons, and four 25-goal seasons.
A player of his talents and his skill-level would be a marvel for a Flyers team that desperately wants to inject phenomenal talent, so what's the hold up? He is about to enter the final year of a contract that pays him $6.4 million annually; not a bad price for 40 goals. However he is set to hit restricted free agency in the summer of 2023 and he's also set to hit unrestricted free agency in 2024. His qualifying offer for 2023 will be upwards of $9 million and then once the 2023-2024 season comes to an end, he will be able to hit the open market and do as he wishes. it seems like a lot to give up for a player that could potentially walk away in a year or two but it's all dependent on where the Flyers are heading. This is a team that should be re-building but instead have opted to go boom or bust yet again. This kind of trade follows that theory to a tee but it all comes down to what Chuck Fletcher can do to build around DeBrincat and the rest.
To pull off this kind of trade the Flyers must: 1) Believe they can contend this year, 2) Believe that they can bring in other talented stars to build around DeBrincat and Couturier and everyone else, 3) Believe that they can re-sign him to a long term deal to make it all worthwhile, and 4) Believe that the futures they are trading for DeBrincat won't outweigh his fit, production, and prowess in the long-run. All in all, it's a gamble and one that the Flyers are very willing to take. If anything, they're sticking to their words that have been uttered through a mega-phone since January. They will need to configure around their tight salary cap with only $5.1 million currently available, but one has to imagine all of that will go towards their pending restricted free agents. Trading James van Riemsdyk's contract in full is a must, trading or buying out Oskar Lindblom to alleviate that $3+ million is a must, and then the jury is out on whether or not Chuck will trade Travis Konecny or not, but that's another $5.5 million to potentially work with.
The pieces are there to alleviate salary cap for the big moves they so desperately want to make, but it's going to come at a cost, specifically James van Riemsdyk, but luckily there are several rebuilding teams that should be willing to take on the final year of his deal. Let's also not forget that the Flyers can place players like Ryan Ellis and Joel Farabee on LTIR and go over the cap by 10% in the summer. However in saying that, the Flyers can't be entirely too foolhardy because Farabee's return is figured to be somewhere in late October-November and they have to be cap compliant again by the beginning of the season. So at the very least, they can place Ellis on LTIR with his return not being clear or concise and that alleviates a chunk of his $6.275 million that can used however they see fit.
As it stands, a deal for DeBrincat is going to come at a high price and a combination of prospects and picks is going to get it done. So don't be surprised if names like Bobby Brink, Morgan Frost, Cam York, Joel Farabee, and future firsts are thrown into the rumour mill. Elliotte Friedman dropped the bomb earlier today that the Flyers have taken the 5th overall pick completely off the table. He said that he believes the Blackhawks asked for the pick and the Flyers balked at the idea because they don't think it's worth it at this time to trade away such a valuable piece. The trade can still happen, both sides are very interested, and with most thinking the 5th overall pick had to be the focal point – they were right – but now both teams will need to get real creative if they want to strike a deal. If the trade goes down, it is going to be a big one, it is going to be a traditional Chuck Fletcher-type trade with high-risk-high-reward action, and it is going to change the course of the present and future – and for better or worse, remains to be seen. Buckle up, because it's going to be a bumpy, nerve-wracking, scary, and exhilarating ride to the finish line.