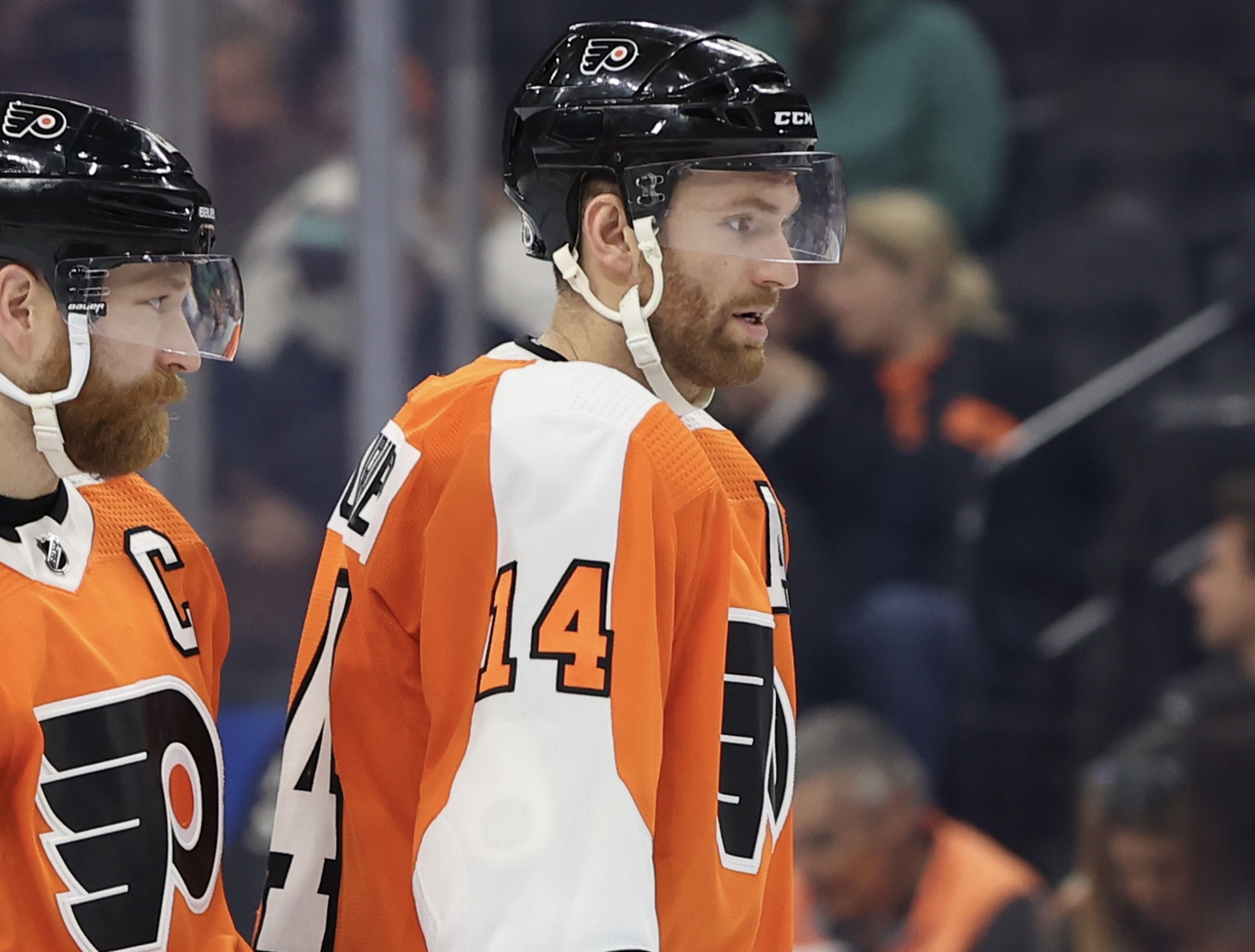 Sean Couturier Designated As Week-to-Week, Will Not Need Surgery
The Philadelphia Flyers have announced some seemingly positive news today that number-one centreman Sean Couturier will not require surgery for his recent back injury. According to general manager Chuck Fletcher, he will be deemed as week-to-week for now and will be re-evaluated at a later time. For something that seems positive, Fletcher refused to take any questions relating to the topic.
You can look at this news in two ways: 1) It's great news that he doesn't require surgery, herniated discs are no joke and surgery is never a certainty for success. Going from 12 weeks to possibly being of the season-ending variety to now being deemed as week-to-week sounds like good news.
Or 2) the Flyers have not learned from their mistakes of yesteryear, could easily fall down the same route as Ryan Ellis, and not opting for surgery might just be delaying the inevitable. Ellis went from day-to-day, to 4-6 weeks, to week-to-week, to season-ending from November to March. Now he won't be suiting up at all this season and his future is still up in the air as surgery is not an option – at least as of right now.
There are a lot of variables with this announcement as well because a week-to-week designation is just as vague as day-to-day, maybe even more. It can range from him being ready in a week or two to missing 3-4 weeks to him missing several months with "re-evaluations" mixed in between.
Couturier only managed to play 29 games last year, started off the season red-hot with 12 points in his first 10 games, slumped mightily to the tune of 1 goal and 5 points in his final 19, and then successfully went under the knife in Februar. After that, all signs were pointing that he would be ready to suit up for the season opener.
The Flyers haven't even been concise with how the injury occurred as originally it was believed to have happened in the first week of conditioning training and drills. They refuted that notion but did agree that it is in the same spot as his previous injury.
Fletcher did comment on the situation briefly by stating, "He woke up one morning and was in a little more discomfort than normal. I know over the course of the summer, he was improving, but yet from time to time, he had some nerve irritation in his glutes. He was told that it was a normal part of the process, continue to train. At some point over the last week, things deteriorated and it go to the point where he was not sleeping as well and experiencing some pain."
The Flyers, who had a disappointing offseason, were banking on the returns of Couturier and Kevin Hayes and likened it as big free-agent signings. They believed that John Tortorella's system would patch the holes and the returning centremen would be able to reprise their roles as 1-2 on the team and help them contend in what will be a very difficult Wild Card race.
Couturier will not be suiting up any time soon, so in his absence the Flyers are going to be banking on their depth to take over once again. Kevin Hayes will take on the mantra of being the number one centre, followed by Scott Laughton and Morgan Frost interchanging as 2C and 3C.
After that there will be inner battles between players such as Tanner Laczynski, Jackson Cates, and the recently PTO'd Artem Anisimov. Patrick Brown, who lined up as the 4th-line centre last year, underwent back surgery in the summer and won't be ready anytime soon either. Upon his arrival, he'll join an already clustered bottom-6.
Take it however you will, there's a chance it can actually be great news concerning his prospects for the 2022-23 season. If history is any guide, week-to-week designations for the Flyers never end well and they are usually a disguise for bad news. It's the vagaries behind the term that make this seem like they're trying to pull the wool over our eyes but maybe that's just us not being used to good news.
All in all, Couturier won't be opting for surgery at the moment as we hope for a speedy recovery.
Music City Hockey Trip
Take a three day vacation to Nashville with Philly Sports Trips this October! The package includes direct flights, a three night stay at the Cambria Hotel Nashville Downtown, an all-inclusive tailgate, and tickets to the Flyers Predators game. $100 cash for anyone who shows proof they went to the Flyers game on the trip.