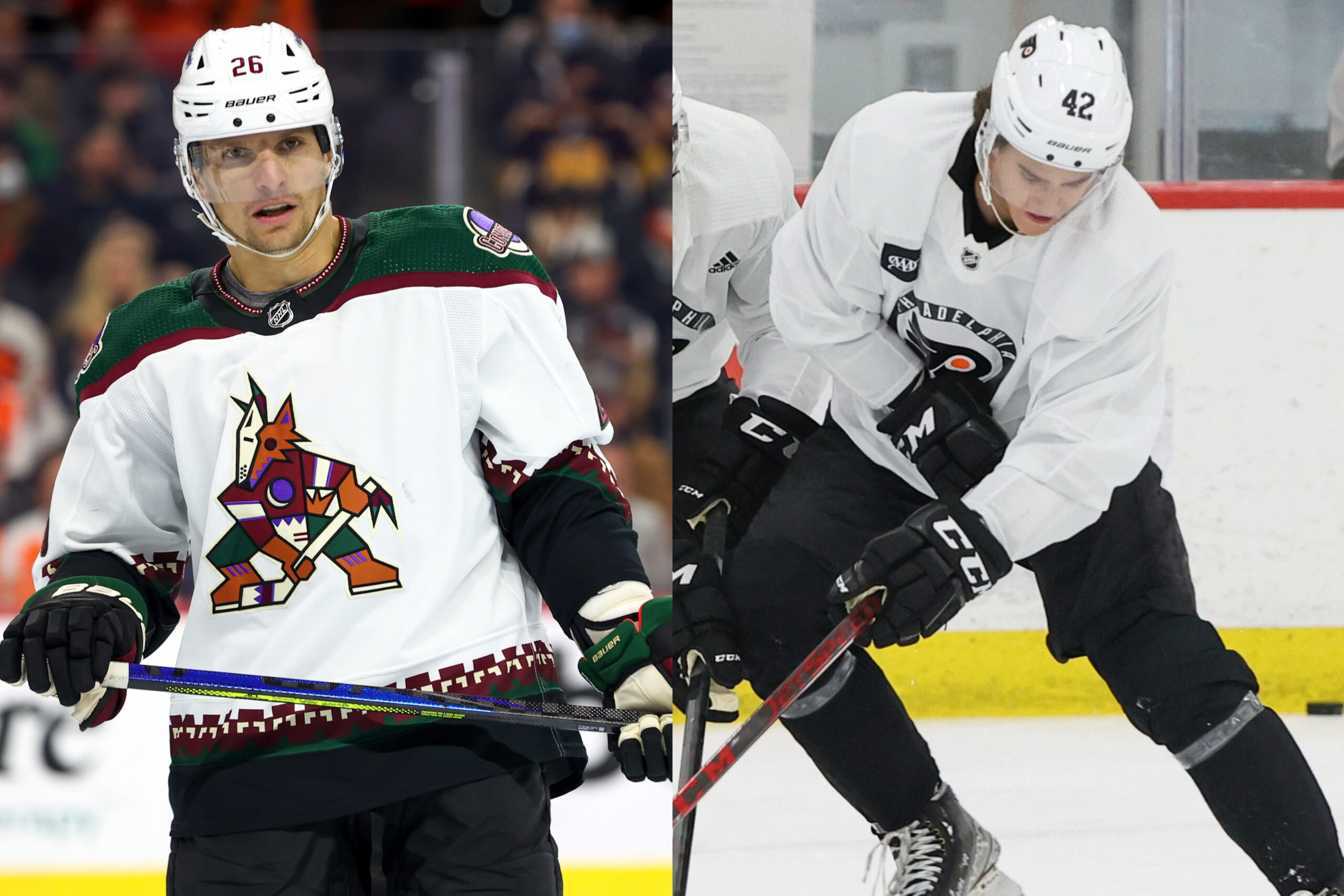 Flyers release Antoine Roussel from PTO, Théo Rochette from ATO
The Philadelphia Flyers released two forwards from their tryout deals earlier on Thursday. Veteran forward Antoine Roussel was released from his Professional Tryout, while youngster Théo Rochette was released from his Amateur Tryout.
Both cuts come three days after the Flyers' first batch of roster casualties. Mikael Huchette and Tyler Savard were released from their ATOs, while Ethan Samson, Brian Zanetti, and Alexis Gendron were sent back to their respective junior teams.
Philadelphia's training camp roster now stands at 65 players heading into Friday.
Antoine Roussel, who's played 10 seasons in the NHL across three teams, was vying for a roster spot in training camp and to stay in the league after an unimpressive 2021-22 campaign in Arizona, notching just 4 goals and 4 assists in 53 games.
He played in the Flyers' first two preseason games, a 2-1 win over Boston and a 2-1 loss to Buffalo. Roussel registered zero points, two shots on goal, and three hits to accompany a -1 rating while averaging 10:19 of ice time in his two games.
The journeyman forward has made stops with Dallas, Vancouver, and Arizona, posting 85 goals and 112 assists for 197 points in 607 career NHL games. Roussel has also racked up 1,063 career penalty minutes, which is eighth among active players.
As for Théo Rochette, he was coming off an incredibly dominant season for the QMJHL's Quebec Remparts, racking up 33 goals and 66 assists for 99 points in just 66 games. He also scored 2 goals and 9 points in 12 playoff games while captaining the Remparts.
Rochette was a camp invite who participated in Development Camp and Rookie Camp earlier in the year, and he appeared in both Rookie Games as well against the New York Rangers two weeks ago.
The 20-year-old Swiss forward who tied for 8th in QMJHL scoring last year will now look for an opportunity elsewhere to try and carve a role in an NHL organization.
Music City Hockey Trip
Take a three day vacation to Nashville with Philly Sports Trips this October! The package includes direct flights, a three night stay at the Cambria Hotel Nashville Downtown, an all-inclusive tailgate, and tickets to the Flyers Predators game. $100 cash for anyone who shows proof they went to the Flyers game on the trip.