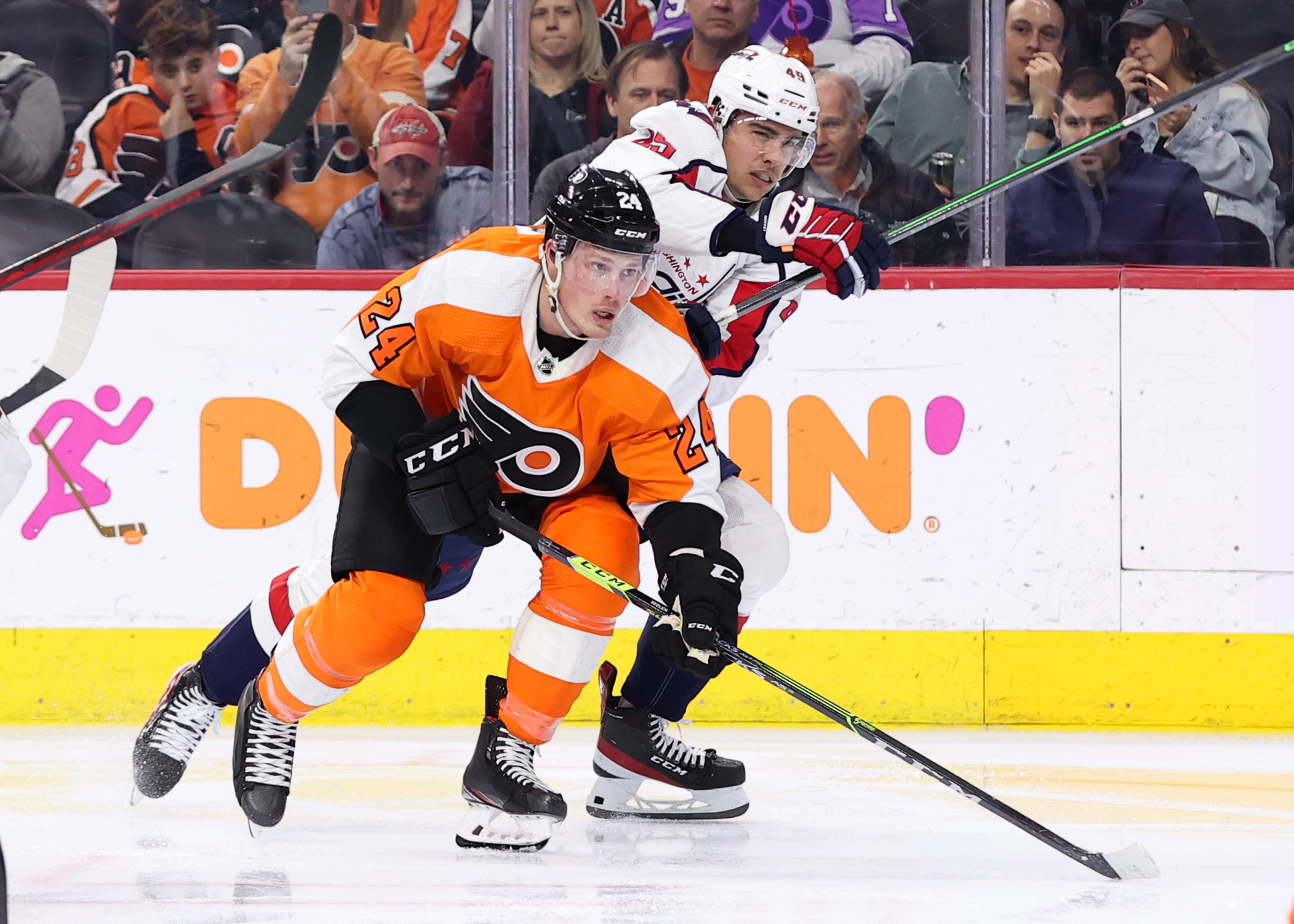 The Philadelphia Flyers are back in the Wells Fargo tonight as they face off against the Washington Capitals tonight in their third game of the preseason.
The Flyers, or at least the players who were apart of the 2-1 loss in Buffalo last night, are looking to rebound after a close defeat.
While it is nothing serious, Carter Hart will continue to sit out for precautionary reasons in game 3 of the preseason. Sam Ersson will be playing the third period again for the Flyers as he did last night, while Felix Sandström starts.
Assistant coaches Brad Shaw and Rocky Thompson will make their preseason debuts as head coach for the night before John Tortorella takes over for the final two games of the preseason.
Travis Konecny scored the lone goal in their loss last game, and is looking to create a scoring streak while others are still looking to score their first such as Owen Tippett and Tyson Foerster, who both have had a lot of opportunities to cash in.
The Washington Capitals are also coming off of a loss against Buffalo (Sunday, 4-3 OT), where Anthony Mantha opened the scoring in the 1st, followed by Conor Sheary in the 2nd period and Joe Snively in the third. Washington's starting goaltender Charlie Lindgren did not play last night, and will be making his first appearance tonight at the Wells Fargo Center.
Last Game PHI: 9/27/22, 2-1 L @ Buffalo
Last Game WSH: 9/25/22, 4-3 OTL vs. Buffalo
When: 7:00pm ET
Where: Wells Fargo Center, Philadelphia, PA
PHI Goalie: Felix Sandström (0-4-1, .910 SV%, 3.23 GAA, 0 SO w/PHI, 16-18-5, .902 SV%, 2.89 GAA, 2 SO w/LHV in 2021-22)
WSH Goalie: Charlie Lindgren (5-0-0, .958 SV%, 1.22 GAA, 0 SO w/STL, 24-7-0, .925%, 2.21 GAA, 0 SO w/SPR in 2021-22)
PHI Projected Lineup
#74 Owen Tippett – #13 Kevin Hayes – #52 Tyson Foerster
#62 Olle Lycksell – #21 Scott Laughton – #57 Wade Allison
#44 Nicolas Deslauriers – #58 Tanner Laczynski – #42 Hayden Hodgson
#71 Max Willman – #81 Jordy Bellerive – #76 Isaac Ratcliffe
#9 Ivan Provorov – #77 Tony DeAngelo
#6 Travis Sanheim – #55 Rasmus Ristolainen
#24 Nick Seeler – #54 Egor Zamula
#32 Felix Sandström
#33 Samuel Ersson
WSH Projected Lines:
#91 Joe Snively – #17 Dylan Strome – #28 Connor Brown
#90 Marcus Johansson – #59 Aliaksei Protas – #36 Mike Vecchione
#85 Ludwig Persson – #13 Henrik Borgström – #21 Garnet Hathaway
#45 Axel Jonsson-Fjällby – #58 Henrik Rybinski – #89 Kale Kessy
#46 Lucas Johansen – #57 Trevor van Riemsdyk
#18 Gabriel Carlsson – #25 Dylan McIlrath
#88 Bobby Nardella – #52 Matt Irwin
#79 Charlie Lindgren
#60 Zach Fucale
News and Notes:
–  Joel Farabee, while still skating with the no-contact group, was flying on the ice today. We can hopefully expect a sooner return for the young star.
– Tyson Foerster will be playing in Cam Atkinson's spot in the lineup due to a lower-body injury
– Tonight will be the first time we see the most likely first pairing duo of Provorov and DeAngelo tonight.
– The Flyers will be looking to bounce back from their performances on the powerplay against Buffalo, going scoreless on a lengthy 5 on 3 and 0-3 on the powerplay for the night.
Broadcast Info: TV – NBC Sports Philadelphia+, NHL Network, Radio – 97.5 The Fanatic
Music City Hockey Trip
Take a three day vacation to Nashville with Philly Sports Trips this October! The package includes direct flights, a three night stay at the Cambria Hotel Nashville Downtown, an all-inclusive tailgate, and tickets to the Flyers Predators game. $100 cash for anyone who shows proof they went to the Flyers game on the trip.