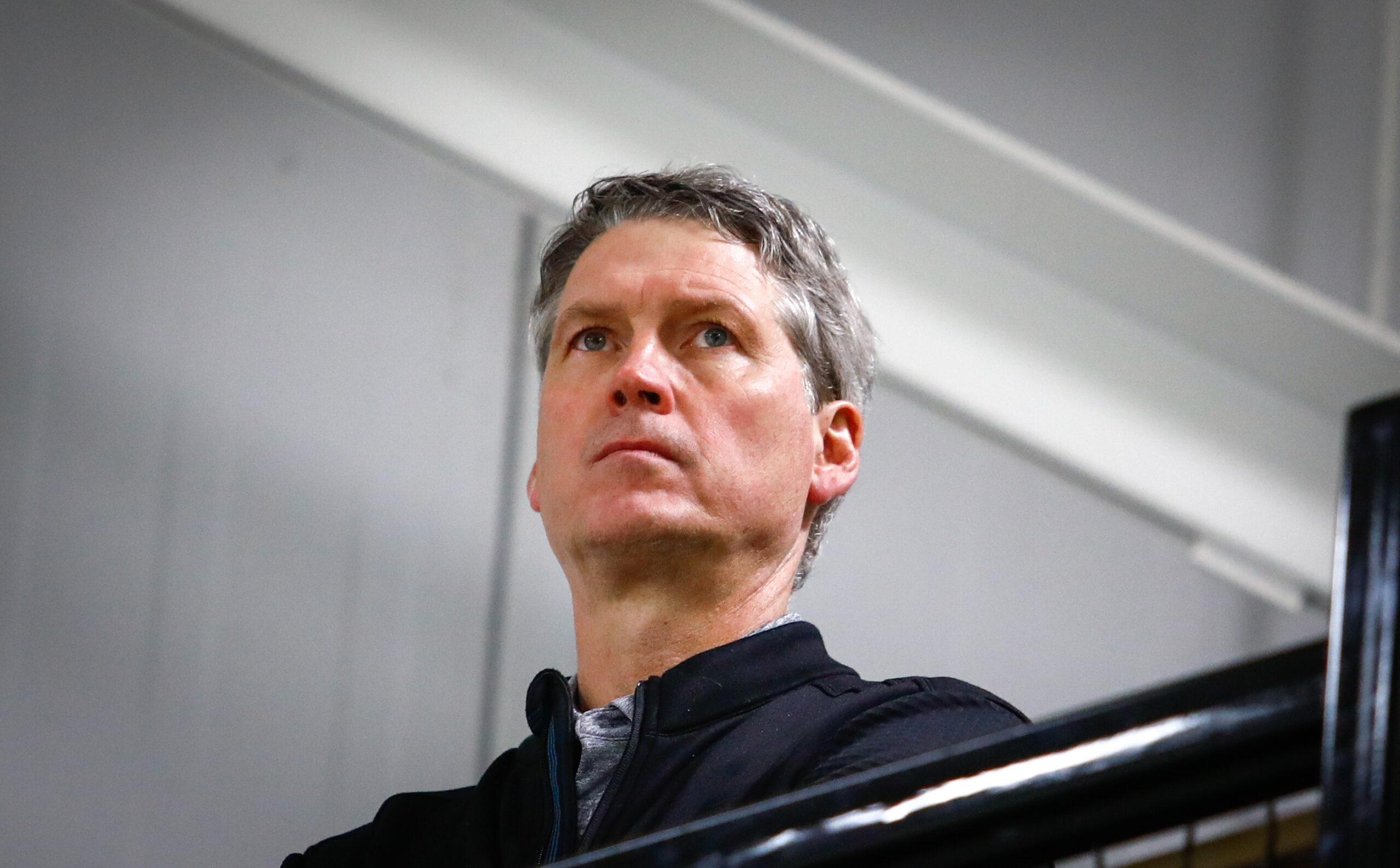 Recap of Day 1: Misery Loves Company
With day 1 of the NHL's free agent frenzy in the books after yesterday, the Philadelphia Flyers, who were primed to make big moves and changes this summer, whiffed all day and then finally struck out a little after 5:00pm during Chuck Fletcher's press conference.
Everything that was uttered from their January press conference with Dave Scott present and talking about a blank cheque and being aggressive seemed for naught as the Flyers' plan for the free agent window was to add depth pieces and stop there. All the rumours circulating Johnny Gaudreau were apparently false as Fletcher made mention that the Flyers were never in on his sweepstakes, which is odd considering who the sources were and how intent Gaudreau was in playing for the Flyers. Instead they signed Nicolas Deslauriers, Justin Braun, Cooper Marody, Kevin Connauton, Louis Belpedio, Adam Brooks, and Troy Grosenick. On top of all that, he also announced that they were most likely done with the UFA market.
Oh, how the tables have turned so quickly. Of course, Johnny Gaudreau ended up surprisingly signing with the Columbus Blue Jackets for a year 7 pact that will pay him $9.75 million annually after the Flyers snubbed him a chance at playing for his boy-hood team and reuniting with his great friends in Kevin Hayes and Tony DeAngelo.
The Flyers put themselves in this predicament when they decided to extend Rasmus Ristolainen to a 5-year deal and then quickly extend Tony DeAngelo to a 2-year deal at the draft. Both players got over $5 million annually and as the dust has settled on the first day of free agency, it's becoming more and more apparent that the Flyers front office has a clear misconception on value and how much a player is really worth. Some players might sign cheaper to stay with a team, some players might sign cheaper to go a specific team, while others get exactly what they're worth from an efficient and proficient general manager.
Every single defenseman outside of Kris Letang got paid less annually than what the Flyers gave Ristolainen and DeAngelo. Chuck Fletcher was adamant on getting an extension done for Ristolainen the moment he traded for him and even when the season was going off the rails, he still kept pushing the same agenda of wanting to keep him here for the long run. Even with the trade deadline approaching, trading him for future assets wasn't even an option as they were able to hammer down a 5-year extension that pays him $5.1 million.
A player like Ben Chiarot was acquired by the Florida Panthers for a first round pick, a third round pick, and a prospect, meanwhile another defenseman in Brett Kulak was traded for a prospect, a second round pick, and a seventh round pick. Ristolainen had a market, he has intangibles that a lot of general managers love and covet, and his physicality oozes playoff hockey; with all this in mind, Chuck Fletcher balked at the idea of acquiring a first round pick and then some for this prized acquisition in the summer of 2021.
Going into the draft, all the buzz was around Alex DeBrincat and whether or not the Flyers would offer up their 5th overall pick to the Chicago Blackhawks. The Flyers felt that pick was too valuable so they decided to walk away and in came the Ottawa Senators who offered their 7th overall pick, a second round pick, and a third round pick. DeBrincat is everything that Fletcher and the Flyers have been clamouring for and fits into his under-25 core. Instead, they felt that drafting Cutter Gauthier with the 5th overall selection was what was best for the organization and that was that at the end of the first day of the draft.
As the second day rolled around, the Flyers decided to trade a second round pick, a third round pick, and a fourth round pick for Tony DeAngelo and then decided to extend him right away because other teams were sniffing around. Instead of trading a first, a second, and a third for DeBrincat, the Flyers decided to trade a second, a third, and fourth for DeAngelo; maybe they felt like they didn't want to repeat the sins of last year when they traded a first round pick and a second round pick for Ristolainen? The Flyers, who only had $5.118 million in cap space before the trade, essentially used it all up after extending the rearguard to a 2-year deal that pays him $5 million annually. Now the chances looked slim to none for the Flyers to make any splashes on the 13th of July unless they finally unloaded the final year of James van Riemsdyk's contract.
Enter desperation, because every team around the NHL knew what the Flyers were doing, they knew what their intentions were, and they knew how desperate Fletcher and company were in trying to unload that $7 million off their books. Add in the fact that they don't have a second round pick until 2025 after trading their 2022 pick to Arizona, their 2023 pick to Buffalo, and their 2024 pick to Carolina, the asking price and going rate would only skyrocket. Teams wanted a first round pick from the Flyers and as the days grew closer to the eve of free agency, the asking price went from the 2024 first round pick from the Florida Panthers to the Flyers 2023 first round pick.
At that point, if you're the rival general manager, you ask for anything and everything full well knowing the Flyers are literally stuck and need your help more than ever. The Flyers kicked their tires on a trade but couldn't get one done because the asking price was too high. With that disappointment out of the way, they entered the 13th of July with a shade under $3.5 million in projected cap space after buying out Oskar Lindblom's contract. You can go over by 10% in the summer and the Flyers could've elected to place Ryan Ellis on LTIR to alleviate his $6.275 million but they also chose not to.
Even if the Flyers couldn't land a marquee talent – let alone the biggest free agent on the market who actually wanted to come to Philadelphia – what was missed was how much more the Flyers paid their defensive duo compared to the defensemen who hit the open market. Every defensemen outside of Kris Letang signed for less than the $5.1 million and $5 million that the Flyers gave Ristolainen and DeAngelo. Josh Manson re-upped with the Colorado Avalanche for 4 years at $4.5 million annually, Ben Chiarot signed with the Detroit Red Wings for 4 years at $4.75 million, Nikita Zadorov re-upped with the Calgary Flames for 2 years at $3.75 million, Ian Cole signed with the Tampa Bay Lightning for one year at $3 million, Nick Leddy signed with the St. Louis Blues for 4 years at $4 million annually, and Jan Rutta signed with the Pittsburgh Penguins for 3 years at $2.75 million annually.
Even if you wanted to scour the forwards, players like David Perron (2x$4.75M), Andrew Copp (5x$5.625M), Vincent Trochek (7x$5.625M), and Andre Burakovsky (5x$5.5M) signed contracts that would've put them in the same light as Ristolainen or DeAngelo's extensions. I think it's fair to say we would've taken most – if not all these players – over the ones the Flyers prioritized and at the price they paid as well. To be able to hypothetically sign Manson, Rutta, and David Perron for just slightly more than what they're paying Ristolainen and DeAngelo seems like a smarter choice.
When pressed about why he chose to move assets for Ristolainen and DeAngelo but balked at the offers presented to them for DeBrincat or James van Riemsdyk, Chuck Fletcher said that he trusts his analytics team and that "sometimes there's a deal to be made and sometimes there isn't". That last bit doesn't really ring much confidence or even seem like a legitimate answer because everything that was said from January were just hollow words. The wanting to be aggressive, the wanting to find marquee talent that would impact the team right now, and trying to field a competitive team as soon as possible were all found to be false very early into the opening and commencement of the free agent frenzy. Depth was the name of the game for the Flyers and they decided to inform the fan base about their plans after 5:00pm on Wednesday instead of all the other opportunities they had between December and July.
As things stand on the 14th of July, the Flyers didn't really get any better and they very well frustrated their entire fan base in a five hour period. They keep making moves and saying things that are pushing them further and further away and when you combine the unnecessary buyout of Oskar Lindblom and then seemingly ignoring Gaudreau, those are two moves you can't really come back from. The Lindblom buyout seemed like a necessary action only if you were targeting an expensive free agent and you needed money – which seemed like the only reason they made such a drastic move. Then you find out they weren't in on a player who wanted to come home, they weren't in on Nazem Kadri either, and they were done with their splashes after signing Deslauriers and Braun, who were the only players they targeted? How do you come back from that?
The press conference didn't help either because he mentioned that if they had the salary cap then they could've gone after 2-3 free agents but because of the uncertainty around Ellis, they didn't know when to place him on the LTIR. However, how long did you guys have to figure out your cap crunch and everything that involves alleviating cap space? At the very least since March and with that, trust and honesty were lost yesterday as we now enter the lull of the summer with 3 months to go until puck drop.