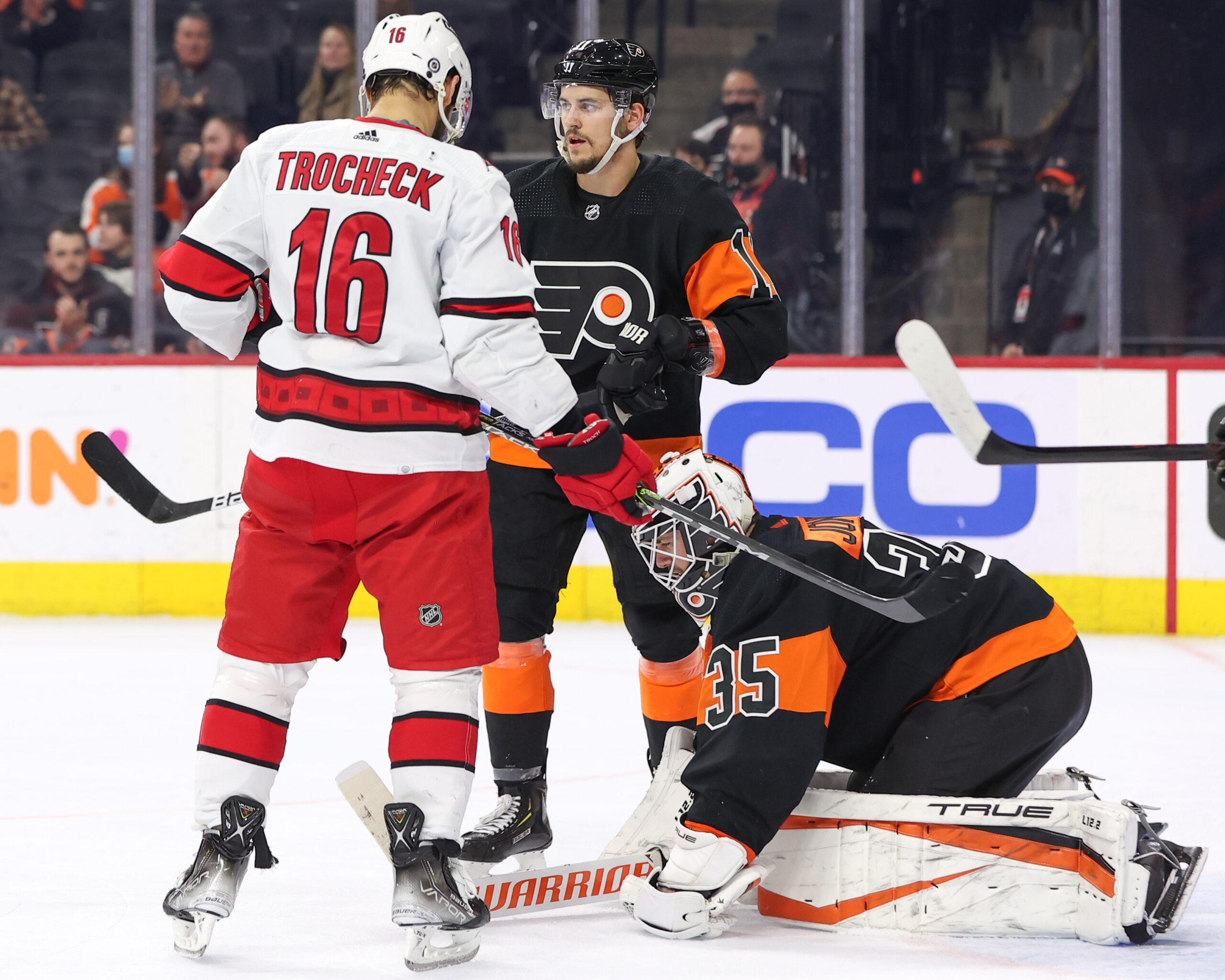 Realistic Free Agents if the Big Fish Don't Come Around
With $5.1 million in projected cap space, 3-4 pending restricted free agents that need to be signed, and a re-tool in the cards, it's a mystery on how the Philadelphia Flyers plan to maneuver the off-season ahead. Assuming that most – if not all – of the $5.1 million is used on Morgan Frost, Owen Tippett, Wade Allison, and/or Zack MacEwen, and assuming that they want to sign a few good to great free agents; how is it all supposed to go down? Players like Sean Couturier, Joel Farabee, and Rasmus Ristolainen all signed contract extensions within the last year, so it's almost out of the question that Chuck Fletcher deals any of them. Cam Atkinson and Kevin Hayes figure to be prominent players yet again, and not only hold modified no-trade clauses and like newly-hired coach John Tortorella, but they also hold contracts that not many teams will find desirable.
Then you're left with the Ryan Ellis conundrum, in which you can't trade Ivan Provorov or Travis Sanheim without having a clear and concise picture on Ellis' timetable, while also being the most important pieces on the back-end simultaneously. You also have Scott Laughton, who the Flyers love for his versatility, leadership qualities, secondary scoring, and team-friendly contract. After all that, you're left with James van Riemsdyk, Oskar Lindblom, and Travis Konecny, or in other words: an albatross contract that has to go, an pricey contract for a team that needs every penny, and the most valuable trade asset the team has that can bring them back anything of significance – whether that be picks, prospects, or a hockey trade.
The class of free agents in 2022 is a stacked one, especially in contrast to previous seasons, and it will be headlined by the likes of Johnny Gaudreau, Nazem Kadri, and Filip Forsberg. Gaudreau is the local boy, childhood fan, and the game-breaking talent that the Flyers so desperately need, but he will cost a fortune and it might take a lot of convincing otherwise. Kadri will get a giant raise from the $4.5 million AAV that he is coming off and it's only helped by his 87 point campaign and Stanley Cup ring on his finger, while Forsberg is the best goal scorer available and is the perfect type of player that the Flyers need and haven't had in well over a decade. All three players will be hot commodities and anyone with money in hand will be throwing it towards at least one of these players. They all figure to reach somewhere between the $8-$10 million range and once the bidding war begins, who knows what they'll end up with. If the Flyers can't strike a deal with any of these free agents – they've been rumoured to have had serious interest in Gaudreau and Kadri since January – there will still be a plethora of intriguing options at a more reasonable dollar.
The Colorado Avalanche won the Stanley Cup at the most opportune time for their financial books. They currently have $25.685 million in projected cap space but only 14 players signed, their list of impending UFAs include Nazem Kadri, Valeri Nichushkin, Andre Burakovsky, Darcy Kuemper, and Josh Manson, while Nicolas Aube-Kubel and Artturi Lekhonen are impending RFAs. Kadri is coming off a season where chipped in with 59 assists and 87 points in just 71 games, while also adding 15 points in 16 playoff games. Valeri Nichushkin scored 25 goals and 52 points in 62 regular season games, while adding 9 goals and 15 points in 20 playoff games. Andre Burakovsky had a 60 point campaign and added 8 points in 12 playoff games, while Josh Manson – more known for his defense – chipped in with 3 goals and 8 points, including an OT winner against St. Louis and a goal in the Stanley Cup Final. With Nathan MacKinnon needing a new contract the following summer and Mikko Rantanen, Cale Makar, and Gabriel Landeskog locked up for the foreseeable future; the Avalanche have to tread lightly with their cap situation and truly delineate who is important to keep.
This is where the Flyers can come in and swoop one of their pending UFAs like vultures. Nichushkin is a former first round pick of the Dallas Stars in 2013 (one selection before the Flyers drafted Samuel Morin) but struggled before the 2021-22 season. In his first 4 years with the Dallas Stars, he scored 23 goals and 74 points in 223 games, including his final season where he scored 0 goals and 10 assists in 57 games. After joining the Avalanche in 2019-20, he scored 23 goals and 48 points in his first 2 seasons (120 games), before exploding for 25 goals and 52 points in only 62 games. The Avalanche were loaded and they tried splitting up their trio of Landeskog, MacKinnon, and Rantanen, so Nichuskin played with some really talented pivots. He's coming off a contract that paid him $2.5 million so he'll be looking for a raise and there's a realistic chance he can be had for $5-$6.5 million. If he can be had for $5 million that would be a steal, but anything more and you're looking at a contract that could look bad in a few years, especially because he's also looking for term.
Andre Burakovsky spent his first 5 seasons in the NHL with the Washington Capitals, usually regulated to the third line however. He was a good supplemental and secondary option with Alexander Ovechkin scoring 50 a year on a regular basis. Burakovsky scored 62 goals and 145 points in 328 games with the Capitals, scored in double digits in 4 of the 5 seasons – scoring 9 in his rookie year in 53 games – and scored a then-career high 17 in 2015-16. Ever since joining the Avalanche as a free agent in 2019-20, he has chipped in with 61 goals and 150 points in only 191 games, while also adding 29 points in 37 playoff games. He's coming off a contract that paid him $4.9 million and will command somewhere above $5.5-$6M if he hits free agency.
The Carolina Hurricanes are another team that present a few intriguing names. They currently have $19.375 million in projected cap space with 14 players signed through as well. Steven Lorentz, Martin Necas, Ethan Bear, and Anthony DeAngelo are impending RFAs, while Nino Niederreriter, Vincent Trocheck, Derek Stepan, Ian Cole, Brendan Smith, and both goaltenders in Frederik Andersen and Antti Raanta are upcoming UFAs. Of that lengthy list, the Hurricanes will have to prioritize at least Necas, Andersen, and DeAngelo, while also trying to lock up Cole and Smith as depth defensemen. In doing so that leaves the door wide open for Niederreiter and Trocheck. That's not to say that neither one of them will return to Carolina, but money is going to be an issue and both players will be commanding anywhere between $5 and $6 million, with a chance of it increasing depending on interest.
Vincent Trocheck had a great 4-year run with the Florida Panthers between 2015-16 to 2018-19, where he scored 89 goals and 216 points in 295 games before being traded to Carolina in 2020. His best season came in 2017-18 after scoring 31 goals and 75 points. He's been with the Hurricanes for parts of 3 seasons, where he's scored 39 goals and 96 points in 135 games, while adding 10 points in 14 playoff games in 2021-22. Trocheck will be a popular player once the free agent window opens – if he's still available – because he's a right-handed shooting centre, which is something every team wants and wants more of, and for the Flyers, signing Trocheck would provide them with centre depth they haven't had in a long time. They could roll out with Couturier and Trocheck as their 1C-2C pair with Hayes and Laughton playing down the middle for the bottom 6. Trocheck can also play the wing as well, if the Flyers wanted to roll with Hayes as the 2C and Laughton as the 3C. The options are endless and he would be a huge prize if they can land his services.
We all know how much Chuck Fletcher loves bringing in players or executives that he's worked with during his time with the Minnesota Wild. Most of the time it's exasperating, but if he decided to bring Nino Niederreiter into the fold, that wouldn't be the worst idea in the world. The soon-to-be 30 year-old from Chur, Switzlerland was initially acquired by Fletcher and the Wild in 2013 for Cal Clutterbuck and a third round pick from the New York Islanders, who drafted him 5th overall in 2010. In parts of 2 seasons with the Islanders, Niederreiter scored 2 goals and 3 points in 64 games before blossoming into a 20-goal power forward with the Wild. He scored 110 goals and 228 points, including three 20-goal seasons, in 434 games with Minnesota. In 2019, he was traded to the Carolina Hurricanes for Victor Rask in a rather lopsided deal, with Nino scoring 69 goals and 137 points in 234 games versus Rask who scored 22 goals and 52 points in 149 games for the Wild. Niederreiter looks to play the same style of game as Nichushkin, is a bit more of threat with his body, and has been more consistent than Valeri, however both will benefit from the open market and the going rate for power-forwards who can score 20-25+ goals will always eclipse $5+ million.
There's a common theme here and that is that several contending teams have a myriad of upcoming free agents that they won't be able to extend or lock up long term. The Tampa Bay Lightning present themselves with Ondrej Palat and Jan Rutta but according to CapFriendly, they are $5.133 million over the cap. They have this year's first round pick but nothing in 2023 and 2024, they don't have a second round pick until 2024, and 2 third round picks in the next 3 years. Of course it's not all that bleak, as they have made the Final in 3 straight seasons and won back to back titles before bowing out a few days ago to the Avalanche.
They have Andrei Vasilevskiy, Nikita Kucherov and Brayden Point making $9.5 million for at least the next 5 years, Steven Stamkos at $8.5 million, Victor Hedman at $7.875 million, Ryan McDonaugh at $6.75 million, and Mikhail Sergachev, Anthony Cirelli, and Alex Killorn all making upwards of $4.4 million. Palat is coming off a contract that paid him $5.3M annually for 5 years, and he has spent his entire 10 year career with the Lightning as he has scored 143 goals and 423 points in 628 games, while being a playoff performer as well with 48 goals and 94 points in 138 career postseason games. In the last 3 postseasons alone he has 27 goals and 52 points in 71 games. The Lightning don't want to lose him, he is a fantastic player and teammate, but unless they can find a way to shed $10-$11 million dollars elsewhere (considering they're already over $5 million over), he's going to walk and be a very popular attraction.
Nick Paul had himself a playoffs as well, coming through in the clutch and most notably in Game 7 of their first round matchup against the Toronto Maple Leafs. While Palat will command upwards of $6 million – and he very much deserves it – Paul would've been a hot commodity and was perhaps a little overpaid by Tampa Bay due to his recent performance, but nevertheless he served the Lightning well in his role. The former fourth round pick for the Ottawa Senators stumbled out the gates with 66 points in 227 games, never fully being able to be the dependable secondary scorer the Senators needed. He did hit the 20 point plateau in 2019-20 and 2020-21 in 56 games – both times. In 80 games for both the Senators and Lightning, Paul scored 16 goals and 32 points, while chipping in with 5 goals (2 of them of the game winning variety) and 9 points during the playoffs. He was coming off a contract that paid him $1.35 million per year, so it was a safe bet that he'd get double that and maybe even around the $3 million mark that Tampa Bay signed him at.
In terms of defensive depth, Jan Rutta would be the perfect bottom pair defender who can play a higher role if necessary, similar to the role Justin Braun played. Averaging well over 16 minutes a game over the last 2 seasons, earning $1.3 million, and even scoring 18 points – the second highest output of his career after his rookie season with the Chicago Blackhawks where he scored 20 in 57 – Rutta will be a popular defenseman if he hits the open market. He's dependable, blocks shots, and he's a right-handed shot with a big frame, and the Flyers should be all over this with their lack of defensive depth and he shouldn't break the bank either.
It would be great news if the Flyers were able to sign one of Gaudreau, Kadri, or Forsberg. It would be great news if the Flyers were able to grab 2 of the names mentioned in this article. However none of that can happen until Fletcher trades all of van Riemsdyk's salary away, either buys out or trades Lindblom, and makes another move which could be anyone really – but all signs point to Konecny if they go that route. They're going ahead with this re-tool, they're going ahead with forging past a rebuild, and they're going ahead with this plan full well knowing they aren't ready to compete just yet. Fletcher needs to hit a home run on every single move he makes to not only salvage the season for the Flyers but to keep his job safe.
As the days count down to the NHL Draft and then subsequently free agency, rumours are going to be circling and things are only going to get hotter with the Flyers in the thick of a lot of races.