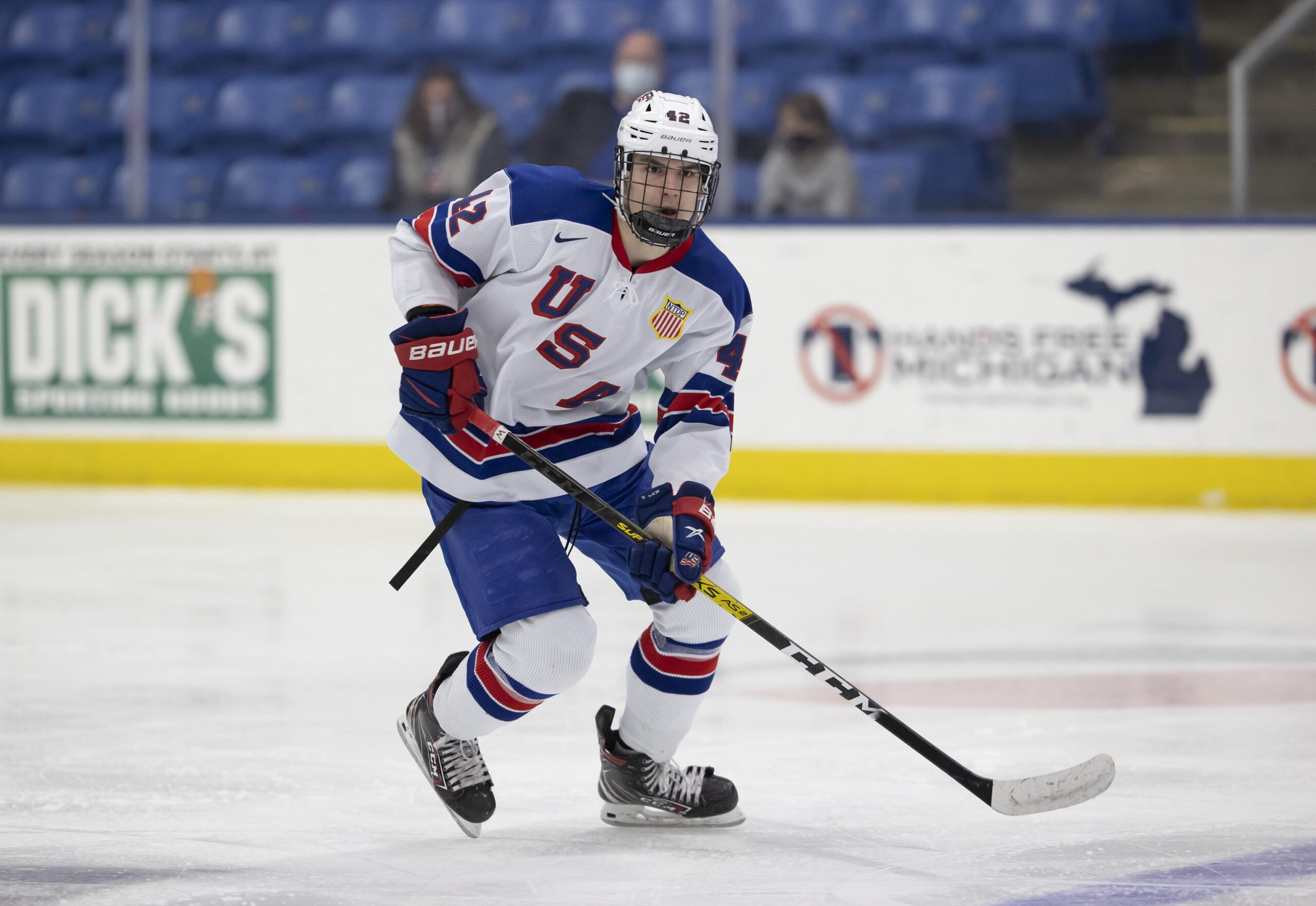 Cutter Gauthier's Rise in the Rankings Will Have the Flyers Thinking
The 2022 NHL Entry Draft has been touted for months as not being as strong or as deep as the 2021 draft that preceded or the 2023 draft that will proceed, however it was always tabbed as being good for those with a top 6-8 pick range. Luckily for the Philadelphia Flyers they hold the 5th overall selection after finishing 4th-last in the season, but got bumped down a spot because the New Jersey Devils jumped ahead again. There have been many names thrown around by several analysts but the two consistent ones have always been right-handed shooting defensemen Simon Nemec and David Jiricek. Matthew Savoie and Joakim Kemell have had their moments in the sun – in terms of their prospects of being drafted 5th overall – but now with a little over a week until all 32 teams convene in the Bell Centre, a new name has appeared in the way of Cutter Gauthier. The Flyers have had a lot of interest in the pivot/winger, and the US U18 National Team member has the high-end upside that could really make this pick a home run but he also has a few caveats, which perfectly explains his recent jump to 5th in TSN's Bob McKenzie's final rankings.
It's a photo finish for the No. 1 spot on TSN's 2022 NHL Draft Final Ranking from @TSNBobMcKenzie and, by the slimmest of margins, it's Juraj Slafkovsky over Shane Wright…

The Final Top 90 and 10 Honourable Mentions: https://t.co/n8kTicQVAH#TSNHockey | #DraftCentre pic.twitter.com/OUCyGa3mmq

— TSN Hockey (@TSNHockey) June 28, 2022
The Flyers pipeline is devoid of defensemen and centres and one would have thought that no matter what the other 4 teams ahead of them do, they were going to end up with either a stud defenseman or a very good centre. There's been a lot of talk lately about the Montreal Canadiens not wanting to draft Shane Wright with the first overall pick because of their newfound admiration in Juraj Slafkovsky. Between Wright and Slafkovsky, whoever the Canadiens don't draft will most likely be taken by the New Jersey Devils. Things will get spicier and mock drafts will get ruined after the first 2 picks because it all comes down to what each team desires. In most mock drafts and rankings, Logan Cooley is set to be the third pick, followed by one of Nemec or Jiricek, which leaves the door wide open for the Flyers. If Cooley drops all the way down to 5, the Flyers will be skipping their way down towards the podium to select the Pennsylvania native. Seattle will have the first crack at the defensemen, unless the Coyotes are eyeing one of them, which would leave the Flyers with the lesser of two evils – or so we thought.
There was some doubt on Cutter Gauthier being able to transition from wing to centre at the NHL level, but it sounds like those issues have been quelled because several teams have been convinced otherwise. Gauthier has expressed his desire to play centre, he will get as many reps as needed at Boston College next season unless he makes the immediate jump – that some believe he is capable to doing – scouts love that he plays a complete game, his size (6'3"/200 lbs), and with how things have fallen into place in the last few weeks he won't be waiting around too long to hear his name getting drafted. Gauthier appeared in 54 games in the USDP, where he finished second in the circuit with 34 goals, chipped in 31 assists, and finished with a +33 rating. While also playing in the USHL, he appeared in 22 games, scored 19 goals, and finished with 28 points.
As cliché as it sounds it will come down to team fit and whoever perceives him to have the highest ceiling because as it currently stands, it sounds like a stalemate in terms of how many teams consider him to be a top-5 pick or a top-10 pick; however the consensus seems to be that Gauthier will get drafted within the first 10 selections. The question then becomes, do the Flyers not take the seemingly sure-fire right-handed shooting defenseman for the high risk-high reward winger-turned-centre? In terms of fit, Gauthier seems to be everything the Flyers want, have wanted, and will want out of a top pick. His 6'3", 200 lb frame is a good start as the Flyers are prioritizing size, his ability to play the centre position is huge because the Flyers are severely lacking centres and game-breaking ones at that, his goal-scoring prowess should be tantalizing as well for a team that has had issues with finding the back of the net in recent years and have drafted a myriad of playmakers and pass-first players, and they want players who can make an impact very soon – if not right away – and Gauthier is more NHL-ready than either Nemec or Jiricek. The last point shouldn't be the be-all-end-all in why they draft whichever prospect but Chuck Fletcher is on very thin ice and he will do everything and anything to save his job and if there's a more NHL-ready talent somewhere in the 5-10 range, then he will swing for that immediate upside.
Between Nemec, Jiricek, Kemell, Savoie, Gauthier, and even Cooley if he drops, there really is no wrong choice. They're all different, have their strengths and weaknesses, but present an intriguing option nevertheless. Nemec or Jiricek would be tough to overlook because the Flyers are rather depleted on the back-end and they're both right-handed shots – which is the crown jewel for defensemen around the NHL. Kemell is a great goal scorer with a lethal shot, which is something the Flyers don't have anywhere in their pipeline – except for maybe Tyson Foerster. Savoie and Gauthier are intriguing for their position (centres), Savoie is a playmaker and Gauthier is more of a goal scorer, but both would present themselves as surefire centres and jump at the top of the Flyers' depth chart instantly.
Bob McKenzie is a name to listen to when he gives his thoughts on the draft and prospects, and if he placed Gauthier at #5 – which coincides with where the Flyers draft – maybe he's on to something.