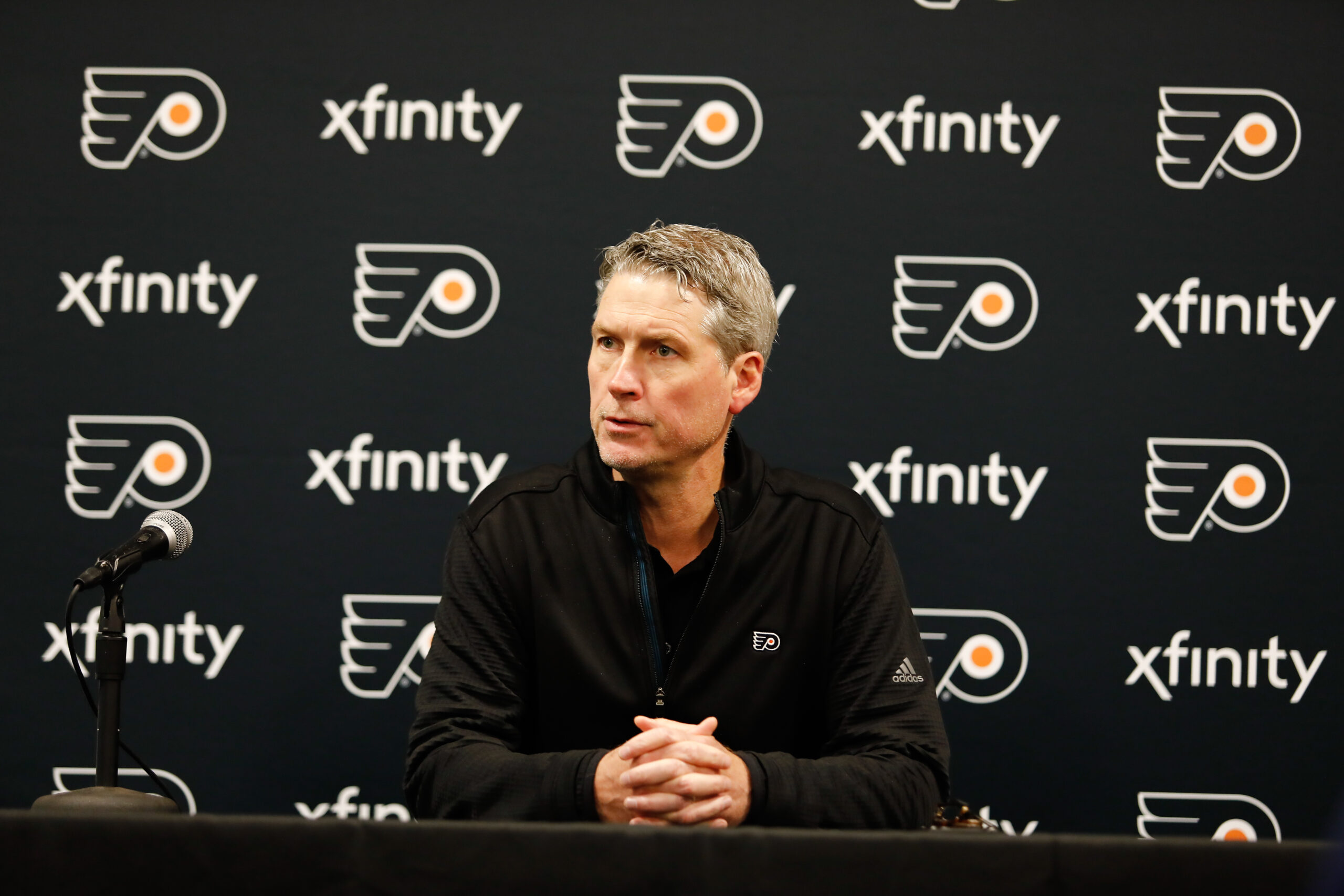 Philadelphia Flyers Do the Unthinkable: Chuck Fletcher is Fired
It's been on the mind of the Philadelphia Flyers' fan base for months, if not years, but the organization has finally taken the first step into what seems like the unthinkable as they have announced the firing of their President of Hockey Operations and General Manager, Chuck Fletcher.
The Flyers sent out a press release stating that Fletcher was released of his duties and that for the time being, Daniel Brière, who was currently serving as Special Assistant to the General Manager will be named interim General Manager and that the position of President of Hockey Operations will be vacant as they begin the process to fill out both positions.
OFFICIAL: The Flyers have released Chuck Fletcher from his duties as President of Hockey Operations and General Manager. Daniel Brière, currently serving as Special Assistant to the General Manager, has been named Interim General Manager. https://t.co/xALLfVcFnh

— Philadelphia Flyers (@NHLFlyers) March 10, 2023
Fletcher was hired during the 8-goalie debacle of 2018-19 when he took over his predecessor in Ron Hextall and has presided over the club ever since. Known for his aggressive mindset and his trigger-happy transactions from his time in Minnesota, Fletcher took a wait-and-see approach for the remainder of the 2018-19 season, however he was responsible for the firing of Dave Hakstol, calling up Carter Hart, and trading Wayne Simmonds. Entering the summer of 2019, he wanted to make his stamp on the organization and he did so by hiring the Alain Vigneault as his head coach, who then brought in Michel Therrien and Mike Yeo as his assistants. The Flyers went from having a coach with zero NHL experience to a coaching staff that had nearly 2,000 games behind the bench.
Fletcher was also given a gift from Ron Hextall who had cleared the Flyers from their salary cap hell that Paul Holmgren had led them into. He was given nearly $35 million in projected salary cap that he eventually used up on the extensions for Ivan Provorov and Travis Konecny, trading for and then signing Kevin Hayes (7×7.142), trading Radko Gudas for Matt Niskanen, and then trading for Justin Braun. The Flyers ended up becoming one of the hottest teams entering the COVID-interrupted pause and advanced all the way to the second round of the playoffs for the first time since 2012. The future was looking bright – if the Flyers could recreate their magic of 2019-20 and honestly why couldn't they?
Fletcher was handed the unfortunate news that Matt Niskanen was going to retire but instead of acting on it as soon as possible he sat and hoped that the veteran defenseman would potentially change his mind. He did not however and the Flyers floundered during free agency as they were clearly unaware of the impact Niskanen had on the backend – especially Ivan Provorov. Instead they signed Erik Gustafsson and essentially rolled into the 2020-21 shortened season with the same team as the year prior – what could go wrong? The Flyers started off the season 12-5-3, weren't necessarily playing the best brand of hockey, but they were at the top of their division heading into the month of March. The wheels fell off and they eventually lost 21 of their next 31 games before closing out the season with 3 wins in 5 opportunities.
So the Flyers realized they needed change and Fletcher went about an aggressive retool as he traded for Ryan Ellis, Cam Atkinson, and Rasmus Ristolainen, while signing Keith Yandle, Martin Jones, and Derick Brassard. He shipped out Nolan Patrick, Phil Myers, Jakub Voracek, Shayne Gostisbehere, Robert Hagg, a first round pick, 2 second round picks, and a seventh round pick to get those aforementioned deals done. Fletcher wanted to instill a culture, an identity, and accountability to a team that had previously lacked these intangibles. He also decided to stick by his coaching staff that had butted heads with several of the players that were eventually moved out – Patrick, Voracek, Gostisbehere, and Myers.
Unfortunately, those changes did not come to help the Flyers as Ellis succumbed to a season-ending injury that very well might become a career-ending injury, just 3 games into the season. Kevin Hayes and Sean Couturier were dealt with lengthy blows with the latter still not having suited up for the Flyers since December of 2021. Vigneault and Therrien were let go in December, Yeo was named interim head coach, Claude Giroux was eventually traded after playing in his 1,000th game as a member of the organization, Ristolainen was extended to a 5-year deal, and the Flyers slumped to a 25-46-11 record for 4th-last in the league standings. Bright side is that they finally got a top-5 pick and secured Cutter Gauthier, however the sentiment around the front office just got worse and worse.
The summer of 2022 was a debacle for a variety of reasons but let's start with the obvious one. The Flyers were in salary cap hell again and for a team that had struggled the previous 2 seasons, the pressure was high on the front office so Fletcher told the fan base in January – with Dave Scott by his side – that they will go through an aggressive retool to solve this mess. Everyone assumed and imagined that meant signing Johnny Gaudreau, who actually wanted to come to the Flyers and had essentially told his loved ones that's where he was going to go. The problem was the Flyers couldn't afford it as they weren't able to trade James van Riemsdyk and his $7 million AAV, they ended up buying out Oskar Lindblom, Fletcher was hesitant on placing Ellis on LTIR citing a chance that he could come back and further complicate the salary cap, and he had just traded and then signed Tony DeAngelo to a 2-year deal worth $5 million a season – effectively taking away their precious cap for Gaudreau.
The Flyers also hired John Tortorella as their head coach and he essentially took over the vocal duties that the front office usually tends to the rest of the way. The Flyers were apparently never in on Gaudreau, or at least that's what they've been telling us, and balked at the idea of adding an elite point producer, which has now come to roost. They switched gears and went for Nicolas Deslauriers, Justin Braun, Troy Grosenick, and Cooper Marody as depth pieces in what was now being called a stabilizing season.
The 2022-23 season has gone as expected as the bereft-of-talent Flyers have succumbed to the bottom of the league's standings yet again. Sitting with a 24-30-11 record, the Flyers have gone 74-99-30 since 2020-21, are still in salary cap hell, have emptied out part of their draft cupboard for mid-tier players – Ristolainen and DeAngelo come to mind – and royally bungled the trade deadline that just passed. Not being able to trade James van Riemsdyk might've been Fletcher's death blow as it outraged the fan base to a point of no return. His press conference post-deadline didn't help the cause either as he cited that he received no offers until the very end, he had to make the phone calls as no one was calling him, and he had to convince the league to take his veteran of over 900 games off his hand at half his original salary.
Chairman of Comcast Spectacor and Governor of the Flyers, Dave Scott, issued the statement below:
"The Philadelphia Flyers organization has always been defined by grit, determination, and a standard of excellence. Over the past several seasons, our team simply has not lived up to that standard, so today, we will begin to chart a new path forward under a new leadership structure for Hockey Operations.
"This morning, we released Chuck Fletcher from his President and General Manager responsibilities. We are grateful for his hard work and dedication to this organization, and we wish him nothing but the best moving forward. Chuck faced significant challenges during his time as President and General Manager, including some that were outside of his control, but we have reached a point at which we must move in a different direction and look to the future under new leadership.
"Flyers fans deserve a better team than what they've seen on the ice over the past few seasons, and a clear plan to return this team to Stanley Cup contention. We know that this will be a multi-year process, and we are committed to doing it right, because we want to put this franchise on a path toward winning the Stanley Cup, period.
"In the coming days, we will begin the process of re-structuring our Hockey Operations Department by separating the President and General Manager positions. We view this as a critical opportunity to not only re-establish the standard of excellence that our fans expect, but also to bring new energy, accountability, and strategic vision to our organization.
"As Interim General Manager, Danny Brière will oversee Hockey Operations. He is ideally suited for this role, having served as Special Assistant to the General Manager of the Flyers for the past year in addition to his more than 25 years in professional hockey as a player and in management. He will ensure a smooth transition following Chuck's departure and support the team and Head Coach John Tortorella through the remainder of the season and into the offseason."
This was the first of many layered changes that the Flyers needed to undergo to get things moving in the right direction. Briere, who has been apart of this regime for a short while, will be the interim General Manager for the time being but as everyone knows it's the higher-ups in the front office to be wary about.
The Flyers still have 17 games left on the season, Tyson Foerster just made his NHL debut, Elliot Desnoyers is 3 games into his young NHL career, the team has averaged just over 2 goals a game over their last 18, as things remain doom and gloom. However, John Tortorella has been the beacon of hope coming from behind the bench and has been uttering buzz words that did not reflect the ideology of Chuck Fletcher. This move was a long-time coming and honestly surprised it came at this juncture of the season. The Fourth Period's Anthony Di Marco made mention earlier this week that changes were afoot and it might not be just in the general manager's chair as the organization will be looking at their Senior Advisors as well.
Fletcher had lost the respect of his peers, the Flyers' reputation was down the tubes, the fanbase was up in arms, players were being dragged in the mud of trade rumours for years, as we were forced to watch our once-beloved Flyers fall further and further into purgatory.
Perhaps the trade deadline was the final nail in his coffin, nevertheless a dark chapter of Flyers hockey, where they went from retooling to aggressive retooling to aggressive rebuilding to rebuilding to stabilizing to rebuilding to retooling, is in the books as we begin to start a new chapter – whatever that may be.