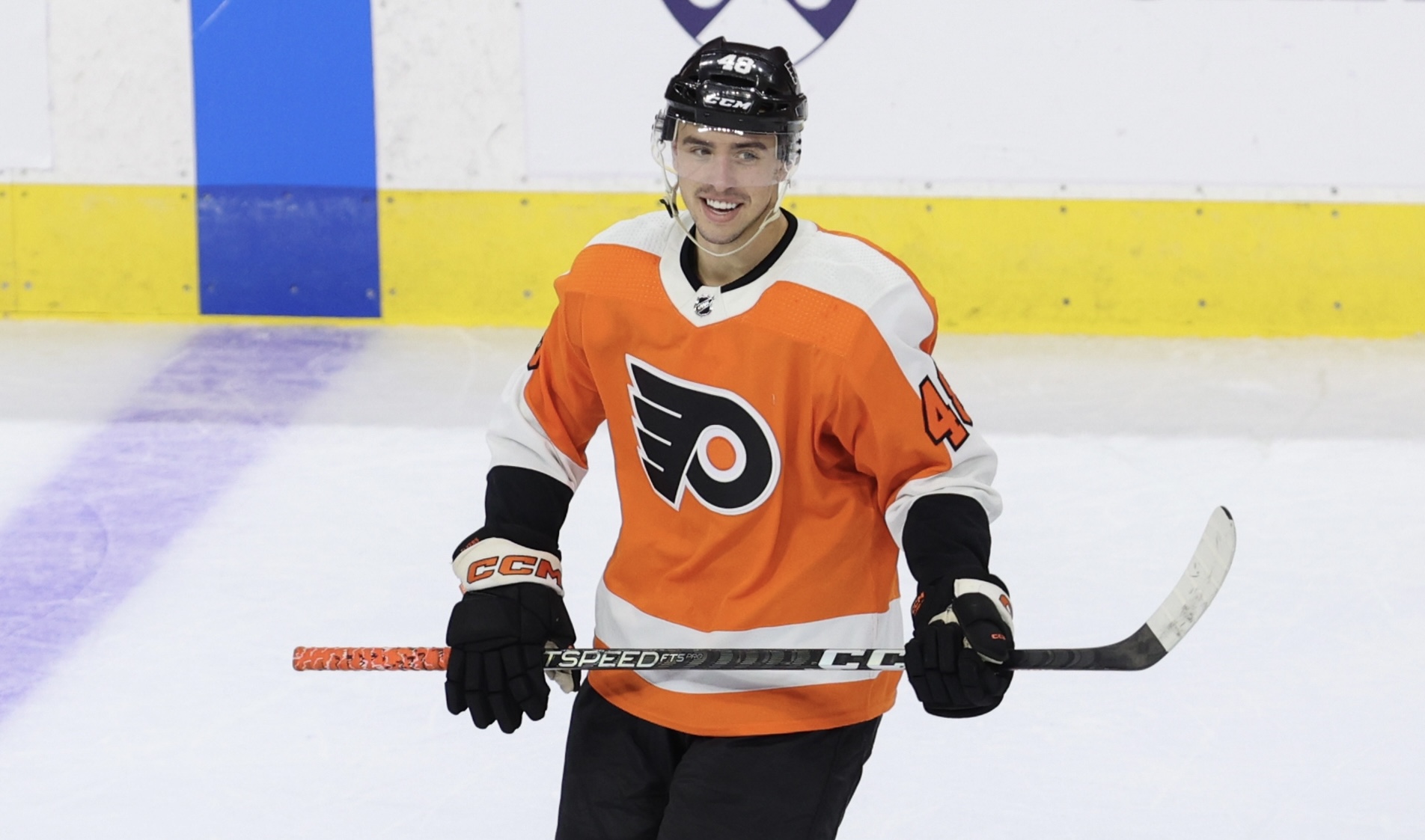 With More Opportunities Present, Morgan Frost Finishing Season On a High Note
Entering this past offseason, the Philadelphia Flyers had 2 young players within their under-25 core who were impending RFAs and in need of new contracts: Owen Tippett and Morgan Frost.
Tippett, as we already know, was the prized piece in the Claude Giroux trade and has had a terrific season with the Flyers to date, as he currently stands with 21 goals and has shattered his previous career-highs.
Morgan Frost on the other hand, has been within the organization since he was drafted in the summer of 2017, but hasn't yet reached the point that many in the organization were hoping for – that can be tabulated to a variety of reasons.
The 2017 NHL Entry Draft will always be infamous around Philadelphia because of how everything unfolded with Nolan Patrick and how all the players picked around him have become All-Stars, or Conn Smythe winners, and/or elite options on their team. Patrick suffered through concussions and lengthy scoring droughts whenever in the lineup before he was ultimately traded for Ryan Ellis – who also holds a little infamy around the fan base with his 4 games and opting not to undergo surgery for an injury that was mysterious for months on end.
Ron Hextall then traded Brayden Schenn to the St. Louis Blues for a package surrounding 2 first round picks, including the 27th overall selection in 2017, in which it was used to select Frost. Hextall wanted Frost and when he saw the opportunity was the ripe for the taking, he swung for the fences and got his man.
Frost enjoyed a lot of success with the Sault Ste. Marie Greyhounds of the OHL. In his draft year he scored 20 goals and 62 points in 67 games, he then scored 42 goals an 112 points in just 67 games the following season – 10 goals and 29 points in 24 playoff games – and then he finished off his junior career with 37 goals and 109 points in only 58 games in his final year – 7 goals and 18 points in 11 postseason games.
Frost had a chance at cracking the NHL lineup ahead of the 2019-20 season, but a groin injury limited his performance and therefore started in the AHL with the Lehigh Valley Phantoms. He finally got his first taste of professional hockey and his time was eventually split between the NHL and AHL. He played 16 games with the Phantoms before getting the call up to the NHL due to their offensive struggles and an injury to Michael Raffl. He started off hot with 2 goals and an assist in his first 2 games but then slumped to the tune of just 4 assists in his next 16 games.
Upon Raffl's return, he was sent down to the Phantoms, where he was then invited to the AHL's All-Star Classic. Frost played 2 more games in February for the Flyers and traveled with the team when they embarked on the 2020 playoffs in Toronto's bubble. In total, he appeared in 20 games with the big club and scored 2 goals and 7 points, while chipping in with 13 goals and 29 points in 41 games with the Phantoms.
He had finally gotten his first taste of professional hockey and with the NHL embarking on a shortened 2020-21 season, Frost started the year with the Flyers.
After Sean Couturier suffered an injury at the start of the season, Frost was implanted as the top-line centre with Travis Konecny and Oskar Lindblom. Unfortunately in his second game of the season, he suffered a dislocated shoulder that kept him out of the season.
After going under the knife successfully and rehabbing the entire year, the Flyers decided to start the young forward in the minors to start the 2021-22 season due to the fact that he had missed nearly 2 full years' worth of games due to injury and COVID postponement. The idea was to get his mojo and confidence back in the minors for a short stint before being recalled to the big club.
He enjoyed success in short order with the Phantoms and got his call up to the Flyers after scoring 15 points in 16 games at the AHL level. With Kevin Hayes, Sean Couturier, and Derick Brassard out of the lineup, Frost was awarded another opportunity to take the reins early in his career.
Unfortunately, it was tough sledding for the youngster as he started his season with 2 goals and 8 points in his first 38 games. He was a -15 and averaged 13:28 of ice time per game as the Flyers plummeted further and further down in the standings.
He finished off the season stronger with identical stats, but in half the games with 3 goals and 8 points in 17 games. He took 41 shots on goal, was a +4, and averaged 14:56 of ice time per game. He played with Owen Tippett quite a bit before the season concluded and the two youngsters looked to have finished another disappointing campaign with strong performances.
With Chuck Fletcher still at the helm and trade rumours flying around left, right, and centre, no one truly knew what the future held for players like Frost, but one thing we knew was that his one-year deal was going to be a "prove-it" type contract.
With injuries in the rearview mirror, a new head coach behind the bench, and more opportunities to impress, Frost had to show out in another contract season. He was signed to a one-year deal at a cap hit of $800,000, and I think so far he can categorically be summed up as a steal – alongside Tippett's $1.5 million AAV for 2 years.
Consistency has been a major problem for everyone wearing the Winged P since 2019-20 and this year has been no different. Frost started the season with a brace against the New Jersey Devils and then recorded an assist in his third game against Tampa Bay. He then slumped to the tune of 1 goal and 3 points in his next 24 games, was -8, and averaged 14:29 of ice time per game, including 2 games where he was benched and played less than 8 minutes.
He erupted alongside his teammates in a 6-2 win against the Arizona Coyotes on January 5th, where he paced the team with a goal and 3 assists. In his following 11 games, he had 5 goals and 13 points, was +4, and his ice time rose to 17:27 per game.
Following that has been a 31-game stretch where he has scored 6 goals and 16 points, a -12 rating, and average ice time of 16:52. In his last 11 games specifically, he has 3 goals and 8 points, including a goal and an assist in the Flyers' 6-3 rout over Florida on March 21st.
Frost has played a lot better as the season has gone along and has been given more ice time, better opportunities to succeed, and has been given a looser leash with John Tortorella playing him at the top of the lineup with players like Joel Farabee and Owen Tippett, even if they were struggling.
That has worked to his advantage as the soon-to-be 24-year-old has posted 11 goals and 29 points in his last 42 games and more importantly 17:01 of ice time per game. That would put him on pace for 21 goals, 36 assists, and 57 points in a full 82-game season. Not too shabby.
Going back to his last 14 games played, specifically when Tortorella went with more youthful infusions – coupled with Travis Konecny's injury – Frost has played 20+ minutes twice, 19+ minutes 3 times, 18+ minutes twice, 16+ minutes 4 times, and 14+ minutes 3 times. That's a big leap considering the fact that Frost topped 20 minutes only twice in his first 55 games and 19+ minutes another 4 times.
Frost – and the rest of the young players – still have 12 games left to showcase their best stuff for Tortorella and Daniel Brière. Set to become a restricted free agent once more and finally getting the proverbial thumbs up from his head coach, expect a longer-termed deal for Frost this summer, who will be looking for an even bigger season in 2023-24.
The youth movement is actually in effect, even though we thought that was the case last year. Unfortunately with Fletcher and company still at the helm, it wasn't their choice to play all the young guys, they had to due to injuries – even though they tried to make it clear that they were "rebuilding".
Now that the rebuild is starting, players like Frost are going to be extremely important for the betterment of the present and future. Alongside Tippett, Noah Cates, Joel Farabee, and Cam York, the Flyers are in good hands. Add in players like Tyson Foerster, Bobby Brink, Elliot Desnoyers, Ronnie Attard, and Emil Andrae, and things look a little better. We also can't forget Cutter Gauthier, the fantastic season from Alexis Gendron, and whoever the Flyers draft this year, and things aren't as bleak as things seem.
It's still going to take awhile, but it's encouraging to see players like Frost finally seizing their moment and starting to play to their potential.