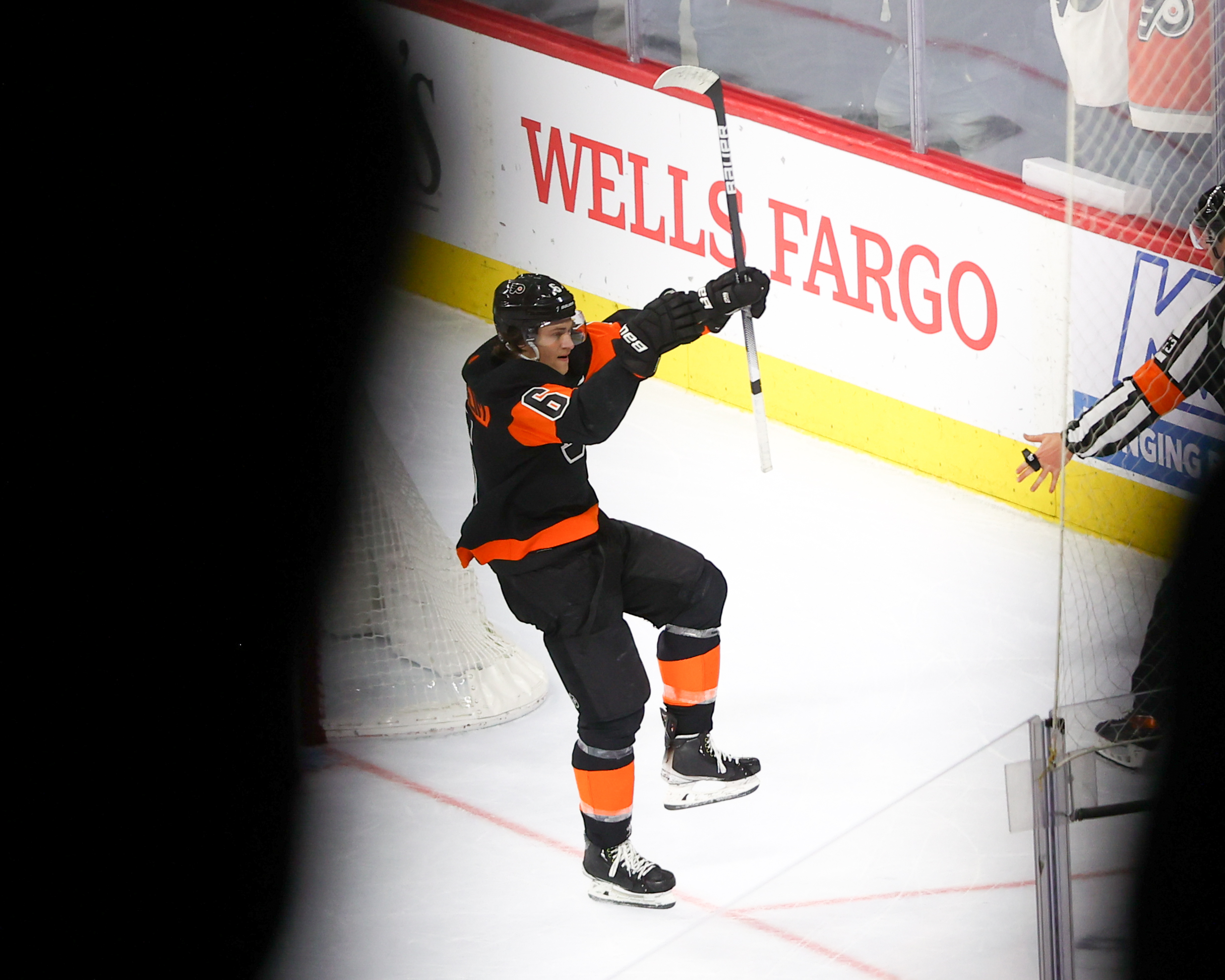 Looking Ahead to Travis Sanheim's Contract Year
According to CapFriendly and the 23-man roster they have listed for the Philadelphia Flyers, they are set to usher in four unrestricted free agents in James van Riemsdyk, Patrick Brown, Travis Sanheim, and Justin Braun, and five restricted free agents in Noah Cates, Zack MacEwen, Morgan Frost, Cam York, and Ronnie Attard next summer. As of right and not figuring in Ryan Ellis as an LTIR casualty at the moment, the Flyers have -$2,373,107 in projected cap space.
Due to Ellis' unavailability to start the season, the Flyers will then have just a shade under $4 million to work with once placed on LTIR. Joel Farabee might also find himself on LTIR to start the season, but his injury shouldn't be as lengthy or as troublesome as Ellis'.
Now heading into the summer of 2023, CapFriendly has projected the Flyers to have $15,761,476 million in cap space with a projected salary cap of $83.5 million – a modest million dollar bump from the previous season. The most likely circumstances dictate that the Flyers won't bring back van Riemsdyk, however we know that the Flyers love their locker room glue guys, so there's very much a possibility that if he takes a pay cut, the Flyers bring him back. However, let's just assume they do the right thing and let him walk into free agency. Their biggest hurdle and their most important free agent re-signing will be Travis Sanheim. Justin Braun probably walks as well, and the remaining RFAs shouldn't break the bank unless they have resurrective seasons.
Looking at the defense, the Flyers have a lot of players signed through next season and at pretty high cap values. As of right now, the Flyers defense is comprised of Ivan Provorov, Ryan Ellis, Rasmus Ristolainen, Tony DeAngelo, Travis Sanheim, Justin Braun, Ronnie Attard, Cam York, and Nick Seeler. These 9 players combine for $31,314,583, which further equates to about 37% of their current $84,873,107 cap hit.
Next season that number doesn't change all too much as Provorov, Ellis, Ristolainen, DeAngelo, and Seeler still have at least one year left, which will amount to $23,875,000 with Sanheim needing a contract and York and Attard getting qualifying offers at the very least. After the season that Sanheim just had – specifically the second half – it's safe to assume that he will command a decent chunk of change for his new contract. He will be coming off the heels of a two-year contract that counts towards the cap at an annual hit of $4,675,000 and if things only get better, one would have to imagine that he will, and should, receive somewhere between $5.1 million-$5.5 million and up.
Sanheim was the 2022 Barry Ashbee Trophy recipient this past season after his resurgent second half. It was truly a Dr. Jekyll and Mr. Hyde season for the young defenseman after collecting only 3 assists in the first 22 games with Alain Vigneault behind the bench. After his dismissal, things changed radically as he finished the season with 7 goals and 28 points in a 52 game stretch before closing out the year with six straight zeroes on the scoresheet.
Not only was he scoring goals, adding assists, jumping on the rush, being more aggressive, and playing his style of hockey that was apparently being stunted before, but he also averaged 24:54 of times on ice in the final month of the season. In fact, he was given almost a minute more of ice time per game from 22:17 to 23:14 after the coaching change, he improved from a +1 to a +8 which in it of itself is a pretty wild feat for a basement dwelling Flyers team, and fired almost the same amount of shots towards the net from a 1.56 average to a 1.51 average.
There were moments during the final stretch where he looked like the number one defenseman on the team, with no slight to Ivan Provorov. In his defense, Sanheim was playing with an NHL-calibre defenseman in Ristolainen all season compared to Provorov, who was alternating partners like it was a game of musical chairs.
Nevertheless, his improvements were noted, his game was on full display, and whatever buttons Mike Yeo was pushing was clearly working. Sanheim finally looked like the player that we had envisioned having after being drafted in the first round of the 2014 NHL Draft. He's shown flashes here and there but it was never consistent enough. Granted, it took him until game 23 to show his class, but once he got going there was no stopping him.
Another aspect of his game that changed a little under Yeo was his aggressiveness off the puck. He's never been known to be a feisty, in the scrums, working you along the boards-type of defenseman but maybe being paired with Ristolainen woke that part of his game up. It was nothing earth-shattering but he was being a lot more physical and demanding off the puck, while having to cover for his partner and then still having the gumption to join the rush when needed.
The Flyers have expressed their interest in getting a long-term deal done with Sanheim before the start of the season. He has yet to sign a long-term type of deal with the Flyers as he has signed through two separate two-year deals; one in the summer of 2019 accounting for $3,250,000 a year, where the second one was signed in the summer of 2021 that accounted for $4,675,000. After seeing the deal that Ristolainen recently signed (5×5.1) and the deal that the Flyers signed Tony DeAngelo to (2×5), Sanheim is definitely in the driver's seat for this upcoming contract.
If he were to sign it today, the Flyers are banking on him duplicating his 2022 season and thriving under new head coach John Tortorella and assistant coach Brad Shaw who will be heading the defensemen. They could also roll the dice and take it into the season and look to get something done ahead of the trade deadline like they did with Ristolainen last year. Either way you flip the coin, the Flyers want this deal done, and it seems like Sanheim is on board as well but at the right cost.
CapFriendly has comparable contracts for every NHL player and for Sanheim they have Ryan Pulock (92.9%), Tony DeAngelo (90.9%), Ryan Murray's previous contract (90.2%) Brandon Montour (83.6%), and Darnell Nurse (82.8%) all above 80% matching/comparable contracts. It is important to note that the comparison is being done with Sanheim's current cap hit of $4,675,000, so Pulock's $5 million, DeAngelo's $5 million, Murray's $4.6 million , and Nurse's $5.6 million AAVs make more sense.
Unless the Flyers let things play out and Sanheim has an earth-shattering season, it doesn't seem likely that he will twist the arms of the Flyers and command upwards of $6 million, however he will get a modest boost on his current cap hit of $4.675 million. It will likely be somewhere in between Ristolainen and Provorov as he is better than the former and – with a good debate – slightly inferior to the latter at the moment. Long term deals have to come with a little give and take from both sides. If the Flyers want Sanheim locked up for 4 or 5-plus years then they have to give a little more. If Sanheim wants $5.5 million or more, then he also has to give the Flyers a little leeway in terms of years and term.
Once again, it seems and sounds like both sides are entertaining the idea of getting a deal done before camp or even the regular season. It's not a game-changer or dealbreaker if they can't get one done either. It also should be noted that the Flyers did file for a team-elected arbitration against Sanheim last year. The defense is going to be a little clogged up when everyone is healthy as they will be paying Provorov, Ellis, Sanheim, DeAngelo, and Ristolainen all more than 5 million, plus whatever they decide to do with some of their younger prospects like York and Attard.
At the moment, the conversations are happening, it seems amicable on both sides, and here's to a possibly grand season from the young defenseman, not only for himself but the betterment of the Flyers heading into a very questionable 2022-23 season.

Music City Hockey Trip
Take a three day vacation to Nashville with Philly Sports Trips this October! The package includes direct flights, a three night stay at the Cambria Hotel Nashville Downtown, an all-inclusive tailgate, and tickets to the Flyers Predators game. $100 cash for anyone who shows proof they went to the Flyers game on the trip.