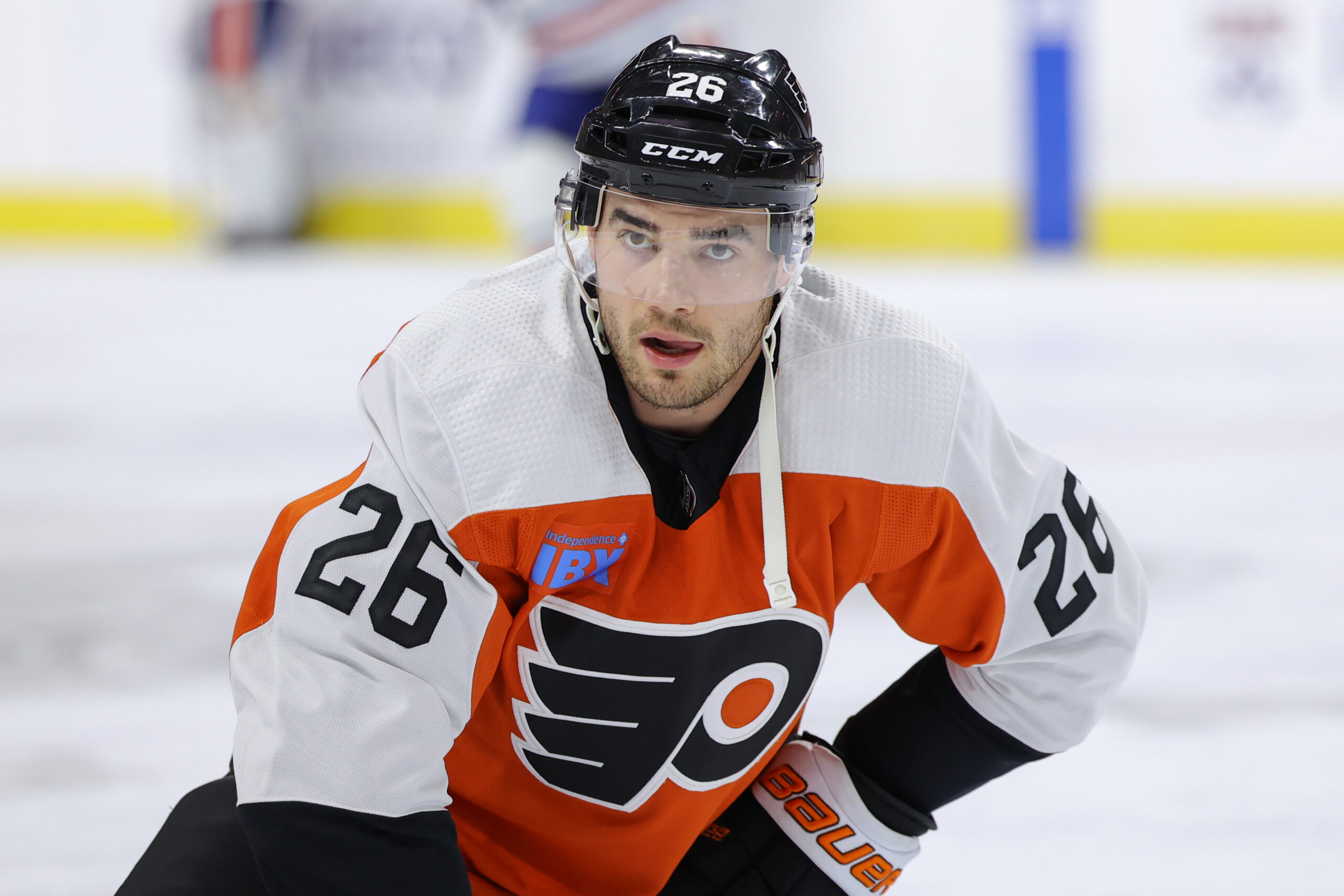 One of the more underrated acquisitions of the 2023 summer for the Philadelphia Flyers was defenseman Sean Walker. Acquired from the Los Angeles Kings as part of the three-team trade that sent Ivan Provorov to Columbus, Walker was seen as more of a throw-in than anything else. Even before the season started, the conversation about him being a trade deadline trade piece had already begun.
13 games into the 2023-24 season, and Walker has been one of their more consistent and underappreciated performers. He has 2 goals – both of the shorthanded variety – with 2 assists, is a plus-2, has 22 blocks to go with 19 hits, and is averaging 20:28 TOI, which would be a career-high. For those that watched or followed the Los Angeles Kings between 2018-19 and 2020-21, they would know that this isn't all too surprising. He was a great piece for their back-end before he suffered a torn ACL and MCL in the early part of the 2021-22 season.
The undrafted defenseman spent 4 years with Bowling Green State University of the NCAA, where he improved on a yearly basis from 13 points in 2013-14 to 20 points in 2014-15, to 23 points in 2015-16, and then 24 points in his final season in 2016-17. He then signed with the Ontario Reign of the AHL where he scored 28 points in 64 games. His 2018-19 season was split between the AHL and the NHL where he tallied an impressive 17 points in 22 games with the Reign before joining the Kings where he scored 10 points in 39 games.
In 39 games, he scored 3 goals, was a minus-8, had only accumulated 8 PIM, averaged 15:26 TOI, and had 40 blocked shots to 43 hits. The 2018-19 Kings finished last in the Pacific Division with a 31-42-9 record and finished with the 2nd worst record in the NHL. The following year, the Kings weren't any better, but Walker scored 24 points in 70 games, had accumulated only 26 PIM, and was averaging 18:50 TOI with 84 blocks and 81 hits.
In the shortened season of 2020-21, Walker matched his goal totals from the previous season (5) in 23 less games (47) with 18 points, averaging 18:10 TOI, while blocking 73 shots. He was playing quite a bit with Drew Doughty but more importantly, Walker didn't look out of place and was slowly becoming a main piece for their back-end.
The Kings' rebuild was finally over and as they entered 2021-22, there were different expectations. Walker was primed for a similarly large role, but his season was cut short after 6 games when he suffered a torn ACL and MCL that effectively ended his season. He had 2 assists, 18 shots, and 9 blocks to 9 hits in 18:22 TOI. The Kings finished the season 44-27-11 which was good for third in their division but lost to the Edmonton Oilers in 7 games in the first round.
Walker returned in time for the 2022-23 season after having been away for 343 days and as expected he would struggle to begin the season after coming off two critical surgeries. Doughty, Mikey Anderson, Sean Durzi, and Matt Roy had assumed top-4 roles on the back-end, which pushed Walker down to the bottom pairing with aging veteran Alexander Edler. He only averaged 14:50 as players like Roy (18:47), Durzi (19:47), and Anderson (21:40) had taken over in short order.
In fact, Anderson had such a strong season that the Kings signed him to an 8-year-deal worth $33 million in February of 2023. Adding to the fact that the Kings had also acquired Vladislav Gavrikov from the Columbus Blue Jackets ahead of the trade deadline, the writing was on the wall for Walker. In his final 34-game stretch of the 2022-23 season, he scored just one goal and added 3 assists in 14:46 TOI. He played in just 2 playoff games as the Kings were once again defeated by the Oilers in the first round.
Needing to extend Gavrikov and not having a lot of cap space to work with, the Kings needed to find a suitor for Walker – and Cal Petersen if they could find one. The Philadelphia Flyers entered the chat and took on Walker's final year worth $2.65 million and the final 2 years of Petersen's deal worth $5 million per year in a way to acquire more draft capital. In the end, they were able to acquire defensive prospect Helge Grans, a first round pick, and 2 second round picks.
Walker came into Philadelphia with a chance to win a roster spot but knew it could be challenging as Daniel Briere and company added Marc Staal and Victor Mete on the first day of free agency. Now all of a sudden you had Travis Sanheim, Cam York, Rasmus Ristolainen, Nick Seeler, Staal, and Mete, and not to mention prospects in Egor Zamula, Ronnie Attard, and Emil Andrae to contend with.
Walker had a very strong training camp and forced his way onto the opening night roster. It helped that Ristolainen was placed on IR but that aided Zamula and Andrae more than anyone else. To start the season, the Flyers rolled with 7 defensemen as they rotated Andrae and Zamula in and out of the lineup until Marc Staal got injured.
Walker has seen 20+ minutes in 7 games, 19+ minutes in 9 games, and his lowest output was 16:21 during their 2-0 victory over the Vancouver Canucks on October 17th. After that game he went on a 3-game stretch where he scored 2 shorthanded goals, fired 9 shots towards the net, and averaged 23:30 – essentially receiving the Tortorella seal of approval.
In 13 games, Walker has skated in 26.2 minutes while shorthanded, 8.7 minutes with the man advantage, and 231.2 minutes on even-strength. His CF% at even strength is 54.7, his FF% is 55.3, his CF% rel is 4.5, and FF% rel is 3.4 – all numbers indicating his positive impact on the back-end. The 29-year-old is 3rd on the team in ATOI behind only Sanheim (25:52) and York (22:46), his 22 blocks have him 2nd on the club and trailing only Seeler (25), and his 19 hits are tied for third with Scott Laughton and trailing only Nicolas Deslauriers (39) and Garnet Hathaway (32).
Walker has been the most consistent defenseman on the team to start the season with Sanheim being up and down at times and York looking a little overwhelmed over the last week or so. Walker's demeanor is perfect for John Tortorella's system, his defensive acumen aids in making the easy and smart plays to get the puck out of the zone, and he does have a tinge of offensive capabilities that has landed him some power play time.
The Flyers could look to keep him around well beyond the trade deadline as he would fill a requirement moving forward, however with youngsters in Andrae, Attard, and Grans in the minors, the Flyers would be hard pressed not to give them a chance either. Marc Staal is more or less gone by the deadline and Seeler should follow suit, which would then leave a few vacancies for the Lehigh Valley Phantoms' defensemen.
Walker's trade value will be exponentially rising if he continues to play the same brand of hockey. That will be good for all parties involved as they near closer to the trade deadline but until then, Walker should be a focal point on the 2nd pairing even when Ristolainen returns from his stay on LTIR.
2024 Stadium Series Trip
Flyers Nation and Philly Sports Trips have teamed up to bring you on an amazing bus trip to the 2024 NHL Stadium Series between the Flyers and Devils. Place an early deposit to reserve your spot at the ultimate tailgate experience at MetLife Stadium before the game. The package includes a game ticket, round-trip charter bus, an all-inclusive tailgate party with unlimited cold beverages, "Philly Style" catered food, live entertainment, and more.