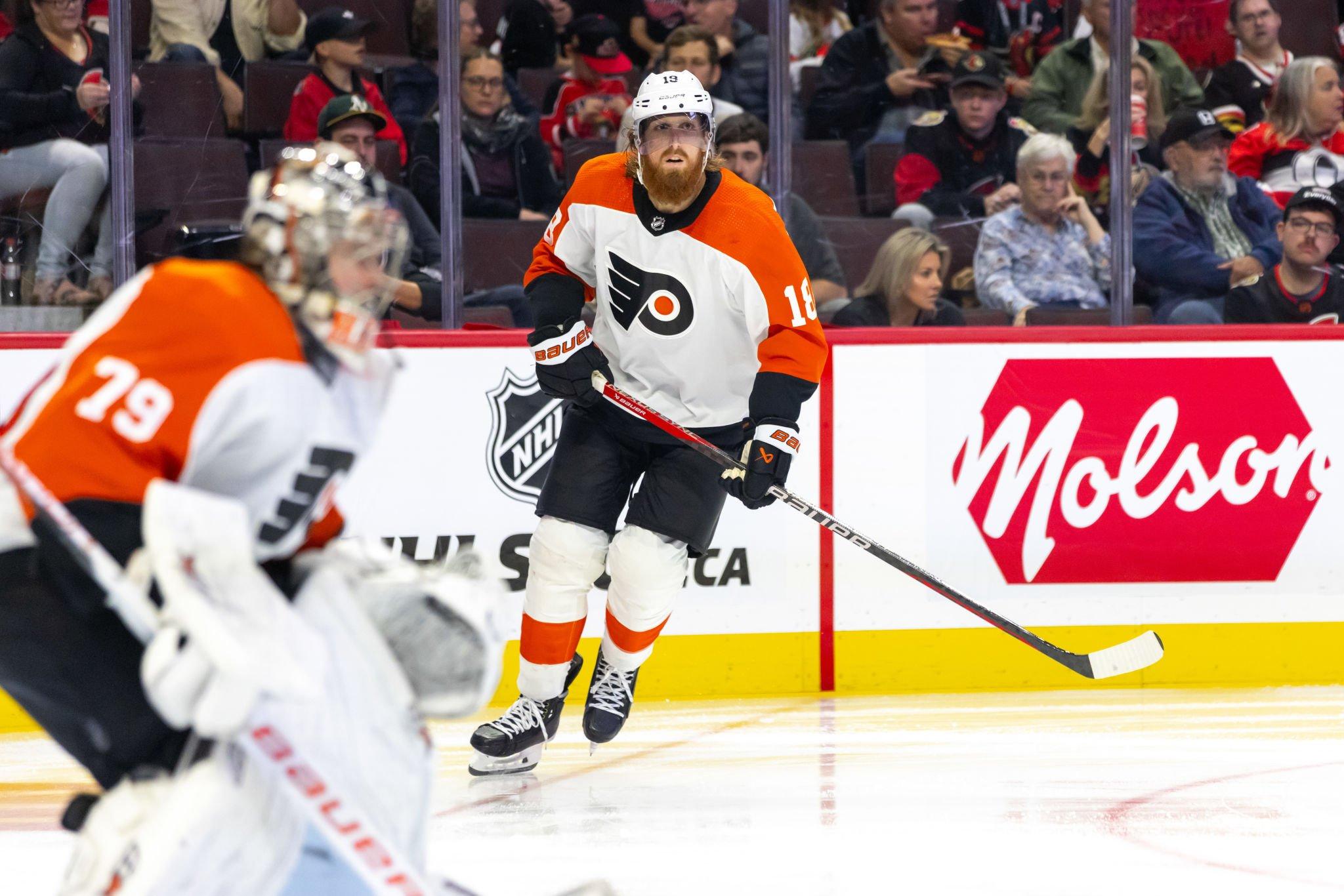 The Philadelphia Flyers are now down 2 defensemen to start the season after it was reported that Marc Staal will be sidelined for 4-6 weeks with an upper-body injury.
Sounds like Marc Staal will be out 4-6 weeks.#LetsGoFlyers

— Anthony Di Marco (@ADiMarco25) October 20, 2023
The veteran defenseman was injured at the beginning of the 2nd period of Thursday's 4-1 win over Edmonton after he was tangled up with Edmonton Oilers forward, Warren Foegele. Foegele made a toe drag move on a sliding Sean Walker and as he let go of the shot he slipped into Staal and the two of them crashed into the boards awkwardly.
Here's the only replay of Marc Staal's injury from tonight pic.twitter.com/VIQuWZsShT

— You've Gotta Love Hockey (@YGLHockey) October 20, 2023
In 4 games, Staal is pointless, holds an even-rating, 4 PIMs, 15:34 ATOI, 6 blocked shots, and 2 hits. John Tortorella had mentioned before the season started that he would have the veteran on a rotation basis but with Rasmus Ristolainen starting the season on IR, Staal had played in all 4 games to date.
With his name stapled into the starting lineup, that meant that the youngsters in Emil Andrae and Egor Zamula had to rotate in and out of the lineup even though they had played relatively well. Zamula has a goal and an assist in 2 games, plus-3 rating, 4 shots on goal, 14:40 ATOI, and 3 blocked shots, while Andrae is pointless, minus-1 rating, 14:14 ATOI, and 2 blocked shots.
For many, Staal's inclusion in the lineup was puzzling, especially because it came at the expense of the younger defensemen who had started the season much better than Staal. However with Ristolainen sidelined, Tortorella wanted some veterans on a rather inexperienced back-end.
Never want to see a player get hurt, but Staal's absence will ease the defensive logjam the Flyers are facing. Until Risto is back, they'll be able to start both Egor Zamula and Emil Andrae on a nightly basis, and once Risto returns, they can make rookie rotation work easily.

— Charlie O'Connor (@charlieo_conn) October 20, 2023
This is now a golden opportunity for Zamula and Andrae to show off their skills and why they deserve to be everyday players. The Flyers have mentioned that Ristolainen is close to returning but still don't have a definitive timetable. He has been seen skating and working with skills coach Angelo Ricci in recent days.
Rasmus Ristolainen was on ice for an hour and 20 minutes today.

He'll miss his fourth straight game because of undisclosed injury.

Ristolainen said Wednesday he thinks and hopes he's getting close. John Tortorella said he's day to day, they don't want anything to nag for him. pic.twitter.com/Nxvp8bac1T

— Jordan Hall (@JHallNBCS) October 19, 2023
Once Ristolainen returns, expect him to be deployed right away and take up most of the minutes alongside Travis Sanheim and Cam York. Sanheim has an ATOI of 25:27 and York is right behind him at 23:10. Last night after Staal departed the game, both Sanheim and York's ice-time rose as the former saw 27:10 and the latter saw 26:30.
As for now with Ristolainen and Staal sidelined, the defensive logjam is no more for now as the Flyers have 6 healthy and active defensemen in Travis Sanheim, Cam York, Egor Zamula, Emil Andrae, Sean Walker, and Nick Seeler.
Staal signed a one-year deal with the Flyers over the summer worth $1.1 million and had featured as a top-4 option to open the season.
2024 Stadium Series Trip
Flyers Nation and Philly Sports Trips have teamed up to bring you on an amazing bus trip to the 2024 NHL Stadium Series between the Flyers and Devils. Place an early deposit to reserve your spot at the ultimate tailgate experience at MetLife Stadium before the game. The package includes a game ticket, round-trip charter bus, an all-inclusive tailgate party with unlimited cold beverages, "Philly Style" catered food, live entertainment, and more.