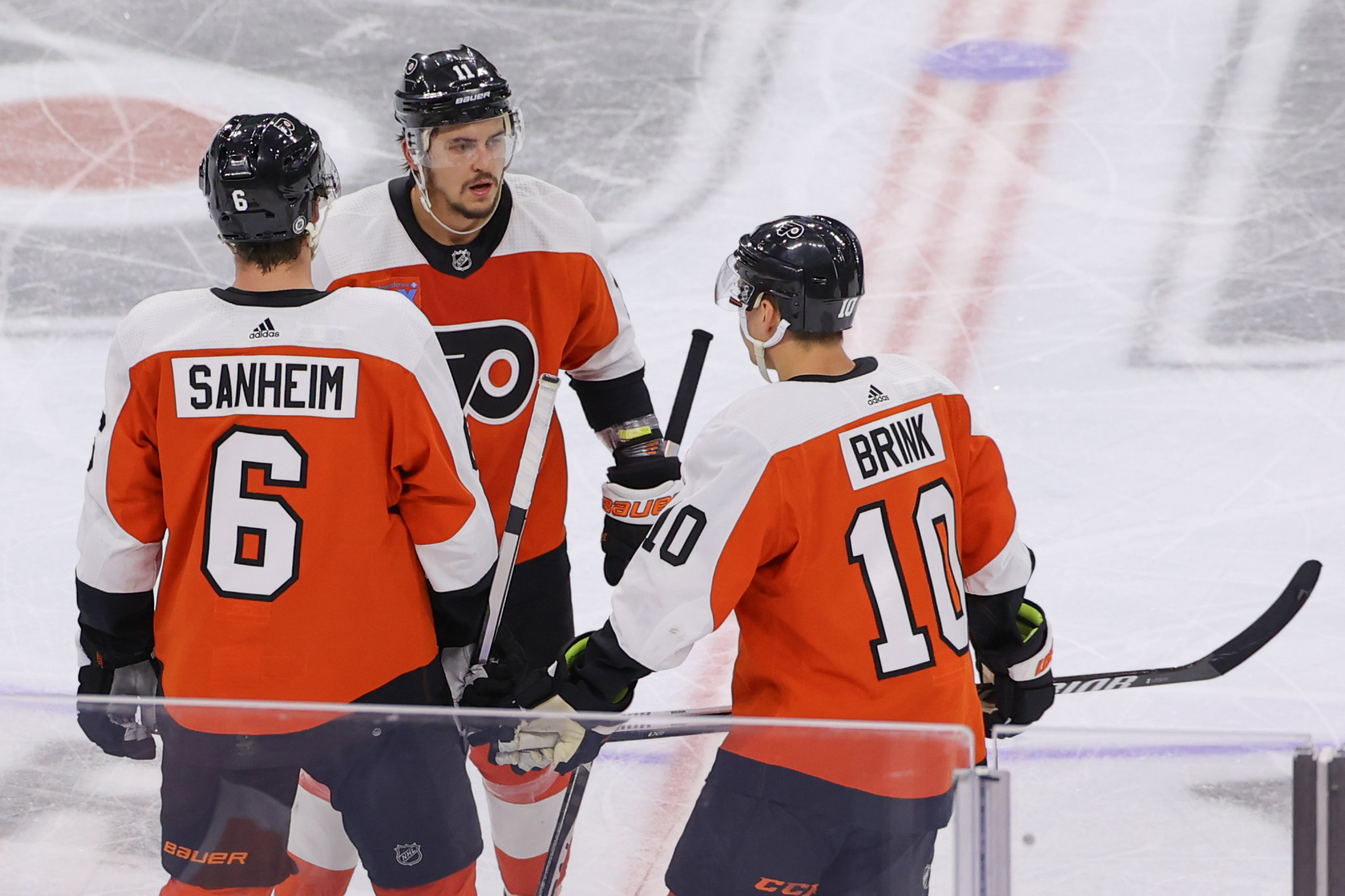 Remember when the Philadelphia Flyers had a lethal power play unit that ranked within the top-10 of the NHL on a near year-by-year basis, sometimes even within the top-5 or the top-3? Fast forward to the modern era of hockey, an era where most teams are in and around that 23-25% threshold, honing on the advantage of having that extra skater.
The Flyers? Well, they've finished in last place in 2021-22 and 2022-23 and could be well on their way to a third consecutive last place finish the way they're handling their business in 2023-24. It's honestly very mind boggling at how bad the Flyers are with the extra attacker. They overthink, overanalyze the situation, constantly pass, never find the shooting lanes, can't enter the zone with speed and purpose, aren't able to even win the initial faceoff, and most importantly they don't utilize the one-timer.
For years they've witnessed first-hand Alexander Ovechkin, Sidney Crosby, and Steven Stamkos rip one-timer after one-timer past their plethora of goaltenders. Ovechkin and Crosby each have 18 power play goals against the Flyers and Stamkos has 12, and I can all but guarantee that most of them have been from their patented one-time blast. For whatever reason, the Flyers don't have one-time options set in place and they're constantly moving around, which only confuses them and not the opposition.
Even whenever they are set, they're never in position to one-time a shot. They have to receive the pass, gather the puck, and then find the shooting lanes. All the while the aggressive penalty kill from the opposition is on their tail and force them to make an errand pass, a listless shot, or have to reset their positions.
The funny thing about all of this is that I'm starting to believe that the power play has been the root cause of why certain players have suffered. Ivan Provorov had 7 power play goals and 9 power play assists in 69 games in 2019-20. Then all of a sudden from 2020-21 to 2022-23, he only scored 1 power play goal to go along with 18 helpers in 377.1 minutes.
He was bad at keeping the puck in the zone, turned it over a lot, and passed up on too many shooting chances. However, in just 12 games with the Columbus Blue Jackets, Provorov has 5 power play assists and actually looks like a decent-to-good quarterback again.
Shayne Gostisbehere is another great example because he busted through the gates and quarterbacked a fantastic unit alongside Claude Giroux and Jakub Voracek with Brayden Schenn and Wayne Simmonds doing their thing at the front of the net. From 2015-16 to 2017-18, Gostisbehere scored 17 power play goals and added 61 helpers before dropping to 10 goals and 18 assists in the next 3 years.
He left Philadelphia and scored 19 power play points in his first season with Arizona, 15 the following season split between Arizona and Carolina, and already has 6 power play points on the season for Detroit compared to the Flyers' 4 power play goals collectively.
The biggest change came after Joe Mullen was let go because during his reign from 2007-08 to 2016-17, the Flyers power play was one of the best in the league:
2007-08: 2nd in the NHL at 21.82%
2008-09: 6th in the NHL at 22.47%
2009-10: 3rd in the NHL at 21.38%
2010-11: 19th in the NHL at 16.61%
2011-12: 6th in the NHL at 19.70%
2012-13: 3rd in the NHL at 21.64%
2013-14: 8th in the NHL at 19.73%
2014-15: 3rd in the NHL at 23.44%
2015-16: 11th in the NHL at 18.90%
2016-17: 14th in the NHL at 19.49%
Mullen's worst finish came in 2010-11 when they ranked 19th, even though they won the division. But apart from that season, they finished top-3 on four separate occasions and top-10 another 3 times.
Then Mullen was let go and they have not finished higher than 14th in the NHL, which is one of the biggest reasons why they sustained so many losing seasons when they were retooling. Kris Knoblauch, Michel Therrien, and Rocky Thompson have severely lost the plot since:
2017-18: 15th in the NHL at 20.69%
2018-19: 23rd in the NHL at 17.09%
2019-20: 14th in the NHL at 20.80%
2020-21: 18th in the NHL at 19.16%
2021-22: 32nd in the NHL at 12.55%
2022-23: 32nd in the NHL at 15.56%
2023-24: 31st in the NHL at 8.89% (St. Louis is last but has 10 less PPA)
One of the reasons why it has struggled over the last few seasons is that they lack obvious star power. They try to roll with 2 balanced units but it's getting to a point where neither unit is potent enough. Lots of teams generally have one powerhouse unit that remains on the ice for the majority of the 2 minutes and then make way for the 2nd unit in the final 30-40 seconds.
Travis Konecny, Sean Couturier, Bobby Brink, Cam Atkinson, and Travis Sanheim make up the top-unit and Tyson Foerster, Scott Laughton, Joel Farabee, Owen Tippett, and Cam York make up the 2nd unit. Morgan Frost would be the centre of the 2nd unit but Laughton has taken his place for the time being.
They technically have the one-timers set up with Sanheim, Atkinson, Tippett, and York on their off-wings, but they're rarely utilized. However, once the puck is dropped, there is far too much movement going around, lots of passes along the boards and behind the net, and no one getting into the slot for any real scoring chances. On top of everything, they barely have a net front presence.
Even with James van Riemsdyk struggling, he still provided that net-front presence, Wayne Simmonds was one of the best to do it during his tenure with the club, and Brayden Schenn provided a mix of net-front and bumper in the slot.
Couturier has essentially assumed the role that Claude Giroux had for several years where he occupies the boards and tries to set everything up, but they don't have an aggressive quarterback who shoots, they lack a net-front presence outside of Konecny, and even if they do settle in the offensive zone, they're more confused than anything else.
It's almost as if there's zero planning and they really want to find the perfect shot. Even going back to last year, the same problems persisted but whenever they did score a power play goal, a lot of the time it was because Tony DeAngelo or Cam York took a point shot with traffic in front of the net. If you don't have shooting options on the wings or along the boards, your only other option is your quarterback trying to find the shooting lanes – something else that is currently missing.
When none of this is happening – let alone being able to win a faceoff – how do they expect to take advantage of the extra skater. Their neutral zone play is horrendous too, they're all stuck in mud as the one player with the puck has no other option but to either walk into the defensive trap or to dump it in with no one chasing.
From 2008-09 to 2016-17, Giroux had 62 power play goals and 175 helpers with Joe Mullen at the helm. Mullen left but Giroux still up 19 power play goals and another 71 helpers between 2017-18 and 2020-21. Jakub Voracek put up 46 power play goals and 162 helpers in his 10-year tenure with the club.
These two were the driving force for well over a decade and Giroux sits atop the franchise board with 339 power play points with Voracek in 8th place with 208, respectively. The way they're going now, no Flyer is ever going to come close to those totals.
What worked then could still work now if they use their personnel to the best of their abilities. Giroux, Voracek, and Gostisbehere ran the umbrella to perfection with one-time options for all 3 players available, then they had Simmonds at the front of the net and Schenn in the bumper. Gostisbehere had free reign to do whatever he wanted and it worked to his favour as he possessed light feet and a heavy shot.
If the Flyers could follow that same game plan, they could have York as the quarterback, Couturier on one wall and Owen Tippett on the other with their one-timers ready, Konecny in the bumper, and Atkinson at the front of the net. He may be small in stature, but he has great hand-eye coordination and has no issues with getting in the dirty areas.
The second unit would follow suit with Sanheim as its quarterback, Foerster and Frost along the walls, Farabee in the bumper, and Brink at the front of the net since he's just another version of Atkinson. It's not the most ideal situation because you lack that big, tall, power forward at the front but it still fits their skill set and gives you one really good unit and another decent-to-good unit to follow.
Hey, it might not work but at this point you have to change things up and simplify your game. They're rebuilding and they're not supposed to win games, sure, but going 4-for-45 in 13 games and 0 for their last 21 is unacceptable. A lot of their recent losses have been close games, and a power play goal would've changed the entire trajectory of each game.
Konecny has 2 power play goals with Brink and Couturier each contributing 1 apiece. Couturier, Sanheim, and Atkinson each have 2 assists with Brink and Foerster chipping in with 1 apiece. Gostisbehere and Provorov have had their hands on more power play goals than the Flyers, Tony DeAngelo is tied with 4 power play points, and even Erik Gustafsson is putting in good work with 2 power play points on the 2nd unit of the New York Rangers power play.
The Flyers will look to get back on track on Friday against the Anaheim Ducks, who have a middle-of-the-pack penalty kill.
2024 Stadium Series Trip
Flyers Nation and Philly Sports Trips have teamed up to bring you on an amazing bus trip to the 2024 NHL Stadium Series between the Flyers and Devils. Place an early deposit to reserve your spot at the ultimate tailgate experience at MetLife Stadium before the game. The package includes a game ticket, round-trip charter bus, an all-inclusive tailgate party with unlimited cold beverages, "Philly Style" catered food, live entertainment, and more.