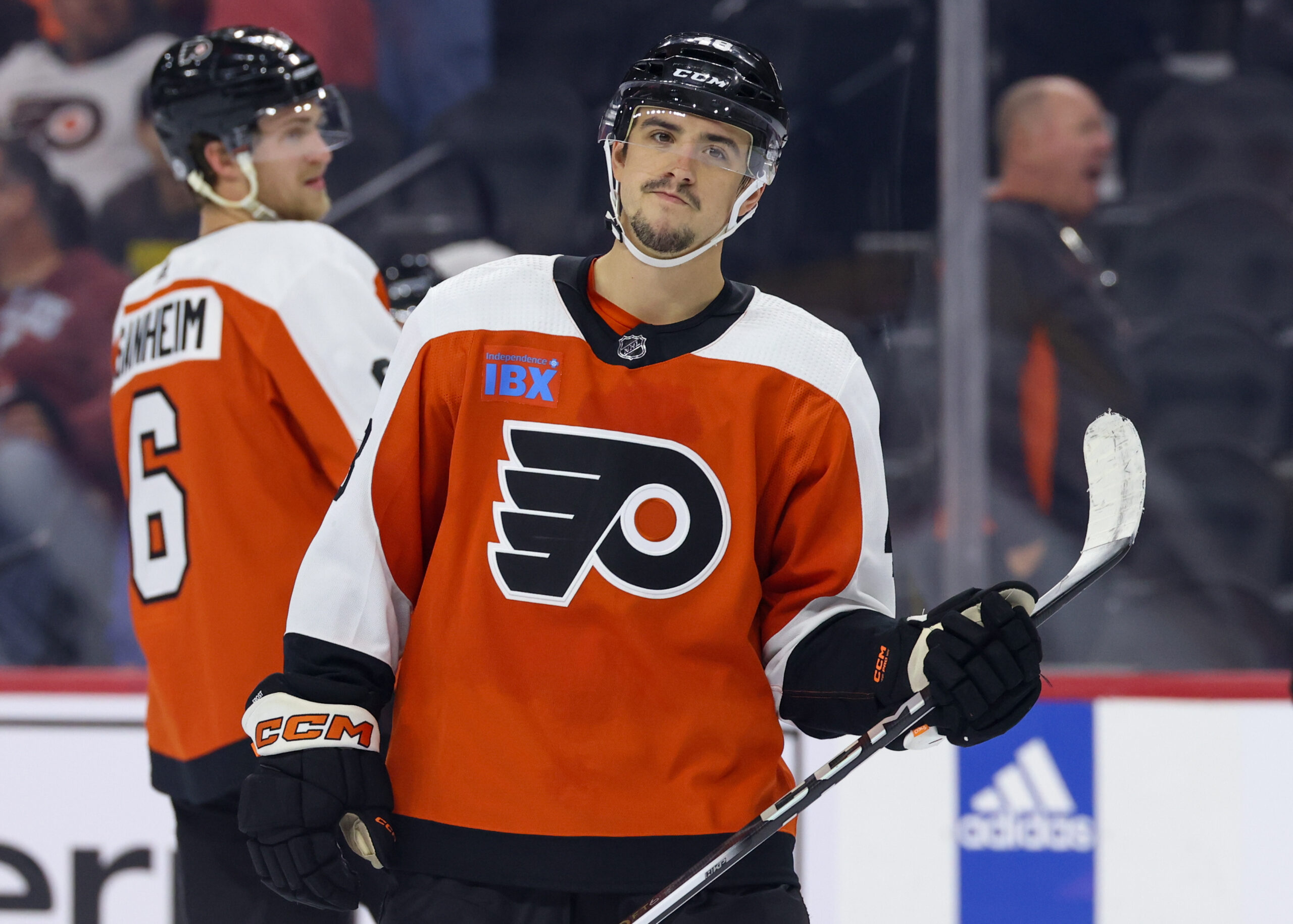 With Sean Couturier returning to the lineup after a 2-game absence on Tuesday night, someone had to make way with the rest of the Philadelphia Flyers remaining healthy and John Tortorella decided to scratch Morgan Frost for the 7th time this season.
Morgan Frost will head back to his seat in the press box as Sean Couturier returns tonight.

Frost has zero points in six games. #Flyers pic.twitter.com/WqRE8KPazY

— Flyers Nation (@FlyersNation) November 7, 2023
After playing the first 2 games, Tortorella benched Frost for the next 6 before reentering the lineup the last 4 games after the Flyers were handily defeated by the Anaheim Ducks by a score of 7-4. In those 4 games, he went pointless, was a plus-2, fired 6 shots on goal, and averaged 16:26 TOI. On the season he has 0 points, is a plus-1, has 8 shots on goal, and averaging 15:37 TOI.
On the surface, his two short stints have been nearly identical, however many will be quick to point out that he has generated offensive scoring chances through his playmaking ability but the Flyers have been unable to cash in. On the other end of the spectrum, you'll also see how it's becoming glaringly obvious that there is something more amiss with his game than previous seasons and that could be a contentious point between player and coach – and maybe front office.
I wasn't against the idea of him being benched after the 2nd game of the season, I did think it was a little odd that he remained out of the lineup for 6 games, but the team was playing well so you don't want to mess with that momentum. However, Frost hasn't been the worst forward since he's reentered the lineup and it was a little puzzling to see him sit out against a team like the Sharks that allowed the Flyers to fire 40 shots on goal. Is there light at the end of this tunnel because Tortorella isn't against playing the kids – Owen Tippett, Bobby Brink, Tyson Foerster, Noah Cates, etc. – it just seems to be Frost.
Frost was a fantastic junior player for the Sault Ste. Marie Greyhounds and has flexed his muscles whenever sent down to the Lehigh Valley Phantoms. However when it comes to the big leagues, Frost has struggled mightily and although injuries have played a part, his inconsistencies have pushed him out of the lineup.
After missing almost 2 full years of hockey due to a shoulder injury and interruptions from COVID, Frost started out the 2021-22 season with the Phantoms. He made his way back to the NHL and finished with 5 goals and 16 points in 55 games. The end-of-season review was that he struggled to get going after missing so much time but finished the season strong aside Owen Tippett.
We entered the summer of 2022, Tippett got a $3 million deal for 2 seasons, Isaac Ratcliffe got $810,000, and Frost earned himself an $800,000 deal. It's a little peculiar that Ratcliffe, who wasn't really a part of the team's future plans, got more money than Frost. Nevertheless, Frost entered the 2022-23 season with high hopes in reversing his fortunes but that was quickly dispelled with a run of 24 games in which he recorded 3 points.
He did score 2 goals in the opening game and added an assist 2 games later but then succumbed to another lengthy drought. The biggest difference from last season to this year is that the Flyers never had options if they ever did want to scratch or bench someone. Their options were Kieffer Bellows or Tanner Laczynski and neither of them would have made sense. So Tortorella rolled the dice hoping that they could figure it out.
It worked because Frost then finished the final 54 games as the team leader in points with 40 and all but 4 came while on even strength. He also averaged 3 more minutes of ice-time in that stretch than the first 27 games. It was the first time since he was drafted in 2017 that we got the real taste of what Frost could do at the NHL level if and when he was given the opportunity and afforded a longer leash.
The summer arrived and all but one RFA had signed new deals as we entered September: Morgan Frost. The NHL is very traditional and old-school and there are several unwritten rules about contracts and contract negotiations that can't slide under the rug. The longer an RFA takes into signing a new deal, the more it rubs the club the wrong way. Electing for arbitration was another taboo – Brayden Schenn – but more and more players have jumped the ship in recent years.
Frost got a 2-year deal, he was only counting against the cap at an annual hit of $2.1 million, and with how he ended the season coupled with the returning reinforcements in Sean Couturier and Cam Atkinson, you would have assumed that that would have worked out in his favour. He was nearly non-existent in his first two games, which is why he got the boot. This year, the Flyers entered the season with extra forwards on top of Couturier and Atkinson's returns so it made Tortorella's decision that much easier to make.
Bobby Brink and Tyson Foerster were going to rotate in and out at the beginning but with Frost struggling in Tortorella's eyes, both rookies made their way into the same lineup. Brink has been spectacular with 3 goals and 8 points in 11 games, averaging 16:24 TOI, and has really meshed well with Noah Cates and especially Joel Farabee. Tyson Foerster who impressed last season in his 8-game stint has only 2 assists on the season, 0 goals on 21 shots, and averaging 15:14 TOI but has not felt the same wrath as Frost.
That has divided the fanbase in nearly 2 sectors because those that believe the Flyers are wasting Frost don't understand how certain players (sometimes Foerster, sometimes Ryan Poehling) are in the lineup, considering what Frost can bring to the table. Then you have the other side that has seen this same song and dance since 2019-20 and don't think he fits the schemes anymore.
For better or worse, this is John Tortorella's club and his system that he has instilled is going to weed out certain players, while conversely shining on several others. Noah Cates is a prime example of a player who has thrived under Tortorella's system, while Kevin Hayes had no chance of surviving if he didn't clean up his act. Most of the players have conformed to the new system with its aggressive ways of forechecking, back-checking, and finishing your plays. If Cates is one end of the spectrum and Hayes is the other, Frost is closer to Hayes than he is to Cates and that can spell a problem moving forward.
He's only 24 years old, he still has plenty of years to reach his potential, and you really do hope that both sides can come to a mutual agreement. However, it truly doesn't seem like Tortorella sees a fit in Frost, otherwise you don't bench one of your best offensive options in theory. Whenever Frost figures himself back into the lineup, a fire needs to be set, he has to be more aggressive, and needs to find a way on the scoresheet. There are far too many younger players knocking on the door that the Flyers might prefer over Frost, and we've seen that already with Brink, Foerster, and to some degree Poehling.
Ahead of the season many believed that there would be issues between Tortorella and Frost and that is exactly what has happened to begin the 2023-24 campaign. You wonder if the three-headed monster of Tortorella, Daniel Briere, and Keith Jones are seeing eye-to-eye on this situation because had they been on the same page, I would have to assume a 2-year contract would not have been in the cards. Keith Jones did say that there will be moments and decisions where all 3 members won't come to a consensus, however Tortorella was given free reign over the head coaching duties, Briere is dealing with the on-ice issues that a general manager would partake in, and Jones is primarily dealing with the business side of things.
Noah Cates has struggled a little to begin the season and Ryan Poehling hasn't been as impactful as Nicolas Deslauriers or Garnet Hathaway, so why can't the Flyers try something different? Scott Laughton played 2 games on the fourth line with Deslauriers and Hathaway and they instantly jelled and might have been the best fourth line the team has fielded in years. Laughton is a true utility player and he can impact each and every line, but none more than the fourth. If he centres the fourth, Cates can remain on the third with Bobby Brink and Joel Farabee, while Frost can patrol the second line with Travis Konecny and Tyson Foerster.
Not to say that Frost has been playing so well that this decision is a pure head scratcher but that tight leash that has been around his neck with previous coaches has returned and it's not looking good for his prospects in remaining with the Flyers long-term.
After dropping 2-1 to the previously winless San Jose Sharks, a game in which the Flyers outshot them 39-19, you wonder if Tortorella would consider bringing him back for at least the first game of their upcoming back-to-back with the Anaheim Ducks and Los Angeles Kings.
Rotating him in and out of the lineup doesn't make much sense either but one thing is very clear: Frost has to really prove his worth moving forward and whenever he does get back in the lineup, he needs to score or get on the scoresheet for Tortorella to keep him in there.
2024 Stadium Series Trip
Flyers Nation and Philly Sports Trips have teamed up to bring you on an amazing bus trip to the 2024 NHL Stadium Series between the Flyers and Devils. Place an early deposit to reserve your spot at the ultimate tailgate experience at MetLife Stadium before the game. The package includes a game ticket, round-trip charter bus, an all-inclusive tailgate party with unlimited cold beverages, "Philly Style" catered food, live entertainment, and more.