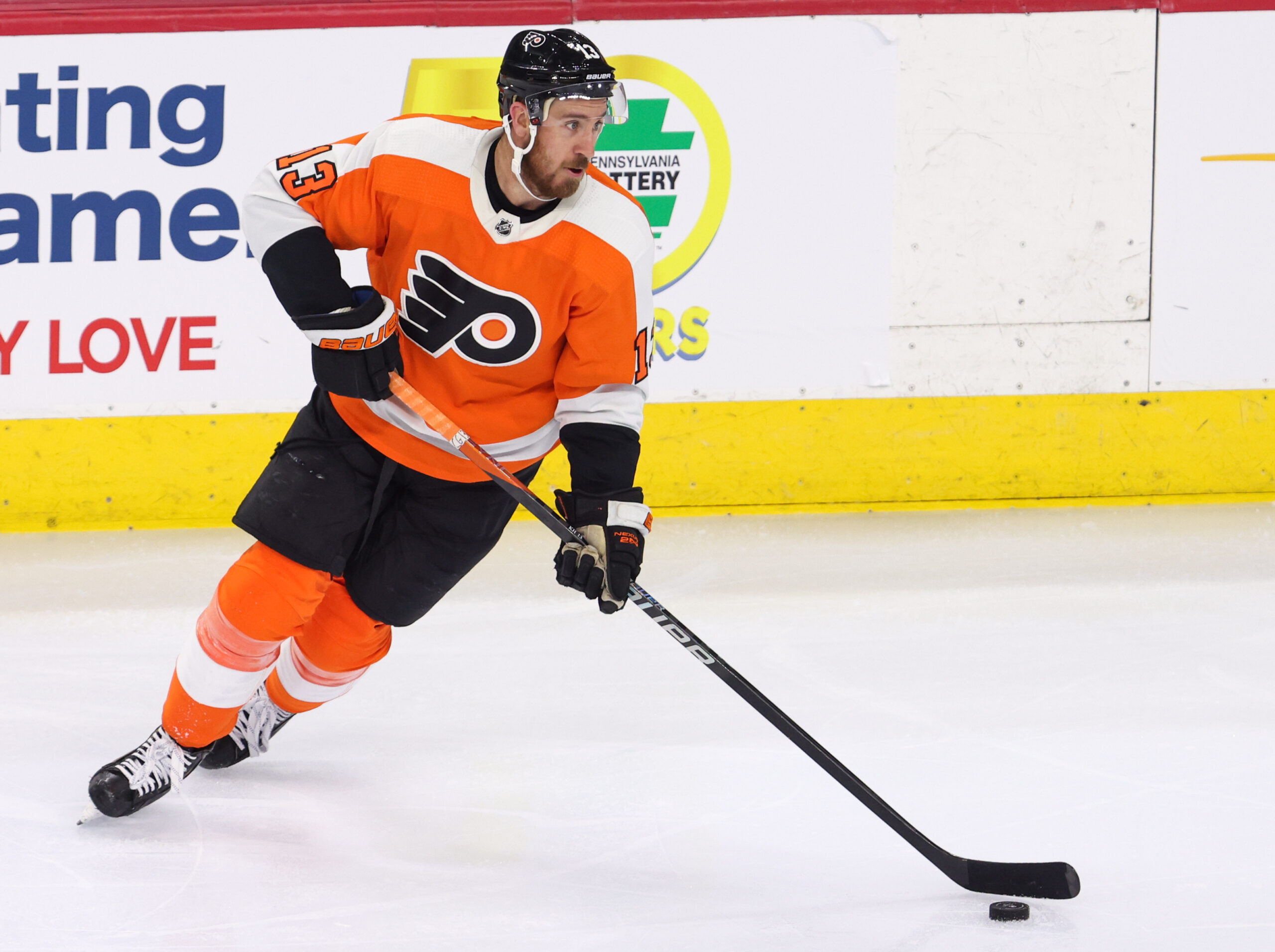 Flyers Offseason: Should they stay or should they go?
With Keith Jones and Danny Brière now fully in control of a reshaped Philadelphia Flyers front office, they have a lot of work to do get this franchise back to the ways of winning.
As we know, the past two GMs left the franchise in a mess, with players randomly plugged in throughout the roster that no longer fit the goal and time frame of this rebuild. With this being the case, many players who were on the team last season are seemingly on their way out. The question now is who?
Let's take a look at which players should stay, and which ones should go.
*Note: All players are in order of their cap hit for the 2023-2024 season. Those who are pending UFAs/RFAs will be designated as such at the end.*
C – Sean Couturier: $7.75M AAV
Coots is in a weird position. When he's been on the ice, he's been a constant point producer and shut down defensive center. His problem, though, is staying on the ice for extended periods of time. His injuries have piled up over the past couple of seasons and the human body can take only so much damage before it starts to shut down. Right now he's one of the major leaders on this team and has reportedly been itching to get back on the ice.
I'd say keeping a guy like Couturier is big not just for on ice play, but even for developing young players. Noah Cates can learn a lot from Couturier, as there are a lot of similarities between the two. The cap hit is high and the NMC makes it nearly impossible to move him off the team, but his leadership and mentorship will matter more to this young group than many think.
Verdict: STAY
C – Kevin Hayes: $7.142M AAV
The writing is on the wall with Hayes. His first season here was great, and we should always appreciate the short time we had together. Even if the past couple of seasons have been rocky, with all those surgeries he had, his weird All-Star selection this season, and even through the tiny spats with Tortorella through the media, he was a fan favorite for a short time.
He did also have the terrible situation of his brother Jimmy passing away, which would absolutely impact how a player plays the season that happens. I absolutely will not hold that season against him at all. But all things do come to an end, and it's time to move on. No ill will at all, but he just doesn't match the window the Flyers are in, and he deserves to go compete for a contender.
Verdict: GO
LD – Ivan Provorov: $6.75M AAV
What originally looked like a match made in heaven that would last years, now seems to be headed for an ugly divorce. Provorov's name has been swirling in trade rumors over the past two seasons, as there seems to be a disconnect between him and some people in the locker room and front office. On top of that, the bad optics of his Pride Night protest and how it was handled rubbed some fans (and even management) the wrong way. All that's been lost in this whirlwind of drama has been his play on the ice, which has been…not good. He needs a fresh start somewhere else to rebound. Think Seth Jones.
Verdict: GO
RD – Ryan Ellis: $6.25M AAV
Yes, Ryan Ellis is still alive. He probably won't be playing hockey ever again, but if you were getting paid over six million dollars to do nothing, would you retire and give that up? I didn't think so. His contract will actually be an asset for the Flyers the upcoming season if he never plays again, too. Think about all the teams that are trying to dump cap space midseason that have traded for players who will never play again just to put them on LTIR. He'll stay this offseason, but look for the Flyers to take a contract with 1-2 years left on it and dump Ellis at the 2024 deadline.
Verdict: STAY (for now)
LD – Travis Sanheim: $6.25M AAV
This is really bad. Sanheim is another player who doesn't fit the window, but the problem is he's under contract here for the foreseeable future. He had a couple good seasons followed by a really bad one under Tortorella. We don't know which Sanheim to expect. He has loads of potential, but he has rarely played up to it. At this point you have to wonder if the Sanheim we saw last season is this the Sanheim we get for the next four plus years. Or will he bounce back? Unless Brière can work some magic and get him moved before or during the draft, Sanheim will be a Flyer for at least four more years. He should go, but in no realistic world does he.
Verdict: STAY
W – Cam Atkinson: $5.875M AAV
Atkinson is another player who has fallen curse to "Weird Flyers injuries that no one can seem to explain." Atkinson is a great guy, a true leader in the clubhouse, a defensive workhorse, solid on offense, and seems to love being here. He is valuable to this team and will be a huge mentor to the young wingers they have in Owen Tippett, Bobby Brink, and Tyson Forester.
Verdict: STAY
W – Travis Konecny: $5.5M AAV
This one is TOUGH. On one hand, Konecny just had the best season he's ever had in the NHL, and he might improve more next season when Couturier comes back. On the other hand, his contract is up soon and he still has a very reasonable $5.5M cap hit. On top of that, coming off the best season of his career, some contending teams might be looking to scoop him up. Brière has the ability to show what this rebuild will really be. If he trades Konecny he'll get a HAUL that'll fully kickstart this rebuild. If not, they might stew around the wild card again and be playoff hopefuls for the next two years. I love TK and all that he's been for us, but the saying does go "if you love something, set it free," and I agree with that in this case.
Verdict: GO
RD – Rasmus Ristolainen: $5.1M AAV
Another player coming off probably the best season of his career. His point production and drive on offense was down, but his defensive numbers SKYROCKETED. Torts fixing Ristolainen might be his biggest accomplishment as a head coach, and he won a Stanley Cup. RHD don't grow on trees, and that contract is going to be so hard to move right now. Even if he does regress back to his old self next season, a bad defense won't hurt the tank!
Verdict: STAY
RD- Tony DeAngelo: $5M AAV
Bye bye Tony. Terrible season on the ice, fighting fans on social media, and got into some sort of unknown trouble with the team at the end of the season resulting in him being a healthy scratch. His contract should be easy to move as there's only one year left, and the Flyers could even eat half of it. A contending team will definitely try to grab him for their power play.
Verdict: GO
W – Joel Farabee: $5M AAV
Weird rumors circled around Farabee this season as there was a random "trade request" that somehow made its way around the internet. Farabee shut that down when it started to spread. I doubt there was actually anything to it, just trade deadline smoke. Coming off major surgery it was a down year for him, but I fully expect him to bounce back and be one of the building blocks for the future of this franchise.
Verdict: STAY
G – Carter Hart: $3.979M AAV
He's the goalie of the future for this franchise. Yes, there are some viable options in the system, but when you get a good one you keep him as long as possible. Cahtah Haht isn't going anywhere.
Verdict: STAY
W/C – Scott Laughton: $3M AAV
O Captain! My Captain! Laughton is the leader of this team. On ice he works harder than anyone. Off ice he's a true leader that would do anything for his team. He connects to the fans, does charity work with the team, and Kevin Hayes called him one of the funniest people he knows. He's the perfect balance between having fun and getting to work. He was the only one on the team last year who had a letter on the front of his sweater. That should tell you all you need to know about how he's viewed by the the team, the coaching staff, and the front office.
Verdict: STAY
W – Nic Deslauriers: $1.75M AAV
You know, I really don't mind having Deslauriers here during the rebuild. He's fun for the fans as he'll most likely get into a fight every game, he has years of experience in the league, and the best part is he'll be able to protect our younger guys from getting rolled over by opposing teams. He's a valuable rebuilding player and I want him here throughout the rebuild.
Verdict: STAY
W – Owen Tippett: $1.5M AAV
Did Chuck Fletcher…win a trade??? The Panthers were bounced in the first round last season, and Claude Giroux bounced after that to head home to Ottawa. The Flyers got a 1st round pick, a 3rd round pick and Tippett back in that deal. Tippett has been a spark on the Flyers with consistent playing time this year, he's showed up. He's shown flashes of becoming a reliable second liner, with a first line ceiling. Fletcher got a good haul for being backed into a corner. His tenure was a disaster, but if Tippett turns out to be a stud…
Verdict: STAY
LD/RD – Nick Seeler: $775K AAV
Was Nick Seeler the reason Rasmus Ristolainen had his career year??? Probably not, but it does show how underrated he was this season. He was great in his third pair minutes and always seems to be firing on all cylinders. But again, he is just a third pairing defenseman on a really cheap contract. Cash in on his career year while you can this offseason and get some assets.
Verdict: GO
G – Felix Sandström: $775K AAV
Do the Flyers keep Sam Ersson in the AHL for another season, or do they bring him up to back up Hart? It's an interesting situation as Sandström is only making $775K this year, but Ersson would be the AHL starter with Ivan Fedotov most likely never coming over from Russia. I say keep him and if the Flyers stink again (they probably will) flip him at the deadline to a team that needs a goalie.
Verdict: STAY
W – James van Riemsdyk: UFA
Not going to lie, I never thought JVR would play out his entire five-year deal here in Philadelphia two seasons ago, yet here we are. He's a great person, and was said to be an even better teammate, but he just wasn't a fit here in his second stint. It was fun (not really), but he should go chase a Cup.
Verdict: GO
W – Brendan Lemieux: UFA
Oh yeah, Lemieux was on the team this year. It was a short and also entirely forgettable period of time as I completely forgot he was on this team until researching for this article. He was just…there. The Flyers already have Nic Deslauriers, so Lemieux won't (and shouldn't) be back.
Verdict: GO
W – Kieffer Bellows: RFA
The waiver pickup had a meh season. He played only 28 games and scored three goals. He did have zero assists though, so I really don't know what to think of him. His career has been underwhelming so far, too. I really don't see a problem with keeping him for depth on the fourth line and taking him to arbitration because he definitely won't get a lot, BUT I know he'd just take his $1.2M qualifying offer and I don't think the Flyers need to spend that type of money on a guy who hasn't played more than 45 games in a single season.
Verdict: GO
C/W – Noah Cates: RFA
If there was a player to buy stock in, Noah Cates is the one. In his first full season in the NHL, he was SHUTDOWN on defense. He is young, and if he gets his scoring and playmaking improved he'll become an excellent 2C on this team. The Flyers need to lock him up as soon as possible. The contract Sean Couturier got from Ron Hextall should be the benchmark.
Verdict: STAY
C – Morgan Frost: RFA
After years of disappointment from one of the Flyers' highly-touted prospects, this year looked to be headed in the same direction. Then something inside Frost clicked. He had 17 points in his final 20 games and showed potential of being that player they thought they had. I think a short bridge deal to his last RFA year seems likely to happen, and it absolutely should.
Verdict: STAY
LD/RD – Cam York: RFA
I don't want to be tricked by another defensive prospect that's shown promise early in their career, but dammit I'm going to. York looked great when he was up on the big boy squad, and he's only going to get better. Chuck Fletcher seemed to bless us with York after years of disappointing defensive prospects. Again, a bridge deal to his final RFA year seems likely.
Verdict: STAY
D/W(for one game) – Justin Braun: RETIRED
Thank you for your service. You were underappreciated when you were here, and you'll always have a fan in me.
Verdict: *TIPS HAT*