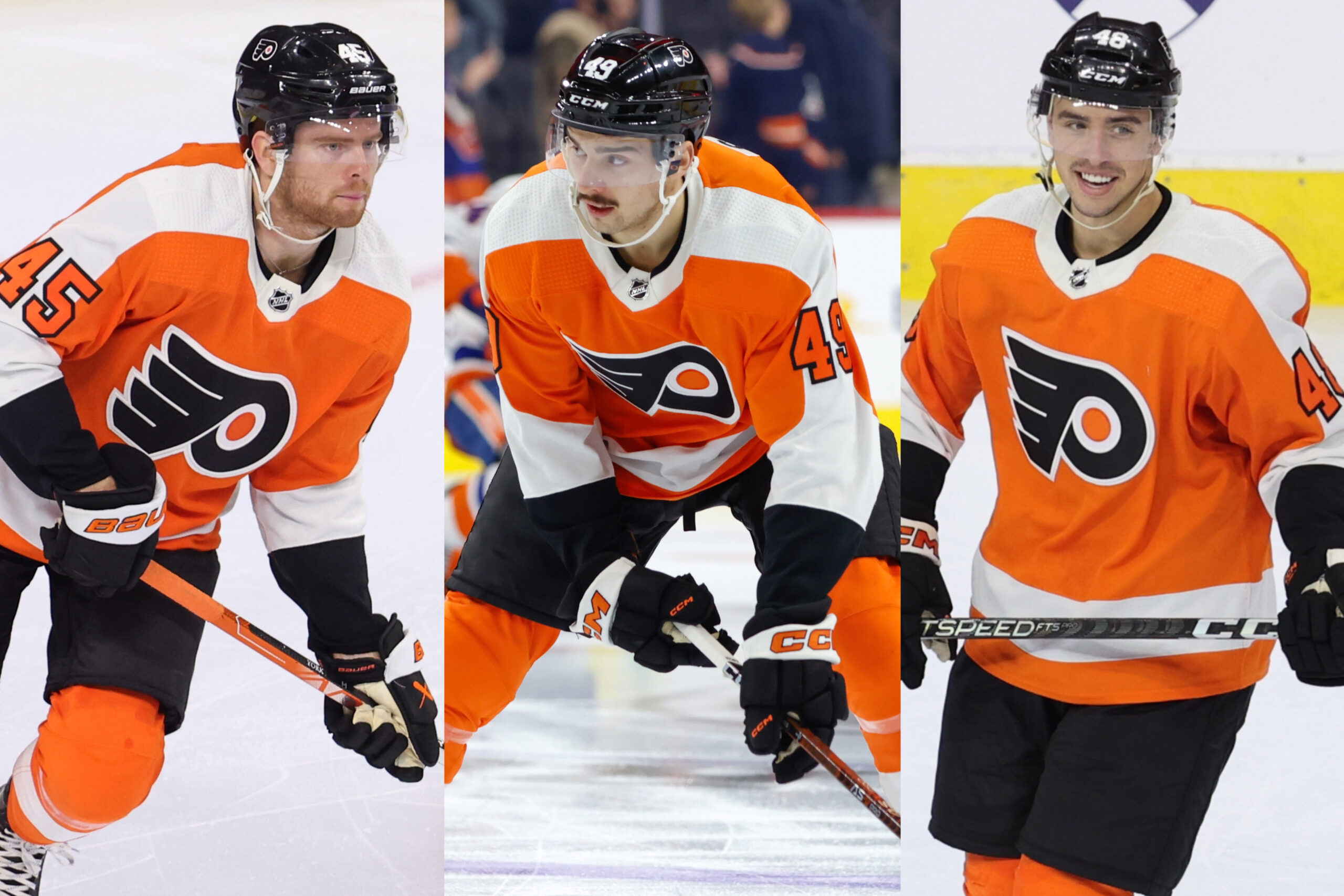 With Very Limited Cap Space at Their Disposal, Flyers Have to Prioritize Their RFAs in Frost, Cates, and York
Due to Ryan Ellis and Sean Couturier being placed on LTIR last season, the Philadelphia Flyers were hit with a bonus overage heading into next season. They were among 14 teams who were affected by this but have the second highest overage at $1,187,500, behind only the Boston Bruins' $4.5 million.
Since LTIR was used, performance bonuses turned into cap charges for next season. Justin Braun received bonuses based on games played, Cam York received bonuses for ice time and plus-minus, and Noah Cates received a bonus for plus-minus and could receive an additional $212.5K if he makes the All-Rookie Team – which would then put the Flyers at an overage of $1.4 million.
The salary cap for the 2023-24 season increased, but only by $1 million. Before COVID interrupted the league in 2019-20, the salary cap was supposed to eventually spike beyond $95 million-$96 million but due to financial constraints, the NHL had a flat cap of $81.5 million for years before going up to $82.5 million last year.
Earlier in the season it was reported that the cap could increase to $87.5 million-$88 million in 2024-25 and then $92 million in 2025-26. However until then, the Flyers will have to make do with what Chuck Fletcher laid out during his tumultuous tenure as general manager.
According to CapFriendly, the Flyers head into the offseason with only $7,701,476 even with the million dollar cap increase. They have already lost $1.1875 million from the overages – could lose an additional $212.5K if Cates makes the All-Rookie Team – and are on the hook for $666,667 on Oskar Lindblom's buyout.
As for what they have on the docket in terms of pending UFAs and RFAs, it's an interesting list. They don't really have to worry about their UFAs but they carry several RFAs who are important pieces moving forward.
This is also another reason why trading players like Kevin Hayes and Tony DeAngelo is that much more important because it alleviates cap space, roster spots, and room to sign their precious RFAs.
Pending UFAs
F James van Riemsdyk
F Brendan Lemieux
D Justin Braun
F Jackson Cates
F Max Willman
D Louis Belpedio
G Troy Grosenick
Pending RFAs
F Kieffer Bellows
F Noah Cates
F Morgan Frost
D Cam York
F Evan Barratt
F Olle Lycksell
D Ronnie Attard
D Wyatte Wylie
G Ivan Fedotov
van Riemsdyk, Braun, and Grosenick will not be returning, Lemieux will only come back if the Flyers need more depth pieces, while Jackson Cates, Belpedio, and Willman could be re-signed based on their performance this season with the Lehigh Valley Phantoms – 27 points, 23 points, and 23 points, respectively.
Bellows, Barratt, and Fedotov seem likely to not receive contracts since Bellows disappointed in his short stint with the Flyers, Barratt could remain in the AHL or ECHL if the Flyers see a fit, and Fedotov is most likely stationed in Russia indefinitely. That leaves Noah Cates, Frost, York, Attard, Wylie, and Lycksell who will most definitely be qualified or signed.
The "Big 3" for the Flyers this summer include Morgan Frost, Noah Cates, and Cam York.
Morgan Frost
Morgan Frost enjoyed a career-season in 2022-23 after spending parts of 3 seasons with the Flyers between 2019-20 to 2021-22 only playing in 79 games. In 2022-23, Frost played in 81 games, scored 19 goals, chipped in with 27 assists, fired 155 shots on goal, averaged 16:21 of ice time per game, blocked 53 shots with 83 hits, and had a takeaway giveaway ratio of 37 to 26.
Last summer he was signed to a prove-it deal worth only $800,000, which was surprisingly $10,000 less than what Isaac Ratcliffe earned himself. The start of the season wasn't too kind for Frost, as he endured a slump of 24 games where he only scored 1 goal and 3 points after recording 3 points in his first 3 games. From that point on, Frost finished the season with 16 goals and 40 points in his final 54 games, while averaging 17:17 of ice time.
He became a focal point of the offense, played a lot with Owen Tippett and Joel Farabee, and should be in line for a modest raise heading into negotiations. The Flyers could opt-in for another bridge deal but this time around they won't be getting him at a discounted price of less than $1 million. They could model his new contract with one of his fellow 2017 draftees in Martin Nečas who was given a 2-year deal worth $3 million per season after he produced a 40-point campaign in his contract year.
Based on his role this past season, what is to be expected moving forward, how the team is currently constructed, and how the team will look heading into 2023-24, Frost is going to be an important piece and most likely 2C to Sean Couturier's 1C. Couturier is supposed to make his return next year but if things fall apart, look for Frost to reassume his 1C role.
The Flyers could let go of the shackles and offer him a long-term deal, but would that be wise? One of the biggest reasons the Flyers have reentered salary cap hell is because they offered the wrong players long term deals. In saying that, Frost is only turning 24 next week but he only really has 1 full NHL season under his belt. He showed off in a big way, especially in the second half of the season when he paced his club in points.
A longer termed deal should not exceed more than 4 years but in that instance, he could command a 4×4 or a 4×4.5 due to the added term, potential, age, how he ended the season, and how Tortorella will deploy him moving forward.
Noah Cates
Noah Cates had a very successful rookie campaign and became an immediate favourite for head coach, John Tortorella. He played in all 82 games, scored 13 goals and 38 points, was a plus 3, averaged 17:46 of ice time, blocked 65 shots to 86 hits, and had a ridiculous takeaway to giveaway ratio of 60 to 13. His strong defensive play earned him some praise from several pundits about Selke voting, Tortorella used him in all situations, he was a stout penalty killer, and he became a dependable offensive option when playing with wingers like Joel Farabee and Travis Konecny.
He started the season slowly in terms of his offense, but picked things up in the final stretch. In his first 55 games he scored 8 goals and 22 points before finishing the year with 5 goals and 16 points in his last 27 games. He played in 1153.5 minutes while playing even-strength, 152.6 minutes while shorthanded, and 150.8 minutes on the power play.
Cates was 8th on team in average time on ice and 3rd amongst forwards, he was only 1 of 5 players who finished with a positive plus-minus but was only 1 of 2 players who played in more than 28 games and he also led the team with a plus 3 rating, was second on the team in blocked shots for a forward, was 7th on the team in hits as a forward, took the most faceoffs by a margin of 70, and his 60 takeaways were 16 more than 2nd place on the team.
If the Flyers opt to go towards a bridge deal, Cates could earn a 2-3 year deal worth anywhere between $2.5 million-$3 million. With Couturier in the picture – at least for next season – Cates would be stapled in as the team's 3C, would have a little less responsibility than he carried in 2022-23, his ice-time would drop by a couple minutes, but he would still be used in important situations as the team likens him to a younger Couturier.
Tortorella loves this type of player and Cates enamoured himself with the entire organization from top to bottom. He is also only 24 years old and could represent himself as a utility knife for the Flyers in the coming years.
The Flyers could go ballistic and gamble with a long term deal that was similar to Jesperi Kotkaniemi's 8-year deal that has him at $4.825 million AAV. If they truly believe in his trajectory and the fact that he can become a dependable offensive contributor coupled with his hockey IQ and defensive acumen, then they could go 6-8 years for an AAV around $4 million-$4.5 million.
It seems unlikely that Daniel Brière would just throw around contracts like that in his first few months as a general manager, but weirder things have happened. Players like Cates are a safe bet but the AAV is extremely important for the later years if they go down this route.
Cam York
With the 11th overall selection in the 2019 NHL Entry Draft, the Flyers had Matthew Boldy, Cole Caufield, and Cam York at their disposal to choose from. The Flyers decided to trade down to the 14th pick with the Arizona Coyotes – while also recouping a 2nd round pick – because they knew the Coyotes weren't taking their player at 11, the Florida Panthers at 13 were going to take goaltender Spencer Knight, and it just left the Minnesota Wild at 12. Victor Söderström went at 11, Matthew Boldy at 12, and Spencer Knight at 13.
Fans were excited and clamouring for the goal-scoring sniper in Cole Caufield, but the Flyers went for the dynamic defenseman in Cam York instead.
After perfecting his craft with the University of Michigan, York took his talents to the big leagues but ended up splitting his 2021-22 and 2022-23 seasons with both the Phantoms and Flyers. For the Phantoms, he has accumulated 8 goals and 30 points in 62 games, while chipping in with 5 goals and 30 points in 87 games for the Flyers. The 22-year-old started the 2022-23 season in the AHL after a very short and disappointing training camp. He was called up in December and never looked back.
The points came quick, then they dried up, then they came quick again before the season ended. He played top-pair minutes with Ivan Provorov, ended the season averaging over 20:00 of ice time in his final 20 games, quarterbacked a power play unit, and was even used for shorthanded purposes as well.
His smooth skating, offensive prowess, and ability to go end-to-end was on full display. Tortorella wanted him to work on his craft with the Phantoms and he came back with a chip on his shoulder, and the argument can be made that he is currently their 2nd-best defenseman – maybe their best if Ivan Provorov is indeed moved.
With only 87 games under his belt at the NHL level in parts of 3 seasons, the Flyers could opt for a bridge deal of 2-3 years and an AAV around $2.5 million-$3 million. If they decided to pony up and give him a long-term deal coming out of his ELC, they could model the deal around Jakob Chychrun's 6-year, $4.5 million AAV. A deal like that could fetch him a few different offers: if they opt for a 4-year deal then he could command a little over $3.5 million but a shade under $4 million, if they opt for a 5-year deal then the AAV would be $4 million+ for sure, and if they went the Chychrun route and gave him a 6-year deal then the AAV would go slightly up and closer to the $4.5 million range.
Since these numbers would add up to around 10-15 million, the Flyers will have to cut loose some burdened contracts. As we discussed earlier, that would point directly to players like Hayes, DeAngelo, and perhaps even Provorov. This would amount to just the RFAs as well, none of their pending UFAs, free agents after July 1st, and not including players like Ronnie Attard, Olle Lycksell, and Wyatte Wylie – who shouldn't command a king's ransom it's but still something to consider.
Daniel Brière's first year as Flyers general manager was never going to be easy, but now we have to wait and see how he negotiates with his RFAs, while dumping away his veterans.