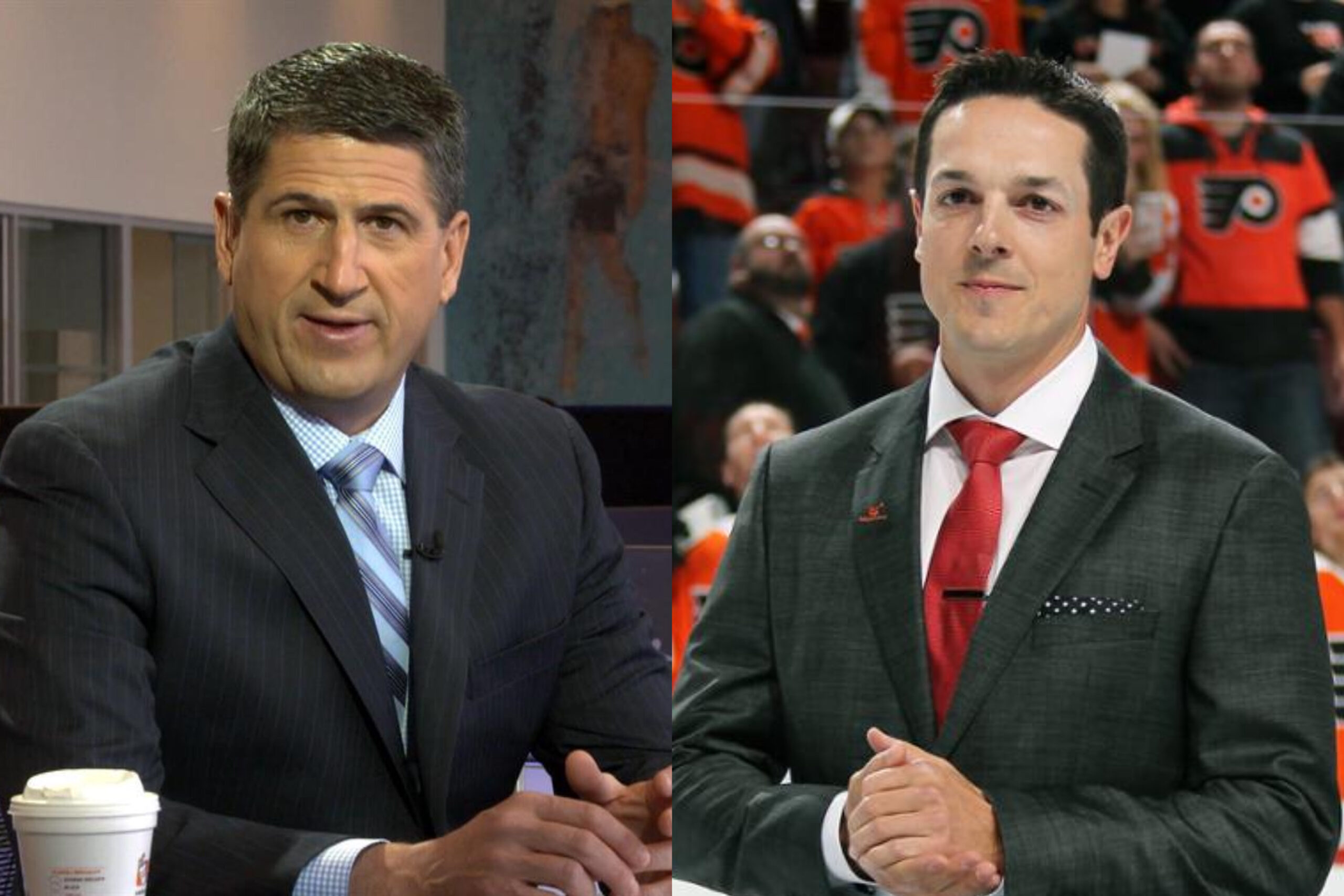 Flyers Hire Keith Jones as President of Hockey Operations, Daniel Brière Officially Appointed as 10th General Manager in Franchise History
News seems to travel fast around the national hockey league as it was just a few days ago that Elliotte Friedman and Jeff Marek mentioned that the Philadelphia Flyers would most likely be naming their newly-hired President of Hockey Operations sometime the following week. Then yesterday around mid-afternoon, Frank Seravalli dropped a bomb that the two finalists for the open positions were Eddie Olczyk and – surprisingly, considering he was never mentioned before – Keith Jones.
Former Flyers defenseman Chris Therien tweeted out shortly afterwards that Jones was hired for the position in a since-deleted-tweet before Anthony Di Marco followed that up with a tweet illuminating that the decision could be made as soon as Wednesday evening.
Chris Therien (@ctherien6) is reporting that Keith Jones will be the Philadelphia Flyers President of Hockey Operations. pic.twitter.com/N4sIRw0b2z

— Flyers Nation (@FlyersNation) May 10, 2023
The floodgates then opened with nearly every single insider and Philadelphia-based writer saying the Flyers would be making the announcement the following day – which is today.
So, here we are today with the announcement that the Philadelphia Flyers long, arduous, and due diligent search for their vacant President of Hockey Operations position has finally been filled by Keith Jones.
OFFICIAL: The Flyers have named Keith Jones to the position of President of Hockey Operations and named Daniel Briere to the position of General Manager. https://t.co/LqajwplUfC

— Philadelphia Flyers (@NHLFlyers) May 11, 2023
In finally making the announcement official, the Flyers also revealed that they will be removing the interim tag on Daniel Brière and officially appointing him as the 10th general manager in franchise history. Brière was named interim general manager after Chuck Fletcher was relieved of his duties a week after the trade deadline debacle.
It was always known that Brière would be the next general manager but what was unknown was the exact time and date.
Brière was first appointed as the Special Assistant to the General Manager for the Flyers all the way back in 2015-16 and then took over several different roles for the Maine Mariners of the ECHL between 2017-18 and 2020-21 that included Vice President of Hockey Operations, General Manager, and President. He was then named a Team Consultant for the Flyers before being reappointed as Special Assistant to the General Manager. Chuck Fletcher's days always looked numbered but many within the organization were surprised that he was let go on the 10th of March – something the fan base had been clamouring for.
As for Keith Jones, the former player-turned-analyst has been a household name for every Flyers fan with his colour commentary for NBC Sports Philadelphia alongside Jim Jackson, coupled with his duties on NBC and TNT for marquee games that include the postseason. Jones also played his final 3 years of his professional career with the Flyers between 1998-99 to 2000-01, scoring 27 goals, 74 points, and accumulated 164 PIM across 131 regular season games and added 5 goals, 9 points, and 28 PIM in 24 postseason games.
As many teams were duelling it out either in the playoffs or in the draft lottery, the Flyers were hard at work interviewing several marquee candidates for the position. We heard names like Ray Shero, Doug Wilson, Scott Mellanby, Chris Pronger, Robert Esche, Dave Poulin, Émilie Castonguay, and Cammi Granato among so many others.
Eddie Olczyk became a very consistent candidate amongst all the insiders who were reporting on the situation, and it makes sense why he was ultimately the runner up to Keith Jones.
Jones might not have the experience that a Wilson or a Shero might have under their belt, but he at the very least knows the ins and outs of this organization, has deep roots within this team and the city, and should be classified as a modern hire – something that Daniel Brière and the Flyers were apparently very interested in.
Everything that has been said and everything that has been done up until this point has shown that Comcast Spectacor has a lot of faith in Brière and are willing to essentially conform to his demands. He wants modernism, he wants forward thinkers, he no longer wants the albatrosses and dinosaurs that have kept this team in purgatory, and most importantly he wants people who care about the Flyers, their fanbase, the city, the organization as a whole, and wanting to turn things around for the better.
The Bobby Clarkes, Bill Barbers, and Paul Holmgrens of the world are true Flyers from top to bottom, but they were stuck in the mindset of the 70s and 80s where you needed big bodies, physical play, and seemingly had no idea about salary cap management.
John Tortorella has been working very close with Brière, Keith Jones will now be joining that fray, as everyone will have some sort of hand and sway into how the Flyers will be molded for years to come.
It might not be a popular choice because it seems like the Flyers are sticking to their old ways of appointing former players or alumnus to higher positions, but Jones is a low-key great hockey mind with a lot of contacts, popularity, and hockey sense.