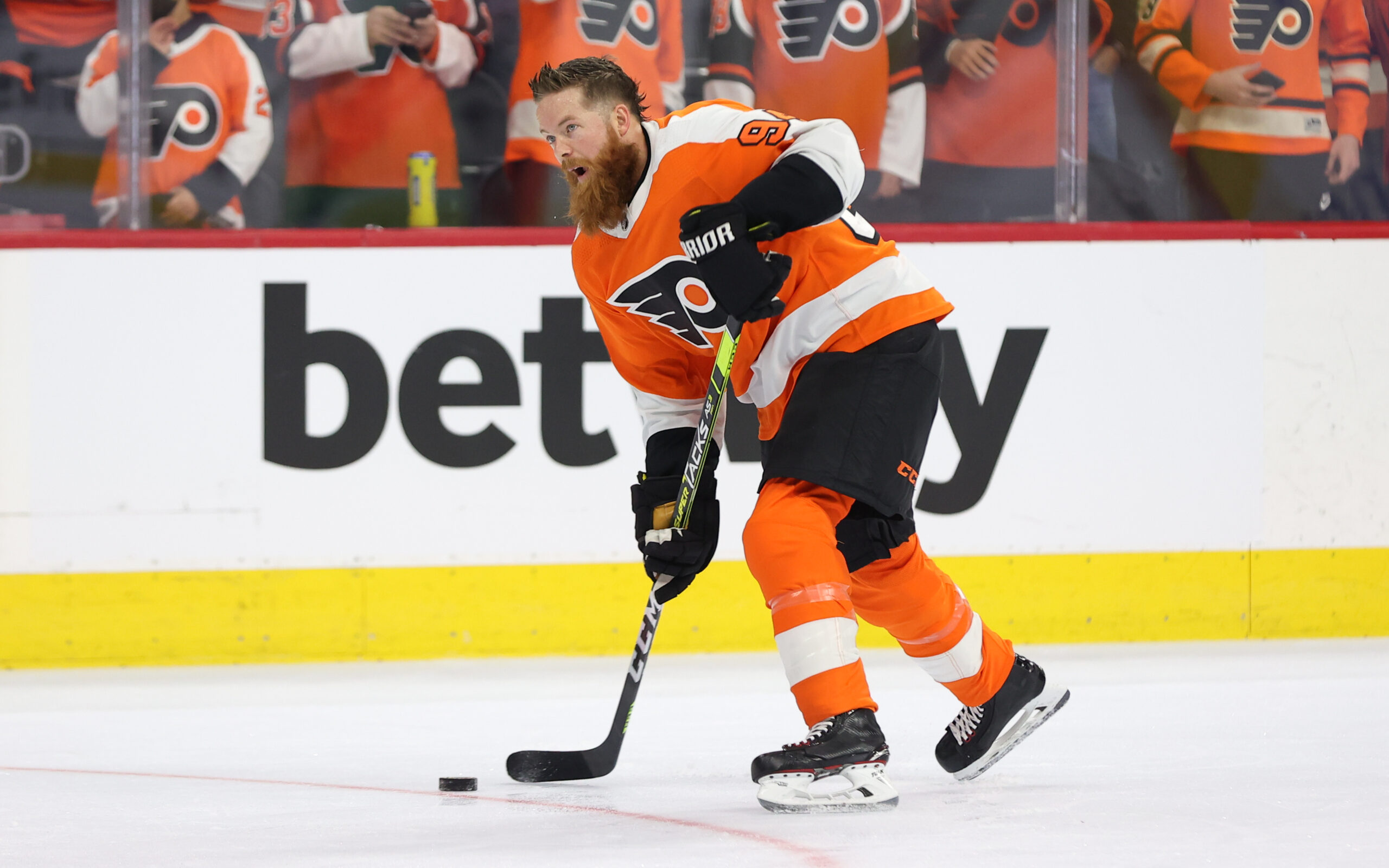 The "New Era" Flyers Have a Chance to Pull an Arizona and Trade Ryan Ellis' Contract
So, here's something that might not be on many people's bingo cards heading into the offseason, how about a Ryan Ellis trade?
Anthony Di Marco of The Fourth Period mentioned that the Philadelphia Flyers are exploring the trade market for the 32-year-old. The once-sought after first-pair defenseman hasn't suited up since the 11th of November, 2021, and it's becoming increasingly obvious that he will not be returning anytime soon – or at all.
Ellis suffered a mysterious injury during training camp, played through it, before succumbing to the pain by the third game of the season. He made a return about 3 weeks later before recording an assist on his way out of the lineup. Since then, news has been hard to come by, but we figured out that it was a psoas tear and he doesn't want to undergo surgery to get it fixed. All of that leaves the Philadelphia Flyers in a conundrum of sorts, but there could be a way out.
It's not like Ellis' contract is actually hurting the Flyers in any way since he will likely be a longtime member of the team's LTIR. However, the Flyers can take a page out of the Arizona Coyotes' rebuilding handbook and make a trade where they send the injured Ellis to a playoff-bound team for a matching contract + future assets. In theory, the Flyers would take on a burdened expiring contract, while the contending team rids themselves of much needed cap space but at the cost of a draft pick or two.
With a brand-new front office taking shape, the Flyers can finally start thinking with a fresher and more modern outlook, and one way would be modelling the Coyotes and how they've acquired a boatload of draft picks for expiring contracts from contending and retooling clubs.
July of 2021 was a month of fanatic moves by the Arizona Coyotes
July 17th, 2021: The Coyotes took on Andrew Ladd's contract from the New York Islanders in a simple cap dump, but in return they also received a 2021 2nd round pick, 2022 conditional 2nd round pick, and a 2023 conditional 3rd round pick.
July 21st, 2021: The Coyotes "helped" the Flyers out by acquiring the contract of Shayne Gostisbehere to alleviate cap space for the ultra-aggressive summer of moves. The Flyers sent the Coyotes a 2022 2nd round pick as well as a 2022 7th round pick to make it "worth their while".
July 24th, 2021: The Coyotes made a deal with the Vancouver Canucks, where they took on the expiring contracts of Loui Eriksson, Jay Beagle, and Antoine Roussel in exchange for Oliver Ekman-Larsson and Conor Garland. The Coyotes also received the 9th overall selection in the 2021 draft (Dylan Guenther), a 2nd round pick in 2022, and a 7th round pick in 2023.
July 26th, 2021: Arizona took on Anton Stralman's final year from the Florida Panthers in July of 2021, alongside a prospect and 2024 2nd round pick. In exchange, the Panthers received a 2023 7th round pick, but more importantly they shed much needed cap space.
In total, the Coyotes took on the contracts of Ladd, Gostisbehere, Stralman, Eriksson, Beagle, and Roussel but in exchange received a first-round pick, 5 second-round picks between 2021-2024, a third-round pick, and 2 seventh-round picks. The only draft capital they gave up was a seventh-round pick to the Panthers in 2023.
While these trades had more to do with expiring contracts of able-bodied players who were still in the NHL, the Coyotes also made moves relating to LTIR casualties who would never play another game again.
More appropriate comparison – in terms of Ellis' future – would be the trades the Coyotes made for Marian Hossa, Chris Pronger, and Pavel Datsyuk:
Chris Pronger
In 2015, the Coyotes lended an olive branch to the Flyers as they acquired the contracts of Chris Pronger and Nicklas Grossman for Sam Gagner and a condtional draft pick. The deal helped the Coyotes move closer to the cap floor, added an able-bodied defenseman in Grossmann, and only took on $100,000 in actual salary. Gagner carried a cap hit of $3.3 million and many thought that Ron Hextall was going to buy him out. The Flyers held onto Gagner for the season, but they got rid of much needed salary as they were once again in a tight squeeze.
Pavel Datsyuk
The Detroit Red Wings traded franchise icon Pavel Datsyuk's contract and the 16th overall selection in the 2016 NHL Entry Draft to the Arizona Coyotes. The Red Wings not only moved on from the contract, but they also received the 20th and 53rd overall selection in the draft as well as Joe Vitale. The Coyotes ended up selecting Jakob Chychrun with the 16th overall pick, while the Wings selected Dennis Cholowski with the 20th. Datsyuk's cap hit was $7.5 million and he was in the final year of his contract.
Marian Hossa
At 39 years of age, Marian Hossa's career was essentially over and he even told a Slovakian newspaper that would never play again due to a skin disorder. With three years remaining on his contract, the Chicago Blackhawks traded Hossa, Jordan Oesterle, and a third round pick in 2019 for Marcus Kruger, MacKenzie Entwistle, Jordan Maletta, Andrew Campbell, and a fifth round pick in 2020. Hossa's cap hit was $5.275 million and was properly stashed away by the Coyotes.
The Flyers don't have to go full Arizona, but the frameworks for these deals are out there and ripe for the copying. If they were to go the first route, there are far too many underachieving teams who believe they are still contenders or still want to contend with a very short window of opportunity and the Flyers should be circling them like vultures. Look no further to 2 teams situated in Western Canada: Winnipeg and Vancouver.
Winnipeg Jets
The Winnipeg Jets have qualified for the playoffs in 5 of their last 6 seasons and have only gone past the first round twice – Conference Finals defeat in 2017-18 and second round defeat in 2020-21. They are a team that has had Stanley Cup aspirations for years and with a lineup that has Mark Scheifele, Blake Wheeler, Kyle Connor, Nikolaj Ehlers, Josh Morrissey, and Connor Hellebuyck, you'd think so as well.
One way or another, they have flamed out of the playoffs with barely any success, and this year's first round defeat might finally be the start of groundbreaking changes in Winnipeg. Jets head coach, Rick Bowness, laid his team out during the press conference after their Game 5 defeat and subsequent elimination at the hands of the Vegas Golden Knights:
"I'm so disappointed and disgusted right now; that's my thoughts. There has got to be pride. You've got to be able to push back when things aren't going your way.
"They deserved to win, they were the better team in the regular season, they were the better team in this series.
"It was the same crap we saw in February; it was. As soon as we were challenging for first place and teams were coming after us, we had no pushback. This series? No pushback."
Blake Wheeler has 1 year remaining at a cap hit of $8.25 million AAV
Kyle Connor has 3 years remaining at a cap hit of $7.142 million AAV
Josh Morrissey has 5 years remaining at a cap hit of $6.25 million AAV
Connor Hellebuyck has 1 year remaining at a cap hit of $6.16 million AAV
Mark Scheifele has 1 year remaining at a cap hit of $6.125 million AAV
Nikolaj Ehlers has 2 years remaining at a cap hit of $6 million AAV
Nate Schmidt has 2 years remaining at a cap hit of $5.95 million AAV
Neal Pionk has 2 years remaining at a cap hit of $5.825 million AAV
Nino Niederreiter has 1 year remaining at a cap hit of $4 million AAV
Brenden Dillion has 1 year remaining at a cap hit of $3.9 million AAV
Dylan DeMelo has 1 year remaining at a cap hit of $3 million AAV
Pierre-Luc Dubois is a pending RFA
Right off the bat, Connor, Morrissey, and Hellebuyck are probably untouchable unless they are absolutely wowed by a trade offer. Scheifele most likely sticks around, considering he's still only 30-years-old, has a letter on his jersey, 645 points to his name, and has a modified no-trade-clause. Pionk, Schmidt, and Ehlers are members of the Jets who shouldn't attract the Flyers since they carry 2 more years left on their respective contracts.
That leaves Wheeler, Niederreiter, Dillon, and DeMelo up for grabs if they want to shed salary and look to improve at those respective positions. The biggest move the Jets should look to make is trading Blake Wheeler as that would make the most sense since he carries an albatross AAV at $8.25 million. He also carries a modified no-trade-clause with a full no-movement-clause and is the former captain of the club, but he is reaching the ripe old age of 37 at the end of August. That in it of itself is hard to move, even to a rebuilding team, but salary retention will most definitely be required if Wheeler accepts a way out. It might not be ideal for the former captain to move on, especially to Philadelphia, but worst-case scenario he gets traded by the Flyers at the trade deadline with salary retained and gets a chance at a Cup with a legitimate threat.
The Jets don't own their 2nd round pick in 2023 and 2024, nor do they have their own 4th round pick in 2023 or 2025. They do still have all 3 first and third round picks, but a move like this would more than likely require a 2nd round pick and another late round draft selection. CapFriendly has them projected at over $12 million in cap space with several pending free agents to deal with. Getting rid of Wheeler – even with retained salary – would help them immensely. A contending team going from $12 million to anywhere between $18 million-$20 million is huge in the salary cap world.
Vancouver Canucks
The Vancouver Canucks are essentially the Flyers of the West and the Flyers are the Canucks of the East. They are an ultra aggressive retooling team that has no business doing what they're doing, have doled out ridiculous contracts to overachieving veterans, and have a front office hellbent on returning to the playoffs one way or another. Patrik Allvin and Jim Rutherford are going to give it another kick at the can this summer and the Flyers should try and finagle a deal with a front office that has already traded a first and second round pick to the Detroit Red Wings for Filip Hronek.
J.T. Miller has 7 years remaining at a cap hit of $8 million AAV
Quinn Hughes has 4 years remaining at a cap hit of $7.85 million AAV
Elias Pettersson has 1 year remaining at a cap hit of $7.35 million AAV
Oliver Ekman-Larsson has 4 years remaining at a cap hit of $7.26 million AAV
Brock Boeser has 2 years remaining at a cap hit of $6.65 million AAV
Tyler Myers has 1 year remaining at a cap hit of $6 million AAV
Thatcher Demko has 3 years remaining at a cap hit of $5 million AAV
Conor Garland has 3 years remaining at a cap hit of $4.95 million AAV
Ilya Mikheyev has 3 years remaining at a cap hit of $4.75 million AAV
Filip Hronek has 1 year remaining at a cap hit of $4.4 million AAV
The Canucks should look to build around Pettersson, Hughes, and Demko, however Demko was on record earlier in the season wanting a way out of Vancouver. He endured a horrid skid to start the season and ended up on injured reserve for months before showcasing his talents before the end of the season. Pettersson hit the 100-point mark and Hughes provided another fantastic offensive season on the back end. They made the big trade of sending out their captain in Bo Horvat to the New York Islanders, but already used up their first-round pick in acquiring Filip Hronek at the deadline.
Ekman-Larsson, Garland, and Mikheyev should be off the table for the Flyers in any deals considering the term remaining and their respective cap hits. Hronek was just acquired for 2 valuable draft picks so he isn't going anywhere either, leaving Boeser and Myers as targetable assets.
Boeser is an interesting piece because he has been on the trade block just as long as Travis Konecny, and he has provided productive seasons, but Boeser has slipped slightly over the last few years. He is still very capable of scoring 25+ goals, he played a lot of minutes on the third line while they were juggling to find the right chemistry, but the caveat is his 2-year term compared to Myers' expiring contract. Boeser would be a good grab if the Flyers believed he was a piece for the future – 26 years of age – he would fit seamlessly with the likes of Travis Konecny and Joel Farabee among others, and he doesn't hold an egregious cap hit, but once again he should only be targeted if they see him as a player they'd like to keep around.
Myers on the other hand would alleviate $6 million off the cap for Vancouver, who are projected to have no cap space heading into the summer. He was almost traded to the Ottawa Senators for Nikita Zaitsev before the latter rejected the deal as he had no plans on going to Vancouver. He has essentially played himself out of his contract and the Canucks have been scouring the market for a team that would be interested in his services.
Everyone in Vancouver is signed through the 2023-24 season – some beyond – and they should be looking to get much healthier by puck drop in 2023-24. However, similar to the Flyers, they need to look to subtract before they make additions, and Myers perfectly falls into that trap. The Flyers are also rumoured as a team that would be interested in trading one or both of their defensemen in Ivan Provorov and Tony DeAngelo, which will not only open up cap space, but it will also allow Myers the run of the mill on defense.
The Canucks don't have their 2023 or 2024 second round picks but have 2 third round picks in 2023, 3 fourth round picks in 2023, third round picks in 2024 and 2025, and 2 fourth round picks in 2024.
It's not like he's a world-breaker or anything but a move like this would not break their backs in the slightest. As long as the Flyers do their due diligence in trading Kevin Hayes and at least one of Provorov and DeAngelo, that would open up enough cap space to pull an Arizona and be comfortable financially for years to come with the added bonus of draft picks. It would be a step in the right direction and would finally put the wheels in motion for a rebuild. They were unable to get future assets for James van Riemsdyk and Justin Braun, and this is a way to alleviate that mess among a myriad of other reasons into getting rid of Ellis' contract.
The new regime for the Flyers that is going to be spearheaded by Keith Jones, Daniel Brière, and John Tortorella will be looking for ways to recoup as many future assets as possible and this would be one to do that. Acquiring an expiring contract plus a mid-to-high draft pick for the contract of a player that might never lace their skates again will help for a variety of reasons and could help them avoid future cap overages in the future.
Arizona has done a fantastic job in helping contending teams but in return they have accumulated draft picks galore with 2 first round picks (pick 6 and pick 12) and 4 third round picks in 2023, 4 second round picks and 3 third round picks in 2024, and 4 second round picks and 2 third round picks in 2025.
The Flyers will more than likely never reach that pinnacle, but it's a step in the right direction and a monkey off their backs that would be forever linked to the dreaded Chuck Fletcher era otherwise.