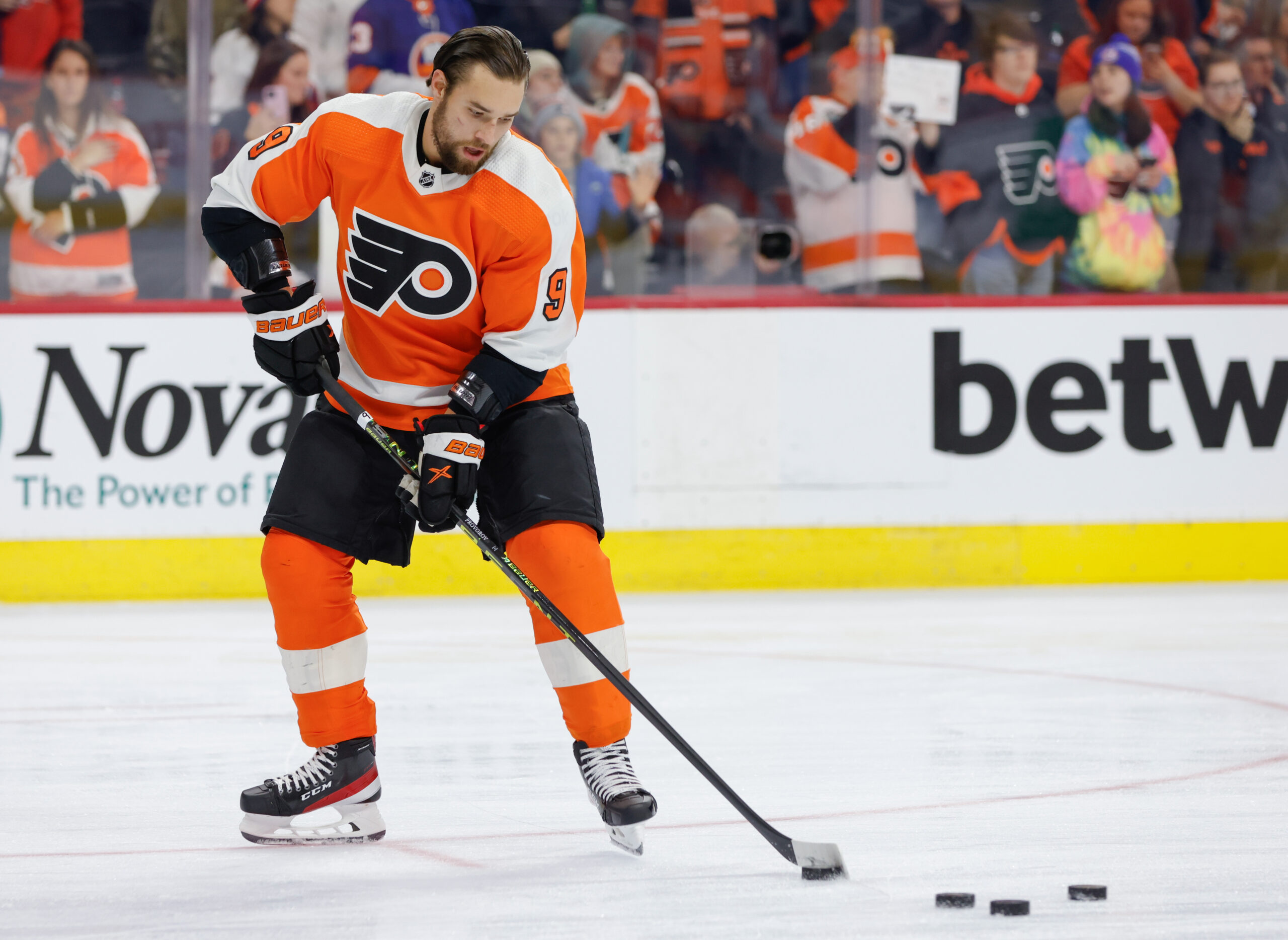 Ivan Provorov's refusal to wear a Pride jersey is disgraceful
Tuesday night was the Philadelphia Flyers' annual Pride Night as they took on the Anaheim Ducks. The Flyers did something they've never previously done before for this special occasion, as they wore Pride-themed jerseys in warmups. They were black jerseys with rainbow numbers and names, nothing extravagant but still a nice gesture.
If you can play, you can play.

📺: @NBCSPhilly
📻: @975TheFanatic
🔒: @betway
#️⃣: #HockeyIsForEveryone#ANAvsPHI | #FueledByPhilly pic.twitter.com/24gOlxHNqL

— Philadelphia Flyers (@NHLFlyers) January 17, 2023
Another nice gesture, literally the bare minimum, would be wearing it during warmups. Just about every Flyer wore them, with the exception of Ivan Provorov. Provorov was so opposed to wearing them that he didn't even skate in warmups, leaving Justin Braun to take his place in line rushes alongside Cam York.
After the Flyers' 5-2 victory over Anaheim, it was a hot topic and obviously a situation that deserved an explanation. Before postgame press conferences commenced, the team released a statement to try and get ahead of things.
There is word that #Flyers' Ivan Provorov did not participate in warmups tonight because he declined to wear the team-issued Pride Night jersey, celebrating the LGTBQ+ community.

The Flyers offered the following comment.

Provorov is expected to be available to media postgame. pic.twitter.com/h3XEcwErph

— Frank Seravalli (@frank_seravalli) January 18, 2023
Flyers head coach John Tortorella was asked about Provorov's decision by The Athletic's Charlie O'Connor and said, "With Provy, he's being true to himself and to his religion. This has to do with his belief and his religion. That's one thing I respect about Provy, he's always true to himself. So that's where we're at with that."
O'Connor followed up and asked if Tortorella considered scratching Provorov over the matter, which he answered, "No. No. I'm not going to answer any more questions on it. I know you're going to probably talk to Provy. I'm not going to spend a lot of time on it. I think it was a great night in celebrating. The organization put out a statement, and l'm not going to get too deep into the conversation. Those are the comments as far as Provy. We talked as a team here with Provy, and that's where we're at."
For a franchise that supposedly prides itself on being inclusive and welcoming, letting a player whose actions went against the LGBTQ+ community not only still play on Pride Night despite refusing to skate with a Pride jersey because of "religious beliefs" is a terrible look, but to also see him lead the team in ice time as well is just absolutely mind-boggling and frankly tone-deaf.
Provorov was asked about it as well and said, "I respect everyone. I respect everybody's choices. My choice is to stay true to myself and my religion." Giana Han of The Philadelphia Inquirer said that Provorov clarified he is Russian Orthodox and the team shut down questions after that.
If Provorov actually respected everyone, why not just wear the jersey for 15 minutes? It's the bare minimum he could do. Saying he's staying true to himself and his beliefs is also a ridiculous slap in the face considering that Pride Night literally exists to celebrate a marginalized group of people that are staying true to themselves and sticking with their beliefs of who they are.
If you're going to hide behind your religion and state that your religion is the reason that you can't support members of the LGBTQ+ community, or if your religion is actively and hatefully against an entire group of people, your religion is bullshit. Plain and simple.
Just as a Flyers fan, this is incredibly embarrassing to watch unfold. On top of that, while I am not a member of the LGBTQ+ community, I am an ally of the community, I have friends who are LGBTQ+, and I have a very good and close relationship with my sister, who is trans. Watching this happen while knowing all of that is disappointing to see, because Provorov basically just said that "Hockey is for Everyone" is a total lie, and the Flyers just let it happen.
Provorov shouldn't have played tonight. If wearing a Pride Night jersey was too much of a big deal for him, then he should've sat there and rotted in the press box. It's disgraceful that he played. It's even more disgraceful that his actions directly went against the LGBTQ+ community and no one will do a damn thing about it.