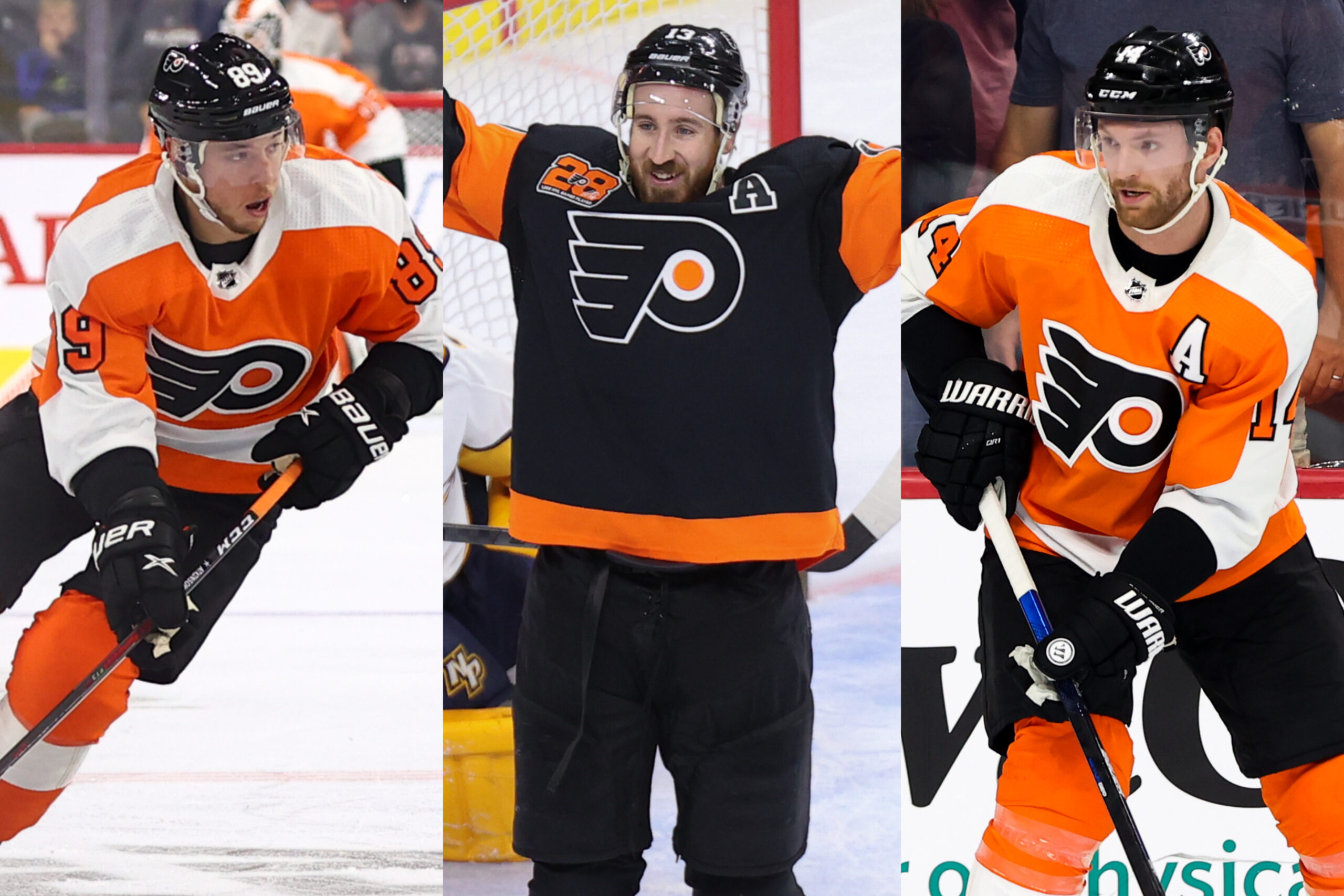 Flyers' New Leadership Group Saying All the Right Things
After the national media got a hold of John Tortorella's comments regarding the state of the Philadelphia Flyers locker room, the days that followed have been ensnared by the new "leadership group" talking up their new head coach, insisting that accountability will be at the forefront, and that the previous locker room issues won't persist any longer.
With Claude Giroux being traded ahead of the 2022 trade deadline, his lengthy captaincy and era has come to an end and it is time for a new voice, a new face, and a new mantra to take hold of the locker room. There has been constant talk about locker room issues and lack of accountability over the last decade and a half, and with a new head coach behind the bench and new leaders very much needed in the locker room, perhaps we're being ushered into a new era of Flyers hockey.
All the right things are being said right now but that has been the case time and time again. Ahead of the season opener last year, Chuck Fletcher and company were extremely confident that they had rid the Flyers of their negativity and were in for a bounce back season. He brought in countless players with leadership qualities and none that had any accountability issues, however in return the Flyers cut several core players, kept the coaching staff on board until December, and then slumped to 4th-last in the NHL standings behind several key players missing large chunks of the season. It was a mixture of injuries, lack of depth, and abysmal play but it all culminated in what seemed like the worst season in franchise history – that's including the disastrous 2006-07 last place finish.
Nevertheless, the Flyers gave their fans and the rest of the league some good news that Sean Couturier and Kevin Hayes were medically cleared to return this season and that is the biggest piece of positive news the Flyers could have hoped for outside of Ryan Ellis' return. The 1-2 centre duo for the Flyers missed a combined 87 games (53 from Couturier and 34 from Hayes) and with Giroux being shipped out in March, the lack of depth was on full display. Hayes had a tough campaign physically and emotionally as he dealt with multiple injuries throughout the season on top of the passing of his late brother, Jimmy. Some were hoping that he would sit the rest of the season out with the Flyers essentially being out of the playoff picture back in December-January. Another hiccup or a chance of re-injury would've driven the fan base crazy, but his return was a blessing in disguise as we witnessed the 2019-20 Hayes from March onwards.
Hayes finished the season with 31 points in 48 games, but 22 of those came in a 26-game stretch from March 5th to April 25th. The Flyers have always lacked centre depth over the years and it didn't help in the slightest that both Hayes and Couturier were out for large parts of the season. In fact, Couturier's season ended 29 games into the campaign after he opted for back surgery. His abbreviated season was a tale of two halves as he started off hot, scoring 12 points in his first 10 games but then slumped to the tune of 1 goal and 5 points in his final 19 games. You could tell there was something wrong with the way he looked, the way he was playing, and how ineffective he was.
Couturier has really shone over the last 5 seasons ever since his career-year in 2017-18 where he exploded for 31 goals and 76 points. Ever since, he has added 79 goals and 193 points in his last 223 games from 2018-19 to 2021-22. His absence was severely noticeable as he plays in all facets of the game, whether that be the power play, penalty kill, even strength, overtime, 4-on-4, or even the shootout. It's also no surprise that without either centre, the Flyers finished with the league's worst power play and had another abysmal showing on the penalty kill.
As it happens, the two faced the media the other day and gave their insights on the season that passed, the season to come, and playing under John Tortorella.
On his season and what transpired, Hayes said, "I think it was obvious to anyone that knows the game that when I was trying to come back, I wasn't fully 100 percent. I think I was 100 percent of what I could have at that time. But the infection was what was holding me back that we had no idea about."
"There times last year where I was leaving games where I was questioning whether I'd ever feel good ever again. It was nice to know that I could play hockey again and enjoy myself and not worry about my groins every shift I'm on the ice. So that was the main reason why I came back, and it cleared a lot of mental thoughts up for me, and I'm hoping that it stays that way."
As for Couturier, when posed about his injury, rehab, and recovery, "It was longer than I thought. I'm a guy who wants to get back out there quicker than I should be. This one was a little more frustrating because I had to be patient and not push it too hard – and make sure it was healing the right way."
As for how he feels now, he stated, "I feel good now. As I understand it, the issues should not crop up again on its own. But hockey is a physical sport, so anything can happen. I was to prove I'm healthy again and be back to the player I was. And maybe even better. I'm going to push myself."
It's good to see and hear that the Flyers' top centres are healthy and raring to go and are ready to put last season's horror show behind them. If the Flyers have any chance of reversing last year's bottom-four finish, they are going to need every ounce of blood, sweat, and points from Couturier and Hayes – and there might not be a better head coach to get that out of them than Tortorella.
When Couturier was posed questions about the offseason moves and the current roster, he stated, "I like the way our team's built. If you look at our division, it's a pretty tough division. We brought in in some toughness. I don't think there's going to be any more teams bullying us around like we've been in the past couple of years at times. We don't seem to have, on paper, maybe that big superstar or big-name guys, but I think as a team, we can come together, do some damage and prove everyone wrong."
It's pretty telling when the Flyers talk about their previous seasons and how easy they were to play against. They were definitely ragdolled at times, outmuscled most nights, and never had that player that other teams were actually afraid to play against, go one-on-one with, or go into the corners with. They tried bringing that element last season when they brought over Rasmus Ristolainen and as effective as he was with the body, the Flyers were never feared.
Does adding Nicolas Deslauriers change that dynamic that much? It definitely helps a lot, and if the Flyers go out there with a fourth line that has both Deslauriers and Zack MacEwen, there's going to be a lot of hitting, a lot of trash talk, and a lot of dropped gloves. Add in Ristolainen always trying to go for the body and the Flyers now have a trio of abominable players to go head-to-head with.
All of this ties in perfectly to the style that a Tortorella-led team plays. They are hard-nosed, annoying, pest-like, and digging in the trenches. His years with the Columbus Blue Jackets is a prime example of a head coach getting the best out of the roster and lineup given to him. The Flyers had trouble time and time again whenever faced against the Blue Jackets, a lot of which had to do with Sergei Bobrovsky, but the offense always found a way as well.
When asked about his new head coach and the expectations heading into the season, Hayes said, "He's an unbelievable guy, he holds everyone accountable in a different way. It's exciting. If you can't take getting yelled at or pushed to a certain limit, if you don't handle that the right way and kind of fade away from it, it could be a tough route for you."
"If we're going to change the culture, I think Torts is the correct guy to do it. He's kind of a no bulls–t guy, holds everyone accountable – whether you've played 1,000 games or you're a rookie. I know the fans are kind of down on our team right now. It's easy to say, but it's a new year, new team. I think we're off to the right start with our whole team being here pretty early."
With Tortorella making an early point about not being in a rush to name a new captain, something that Philadelphia is not used to with the team having had a captain every year since 1992-1993, Cam Atkinson doesn't seem bothered by that in the slightest.
"It's going to be a different year. It doesn't matter who you are, how much you've made or where you've played. We're going to play the right way. When I was in Columbus, maybe we didn't have the big names, but we came to play. I don't need a letter on my uniform. I'm going to try to lead by example, the way I practice, the way I play."
Atkinson, who was a huge supporter of the Tortorella hiring, continued by saying, "Winning changes the culture of the locker room. Expecting to win, not hoping to win. Coming to play. Everyone knows you're coming to play., It may not always be pretty. That's what changing the culture and accountability are about. The fans will recognize it."
"We're going to play a lot harder in front of Carter, I'll tell you that. Especially after a tiring camp. Expect to be tired. It's a grind, it's a way for us to build a comradery, build a brotherhood."
No matter who says it, no matter the time, no matter the year, hearing these buzzwords is always enlightening. Whether they come to fruition is another thing but they seem to understand the issues at hand a lot better this year than in prior seasons. Whether that has to do with a new leadership group, new voices, new desires, new coaches – whatever it may be, the Flyers understand the dangers that lie ahead with another slow start.
2019-20 was one of the rare seasons where everyone seemed to be gelling, there was a sense of comradery and brotherhood as Atkinson is alluding to now, and the Flyers were fun and loose. Ever since and even the years prior, they looked stale, robotic, angry, and irritated.
Having a head coach like Tortorella helps in all facets of the game but the word accountability is going to be thrown around a lot in the next coming weeks. It sounds like the leadership group of Couturier, Hayes, and Atkinson are ready to lead by example and be the new faces of what could be a new era in Philadelphia hockey, and boy do they ever need a refresh.
Music City Hockey Trip
Take a three day vacation to Nashville with Philly Sports Trips this October! The package includes direct flights, a three night stay at the Cambria Hotel Nashville Downtown, an all-inclusive tailgate, and tickets to the Flyers Predators game. $100 cash for anyone who shows proof they went to the Flyers game on the trip.