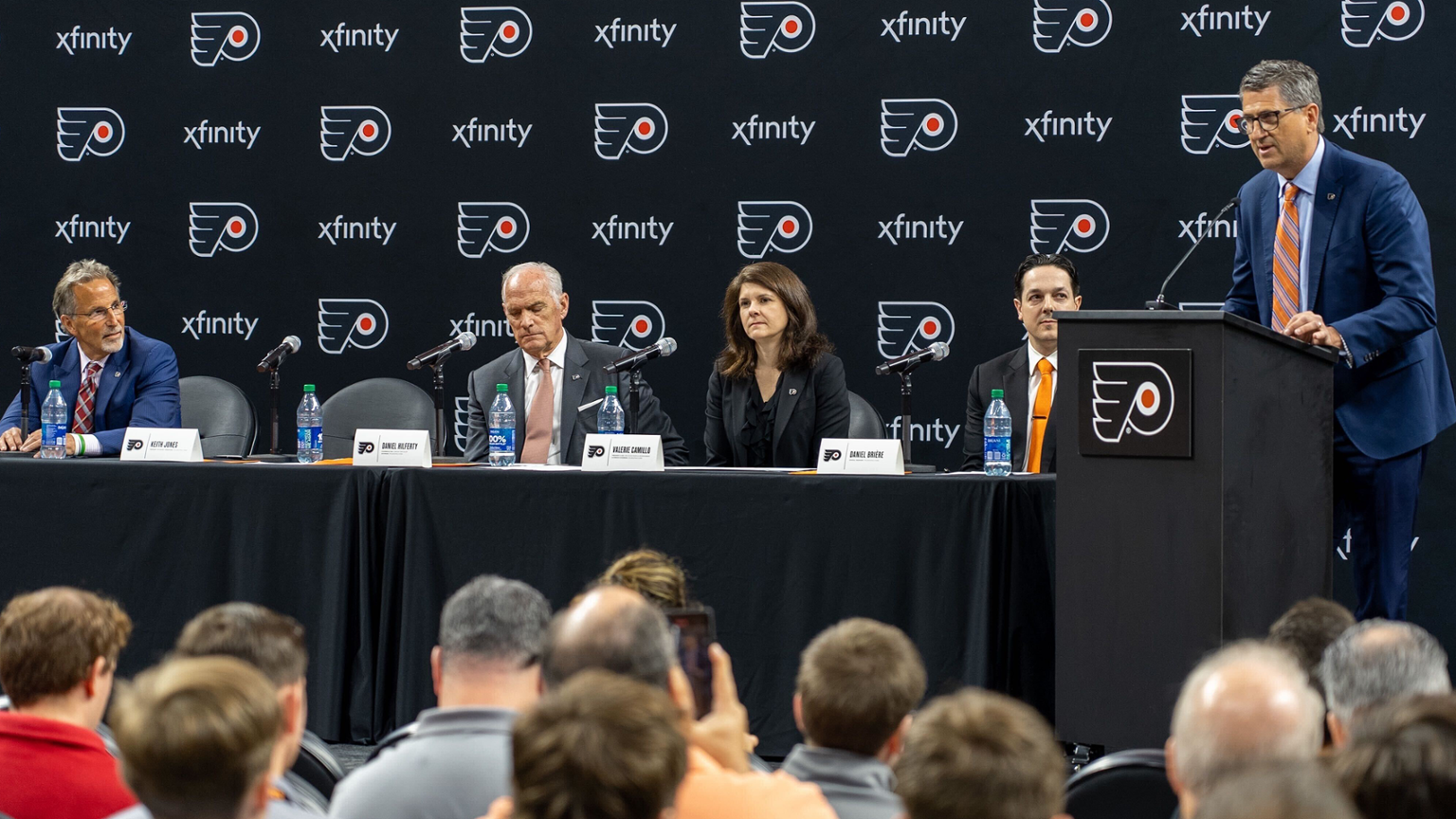 Finally, a Press Conference We're Actually (Somewhat) Excited For
For the last few years, Chuck Fletcher made press conferences a horrid time as he sat there in front of the media and kept reiterating to the fan base that his retools are the way to go and that his plan was in motion.
Years of wretched plans went down the tube and finally the Philadelphia Flyers cut bait from their President of Hockey Operations and General Manager, primarily because of the irritated and bombastic fan base.
Yesterday's breaking news was a little melodramatic just based on the fact that every single person with insight on the Flyers had mentioned that Keith Jones was going to be officially unveiled as President the following day the night before. There was no shock value like when we woke up to the Fletcher firing, but it was still a great day to unravel as the Flyers finally have their front office set up the way they wanted.
Dan Hilferty, Keith Jones, Daniel Brière, Valerie Camillo, and John Tortorella took to the podium late this morning and ushered us all into the "New Era of Orange" as it's now being dubbed. Hilferty sent out a message to season ticket holders yesterday preaching for patience, trying not to make excuses anymore, not wanting to take shortcuts, but needing time to do everything necessary to bring the Flyers back into relevancy. Keith Jones eloquently said it best, "the Philadelphia Flyers are coming back."
We got our guy. pic.twitter.com/GzIT4czzAs

— Philadelphia Flyers (@NHLFlyers) May 12, 2023
The hiring of Jones might've come as a surprise for most because that was always a name omitted from the list of candidates that was mentioned by every single insider with information. We heard about the likes of Scott Mellanby, Doug Wilson, Ray Shero, Émilie Castonguay, Cammi Granato, Chris Pronger, and Robert Esche among others. Eddie Olczyk was tabbed the runner up to Jones, but ultimately the NBC Sports Philadelphia colour commentator won the job, even with the inexperience being a focal point.
The Flyers reportedly had a long and arduous search that lasted months, and they dwindled down the list time and time again until they found their final candidates. They believed Jones best complimented Briere and Tortorella as all 3 will be a part of the hockey decisions being made moving forward.
Hilferty already has a different vibe surrounding him than Dave Scott and it shows that he has more passion about sports and the on-ice product. He wants to see this team succeed more than ever, but he kept reiterating that he needs time to fix the messes of the past. They firmly believe that they can compete in the near future, bring back winning hockey into the confines of the Wells Fargo Center, and having two former players in the front office will make it that much more important as they know what the fans want – better than executives with no prior engagement.
Chuck Fletcher and company did a horrid job from top to bottom, transparency was an issue because they kept flip-flopping from one press conference to another, and their motives went from retooling to rebuilding back to retooling within the same calendar year. The new Flyers promise to be more transparent along the way and that's all we can ask for at this point in time.
John Tortorella has perhaps been the most interesting figurehead in this entire process because the head coach has become a true focal point for this franchise in just one season. They will never admit it – for obvious reasons – but Tortorella and Fletcher never saw eye-to-eye. One had a retooling mindset, the other had a rebuilding mindset. One believed they were taken down by injuries and bad luck, while the other realized they lacked star talent, and most importantly the head coach became the voice of the franchise with the general manager slowly hiding from the media and cameras.
When the news was slowly filtering out about the Flyers' summer plans, Sportsnet reporter Elliotte Friedman made mention that the Flyers brass saw Tortorella as the answer moving forward. He is not only the head coach, but he is – now being dubbed as – the "spiritual" leader who was the only thing working for the Flyers. His accountability and fieriness took the NHL world by storm time and time again, but he never backed down from what he thought was the right decision and it worked wonders for the youthful insurgence. Kevin Hayes and Tony DeAngelo felt the brunt of his changes and with Tortorella having a lot more say in player personnel moving forward, look for subtractions to take shape as soon as possible.
It's an old-school move – per se – to give the head coach power over player personnel because long gone are the days when coaches were also the general managers of their team. However in this instance, Tortorella really brought about a different feel and attitude to the team that hadn't been felt since Peter Laviolette. The players learned from their mistakes, they rarely made the same mistake twice, and they grew and matured from the start of the season all the way to the end.
Morgan Frost, Owen Tippett, Noah Cates, and Cam York among others really stepped up when Tortorella unleashed them in top roles and they are now going to be the focal points of this rebuild on top of their prospects in Tyson Foerster, Bobby Brink, Emil Andrae, and Cutter Gauthier. Raw talents for sure but that is another reason as to why they are preaching patience. It may be something we heard from the likes of Fletcher, but he never seemed to be the right person to ever enter a rebuild – he was always a retooling mind.
Tortorella did say something that had many fans up in the arms when talking about why fans think that former Flyers are a "disease".
"Why do people think they're diseased? I'm proud that they are Flyers. They care about this organization. I don't get some of the thinking in this city, 'oh it's an ex-Flyer, they're doing it the same way.' God d*** it is so important to have that belief."

-John Tortorella pic.twitter.com/WZ2YFkFaTm

— John Clark (@JClarkNBCS) May 12, 2023
The argument can be made from both sides because Bobby Clarke, Paul Holmgren, and Bill Barber were great players and even had great runs as executives and/or coaches, but it's been a rocky road over the last decade and many have pointed the finger to them.
It's definitely a real possibility and even though there are several reports that they never had as much authority or power as we all believe they did, it's hard for us to actually think that Flyers "legends" who have been around for 30-40 years didn't have sway or say in important decisions. Their old school mentality has kept this team from succeeding and they had a huge hand in hiring Fletcher, who only put the Flyers deeper into the abyss and were reluctant to fire him as Ron Hextall was with Dave Hakstol – hence their shock and surprise when they found out Fletcher was fired after the news was made official.
Let bygones be bygones with that issue as we focus on another very important facet that presented itself during the press conference. It became very apparent that the Flyers now have 3 people who want to be Flyers, want to be apart of this change, and want to bring the Flyers back from the dead. That was their mission from the moment they started their search and they couldn't be any more excited.
Tortorella mentioned a few times last summer that he always envisioned himself coaching the Flyers at some point, Brière has been apart of this organization in some capacity since he retired, and Jones has been the colour commentator for years – he was never a homer on the air and he voiced his concerns about the team time and time again. They understand more than anyone what the fanbase needs, what the fanbase wants to hear, and how to keep them in the seats and coming through the doors of the Wells Fargo Center without deception, lies, and a lack of transparency.
A lot of players have turned into fine general managers for their former teams as we have seen with the likes of Joe Sakic, Steve Yzerman, and Brière's former teammate in Chris Drury. The lack of experience should not be a problem, nor should it be a concern. Modernism and passion are required for this team to ever succeed again and they believe they have found that in both candidates.
Brière was a playoff monster for the Flyers, capped off brilliantly by his 2010 run where he netted 30 points in the losing effort. "When the lights are the brightest, Danny Brière is at his best," said Camillo, and her, Hilferty and company hope he can bring that same passion, determination, and feistiness to the team from the press box.
The road back starts today and we're doing it the right way. pic.twitter.com/omJysWdfVI

— Philadelphia Flyers (@NHLFlyers) May 12, 2023
As for Keith Jones, he made it abundantly clear that he never intended on going from the broadcasting booth to the press box as an executive, unless it was for the Philadelphia Flyers. While the President's position might be a bit ominous, this is what his position actually entails:
Implementing an organizational vision and plan
Collaborating with John Tortorella and Daniel Brière
Collaborating with the team's business operations
Collaborating with the NHL
Connecting with business leaders, corporations, and Flyers fans
Essentially, Brière will have almost full authority and autonomy on the hockey moves and the on-ice product with the help from Tortorella and Jones along the way. Brière wants to have a relationship with the man in charge of the players and he wants to form a relationship with the man in charge of the business side of things. Together, they will form a three-headed monster that will serve this team well in the future – if all pans out as they hoping. Tortorella quipped that sometimes they will have to tell Hilferty and Camillo to "get out of here".
First things first, the Flyers have to clean up the mess that Fletcher left behind with the undesirable contracts, underachieving veterans, and trying to unload money to alleviate cap space for the future years to come.
Ryan Ellis' contract could be a trade piece that many might overlook because he's been LTIR eligible for a few seasons now, but Brière can pull an "Arizona" and recoup future assets from a contending team looking to shed salary to a basement dweller. Brière also has a lot of work to do in signing his lengthy list of RFAs that include Noah Cates, Morgan Frost, Cam York, and Ronnie Attard – all this while only carrying a little over $7 million in cap space, further intensifying the need to unload the Hayeses and DeAngelos of the team.
As we are now officially ushered in the New Era of Orange, let's at least give them some time to settle in before we make claims about lack of experience and the "old Flyers way" of hiring members of the alumni.