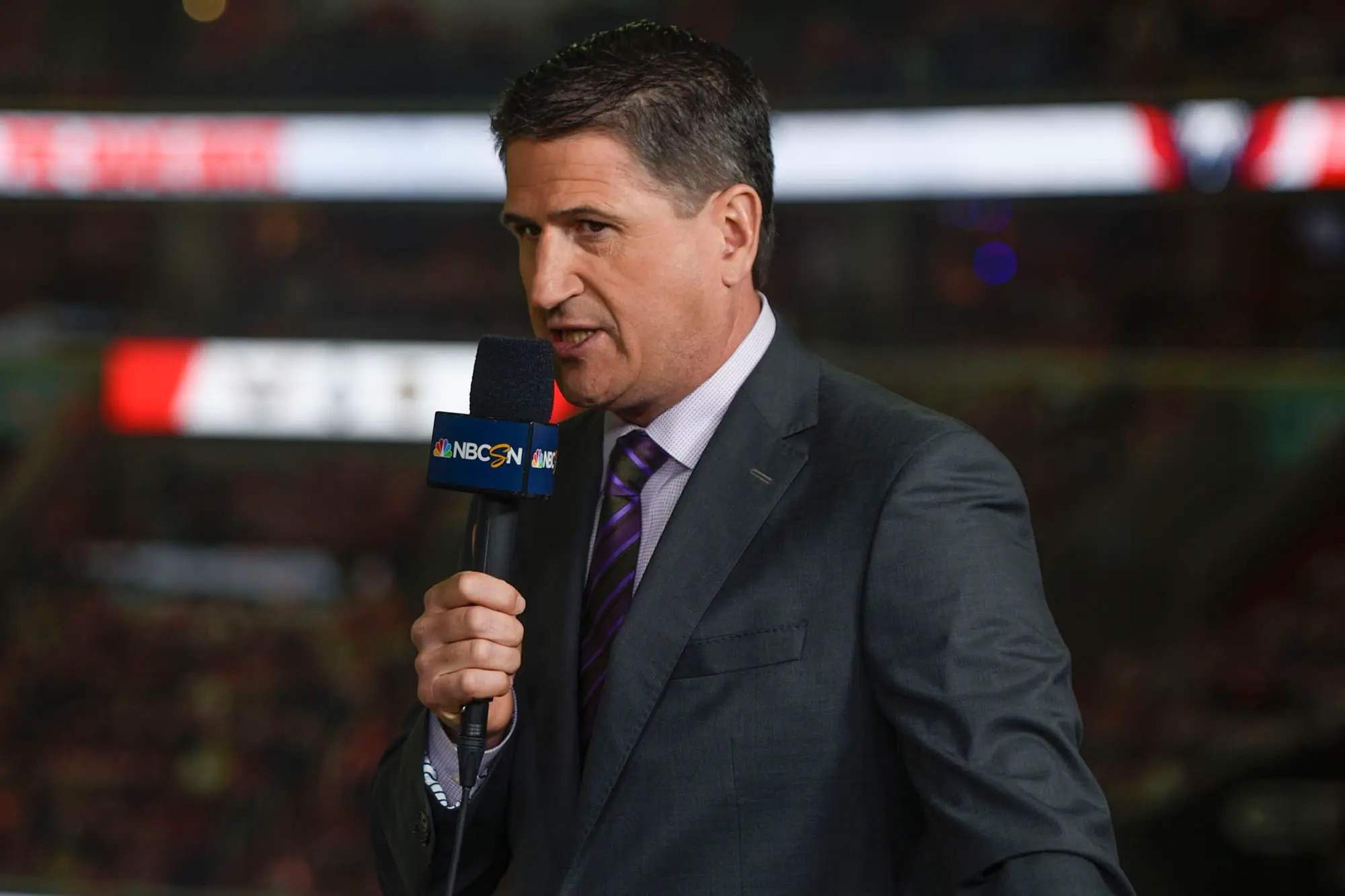 With the Philadelphia Flyers still searching for their President of Hockey Operations and doing their due diligence while they're at it, another surprising name has surfaced for the "coveted" position in Keith Jones.
Former Philadelphia Daily News writer and Daily Faceoff reporter Frank Seravalli tweeted that Jones and Eddie Olczyk are the two finalists for the position, with an article attached from Daily Faceoff Associate Editor Steven Ellis.
Sources: #Flyers president search down to two Turner Sports analysts – Eddie Olczyk and Keith Jones.

Announcement expected this week. #FueledByPhilly https://t.co/fSdImCxtK5

— Frank Seravalli (@frank_seravalli) May 10, 2023
We have heard names like Scott Mellanby, Dave Poulin, Chris Pronger, Doug Wilson, and Ray Shero among others considered, however Jones is an interesting name – since this is the first time we've heard his name mentioned – to consider at this juncture of their search that is allegedly going to come a conclusion this week.
Former Flyers defenseman and Snow The Goalie countributor Chris Therien seemed to have jumped the gun in a since-deleted tweet about Jones' potential hiring, but has since backtracked.
Okay I'm not a reporter and I don't like breaking news like my last tweet. Came out wrong! I heard a lot of rumors about Jonesy today and if it is him I could not be happier for him, for the team, for the fans, and for the organization! This would be a massive win!

— Chris Therien (@ctherien6) May 10, 2023
As we all know very well, Keith Jones ended his career with the Philadelphia Flyers, partaking in 3 seasons while scoring 27 goals and 74 points along the way. He is now the beloved colour commentator for the Flyers on NBC Sports Philadelphia alongside his play-by-play partner in Jim Jackson. Jones has also been a main feature on NBC and now TNT, where he covers several marquee games, including postseason contests.
On Daily Faceoff Live today, Seravalli and Tyler Yaremchuk discussed the Flyers and their search for a president:
Tyler Yaremchuk: "The Philadelphia Flyers have been searching for a new president of hockey operations for quite a bit of time. Are they nearing the final stages, have they made progress?"
Frank Seravalli: "I believe they are Tyler. I believe that an announcement is expected to come in the next couple of days here, by Friday, if not on Friday itself. And I believe that this search has been now whittled down to two finalists. Coincidentally enough, they're both on Turner Sports, and that would be Eddie Olczyk and Keith Jones. Jones, of course, has long ties to the Philadelphia Flyers organization. He has been a player for the team and has been a team broadcaster for a number of years. Olczyk, after hanging up his skates, had a stint as coach of the Pittsburgh Penguins before spending much of the last 17 years or so broadcasting across the NHL.
"Both of these guys are known personalities with well-known cases in the industry. It'll be interesting to see how these shake out here in the next couple of days because they are two qualified candidates to be the front-facing presence for a Flyers executive team that is expected to include Danny Briere as GM, as well as John Tortorella as head coach having a big say in the decision-making process.
"They're well on their way in Philadelphia and now are nearing the final stages. They cast a pretty wide net, and conducted a lot of different interviews with candidates over the last number of weeks, including John Chyka, Scott Mellanby…Chris Pronger and Doug Wilson received inquiries as well."
Elliotte Friedman and Jeff Marek made mention about the search most likely coming to a conclusion in the following week, when they took to 32 Thoughts: The Podcast last week. Seravalli now only reasserts that position but also mentions a very key piece of information that Jones and Olczyk are the "two finalists" for the job. He also mentions that the decision should come by Friday – which is only a few days away.
As we have mentioned a few times before, Eddie Olczyk is a very well-respected name in the hockey world and has been tied to this job since it became available. His front office experience is lacking compared to several other candidates like Wilson, Shero, or Mellanby, however it has become apparent that the Flyers are enamoured with the candidate. He would be allowing Daniel Briere to deal with the on-ice issues – alongside John Tortorella – as he would mainly deal with the business side of things.
Taking this position, there is a clear-cut understanding that Briere will have a lot more power, authority, and sway than most general managers, and it also understood that John Tortorella will have his say as well, even if he is "just" the head coach. Tortorella became the face of the franchise this year, he was outspoken from day one about what was required and what needed to be done, and his "subtraction" bit has many wondering who on the Flyers will be moved, let alone remaining.
Keith Jones is definitely a surprising name and while he doesn't have the managerial experience backing him up, he has been around the organization long enough to know the ins and outs. Being a broadcaster and commentator also might not seem like much, however you become well connected within the league circles pretty quickly and the net only gets larger when you're doing nationally televised games.
This week should be a monumental one for the new Flyers, as they try to usher into a new era of hockey that focuses on modernism. Briere will most likely have his interim tag removed, Tortorella should be front and centre as well, and we will finally be able to put this search to bed and move forward into a very important offseason for the suddenly-rebuilding Philadelphia Flyers.