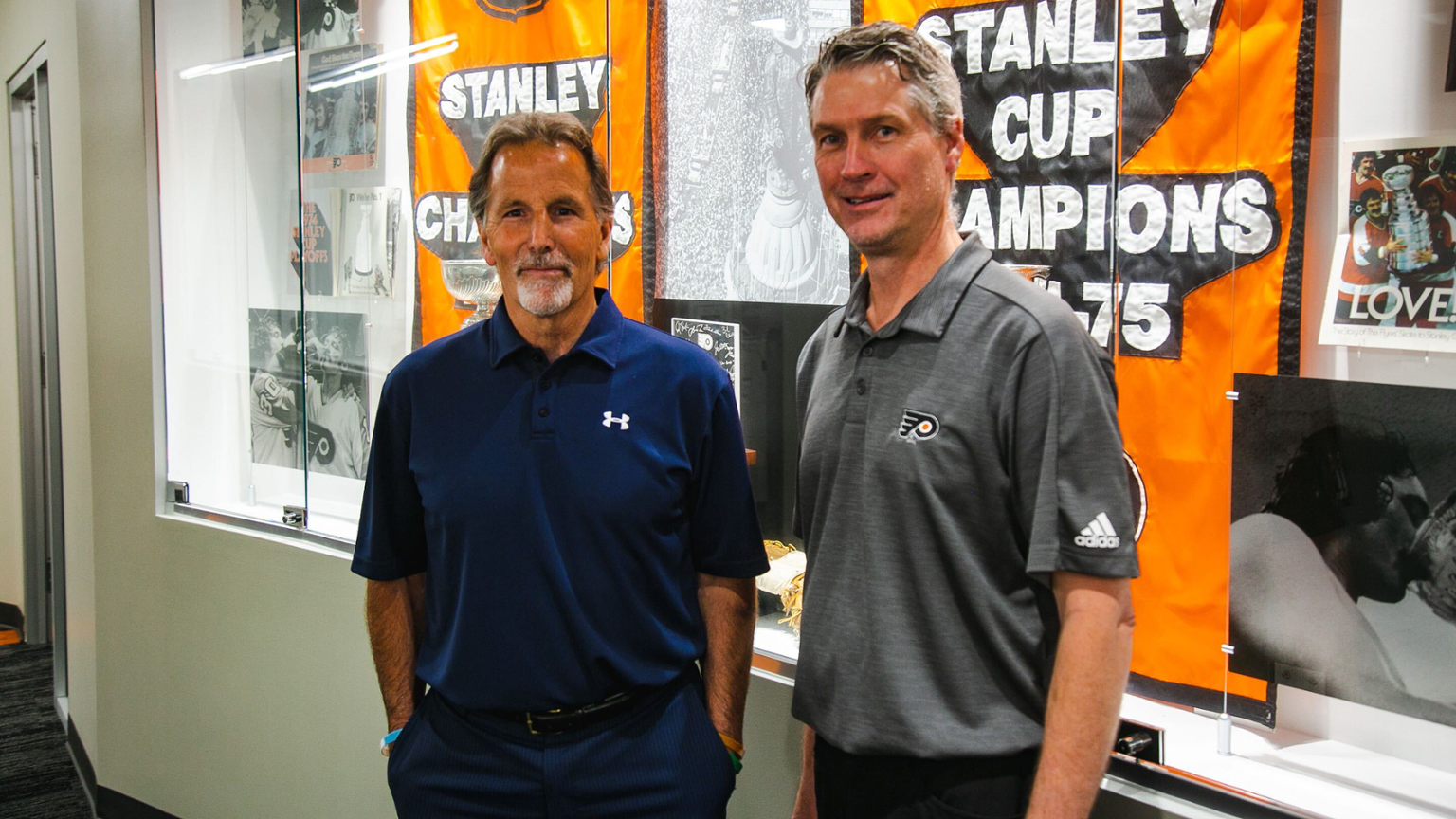 Final thoughts on John Tortorella and his press conference
The Philadelphia Flyers have just officially announced the hiring of John Tortorella after ESPN's Kevin Weekes first broke the news that they were in the late stages of an agreement a few days ago, and then once again breaking the news that a deal had been officially negotiated. Tortorella has become the 23rd head coach in franchise history, the 7th in the last 8 years, and the 3rd in a calendar year. The hiring of John Tortorella signifies a few things in Philadelphia: 1) The roster re-tool is going ahead as scheduled, 2) The old guard mentality is still a thing within the front office and management group, 3) For the direction that the Flyers are heading towards, it was the right call; not saying it's the right direction or the right call per se but we're of the mind that a rebuild was more than required.
When Claude Giroux broke the 100-point barrier for the first time in his career, Jakub Voracek being right behind him with a career-high of 65 assists and 85 points, Shayne Gostisbehere adding 52 assists and 65 points from the back-end, and Sean Couturier breaking out for a then-career-high 31 goals and 76 points, the Flyers were flying high in 2017-18; breaking career highs and getting decent secondary scoring from the likes of Travis Konecny, Wayne Simmonds, and Ivan Provorov. They fell to the Pittsburgh Penguins in 6 games in the first round of the playoffs and ever since then have yet to regain their footing. The Flyers were alternating between making and missing the playoffs for a decade between 2011-12 and 2020-21, so maybe that season was the anomaly because they've missed the playoffs in 3 of the last 4 seasons and haven't looked great outside of a 2-3 month stretch in 2020 before the COVID-pause.
Since then the Flyers fired general manager Ron Hextall, dismissed head coaches in Dave Hakstol, Alain Vigneault, and Mike Yeo, and traded away most of their core members in Claude Giroux, Jakub Voracek, Wayne Simmonds, and Shayne Gostisbehere. Chuck Fletcher was brought in to replace Ron Hextall and his rebuilding process by trying his hand at the re-tool that Paul Holmgren, Bobby Clarke, and even Fletcher are known for. We are heading into the 4th full offseason of Fletcher's general managing tenure and we've already seen 2 re-tools take place, might as well take a crack at a third?
In the summer of 2019, Fletcher acquired Kevin Hayes, Matt Niskanen, and Justin Braun, while extending Ivan Provorov and Travis Konecny to lengthy extensions. He stood pat in the summer of 2020 after being one game away from the Eastern Conference Finals, which ended up backfiring on them after the sudden retirement of Matt Niskanen prompted him to only make one noteworthy move and that was signing Erik Gustafsson. They imploded in March and slumped to a 25-23-8 record, good for 6th in the newly formed division during the COVID-shortened 2020-21 season. Big changes were afoot after a collapse of epic proportions, and Fletcher believed he struck gold by trading away all the players that had clashed with the then-current coaching staff. Out went Voracek, Gostisbehere, Nolan Patrick, and Phil Myers, and in came Ryan Ellis, Cam Atkinson, and Rasmus Ristolainen. Some of those moves brought about optimism, especially the Ryan Ellis acquisition but everything came to halting screech when he went down with what became a season ending injury in the early parts of the season. The Flyers collapsed even harder this past season, finishing 4th-last in the NHL with a 25-46-11 record and being apart of two separate 10+ game losing streaks.
After a season like that, having to trade your franchise cornerstone of 15 years, and owning the 5th overall selection in the upcoming draft, one would think that a rebuild would be in the cards. However, Dave Scott and Chuck Fletcher have been on the record countless times that they will forego such a plausibility and will try to give it another kick in the can during the summer. The first step was hiring a new head coach and the options were plentiful this year with names like Barry Trotz, Bruce Cassidy, Peter DeBoer, John Tortorella, and Jim Montgomery to name a few. Trotz was the big fish that everyone wanted and even though the Flyers had one in-person meeting and 2 contacts via Zoom, he rejected their reported lucrative offer of making him the highest paid coach in NHL history. Bruce Cassidy joined the fray a little later after his surprise dismissal from Boston but his sights were seemingly set for the bright lights in Vegas, and who could blame him with how that roster is currently constructed? If it wasn't going to be Barry Trotz behind the bench in October, then the Flyers were going to choose Tortorella and in terms of the criteria that they were looking into and for, he checks almost all of their boxes.
The Flyers wanted another veteran coach and he has been a bench boss for 1,383 games. The Flyers wanted a coach with playoff experience and he has made the playoffs 12 times in his 20 seasons, all appearances of which have come in his last 17 seasons, and of course he has that illustrious Stanley Cup ring from 2004. The Flyers wanted a no nonsense guy to be able to rally his team and get the best out of his players, and we know there isn't anyone better than Tortorella in terms of that department. The Flyers also wanted someone with a successful background and even though he only has 1 Stanley Cup to his name, he is the second-winningest American-born head coach in NHL history and owns a record of 673-541-37-132 with 2 Jack Adams awards under his belt. Another important piece of the puzzle in finding their new head coach was seemingly trying to find someone with the old-school mentality that has been steadily decreasing over the years. The days of Mike Babcock, Ken Hitchcock, Joel Quenneville, and even Alain Vigneault are in the past as a lot of new and/or modern head coaches are trying to make a name for themselves like Jared Bednar, Andrew Brunette, Jay Woodcroft, and even Jon Cooper can be added to the list of modernity.
Elliotte Friedman had mentioned several times on his podcast and on CBC's Hockey Night in Canada segments that Bobby Clarke and Paul Holmgren were key influencers in the head coaching search and were enamoured with John Tortorella and his fiery ways, leadership skills, and most of all his accountability. Anthony SanFilippo broke the news that he was informed that Dave Scott hired the help of an outside agency to find their new coach, which isn't entirely out of the norm for sports teams. The most important piece of information however was the fact that Chuck Fletcher wasn't too keen on the hire and he essentially didn't want Tortorella. That's not to say he hates him or that he isn't going to get along with his new head coach, but as the general manager, you want your guy and the Flyers ended up going against that by hiring Tortorella. Chuck Fletcher and the Flyers had interviewed a plethora of coaches outside of the bigger names like David Quinn, Jeff Blashill, Kirk Muller, and Mike Vellucci; with the latter being the one Fletcher liked the most, if the reports are to be believed. In any case, the deed is done, and the Flyers have hired their new head coach and for 4 years to boot.
The "blank cheque" statement was a real factor in their coaching search as they reportedly offered Barry Trotz upwards of $7 million dollars, and that would've made him the highest paid coach in NHL history. Also not forgetting that the Flyers are still on the hook for Alain Vigneault's contract, so the Flyers would've been paying head coaches upwards of 12 million dollars had the deal gone down, but for a franchise that has reached the billion dollar evaluation, that wouldn't have been much of an issue. Unfortunately for the Flyers, Trotz wasn't interested and even though the reasons weren't disclosed, some are more obvious than others. There were rumours circulating that he would like a job in hockey operations as well but nothing has been confirmed, however for a coach of his stature and experience, it's not all too surprising that he would want to venture towards a higher position. Tortorella's contract terms have been disclosed and he will be making $4 million per season over the next 4 years, so the Flyers are still technically breaking the bank in terms of how much money is being allocated towards their coaches; it's not necessarily a big problem however.
Now the fun stuff will begin with the Stanley Cup Final having just commenced, which only means one thing for non-playoff teams; there's something to look forward to. The NHL Entry Draft is set to take place on the 7th and 8th of July with free agency opening a week later. Tortorella is a coach known for being in the ears of his general manager, giving input on who he likes and who he doesn't want on the team. It's going to be interesting to see how Tortorella and Fletcher co-exist but more importantly how they make roster changes galore with only $5.1 million in cap space. The obvious scapegoat is James van Riemsdyk's final year at $7 million, but there are other names to look out for like Oskar Lindblom or even Travis Konecny. Outside of those 3, the pickings are slim in terms of who the Flyers can and would trade that either cost too much to keep or have actual value.
The hiring of Tortorella only pushes the narrative of an aggressive retool even more so than before. It was general common place that the Flyers were going to undergo another one regardless but their new head coach is not one for rebuilds either. Tortorella and the Columbus Blue Jackets agreed to mutually part ways after the expiration of his contract in 2021, the Blue Jackets were undergoing a rebuild of sorts, they lost all their marquee players from their playoff run in 2019 in Artemi Panarin, Matt Duchene, and Sergei Bobrovsky, and Tortorella didn't agree with the direction they were heading towards. Dave Scott doesn't want another lengthy rebuild at the moment, we know Holmgren and Clarke don't want one either, the Flyers' money is tied towards several "core" pieces for an extended period of time like Sean Couturier (8x$7.5), Kevin Hayes (4x$7.14), Ivan Provorov (3x$6.75), Ryan Ellis (5x$6.25), avid Tortorella fan Cam Atkinson (3x$5.875), Travis Konecny (3x$5.5), Rasmus Ristolainen (5x$5.1), and Joel Farabee (6x$5). It's safe to assume that Couturier, Farabee, and Ristolainen aren't going anywhere with new extensions about to kick in and the first two arguably being the current and future faces of the franchise. Kevin Hayes holds a no-movement clause, Ryan Ellis figures to be the most important piece on the backend but also has injury issues, and trading Provorov without fully knowing where Ellis stands is fool's gold at the moment. That really only leaves them with a few options to trade to open up cap space.
It's going to be a long summer, if it already hasn't felt long to this point, but with the draft coming up and the Flyers holding the 5th overall selection, as well as knowing that they're going to try and make aggressive moves to revamp the roster, the next few weeks are going to be a frenzy in terms of rumours and actual fact. In any case, the Flyers have secured their head coach and whether we're a fan of his or not, he's going to be a fun one to watch whether it's pre-game or post-game interviews. If he is still the same coach from yesteryears past then we know he is old school, he's fiery, and has a lot of "jam" as Peter Laviolette would say – who is also ironically the last head coach to have that same attitude and jive.
His introductory press conference, however, was everything we expected and wanted and then some. The passion and the fire that has been lacking from this team is now standing behind the bench come October and it should be something to be excited by. Whoever the Flyers hired, let's be real, it was always going to be tough for them to right this ship and will most likely take a few years. They chose the guy they believe could fast track that success into reality. Will it happen? Only time will tell but as of right now, on the 18th of June, John Tortorella is the head coach of the Flyers and that's something to be excited by. He's bringing an identity and a culture to a team that has lacked it for so many years and if the players can play his system and do their part, they could go far – injuries and health permitting.
If that thought doesn't do it, then some of his quotes might do the trick. Obviously, coming into a new environment you want to say the right things to endear yourself with the fan base and the organization but everything he says is straight forward, no nonsense, and you know he will execute it – or at least try to from his end of things. The final two quotes speak volumes because it shows that someone actually wanted to come to Philadelphia and take this mess head on and on top of all that, he's excited about the opportunity and has been wanting this chance for a long time. He represents Philadelphia to a tee, whether it's old school or not and whether or not it's the right climate for that remains to be seen, but this is the first time that there's passion behind that bench in well over a decade and the players should be welcoming that task with open arms.
"Even when I was coaching other cities, I've always thought about (coaching) that team."
"It has to be a two-way street… show me that you're willing to give something away from the puck."
"We need to give Carter a little more support on how we play around him."
"I want the team to play harder… coming off the bus, coming into buildings."
"We gotta get some skin, we gotta grow some skin."
On Cam Atkinson, "We're practicing for a purpose, we're gonna play hard…I relied on him in Columbus as our relationship changed…I couldn't be prouder of him."
"It's going to be a very difficult camp…high volume skating…we are attacking it."
"I'm looking forward to getting in the bunker of the Flyers locker room and getting to business"
"The culture has to change…culture, accountability, all those words are cool summertime words…real easy to say, difficult to do."
And he finished it off with, "And now I get to coach this damn team, the Philadelphia Flyers."
Welcome to Philadelphia, John. Here's hoping to a lengthy and successful stint.