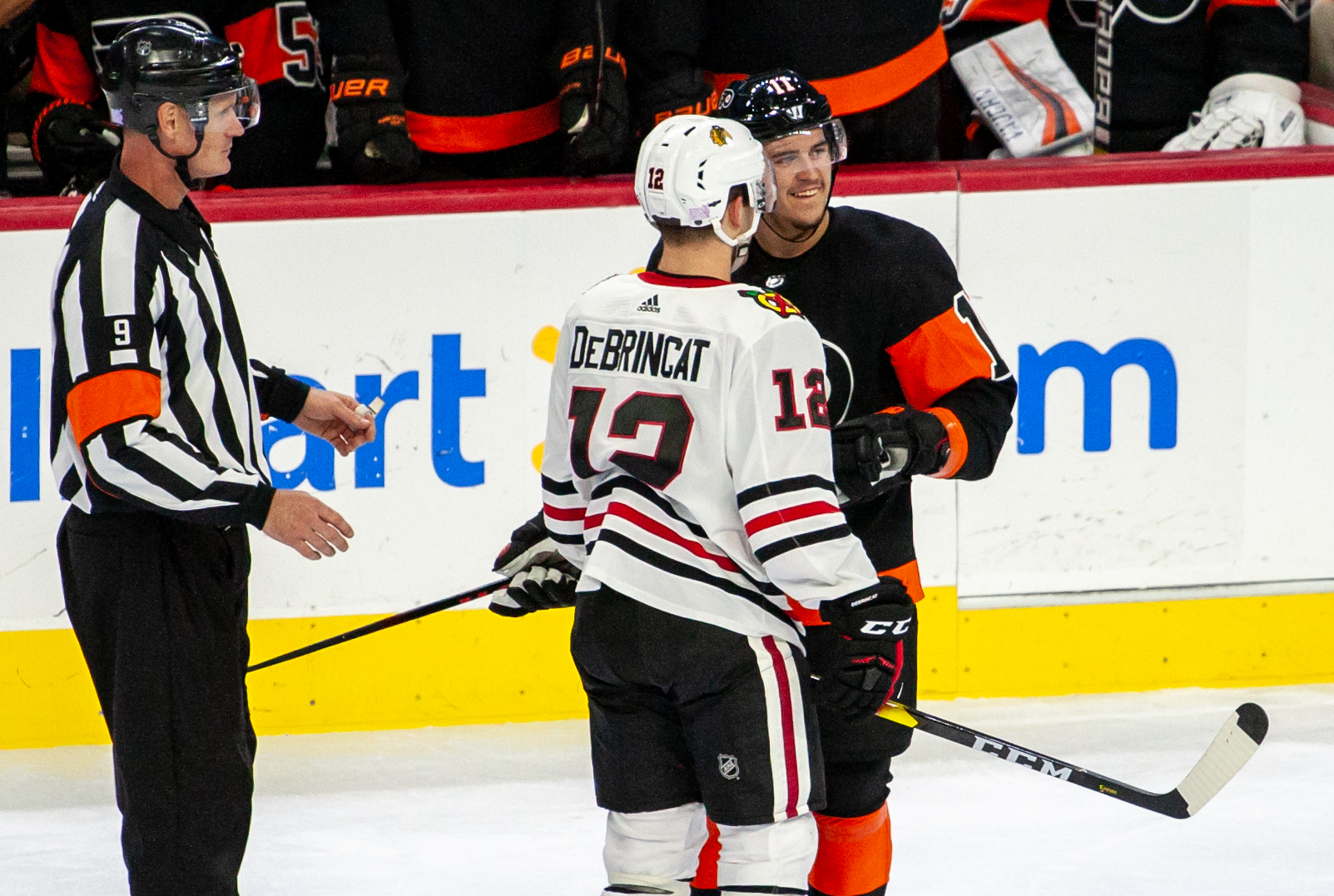 Alex DeBrincat is Available, and the Flyers are Actually Interested This Time Around
The Chicago Blackhawks are in a position where they want to tear things down and rebuild from the ground floor, and in a (not so) surprising turn of events, Alex DeBrincat is available and the Philadelphia Flyers are amongst several suitors, including the New Jersey Devils, according to The Fourth Period's David Pagnotta. The Blackhawks attempted a quick re-tool last summer when they acquired goaltender Marc Andre-Fleury from the Vegas Golden Knights and then Seth Jones from the Columbus Blue Jackets. The Blackhawks traded a 2021 first, a 2021 second, a 2022 or 2023 first, and Adam Boqvist for a late first round selection in 2021 and Seth Jones, who was immediately extended to an 8 year deal worth $9.5 million AAV. Chicago finished 27th overall in the league standings, two spots ahead of the Flyers, and are heading into a very critical offseason without an important first round pick.
Elliotte Friedman reported a few weeks ago that the Blackhawks are essentially open for business and will listen to offers on just about anyone – that doesn't necessarily involve Jonathan Toews, Patrick Kane, or Seth Jones. That last part was included because that trio of players hold NMCs and because Toews and Kane are future Hall-of-Famers and mainstays of the organization since their draft day, it seems unlikely they will be moved unless they want the deal to come to fruition. That in it of itself might come to pass because they only have one year left on their mammoth identical $10.5 million deals, so if the ship continues to sink and they no longer want to be in Chicago, a deal could come to pass at the deadline. Another player that has one year remaining on their current contract is soon-to-be RFA Alex DeBrincat, and he is everything the Flyers have been looking for and need.
The former second round pick in 2016 has compiled 160 goals and 307 points in 368 games, and more importantly he has two 40 goal seasons under his belt and would have been on his way to a third one in the shortened season of 2020-21 when he scored 32 goals in only 52 games. DeBrincat was the one who got away from the 2016 NHL Draft after he was selected in the second round with the Flyers prioritizing German Rubstov in the first round and the Pascal Laberge 3 picks ahead. The 24 year-old forward would be able to bring the Blackhawks the haul they desire for their rebuild and most likely fetch that first round pick they so desperately want. The New Jersey Devils have been sniffing around for some top-tier talent with their second overall pick being their biggest bargaining tool. They already have a treasure trove of high-end prospects and feel they can help the team in the present and the future by trading the 2nd overall pick in a draft that doesn't necessarily have a home-run selection.
With the Blackhawks' desires being public and wanting young forwards in return as well, do the Flyers actually stand a chance in acquiring DeBrincat; better yet, should the Flyers consider trading for DeBrincat? It seems like a slam dunk option but with the Flyers lacking cap space, draft capital, and NHL-ready assets, Chicago will be coveting the 5th overall selection and maybe even the 2024 first round pick from Florida that Philadelphia received in the Claude Giroux trade. He only has one year left on his $6.4 million AAV contract and the Blackhawks are not entirely willing to pay him the money he wants and desires in the summer of 2023. His qualifying offer at the very least will be 120% of his current $6.4 million but if he continues to scorch the earth and score goals in the upper 30s and 40s, then the sky is truly the limit and he could command upwards of $8.5-$9 million.
With teams lining up at the door including the Los Angeles Kings and New York Islanders – who both have either the prospects and the picks to get the deal done – there will be a bidding war at the hands of every general manager involved, and we've already seen how Chuck Fletcher navigates a bidding war. DeBrincat currently has the 4th-most points out of his draft class, sitting behind Patrik Laine, Matthew Tkachuk, and Auston Matthews. He has played in 39 less games than Laine and is only 20 points off, he has played in 63 less games than Tkachuk and trails him by by 75 points, while Matthews reigns supreme from the 2016 draft with his 259 goals in 407 games.
With those numbers, being involved in that conversation, and with his track record, it's going to be a dogfight for his services, and Fletcher has already acquired an expiring contract before in Rasmus Ristolainen. He vowed to get an extension complete and signed the defenseman to a 5-year deal worth $5.1 million per year, which was met with apoplexy amongst the fan base and media. DeBrincat is a different cat in the sense that he would be worth every penny, but the asking price is daunting when you consider the Flyers don't have much at their disposal.
The New Jersey Devils currently have $25 million in cap space, the 2nd overall pick, and players like Jack Hughes, Nico Hischier, and Dougie Hamilton on long-term deals. On top of that they hold the rights to Jesper Bratt, Pavel Zacha, and Miles Wood, have Yegor Sharangovich and Dawson Mercer under contract, and have Alexander Holtz and Luke Hughes waiting in the wings. The Los Angeles Kings took the Edmonton Oilers to 7 games in the first round, have $20 million in cap space, own a pick in each round outside of the 7th, and have a plethora of young players on their current roster and waiting in the wings at either the AHL level of junior circuits. The New York Islanders are a little strapped for cash at the moment but still have $12 million in cap space, have plenty of contracts they could trade to make room for more money, and own their first round pick as well while having an established core and team that made it to back-to-back Eastern Conference Finals before this year.
The Flyers only have around $5 million in cap space, they do own a first round pick but don't have a second round pick for the next 2 seasons, and desperately need to move a contract or two to make way for their grand plans this summer. Chicago could take Oskar Lindblom's final year at $3 million with relative ease in any deal involving DeBrincat but they're going to need more than Oskar and the 5th overall pick.
If the Flyers offered a player like Morgan Frost who has yet to make an impact in Philadelphia but would have all the chances and ice-time in Chicago to thrive, alongside their first round pick from 2022 and Lindblom – would that be enough? Would that be too much? Do they need to add another pick in the mix as well like Florida's first in 2024? It all depends on what the other bids look like from their rival teams as well as how keen he is to sign an extension, and then most importantly how much he is willing to sign for as well. Just like their head coaching search before landing John Tortorella, the Flyers have the luxury of having options at their disposal.
They are keen on bringing in marquee talent, whether that is through free agency or a trade remains to be seen, but if they think Johnny Gaudreau or Nazem Kadri can't be had or will cost too much in terms of cap money, then DeBrincat isn't a bad option to fall on.