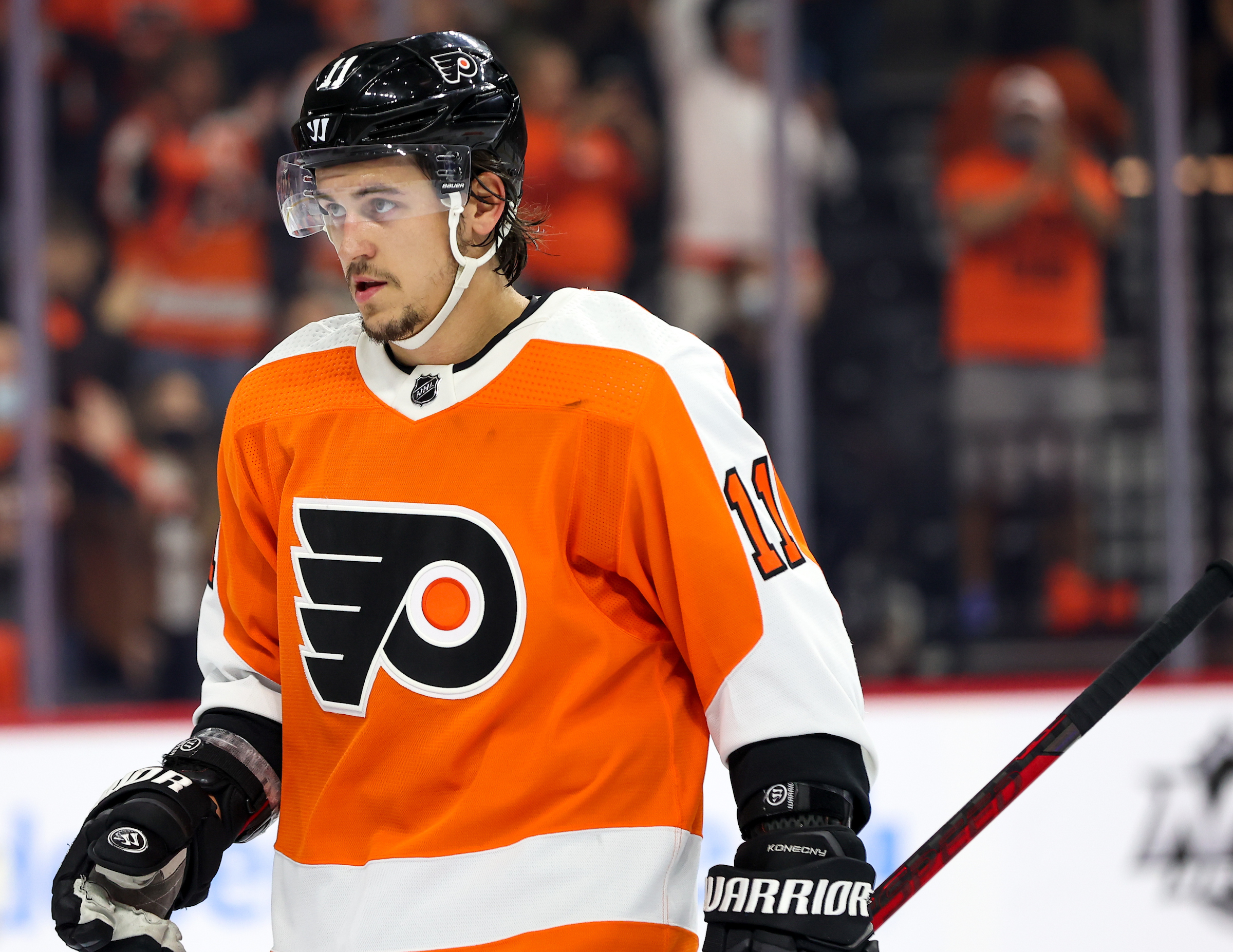 Yay or Nay: Has Public Opinion Shifted on Travis Konecny?
Travis Konecny has been a polarizing figure in Philadelphia for the last 2 years and understandably so. The former first round pick, who will be turning 25 next month, has scored 19 goals in his last 116 games dating back to the COVID-bubble. That is a far cry from the three straight 24-goal seasons he had from 2017-18 to 2019-20.
His contract runs through the end of the 2025-26 season, costs the Flyers $5.5 million AAV, and was signed in the same year as Ivan Provorov's extension. The two were flag-shipped to be the future of the Flyers, yet their performances since the summer of 2020 have been nothing short of disappointing.
Konecny started off the season with a kick-in-the-pants conversation with general manager Chuck Fletcher, who essentially let the winger know that if he wanted to trade him, he would've been gone in the summer. The Flyers have had trade discussions for the diminutive forward for well over a year now as several teams have been inquiring about his availability. The Flyers, as of right now, have been staunchly against the idea and have reportedly balked at trades that could've brought back a player like Jack Eichel or Patrik Laine. 
Obviously at the time of Eichel's trade demands, he was dealing with a neck injury and wanted to complete a surgery that the Buffalo Sabres deemed too risky. It was the first of its kind in the NHL and the superstar centre had a bone to pick with the organization that drafted him second overall in 2015. The trade surrounded Konecny and involved several other pieces that the Flyers thought to be too much for a risky investment. The Vegas Golden Knights pulled off the move at the beginning of the season with Eichel recently making his season debut. 
In the case of Laine, it was also seen as a risk because of the inconsistencies in his game, his clashes with fellow teammates, and how vocal he was about wanting a better and bigger opportunity. The Finnish goal-scorer accumulated 36 goals in his rookie season and then followed it up with seasons of 44, 30, and 28 respectively. He had a rough 2020-21, where he only scored 12 goals and 24 points in 46 games but he was traded to the Columbus Blue Jackets mid-season. He has recently found his groove with former Flyer Jakub Voracek as he has scored 19 goals and has added 17 assists in only 34 games. 
They were seen as risks at the time and the Flyers were quite content with holding onto Konecny++, however one has to wonder if the organization has regretted not pulling the trigger and if they are keen to trading him in the summer or even at the trade deadline? Several teams are still inquiring, including the Toronto Maple Leafs and the Los Angeles Kings.
He is the type of forward you want, he can fit into any team's top 6 seamlessly, he has a knack for scoring, and has a sandpaper element to his game. These are things that he hasn't executed in recent memory but part of that could be related to Alain Vigneault's system, style, and schemes. 
Yes, his career year of 24 goals and 61 points in 66 games came in the 2019-20 season, which was Vigneault's first as Flyers head coach, but it's common knowledge that when the NHL resumed it's playoffs in the bubble, the head coach tinkered around with his system to a point where the Flyers weren't recognizable. The fun, fast paced, goal scoring, hard-to-play against team that went into the pause winning 9 of their last 10, looked completely different once the round robin tournament ended. They could've easily lost to the Montreal Canadiens had it not been for Carter Hart's goaltending. 
Vigneault wasn't a fan of Nicolas Aube-Kubel's aggressive style of play and that was very well documented. Aube-Kubel became the whipping boy after he was constantly found in the penalty box for his incessant amount of minor penalties that was in large part due to his aggressive nature. The Flyers had to choose between Patrick Brown or Aube-Kubel and they chose to keep the former and waive the latter. He has enjoyed his stint with the Colorado Avalanche as he has scored 7 goals and 15 points in 40 games, hitting a new career-high in points with many games still to follow. 
Konecny was another player whose aggressiveness was stunted by the veteran head coach. It was no surprise that we started noticing him less and less, he wasn't playing with the same fire he always had, and he was playing a very passive style of hockey. As he struggles, the team struggles. The Flyers have had goal scoring issues for years and if one of their pre-dominant goal scorers can only hit the back of the net 8 times in 50 games or 19 times in 116, then it's no surprise the team is near the bottom of the league in scoring and wins. 
The Flyers have other options that are making big money but are not producing even close to their contract's value. James van Riemsdyk only has 11 goals in 52 games, Sean Couturier only had 6 goals in the 29 games he played this season, Kevin Hayes had 3 goals in 20 games. Add in Oskar Lindblom, who didn't score his first goal until game 22, and the fact that Joel Farabee has only played in 34 games this season. 
With the trade deadline looming it would be an utter shock if the Flyers were to make a move involving Travis Konecny, even though several teams are still inquiring. A trade of that magnitude would have to occur in and around the draft, if the Flyers choose that route. They keep going on about making big changes again, wanting to re-tool, and there have been rumbles and murmurs from insiders that no one is safe other than Carter Hart. If the Flyers were that close to trading him this summer, has that sentiment changed at all with his current output of 8 goals in 50 games?
Under Mike Yeo, Konecny looks a lot better and seemingly playing his game, rather than being afraid of making a mistake or being too aggressive. His season has been extremely inconsistent as he accrued 4 goals and 8 points in the first 9 games. He followed that up with a 26 game stretch where he only scored once, going goal-less in 20 straight, and only accumulating 10 assists. Once he got the monkey off his back he has scored 3 goals and 11 points in his last 15 games and held a career-high 7 game point streak until it was snapped after Saturday's game against the Washington Capitals.
In the 22 games with Vigneault behind the bench he scored 4 times, 3 of them coming in the first three games. Under Mike Yeo he may only have 3 goals but he has tacked on 18 assists in 28 games. In an 82 game season that would be projected to 62 points, a career-high no less. It seems like Yeo has pushed the right buttons for some players because Konecny is not the only one thriving. Travis Sanheim has 18 points in 29 games since the coaching change and Oskar Lindblom has 8 goals and 16 points in that same time-frame. The Flyers haven't been pretty, they might even be worse under Yeo, but it's a good sign to see some of the more important names who were previously struggling, finding their grooves in a very distasteful season. 
Konecny has quietly done well for himself under the interim-coaching regime and when comparing his stats to Claude Giroux or Cam Atkinson, it's enlightening for those who still believe the 25 year old can turn things around. Atkinson has 10 goals and 26 points, while Giroux has 10 goals and 20 points. Once again, not eye popping numbers but a much better turn-around from the 20 game goal-less drought and 37 point pace he had under Vigneault. 
It's also important to note that Konecny is shooting a career-low 6.1%, which is a far cry from his 11.8% career percentages, and even the 4 straight years where he shot 13.6%, 13.2%, 17%, and 11%. He is in line to break his current career-high totals in shots on goal, which could make this season a case of bad puck-luck. 
His numbers and game are tough to overlook because of how much he has fallen since the early stages of 2019-20 but if his last 28 games are any indication, as well as his career shooting percentages, Konecny could be close to a break-out with the season still having 8 weeks remaining. If the Flyers want to make waves again this summer and if they are serious about their blank cheque statement then moving a contract like Konecny's would fall under that line of thinking.
He still possesses a lot of value, he's extended for 3 more years, and a move like that screams "big change". Will it be a good move? Based on the Flyers' history of trading good players who have struggled here, only to find success elsewhere at a rapid pace, it could easily blow up in their face. He's still very young, it's troubling that he has struggled for 116 games, but he looks to be breaking out of his slump. 8 goals isn't anything to write home about but setting up 23, with 21 of them being primary assists is pretty impressive, all things considered.