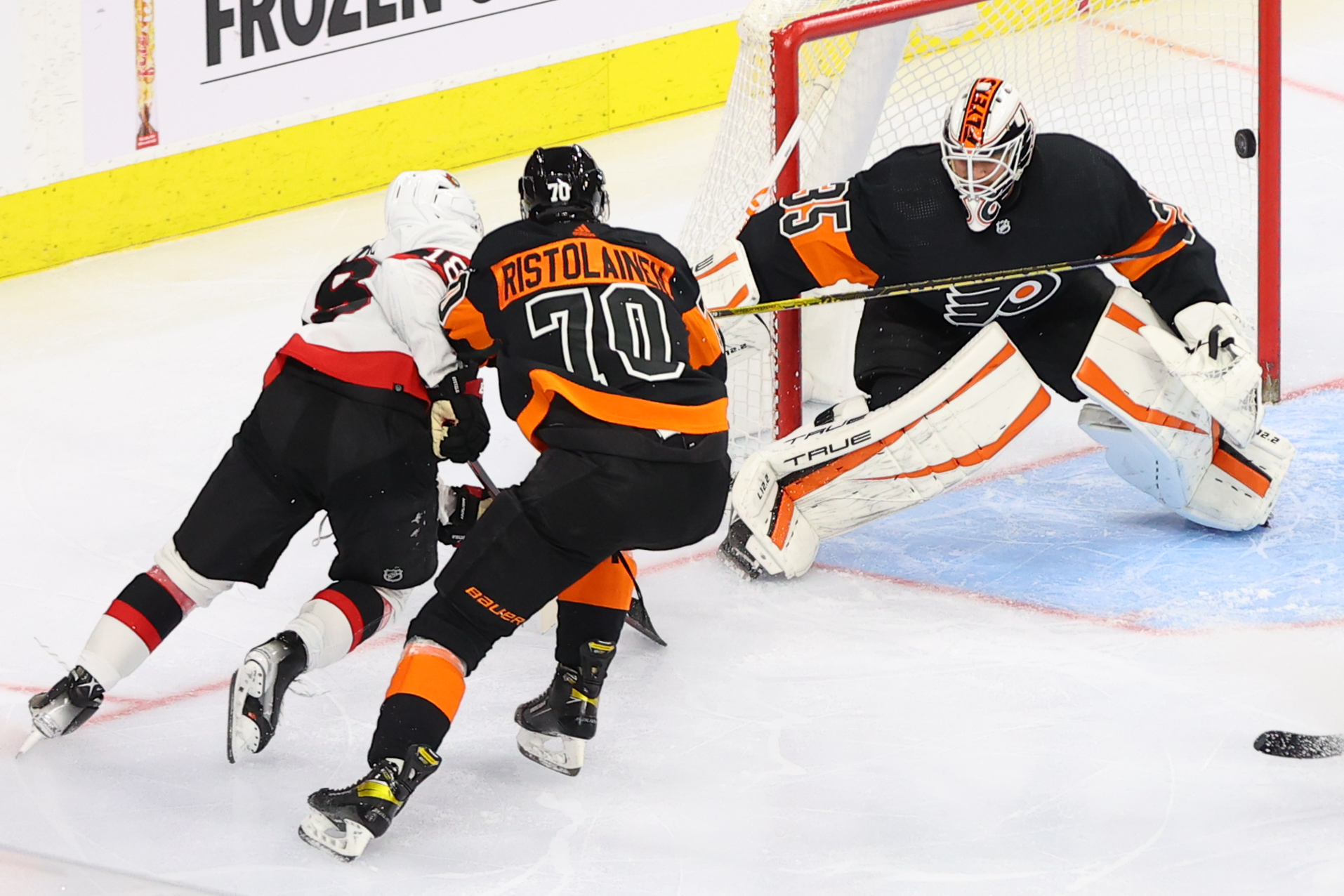 Who Doesn't Like Trade Rumours?
The only critical talking points about the Philadelphia Flyers from now to mid-March will be about the trade deadline and who they eventually trade away.

The Flyers have several expiring contracts and upcoming UFAs outside of Claude Giroux like Rasmus Ristolainen, Justin Braun, Derick Brassard, Keith Yandle, and Martin Jones. There's a good chance that most, if not all of those names get moved at the deadline, but for some of those players there isn't much of a market right now.

On top of the expiring contracts and potential rentals, there have been murmurs around the NHL about players like Ivan Provorov and Travis Sanheim. There was a lot to unpack from the recent Snow The Goalie podcast episode as they discussed these topics at length with NRD (@NHLRumoursDaily).
Justin Braun
Justin Braun is a capable, veteran, right-hand shooting defensemen that most contending teams look for at the trade deadline to add for their bottom pairing or depth. Braun has been playing with Ivan Provorov for the majority of the last 2 seasons even though this year was supposed to be different. He started out the year with Yandle on the bottom pair but after Ryan Ellis went down, the Flyers felt more comfortable slotting Braun next to Provorov again. The experiment worked for a little bit but it's obvious, and to no fault of his own, that Braun isn't suited for top 4 minutes, let alone top 2.
There are already reportedly several teams that have inquired and are interested, including the Toronto Maple Leafs and the Carolina Hurricanes. The Maple Leafs were interested before Jake Muzzin went down but now it becomes even more pressing after he was placed on LTIR. The Hurricanes have the same dilemma after Tony DeAngelo went down against the Flyers in their game on Monday. He is supposed to miss about 4 weeks as well, which makes Braun that much more delectable.
He wouldn't cost an arm and a leg and the perceived price range could be something along the lines of a 3rd round pick and a 5th round pick with potential conditionals added to them. NRD likened the deal similar to the Adam McQuaid trade from the New York Rangers to the Columbus Blue Jackets a few years ago. Maybe the price goes up a little based on the injuries, but a trade for Braun would happen on deadline day, when several other names fall off the board.
Keith Yandle
Speaking of Keith Yandle, I am not sure if anyone could've foreseen how disastrous his season with the Flyers was going to be. He had been struggling with the Florida Panthers for the last few seasons, even though his offensive numbers were high, he wasn't fitting their system or schemes properly and was also being sheltered by far superior players on the roster. Coming to Philadelphia, the idea was that he would slot in the third pairing with Braun and feature as a power play specialist. None of those things occurred since Yandle only played with Braun for 4 games and has been featured on pairings mostly with Nick Seeler or Kevin Connauton.
His power play game has only hindered his trade value, if that is even possible, as he hasn't produced for a power play that is near the bottom of the league. He lost his job on the top power play unit twice this season and he has only accumulated 1 goal and 8 assists on the man advantage, a far cry from his top-end years. Plus/minus is a beat up stat that people like to avoid but when you're -31 on the season, it's tough not to mention it.
He might not have much trade value as they discussed and if a trade were to occur it would "make sense" only for a team like the Tampa Bay Lightning, who are already established, trying to make another run, need and want depth pieces, and is a destination where he would get sheltered because of the far superior players on the roster. It should be noted that Yandle also holds a no-trade clause in his contract and if a trade were to occur, the best the Flyers could get is a late-round pick.
They also discussed that he could choose to stay in Philadelphia because he is comfortable with the team and has many "friends" on board, which seemed to be the MO of Chuck Fletcher's off-season plans.
Derick Brassard
Derick Brassard has played pretty well for the Flyers when featured in the lineup, but he has missed so much time that it's hard to equate his value and his role. He had missed 31 of the last 34 games before today's game against the Washington Capitals, he has come back too soon from an injury only to hurt himself that very same game three times, and most importantly he has played his part on most contending teams that are currently looking for a centre.
There was a reason he was available for the Flyers to sign him in the middle of the off-season, he has played with the New York Rangers, Colorado Avalanche, Pittsburgh Penguins, and Florida Panthers already, so they know what he's all about and it should be telling that they didn't look into him when he was a free agent. They want bigger names for him, they might make a U-turn if things get quiet and if they are in desperate need for depth but based on his injuries this season as well, the market for Brassard is desolate.
Martin Jones
The Martin Jones experiment didn't work and the Flyers should honestly cut bait as quickly as possible, but in true Philadelphia fashion they are overvaluing what he has brought to the table. It's true that he has had decent stretches (beginning of the season) but those stretches have been washed away by the rest of his season.
There's a belief that he has "revitalized" his career but that is only because he was at rock bottom in San Jose, so much so that he got bought out with a few years remaining on his contract.
The Flyers already rejected the Edmonton Oilers' offer of a fifth round pick, so clearly Fletcher is looking for a mid-round pick for the backup goaltender. NRD believes that the goalie market is very saturated and that most teams that need a goalie will be looking at Marc-Andre Fleury, Elvis Merzlikins or Joonas Korpisalo, Ville Husso, Semyon Varlamov, and Vitek Vanecek or Ilya Samsonov, before they test the waters on Jones.
It is also believed that because of the saturation in the market and the Flyers not receiving the value they believe Jones is worth, they might just hold onto him and potentially bring him back next season. The Flyers need a goaltender right now, they don't want to necessarily throw a young goaltender to the wolves, so to speak, and they are hellbent on getting some kind of value for him. The ball is in Chuck's court but I don't see them getting anything better than a fifth round pick.
Ivan Provorov
Ivan Provorov is an interesting name right now because he is obviously not a rental piece as he is extended for 3 more seasons at $6.75 million AAV. However, his play in the last 2 seasons have indicated one major flaw in his game and that is his need for a true top-pair partner. One season with Matt Niskanen made Provorov look elite and then once he retired, his game immediately faltered. So they then acquired Ryan Ellis to pair up with Provorov but when Ellis went down almost immediately, the 2021-22 campaign could arguably be Provorov's worst.
If he were to be traded right now, the market for his services wouldn't be too great. If teams are going to spend assets, and top ones at that, for a serviceable defenseman then they will be looking towards Arizona Coyotes defenseman, Jakob Chychrun. Once that domino falls, then teams could look elsewhere for another young defenseman and that could link them with Provorov but for the time being, any trade that involves Provorov, at this very moment, would be disastrous in terms of value and acquisitions in return.
The Flyers recognize what he is and they know that he probably won't be their top defenseman, at least for the time being. They recognized that earlier this year when they acquired Ellis but to cut bait right now, just to make a trade for the sake of making a trade wouldn't make much sense. They want to keep him and they most likely will unless they're blown away by an offer, but based on how other teams perceive him, that won't happen until he revolutionizes his game.
A lot of teams would slot him as their second pairing defenseman with the idea or notion that they could turn him into a top pair minute muncher.
Travis Sanheim
Travis Sanheim could very well be the Flyers top defenseman this year, which in the grand scheme of things isn't all too great a feat. There have been talks this year and the year prior but he's always been included in larger trade packages that could've netted them a player like Ryan O'Reilly, Jack Eichel, or Patrik Laine. The talks are still currently happening but nothing is imminent at the moment.
If a trade were to occur, just like Provorov, it wouldn't happen until the draft or well into the summer. Chuck Fletcher had talks with the Nashville Predators last trade deadline to acquire Ryan Ellis, nothing happened then, but the talks got stronger and stronger as the off-season kicked off. That could be the same route the Flyers take with Sanheim, IF they were to choose to cut bait.
However, it should be noted that the Flyers aren't going to make a change for change sake and with how well Sanheim has played this year, they will be more than happy to hold onto his services.
Rasmus Ristolainen
After Claude Giroux, Rasmus Ristolainen is the second-biggest fish to fry for the Flyers. His camp believes he is worth well over 6 million dollars, they believe that playoff hockey was meant for him and his style, and that he deserves a shot to prove it. It is to be believed that the Flyers and Chuck Fletcher offered the defenseman a 6-year deal worth $38 million dollars, to which he rejected citing playoffs as the biggest hurdle.
It's a gamble that he's willing to take on himself because the idea is that he will increase his value on the open market after a successful campaign. His rough and tumble style, coupled with his right hand shot, and the fact that he's a defenseman will make him a hot commodity. It is very conceivable that the Flyers hold on long enough to recoup the assets they lost in the summer. They won't get a 14th overall pick in return, but they can get a later first-round pick and then some.
The free agent market is wild and untempered and with bidding wars happening all the time, Ristolainen's camp is more than content with waiting things out. They believe that if they can get $6.2 million from the Flyers, that other teams could offer more if they see how he performs in the post-season. The Flyers will still have a chance to court him in the summer but it doesn't seem like he is all too keen on staying or making a return. This team is a disaster and coming from Buffalo, he wants a chance to play playoff hockey and no one can blame him for that.
The Flyers should stay far far away from his demands because they don't need to be paying Ristolainen $6.5+ million, while also paying Ellis $6.25M, Provorov $6.75M, and Sanheim $4.9M.