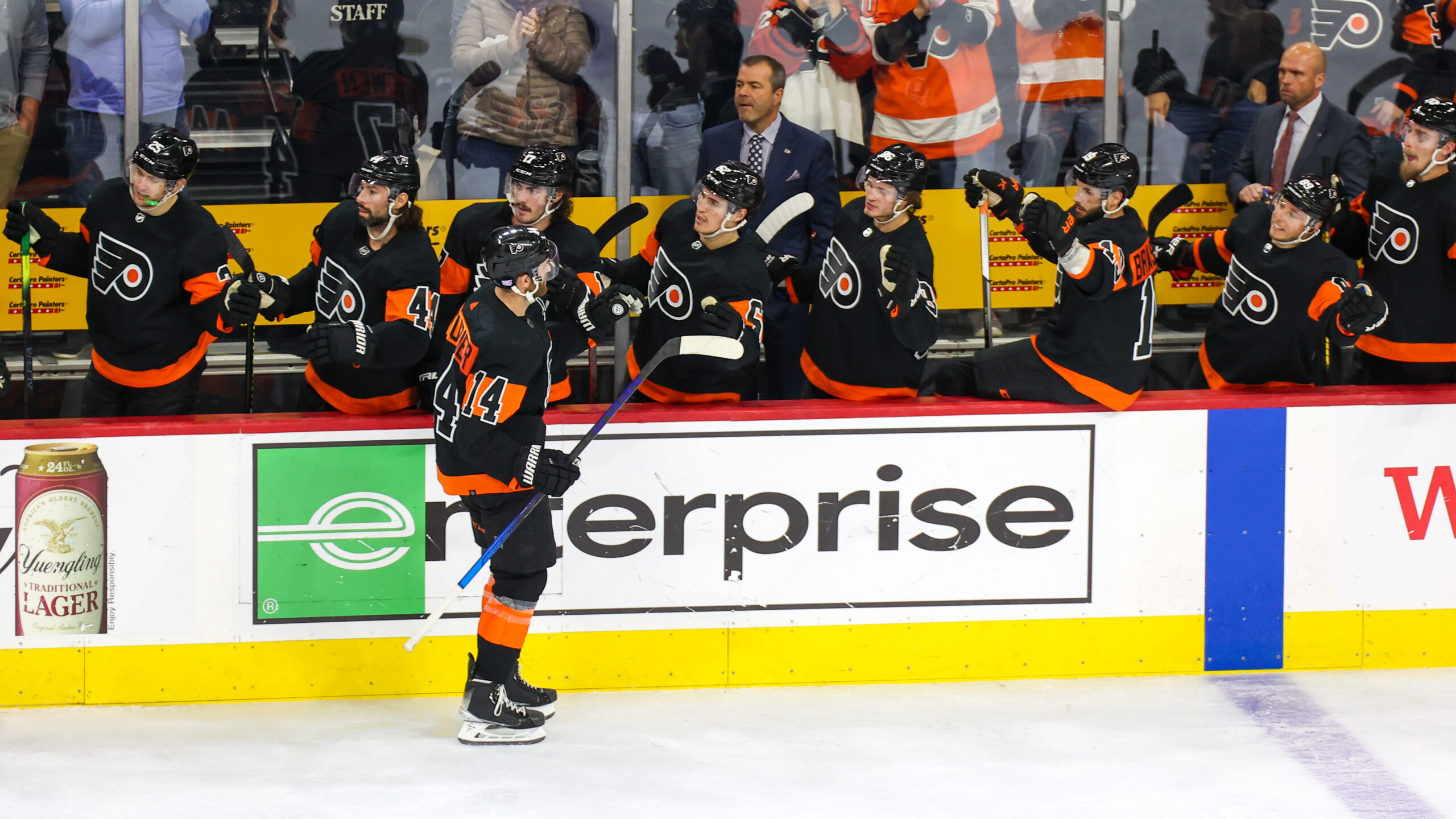 With Giroux Gone, Sean Couturier Has Become the De Facto Face of the Franchise
After the season the Philadelphia Flyers just went through, it's tough to remember or even think about the positives for next year and beyond. There's a lot of talk about what they don't have, what they need, and what they need to do to patch the hole on the sinking ship, but there's at least one good thing heading into the 2022-23 season; the return of Sean Couturier. The new face of the franchise is set to return after undergoing successful back surgery in February and the Flyers will be crossing their fingers that their number one centreman will remain healthy and get back to his fine scoring form. 
Couturier's 2021-22 season only lasted 29 games and it was truly a tale of two halves. Through the first 10 games of the season, Couturier and Claude Giroux were scoring at a point per game pace as the Flyers stood pat with a 6-2-2 record. Couturier had 5 goals, 7 assists, was a plus-3, shooting at a 17.9% clip, averaging over 20 minutes, and winning 57.6% of his face-offs. Then out of nowhere, his season ended on a horrid stretch where he scored only one goal and added only 4 helpers in 19 games. He was a minus-9, his shooting percentage dropped to 2%, and his faceoffs dropped a tad bit. Just based on the eye-test alone, you could tell something was wrong with the veteran as he was playing with an annoyed air, easily frustrated, slower, and couldn't make the routine plays. 
It was the same story for the Flyers' #2 centreman, Kevin Hayes, who was visibly hurt and bothered with several ailments. Hayes scored 3 goals and added 6 assists in his first 20 games before being sidelined once again, this time with an infection on his surgical area. He missed so much time, the Flyers had so many young players, and they were playing such a bad brand of hockey, that it was very easy to forget how impactful a healthy Hayes could be to the team. When he returned in March, he finished the season with 7 goals and 15 assists in 28 games, averaged close to 20 minutes a game, was taking shots, looked more aggressive, quicker, more attentive, and was playing like his 2019-20 self. 
The Flyers went a full month without Hayes to start the season, then another half month, before returning after a 2 month hiatus. By the time of his eventual return to form, the Flyers were well out of the playoff race, they were closer to the bottom than an actual playoff spot, and the lineup was filled with either AHLers or young prospects. Some wanted his return to be delayed into next season because there was nothing left to play with, so a risk of injury could jeopardize his health in 2022-23. 
Hayes also played a role in helping out the rookies like Noah Cates, Bobby Brink, and the prize of the trade deadline, Owen Tippett. He played all throughout the lineup and really clicked with everyone on his line during that specific game or for stretches of games. If Hayes' impact was felt before and after his return, as the number one centre and arguably the Flyers best offensive weapon, Sean Couturier's impact should be that and then some. The once-all-defensive forward has accumulated 104 goals and 252 points in 276 games, while averaging almost 21 minutes a game, winning 57% of his face-offs, and scoring at a near 14% clip over the course of 4 seasons from 2017-18 to 2020-21. If you add in his first 10 games before things went off the rails in 2021-22, then he has 109 goals and 264 points in 286 games. 
With Claude Giroux no longer on the team and a reunion most likely out of the cards, Couturier comes into the 2022-23 season as the most likely choice for captain. That is, if the Flyers choose to go that route because they can also stick with 3 alternates instead. However, that seems unlikely for an organization that's had a captain every season since 1992-93. Since then, the Flyers have had 10 captains with Giroux being the longest tenured one in franchise history. There are plenty of choices with Hayes and Scott Laughton potentially being viewed as captain-material, but the odds favour Couturier to be 18th captain in franchise history.  He's taken on a much larger role in the locker room in terms of his leadership and voice since 2017-18, he's worn the "A" since 2019-20, and in terms of veteran leadership, he'll be entering his 12th NHL season which is second on the team behind James van Riemsdyk's eventual 14th season. On top of all that, he is signed through the 2029-30 season after agreeing to an extension last summer that will be paying him $7.75 million for the next 8 seasons. 
Couturier's gone through the ringer in his 11 seasons to date with the Flyers. His draft stock dropped quite a bit in his draft year after he went through a bout of mononucleosis. I remember owning an issue of "The Hockey News" that year and during their draft edition, Couturier was featured on the cover and they had an article comparing the past, present, and the future: Wayne Gretzky, Sidney Crosby, and Sean Couturier. They were really high on him as a prospect and the Flyers generally felt lucky that he dropped to 8th overall that year. He was brought into the fold right away and played a fantastic role in shutting down, frustrating, and getting under the skins of Evgeni Malkin and James Neal during the Eastern Conference Quarter-Finals matchup against the Pittsburgh Penguins. 
Couturier's first 6 seasons were disappointing considering his lofty expectations, high draft pick, and how much the Flyers touted him. He scored 70 goals and 191 points in 416 games, was regulated to a bottom-six role playing with grinders for the majority of his career at that point, and was averaging around 17 minutes a game as the Flyers' third line centreman. It was reported that he spoke to Dave Hakstol at the end of the 2016-17 season and asked for a larger role heading into the new season and all he ended up doing was pairing Couturier with Claude Giroux and Travis Konecny on the first line. Giroux was moved to the wing, Couturier exploded for a then-career-high 31 goals, 45 assists, and 76 points, while Giroux accumulated a career-high 102 points, and even Konecny burst onto the scene with his first 24-goal season. 
His faceoffs improved dramatically as well, as he went from 48.9% through his first 6 years to 56.5% in his last 5 seasons. He's been on the top power play unit ever since, generally on-the wall on his one-time side, and has featured as the top penalty killer and defensive forward for the majority of his career. Couturier won the Frank J. Selke Trophy in 2019-20, which is awarded to the league's top defensive forward. It was his first of his career after coming painfully close in 2017-18. 
His offensive game has matched his defensive prowess as Couturier is arguably a top-20 centre in the NHL. Those lists have brought a lot of contention and debate, but the way he's stepped up offensively to match his defensive game, while also adding to his arsenal of weapons with his face-offs, much improved shooting percentage, and leadership role; it's tough not to have him in the top 20, or at the very least an honourable mention. Between 2017-18 and 2020-21, there's no argument about how well he played, where he stood amongst the league's best, and how important of a figure he became to the Flyers. The 2021-22 season engulfed his reputation like a shadow because of how many games he missed, how horrendous the final 53 games were, and by how we sometimes judge with hindsight bias.
As we head into another critical season, Couturier's role is going to expand, he has a good chance at becoming the team's captain, he should be healthy and raring to get out there, and the Flyers plan on making big moves that will only benefit their number one centre. We missed him dearly in the final 53 games of the season, we know exactly what he brings to the table, and now that he's the new face of the franchise – at least for the foreseeable future – we should not forget about the four seasons of almost-point-per-game hockey, while facing the opponent's top lines, and killing penalties at an immense rate.

As the Flyers embark on their newly re-branded aggressive rebuild, their "due diligence" in search of a new head coach, and trying to bring the fans back into the fold; we have a very skillful centreman raring to get back on the ice and prove to be a difference maker once again.