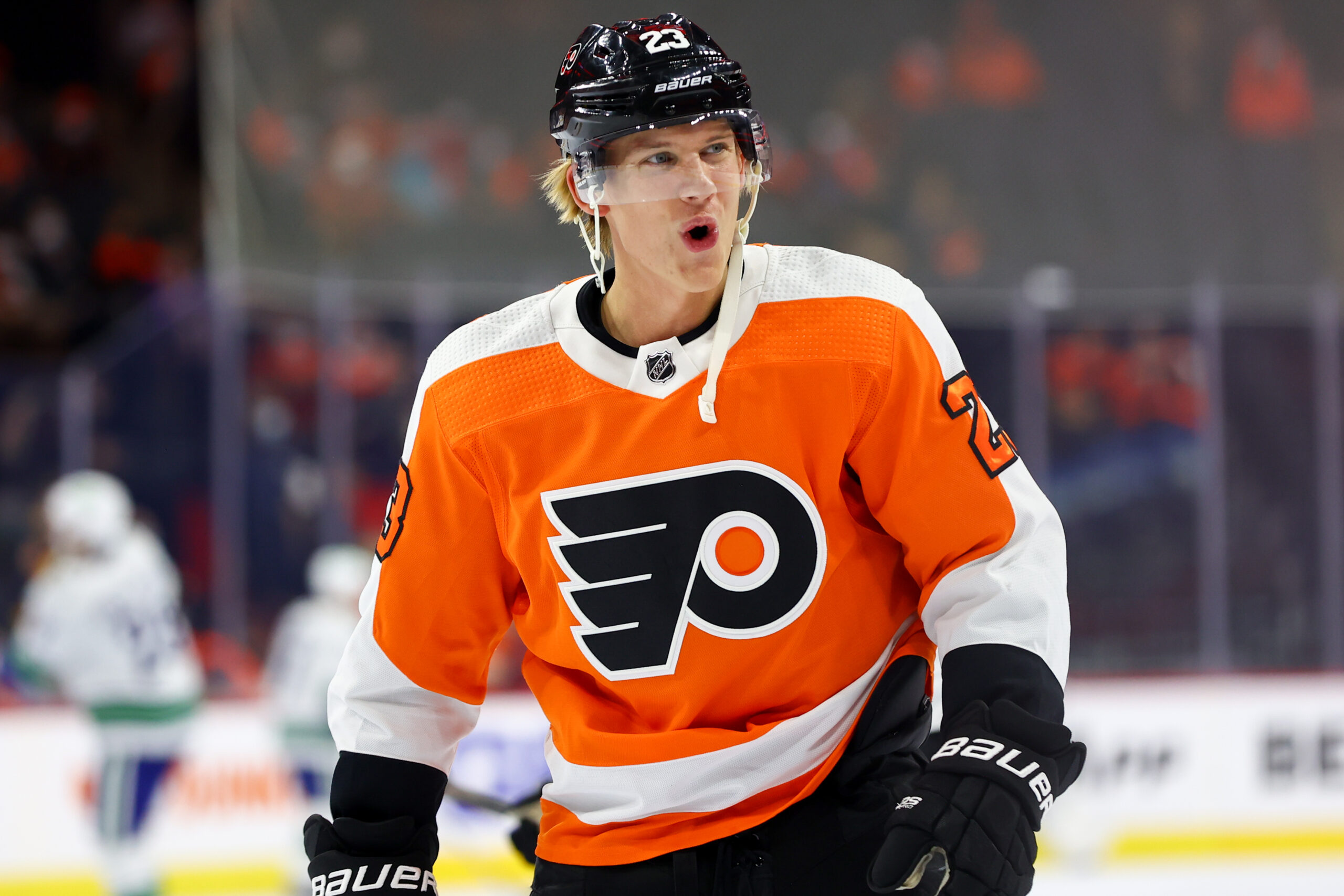 The Philadelphia Flyers are cash strapped, stop me if you've heard that one before. With only $5.1 million to spare on what sounds like an adventurous summer on tap, the Flyers need to shed money in short order and there has to be another option outside of James van Riemsdyk; enter Oskar Lindblom. The former fifth round draft pick in 2014, quickly ascended the prospect depth chart and made his NHL debut in 2017-18. In 23 games, he scored 2 goals and added 4 assists, while also playing in 4 of the 6 playoff games during their Eastern Conference Quarterfinals matchup with the Pittsburgh Penguins. He scored 17 goals in the following season and then chipped in with 11 in only 30 games during the 2019-20 season before being dealt the terrible news regarding his cancer diagnosis. He was leading the team in scoring at the time of his diagnosis and his timetable for a return was not known but he made a miraculous comeback during the playoff bubble and appeared in 2 games as the Flyers bowed out to the New York Islanders in 7 games. Ever since making his return to the Flyers lineup, he has scored 20 goals and 40 points in 129 games, while counting towards the cap at a $3 million AAV.
All things considered, focusing so much on a three million dollar player seems a little foolhardy, but the Flyers have found themselves in an pitiful position where they need every penny possible to make the alterations to the roster that they have been desperately clamouring about since January. The hiring of John Tortorella only added fuel to the re-tooling fire because he's not a coach who wants to be apart of a rebuild and he has made it known that his tenure in Philadelphia will be his last. However, if they trade van Riemsdyk remains to be seen but one would hope that they're able to shed the full $7 million without having to dip too far into their future draft cupboard. One would also have to assume that the remaining $5.1 million they have in cap space will all go towards the pending RFAs on the team like Morgan Frost, Owen Tippett, Wade Allison, and even Zack MacEwen and that's being super conservative in terms of how that money would be split.
Even their best case scenario of having $7 million at their disposal, it's not going to be enough lure anyone that the Flyers want. Sean Couturier, Joel Farabee, and Rasmus Ristolainen all have lengthy extensions about to kick in, so they won't be moved. Kevin Hayes and Cam Atkinson figure to be focal points moving forward but also have modified no-trade clauses, Ryan Ellis figures to be a tough trade but also the best defenseman on the team when healthy, Travis Sanheim and Ivan Provorov shouldn't be moved with Ellis being a question mark (at the moment), and the jury's out on Chuck Fletcher and whether or not he'll keep Travis Konecny. So after all that, you're really only left with Lindblom and his $3 million but he's a special case because – if bought out this summer – the Flyers would actually save an additional $333K and would then have $3.333 million at their disposal this summer but incur a $666K penalty next year. However, with the way the Flyers are operating, they will seemingly take what they can get and act on a year by year basis.
Is it worth it? Lindblom had issues getting back to shape and in tip-top hockey form after his cancer diagnosis, so the last 2 years have been tough to judge. Last year in particular was a year of splits for the 25 year-old as he started off the season on a horrid run of 0 goals and 1 assist in 21 games. When Alain Vigneault got fired before their December 6th tilt against the Colorado Avalanche, Lindblom scored his first goal of the season and then went on a 10 goal and 20 point bender in his next 34 games with Mike Yeo at the helm. Things looked to be shaping up for the top-9 forward in ways that resembled his year and a half before the cancer diagnosis. However, things got tougher again as he ended the season on a 24-game run where he scored 2 goals and 5 points, was a -10, and ended up having a lot more maintenance days and was even a healthy scratch due to a lot bumps and bruises, according to Yeo. In the 45 games of tough breaks, bruises, and fourth line appearances, he scored 3 goals and 4 assists, was a -19, and only fired 50 shots on goal, compared to the 34 games he scored 10 goals and 20 points, was +9, and fired 72 shots on goal.
Consistency is evidently the issue as they know he has the capabilities of being a top-9 forward who can add that much needed secondary scoring that has always plagued the Flyers, but it's tough to truly delineate where the struggles are coming from. Can he bounce back? Will he be relegated to the fourth line again if present in October? Or will another full summer of rehabbing and healing all the bumps and bruises help him regain his confidence and swagger? $3 million in the grand scheme of things isn't all that expensive but – once again – for a team desperate for every penny they can get their hands on, $3.333 million sounds even better. If they go with the buyout and a full James van Riemsdyk trade, that opens up an additional $10.333 million for free agent signings, and for the first time in awhile, they won't need to spend any of that on backup goalies. A trade would also work because another team can easily fit his cap hit without having the Flyers fork over anything of value like a van Riemsdyk trade would entail. The Flyers could also get a draft pick in return, most likely a later round, but it would be something of value to use, either for themselves or in another deal down the line. Either way the Flyers would be freeing up money for the 2022-23 season.
The Flyers want a Johnny Gaudreau or a Nazem Kadri to make their team relevant again and bring about some excitement back to the Wells Fargo Center after such a quiet, disastrous, and empty attendance last year. Dave Scott fervently made mention of the blank cheque, which will only resonate more if they are able to free up the much needed cap to get their big fish. Whether or not it'll work remains to be seen because most of us have been clamouring for a rebuild but the Flyers are foregoing those plans yet again and are in the midst of making big bold moves again; as if they didn't have disastrous results in the past. We are on our 3rd re-tool in 4 seasons with Fletcher at the helm and it seems like doing the same thing over and over again and expecting different results is the motto for 2022. The writing is on the wall for James van Riemsdyk, the seat is getting warmer for Oskar Lindblom, and if a trade of grand magnitude were to come to fruition, the most valuable asset the Flyers have is Travis Konecny. The trio will be involved in plenty of rumours all summer so let's begin the frenzy and get it over with.