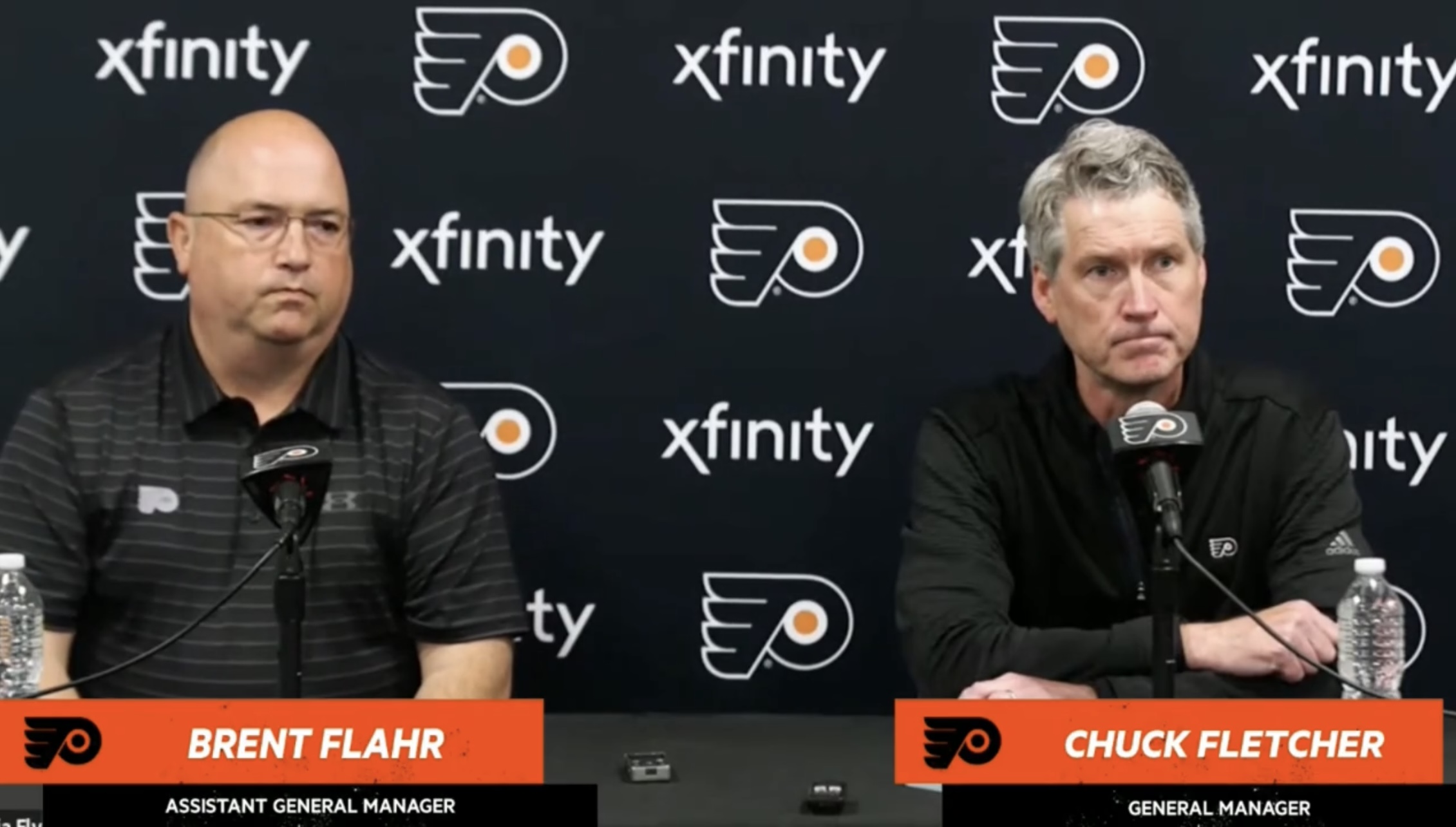 Don't we all just love press conferences? When the general manager speaks, you listen, but with a tired and exasperated approach because it's always the same news regarding the same issues. Earlier today, the Philadelphia Flyers held a press conference and talked about a myriad of topics that ranged from the upcoming draft, their 5th overall selection, injury updates, and the state of the team. The Flyers are heading into a very pivotal offseason after disappointing 2020-21 and 2021-22 campaigns that proceeded after a Game 7 loss in the 2020 Eastern Conference Semifinals; an achievement the Flyers hadn't accomplished in almost a decade. Chuck Fletcher has swung for the fences already and he'll do it again but before we get to the 7th of July for the NHL Entry Draft or even the 13th of July when free agency officially kicks off; we still have a lot of issues to tend to and they're rather serious ones at that.
After spending weeks tirelessly interviewing candidates, the Flyers named John Tortorella as the franchise's 23rd coach in team history, but the 7th in 10 seasons after a tumultuous run with Peter Laviolette, Craig Berube, Dave Hakstol, Scott Gordon, Alain Vigneault, and Mike Yeo. Fletcher announced that assistant coaches Darryl Williams and Kim Dillabaugh will be returning and will continue to run pre-scouting and the goaltending, respectively. Williams worked for John Tortorella during his short tenure in Vancouver as a video coach. He was apart of Vigneault's staff that preceeded Tortorella but was kept on as a staff member, and keeping him in Philadelphia has a lot to do with familiarity – which has always been Fletcher's MO. Also returning is Adam Patterson, who has been the Flyers' video coach since 2003-04, however the rest of the spots will remain open and are to be determined.
In terms of injury updates, they were unassuming and bleak as Fletcher made mention that Joel Farabee suffered his injury while working out on his own 2 weeks ago and had nothing to do with hockey related activities as many suggested. Fletcher said that they're going to be very cautious with his rehab and return and acknowledged that it's very likely that his 3-4 month timetable will be pushed a little more. They won't be able to train as much, he's going to be sidelined and rehabbing for almost the entire summer, he won't be able to attend training camps or anything else of that kind, and due to the severity of the injury they don't want to force him back too soon. The only silver lining – if there is one – is that it occurred in June, so even with a pushed timetable to return, he should be back on the ice in November at the latest. For Ryan Ellis, things are a little different however. The mystery continues to unravel but Ellis hasn't started skating, the bulk of his rehab is yet to come, and he continues to have no timetable for a return. For an injury that occurred in October, was re-aggravated in November, and then we heard radio-silence until March, things just aren't adding up. They didn't opt for surgery and were just planning on rehabbing the injury, yet the bulk of the rehab has yet to start. Nevertheless, the Flyers probably know he won't be ready for October and need to shore up that defense as soon as possible.
In not-so-surprising news, the Flyers are still mum on the idea of keeping the pick, moving down, or trading it altogether. Fletcher traded down at the 2019 draft from the 11th spot to the 14th spot with the Arizona Coyotes and selected Cam York, while also receiving a 2nd round pick that was later packaged to move up to select Bobby Brink. Last year, the Flyers traded their first round pick (14th overall) to the Buffalo Sabres in a package deal that landed them Rasmus Ristolainen. So we know Fletcher has no qualms in moving down or trading the pick altogether but this year should be different considering it's the 5th overall pick. When asked about the likelihood of trading the pick, Fletcher said that his phone is always ringing from rival teams seeing if he's willing to trade but he wants a difference maker that would fit his under-25 core.
He is also aware that drafting someone that high could plug a hole in the not-so-distant future and could definitely help the team in the long run, but it sounds like they're not focused on the big picture – especially the general manager, whose seat is getting warmer and warmer by the day. Assistant general manager Brent Flahr also added that trading up is a possibility, albeit a long shot, and that trading down is a lot more likely if the situation presents itself and if the players they're targeting continue to drop. This draft is going to be a crapshoot after the first 2 picks, so there is a good chance that whoever the Flyers are enamoured with could be had at a lower pick and in doing so they'd be able to get a few more assets along the way. They didn't go into detail about who they want – for obvious reasons – but the rankings are ever-changing.
Other important details that were mentioned were: 1) Conversations have begun with pending RFAs in Morgan Frost and Owen Tippett and they look to get the deals hammered down in the next week or so, 2) Even though it seems like Ivan Fedotov and Felix Sandstrom are destined to battle it out for the backup position, Fletcher said will explore the trading market as well as the free agent waters for a backup goalie – which is foolish considering the lack of money they have on the table and the plethora of holes plaguing the forwards and defense, and 3) "If we want to be aggressive in free agency, then we have to get creative", which continues to point at the albatross contract of James van Riemsdyk, as well as other options in Oskar Lindblom and maybe the almost-traded-last summer Travis Konecny.