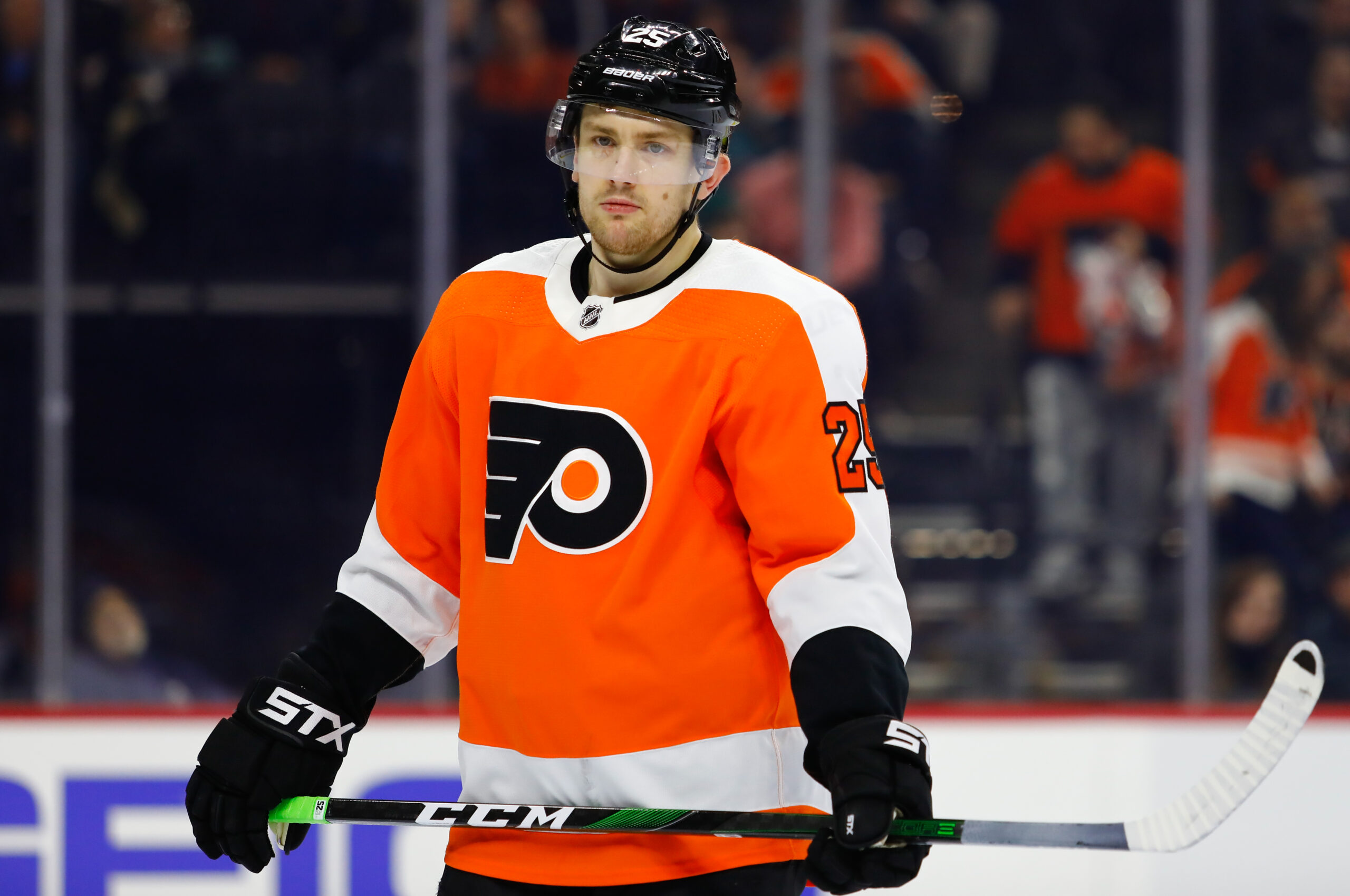 Fans of the Philadelphia Flyers have known for quite some time that trading the final year of James van Riemsdyk's contract was always going to be in the cards once the offseason began. The national media is finally hopping on the same train of thought and have been tweeting over the last few days that the Flyers are gauging interest on the veteran left-winger and have been in contract with several teams with ample amounts of cap space.
Friedman on TJMS talking potential Flyers moves: "I wonder about (James) van Riemsdyk, I can see them trying to move him to create cap space, I think that's going on."

— NHL Watcher (@NHL_Watcher) June 17, 2022
He's a great teammate, a great representative of the Flyers and the NHL, but he never really lived up to the hype of his contract and that $7 million AAV is a huge obstacle for the Flyers to overcome with their busy summer plans upcoming. In the 4 seasons since he rejoined the Flyers as a free agent in the summer of 2018, he has played in 270 games, scoring 87 goals and 169 points with a career low in plus/minus last year at -33. The Flyers seemingly have big plans for the summer – something they've mentioned countless of times during the season and now with the hiring of John Tortorella – and with only about $5.1 million in cap space, they have found themselves in a real pickle and shedding the entire $7 million is exactly what is required but the cost of acquisition is going to be steep.
Trading the final year of an expensive contract to open up cap space is common practice around the NHL and the Arizona Coyotes have found themselves in the thick of it almost every summer. The Flyers traded the final 2 years of Shayne Gostisbehere's $4.5 million AAV contract to the Coyotes alongside a 2nd and 7th round pick for cap relief as the Flyers were hunting down a bigger fish in Rasmus Ristolainen. A day later, the Coyotes then traded Conor Garland and Oliver-Ekman Larsson to the Vancouver Canucks for not just their expensive bottom 6 trio of Jay Beagle, Loui Eriksson, and Antoine Roussel, but also the 9th overall pick, a future 2nd round pick, and a 7th round pick. The Canucks were looking to make a big splash and instead of holding onto the final years of Beagle, Eriksson, and Roussel's contracts, they decided to mortgage their future by acquiring the final 6 years of Ekman-Larsson's contract (12% retention by the Coyotes) and then-restricted free agent Conor Garland. 5 days before making their trade with the Flyers, the Coyotes struck again by acquiring the final 2 years of Andrew Ladd's $5.5 million contract from the New York Islanders, while also acquiring two second round picks and a third round pick for cap relief.
In total, the Coyotes acquired the contracts of Gostisbehere, Eriksson, Beagle, Roussel, and Ladd for Garland and Ekman-Larsson but more importantly for a first round pick, 4 second round picks, a third round pick, and 2 seventh round picks. Another similar trade that went down recently was when the New York Rangers traded the final year of Marc Staal's contract to the Detroit Red Wings for a second round pick. The Rangers wanted to shed the $5.7 million that counted against their cap and in doing so had to shell out a second round pick.
A team like the Arizona Coyotes can come to the Flyers' aid yet again as they enter the off-season with $33.194 million in projected cap space, while also holding onto 3 first round picks, 4 second round picks, and a third round pick. According to CapFriendly, they only have 5 NHL forwards signed through next year in Clayton Keller, Andrew Ladd, Nick Schmaltz, Nick Ritchie, and Travis Boyd and with lesser-known players like Jack McBain, Nathan Smith, Miles Keleman, Liam O'Brien, and Michael Carcone at under $900,000. On defense, they have Jakob Chychrun (a potential trade candidate as well) and Shayne Gostisbehere signed through and then Dysin Mayo, Janis Moser, Victor Soderstrom, and Vladislav Kolyachonok at under $900,000 as well. On top of all the extra cap space, they also have 3 third round picks in 2023 and 3 second round picks in 2024 and the funny thing is, they're still going to be looking for more draft capital with a full rebuild on their hands and a lot of tantalizing cap space available.
Arizona aren't the only rebuilding team with ample amounts of cap space as the Anaheim Ducks have over $39 million, the Detroit Red Wings have close to $36 million, the Buffalo Sabres have $35.5 million, the New Jersey Devils have $25.3 million, and the Ottawa Senators have $23.2 million at their disposal as well. The salary cap has risen to $82.5 million for the 2022-23 season, and in doing so the minimum cap floor has risen as well to $61.2 million. Most of these teams mentioned are probably still in their rebuilding phases but all in different stages. The Ducks, Coyotes, and Red Wings look like prime candidates to swing a trade for James van Riemsdyk's final year under the guise that they are still looking for draft capital. Nevertheless, with so much cap space at their disposal, especially the Ducks, taking on $7 million from the Flyers won't put much of a dent in their summer money and would actually help them out in reaching the cap floor in the chance that they're not willingly going to test the free agent waters for a marquee superstar or two.
Retaining salary won't help the Flyers at all because they need every single dollar and penny they can get their hands on. Retaining half salary will cost them less in terms of draft capital but the Flyers would much rather have $12.1 million in projected cap space than $8.6 million; considering their lofty plans. The Flyers have first round picks in 2022, 2023, and 2 in 2024, they don't have a second round pick until 2024, they have a third round pick in 2022, 3 in 2023, and one in 2024, and a fourth round pick in 2022, 2 in 2023, and one in 2024. Not having a second round pick until 2024 really hurts the Flyers because that seems to be the going rate for expiring contracts. Gostisbehere cost the Flyers a 2022 second, Ladd cost the Islanders 2 second round picks, and the trio of Beagle, Eriksson, and Roussel cost the Canucks a variety of pieces including a second round pick as well. For obvious reasons the Flyers' first round picks should be off-limits, including their 5th overall selection in the upcoming 2022 draft, their 2023 first because who knows how well they play next year, and their 2024 should be held off the table as well. The five third round picks that they hold within the next 3 years can come in handy, considering they are without a second round pick in 2022 and 2023. The piece de resistance for the re-tooling Flyers is going to be the 2024 first round pick they received from the Florida Panthers in the Claude Giroux trade. It's two years from now, and Florida seems to be in a Stanley Cup window at the moment, so their first round pick could represent an early 2nd round pick of sorts.
Is it a steep asking price? Absolutely, but Chuck Fletcher and the Flyers have backed themselves into a corner and because they so desperately need to shed salary, a first round pick that has the chance of being a super late selection 2 years from now, can be tantalizing for both sides. On one hand, the receiving team will be acquiring a future late first round pick, while the Flyers are shedding some much needed cap for the upcoming season as they look to swing for the fences in acquiring some top-tier players. Once again, not an ideal situation because a first round selection is prime real estate for drafting a good prospect or making a trade down the line at the trade deadline for a top rental, but the Flyers have chosen to forego any kind of rebuild and to try their hands at a 3rd re-tool in 4 years. How do you pull it off? By trading future assets, but in this case it's to completely open up cap space with a really good lineup of free agents and trade targets.
If the 2024 first is off the table – and it should be unless they're backed into a corner – then the Flyers should package a few picks and trade their 2024 second round pick alongside a later selection. They hold the cards with 5 third round picks in the next 3 years as well as 4 fourth round selections, and having an arsenal of 5th, 6th, and 7th round picks that add even the tiniest bit of value to any trade. However, it is not the Flyers that will hold the advantage or the upper hand in a trade like this, it will always be the team taking on the expiring contract since they're technically doing them a favour.
So would you be comfortable in trading a late first round pick 2 years from now or package another 2nd round pick (one in the same year as the FLA 1st) alongside a later selection? The difference between Florida's first and Philadelphia's second won't be grandiose in terms of the draft board and where they're situated, but a late first holds way more value than an early to mid-second. Nevertheless, van Riemsdyk has most likely played his last game with the Flyers, finishing as the team's top goal scorer with 24 in 2021-22.