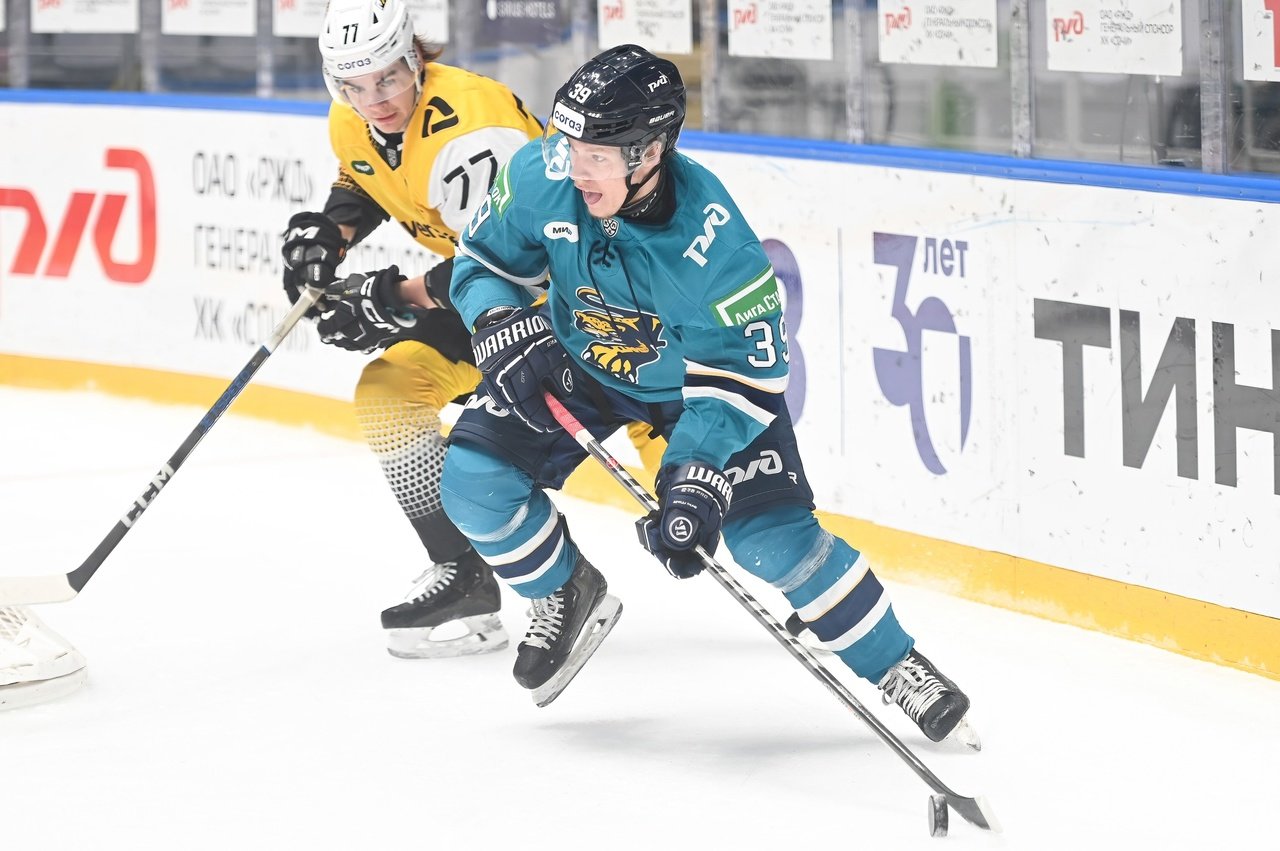 The Philadelphia Flyers prospect pool is looking mighty fine these days and a good chunk of that has to do with their recent draft picks selected out of the Russian circuits. When it comes to hockey in Eurasia, you have the KHL – the equivalent to the NHL – then you have the VHL – the second-tier league – and the MHL – the junior league. The Flyers currently have Matvei Michkov and Alexei Kolosov in the KHL and Yegor Zavragin splitting time in the VHL and MHL.
The Matvei Michkov saga was long, strenuous, and at times very annoying to deal with. It seemed that no matter how well he performed in the pre-season tournaments, SKA St.Petersburg had no plans for him to play for them this season. SKA are one of the more renowned teams in the KHL, they are always in the mix for the championship trophy, and have essentially either been in the finals or the conference finals on a yearly basis. They roll with a veteran lineup – as evidenced by Alex Galchenyuk's immediate top-line role – and they generally have no time for the young prospects. 
Michkov was loaned out last season to the HC Sochi and after 4 games, SKA finally decided to send him back. Michkov was a healthy scratch for 3 games and the one game he did suit up for, he was dressed as the 13th forward and was used on a rotation basis. If it were up to him, Michkov would be playing for Dinamo Minsk – ironically where Kolosov tends the twine – but SKA decided to send him back to Sochi.
On Saturday, Michkov played in his 10th game with Sochi, where he has accumulated 5 goals and 12 points. EliteProspects has him projected to finish the season with 32 goals and 70 points in just 64 games, which is absolutely unheard of for an 18-year-old in the KHL. His 8th game of the season – with Sochi – came against the team that loaned him out and his revenge came in the finest form as he scored a goal and tallied 2 assists to help Sochi take down SKA by a score of 5-4.
His goal was sensational:
MICHKOV TIES IT ‼️
🚨 Matvei Michkov #SCH #MM39 #FueledByPhilly
1-1 #KHL pic.twitter.com/m9jypVlg34

— Hockey News Hub (@HockeyNewsHub) October 2, 2023
His first assist:
🚨 Amir Garayev
🍏 MatveI Michkov #FueledByPhilly #MM39
2-1 Sochi #KHL pic.twitter.com/vS2j7Esa9B

— Hockey News Hub (@HockeyNewsHub) October 2, 2023
His second assist:
HATTY WATCH 👀
🚨 Amir Garayev PP 2nd of the game
🍎 Matvei Michkov (1+2) #FueledByPhilly
4-2 Sochi #KHL pic.twitter.com/xmEWVY9Ysd

— Hockey News Hub (@HockeyNewsHub) October 2, 2023
Michkov is currently 27th in the league with 12 points, but he has played anywhere between 3-4 games less than the rest of the players ahead of him with Nikolai Goldobin sitting atop of the league with 21 points in 16 games for Spartak Moscow. It's safe to assume that the Flyers got a steal with their 7th overall pick.
Matvei Michkov on Sochi HC:

8 Games
— 4 Goals
— 6 Assists
— 10 Points
— 1.25 Pts/Game (3rd in entire KHL)
— 33 Shots
— +5
— 9 Hits
— 6 Blocks
— On pace for the best point total from a D+1 player in KHL history

7th Overall Pick from 3 months ago. pic.twitter.com/YAVOizIkAU

— Big Head Hockey (@BigHeadHcky) October 2, 2023
Michkov added an easy goal Thursday for his 5th of the season:
Probably the easiest goal in Matvei Michkov career. pic.twitter.com/J5aVIQeoCD

— KHL (@khl_eng) October 5, 2023
While Michkov grabs most of the attention – understandably so – the Flyers have two stout goaltending prospects in Eurasia as well. Alexei Kolosov has quietly risen the ranks within the pipeline and the depth chart with his strong play over the last 2 seasons with Dinamo Minsk. The Belarusian goaltender has put up no less than a .906 SV% in a regular season in the KHL and has strung up .911 or .912 in 2020-21, 2022-23, and currently in 2023-24.
The former 3rd round pick from the 2021 NHL Entry Draft may only stand in at 6'0″ and 183 pounds but he is agile and fluid between the pipes. EliteProspects had this to say about Kolosov ahead of the 2021 draft:
"Smooth and fluid on his skates, Kolosov has the speed to get from one side of the blue paint to the other before the puck has even left his opponents' sticks."
How about Alexei Kolosov today? Over 50 stops, all 5 shootout attemps, best player of the game and best goalie T Channel 1 cup in Moscow. Take a look pic.twitter.com/XoW7HWBJE4

— Aljoša Pilko (@PlayersAgentTM) December 18, 2022
In his draft season, Kolosov was 3-5-1 with a .911 SV% and a 2.69 GAA with Minsk in the KHL and 6-6-0 with a .915 SV% and a 2.23 GAA with Dinamo Molodechno of the Belarusian league. The following season he struggled a little bit as he posted a 2.90 GAA and a .906 SV% while holding his team to an 11-9-1 record.
He bounced back in a big way with a 2.55 GAA and a .912 SV% the following season even though he posted a 13-21-5 record for a not-so-great Minsk team. After signing his ELC with the Flyers this summer, they loaned him out to Minsk for the 2023-24 season to further his development as he is inching closer and closer to playing in North America.
Alexei Kolosov, a Belarus born goalie drafted by the Flyers in 2021, went straight from the Belarus league to the KHL (not very common) and has been there ever since. He just turned 21 and is playing in his third KHL season! pic.twitter.com/9LjYfJSqPY

— Byron Bader (@ByronMBader) January 10, 2023
Currently in 9 games, he has a 2.13 GAA and a .921 SV% while holding a 3-4-1 record and collecting 2 shutouts along the way. He has outplayed his counterpart in Dylan Ferguson (2.84 GAA and a .865 SV%) although he carries a 3-2-0 record. The 21-year-old should finish the season strong and find his way to North America at some point in the calendar year.
While we know a lot more about Michkov and Kolosov, there's little information out there regarding Yegor Zavragin. The Flyers drafted him in the third round with their first of two selections – the other one being Denver Barkey. Zavragin was also the second goaltender drafted by the Flyers in as many picks as they traded into the 2nd round to nab Carson Bjarnason.
Tony Ferrari of The Hockey News had this to say about the Russian netminder:
"The Flyers went back-to-back on netminders by taking Yegor Zavragin right after Bjarnason. The Russian netminder is one of the youngest players in the draft class and was impressive at the Russian junior level, putting up a .920 save percentage. He has been one of the best goalies in Russia in recent years and had the world been a different place, he could have gone 50 picks higher. His technique improved this past season and although he's not a massive netminder, he stands 6-foot-2 with crisp movements in his crease."
With Matvei Michkov falling into their laps, the Philadelphia Flyers rebuild is off to a great start under new GM Danny Briere! #FueledByPhilly

My Flyers Prospect Pool Overview for @TheHockeyNews https://t.co/P7pkqzBGbp

— Tony Ferrari (@theTonyFerrari) August 10, 2023
The 6'2″, 183-pound Novosibirsk native has been one of the better young goaltenders in the Russian circuit for quite some time. Unfortunately, his name doesn't carry a lot of notoriety because the MHL doesn't get a lot of attention and also because of the political climate. Nevertheless, the lack of scouting worked out in the Flyers favour as he could very well surprise us all within the next few seasons.
The Flyers already have Carter Hart and Samuel Ersson, Felix Sandstrom is right behind them, and then they have Kolosov, Bjarnason, and Zavragin. All of a sudden, the goaltending depth is looking like a point of strength.
In 2021-22, Zavragin played in 31 games for Mamonty Yugry of the MHL where he went 20-4-2 with a 2.13 GAA and a .930 SV% with 2 shutouts. The following season he went 11-6-1 with a 2.49 GAA and a .920 SV% with 1 shutout in 21 games – he appeared in one score-less relief appearance in the VHL for Yugra Khanty-Mansiysk. Zavragin also appeared in 4 playoff games for Mamonty, where he went 2-2 with a 2.68 GAA and a .927 SV%.
He rode that momentum into 2023-24 as he has split his time in both the VHL and MHL. In 2 games with Yugra Khanty-Mansiysk, he is 2-0-0 with a 1.51 GAA and a .939 SV%. In 5 games with Mamonty Yugry of the MHL, he is 3-1-1 with a 1.38 GAA and a .958 SV%.
Also, in @nhlflyers Russia watch?

Yegor Zavragin had a biiiig game today in MHL (Russian jrs).

38/40 saves (.950 sv%) to take game to a SO.
Then stopped 7/8 in the SO.
Also picked up an assist.

3-2 win for his team.

3-1-0
.957 sv% (2nd in MHL.)
1 SO#Flyers #NHL

— Alexander Appleyard (@avappleyard) October 2, 2023
The 18-year-old will take his time to develop as he runs through the Russian circuit one league at a time. Nevertheless, his numbers in both the VHL and MHL over the course of the last 2 seasons are something to marvel at for someone between the ages of 16-18. His reputation isn't as high as it should be but come 2023-2024-2025 and beyond we will see the spotlight shift over to Zavragin.
Of course there is still one name that can't be forgotten when it comes to KHL Flyers prospects and it's Ivan Fedotov. This summer we witnessed a long to-and-fro battle between the Flyers, the Russian Ice Hockey Federation, and eventually the IIHF. The IIHF sided with the Flyers and tolled his contract much to the chagrin of the Russian Ice Hockey Federation. They didn't stand for the ruling, they believe there's something fishy going on, and have played him against the ruling set out by the IIHF.
In 8 games this season, Fedotov is 5-5-0 with a 1.91 GAA and a .919 SV%. It's his first real taste of hockey since 2021-22 when he helped CSKA Moscow win the Gagarin Cup with his post-season masterclass, sporting a 16-6 record, .937 SV%, and a 1.85 GAA. He had also posted a 14-10-2 record in the regular season with a 2.00 GAA and a .919 SV%. 2021-22 was even more special because he played lights out during the Winter Olympics but just fell short of winning the gold medal (1.61 GAA/.943 SV%/4-2-0 record).
2024 Stadium Series Trip
Flyers Nation and Philly Sports Trips have teamed up to bring you on an amazing bus trip to the 2024 NHL Stadium Series between the Flyers and Devils. Place an early deposit to reserve your spot at the ultimate tailgate experience at MetLife Stadium before the game. The package includes a game ticket, round-trip charter bus, an all-inclusive tailgate party with unlimited cold beverages, "Philly Style" catered food, live entertainment, and more.