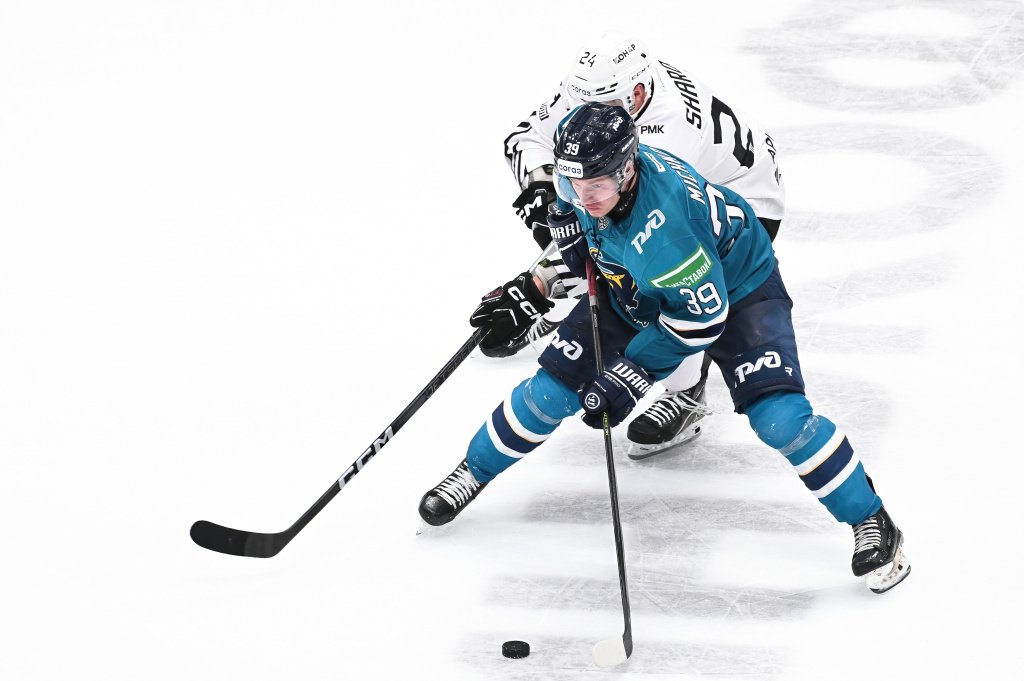 Philadelphia Flyers Assistant General Manager, Brent Flahr, is like everyone else in this fan base when it came to Matvei Michkov's start to the KHL regular season. Frustration seeped through management, player, and fan base like wildfire as SKA St. Petersburg relegated Michkov as a healthy scratch in 3 of their first 4 games with only appearance being as a 13th forward.
Flahr's frustrations were not out if pocket as the very talented forward needed playing time somewhere, anywhere.
"I think for him to move back to Sochi, he just wants to play and, personally, that's all I care about," said Flahr. "He's a young kid, he needs to play games. He's very driven, he's very focused. He's going to play lots of minutes and get opportunities. Hopefully they wins some games, too, which is great.
"Matvei was extremely frustrated not playing. He had a goal to be in the top scoring league and you're sitting there and they have 40-some players on their roster. Obviously he was frustrated."
Brent Flahr said Matvei Michkov was "extremely frustrated" because he has such high goals and had to sit and watch mostly with St. Petersburg.

Said situation with Sochi will be good for him, "he just wants to play" and sometimes you have to bite your tongue when you're in KHL. pic.twitter.com/E4SUweq4at

— Jordan Hall (@JHallNBCS) September 18, 2023
SKA St. Petersburg loaned out Michkov back to HK Sochi where he played in 27 games last year – also on a loan. He scored 20 points and broke several draft-eligible records in the Russian circuit. After a tremendous pre-season that saw him not only win tournament MVP but also transitioning to the centre position, SKA believed it was best to ride out their veterans.
In their defence, SKA is a renowned, storied, and successful KHL team that has essentially finished first or second in their division since 2009-10, won the Gagarin Cup twice, and always seem to be playing in the conference finals. Playing veterans is the name of the game for Roman Rotenberg's club and it was very apparent Michkov had no room, at least for 2023-24.
However, Sochi was not his preferred destination for a variety of reasons and he had wanted to go on loan to Dinamo Minsk, which was reportedly rejected by SKA.
Sport-Express Alexei Shevchenko reports that #FueledByPhilly Matvei Michkov initially wanted to go on loan to Dynamo Minsk. #KHL pic.twitter.com/5ioWl4vvR8

— Hockey News Hub (@HockeyNewsHub) September 20, 2023
Nevertheless, in his first game back with Sochi, Michkov recorded 2 assists in over 18 minutes of ice time, in his second game he recorded no points but fired 10 shots on goal, and in his third game he recorded an assist with 3 shots in 15:41 TOI. All the while, SKA had gone 0-3 with 0.66 goals per game since loaning out the 7th overall selection from the 2023 NHL Entry Draft – perhaps purely coincidental.
Since Matvei Michkov has been loaned to Sochi. SKA is now 0-3 with a goal scoring average of .666 goals per game.

They just cannot seem to find the back of the net, and have loaned a goal scorer in Michkov to Sochi for the season. Make it make sense

📸: HC Sochi pic.twitter.com/yhqNmyavfq

— Jamey Baskow (@JameyBaskow) September 18, 2023
Michkov and HK Sochi squared off today with Traktor Chelyabinsk, where the Flyers' top prospect put on a show with a game tying goal and then followed that up with the game-winning goal with just 50 ticks remaining in regulation.
IT'S MICHKOV TIME – TIE GAME ‼️
🚨 Matvei Michkov #Sochi #FueledByPhilly
2-2 #KHL pic.twitter.com/5rOG8ZN34i

— Hockey News Hub (@HockeyNewsHub) September 21, 2023
For a nifty and skilled superstar, Michkov has a knack of getting to the net and scoring dirty goals. His teammate fired a shot that went high and wide but Michkov continued making a bee-line to the net, where he was rewarded with a fortunate bounce and his first goal of the season.
MICHKOV CALLS GAME – WHAT A SHOT ‼️
🚨 Matvei Michkov 2nd of the game #FueledByPhilly
4-3 Sochi #KHL pic.twitter.com/B2TU1ynVKB

— Hockey News Hub (@HockeyNewsHub) September 21, 2023
With just 50 seconds remaining in regulation, Michkov walks into the zone slowly, waits, waits, and then fires a hard snap-shot through traffic that befuddled the goalkeeper.
Michkov looks to be back to his usual ways, dominating the game, or at the very least announcing his presence one way or the other. With ample ice time and opportunities with Sochi, look for the youngster to try to claim the points leaderboard, which was held by Ak Bars Kazan forward and former NHLer, Dmitrij Jaškin – who also paced the league last year – before Thursday's action with 11 in 8 games.
It's also important to note that Sochi is 4-0 in their last 4 games – coincidentally after Michkov's debut.
With 2 goals today Michkov improves to 5 points in 4 games. Sochi has a 4 game winning streak since Michkov joined the team

— Ungertaker (@ungertaker) September 21, 2023
The Flyers continue to keep very close tabs on Michkov, they have Director of Player Development, Riley Armstrong communicating with the youngster, the front office is talking with his agent on a regular basis, and even fellow Russian defenseman, Yegor Zamula is in contact.
2024 Stadium Series Trip
Flyers Nation and Philly Sports Trips have teamed up to bring you on an amazing bus trip to the 2024 NHL Stadium Series between the Flyers and Devils. Place an early deposit to reserve your spot at the ultimate tailgate experience at MetLife Stadium before the game. The package includes a game ticket, round-trip charter bus, an all-inclusive tailgate party with unlimited cold beverages, "Philly Style" catered food, live entertainment, and more.