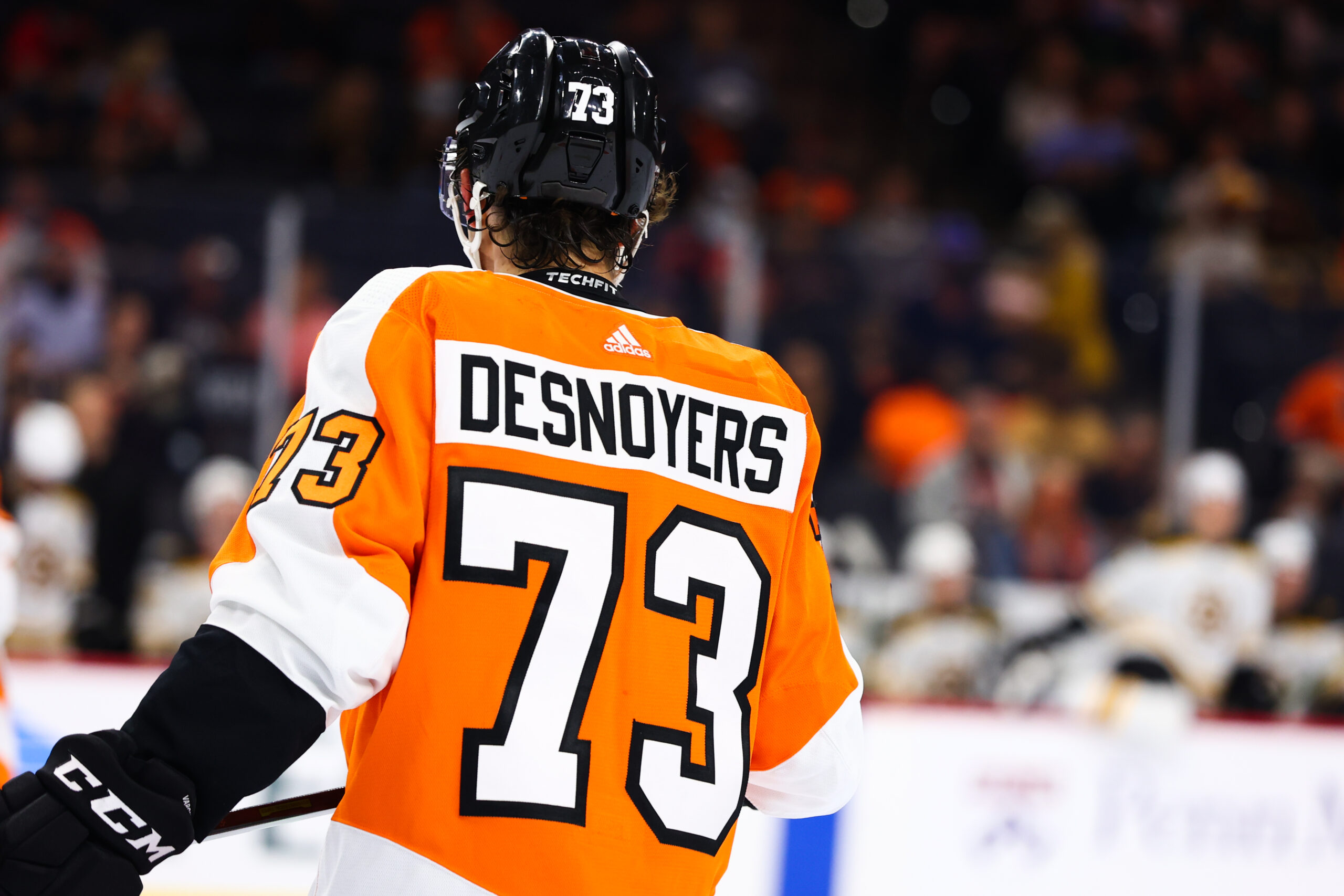 With rookie camp out of the way, training camp having just begin, and the regular season right around the corner, it's that time of year again where a few hopefuls within the organization try to dress to impress to crack the opening night roster and solidify an NHL spot with the Philadelphia Flyers this season.
The rebuilding Flyers – the first time we've been able to say that in eons, perhaps ever – will be rolling with a lineup filled with veterans but also focusing on a lot of their younger players who should form the core of their future.
There are several prospects vying for a spot, some more or less have it bookended, while others have an outside chance if they make the most of their opportunities in Emil Andrae and Elliot Desnoyers.
Tyson Foerster is an example of a prospect who more or less should figure into the opening night lineup against the Columbus Blue Jackets. He is one of many tantalizing prospects that the Flyers have been developing over the years and his short 8-game stint with the club in the middle of last season brought about a lot of confidence and excitement. There are questions marks at the bottom of the lineup for both forwards and defence and that's where the battleground will be set heading into training camp.
Ronnie Attard and Egor Zamula are kind of in the middle of the bookended prospects and the ones with an outside chance because of the flurry of moves that took place this summer. However, they have the best chance out of a lot of the veterans and prospects in making it, primarily over Emil Andrae.
Daniel Brière was rather busy in his first offseason as a general manager as he unloaded the contracts of Ivan Provorov, Kevin Hayes, and Tony DeAngelo, was trying to make bigger deals that eventually fell through, and then signed a lot of veteran depth pieces during the free agent frenzy in Marc Staal, Victor Mete, Garnet Hathaway, and Ryan Poehling. It seems that many within the fanbase were a little surprised that Brière signed so many veterans with NHL pedigrees and who could and should make the opening night lineup ahead of some of their more seasoned prospects like Attard and Zamula.
Add Sean Walker into the mix and the Flyers all of a sudden have a very busy back-end with the aforementioned Walker, Staal, Mete, and returnees in Cam York, Travis Sanheim, Rasmus Ristolainen, and Nick Seeler. That list also should include hopefuls in Attard, Zamula – who at one point in time seemed like obvious locks before the free agent frenzy – and potentially Andrae.
The same can be said for the forwards because before Poehling and Hathaway were signed to their respective deals, there were at least 2 open spots on the bottom-6 that now seemed all but locked up, especially considering Hathaway's pedigree and contract.
York, Sanheim, Ristolainen, and Seeler should occupy 4 of the 6 slots on defense with 2 needing to be claimed between Staal, Mete, Walker, Attard, Zamula, and Andrae. Marc Staal is a veteran of 16 years and 1,101 games, has a good rapport with John Tortorella from his time with the New York Rangers, and is coming off a Stanley Cup Final run with the Florida Panthers where he played top-4 minutes. He can most likely be stapled into the lineup and there's a very good chance that he could be paired up with Cam York, where the veteran would allow the prospect to soar to new heights being the dependable defensive option of the pair.
For Andrae to jump ahead of Walker, Mete, Attard, and Zamula, he is going to have to be incredibly impressive. I think the Flyers would like to see him develop in the minors to start the season anyways since he was only brought over to North America in March. After a stellar season in the SHL, Andrae signed an ATO with the Lehigh Valley Phantoms in the midst of their playoff push and made quick work of his opportunities with 2 goals and 6 points in 10 regular season games.
He signed his ELC and played well in the playoffs, but the Phantoms were unfortunately swept out of the first round. Nevertheless, he made his mark and entered the off-season with high praise after a tough couple seasons after being drafted.
Early in the offseason it seemed like there was a very good chance that Andrae would be starting the 2023-24 season in Sweden because changes were made between the NHL and Swedish Ice Hockey Association back in 2022, which gave the Swedes the first dibs on prospects drafted outside of the first round. However, it seemed like Andrae and the Flyers were able to convince HV71 to let him play in North America, which puts a lot less pressure on both club and player heading into training camp.
Andrae could've avoided the Swedish league altogether if he made the team outright of training camp. Fortunately, there is no worry about Andrae having to go back in 2023-24 and he can start the year with the Phantoms, marinate his craft, take off akin to Cam York in previous seasons, and get the call in the middle of the season – that is, if he doesn't make it outright.
Marc Staal is going to be moved ahead of the trade deadline – something that was discussed between both player and team before he signed – Sean Walker, Nick Seeler, and Victor Mete are all expiring contracts at the end of the season with Mete being signed on a 2-way deal. Seeler and Mete are only affecting the salary cap to the tune of $775,000 each and won't need salary retention to sweeten the deal ahead of the deadline and the same can be said about Staal who is only at $1.1 million AAV. Walker on the other hand might need to have half retained with his $2.65 million cap hit but with the Flyers only having used 1 retained salary slot in the offseason that shouldn't be a concern heading into the trade deadline.
With how training camp has started out for the youngster, it's already looking pretty good when your head coach has nothing but good things to say about you in just a few days.
John Tortorella on Emil Andrae #Flyers pic.twitter.com/SuokzciBpY

— TLY (@TheLibertyYell) September 22, 2023
Tortorella was extremely impressed with how composed and calm Andrae is with the puck in his own zone. Instead of panicking and sending the puck along the boards for the sake of trying to get it out of the zone, he instead makes the perfect play to get the guys out of the zone.
"Either he gets run over or he runs someone over, the puck is loose and a guy that maybe doesn't see the ice as well or isn't as aware would just throw the puck up the wall. He ends up with the puck but throws it up the wall, it's probably a turnover and we're starting again in that corner… he makes a nice little play in the middle and we're up. I've just notice that with him."
His small stature could deceive a lot of people but he will make his presence known with his on-ice attitude, aggressiveness, and "jam" as Tortorella mentioned.
"He's got a nice presence about himself and I think he sees the ice and I think he's got some jam to him too. We'll play it out, he's going to get a lot of exhibition games and he'll push – he's going to push some people – as far as that position is concerned."
So long story short, when it comes to Andrae, he stands a good chance to outshine his competitors in training camp but with how many veterans are ahead of him, it wouldn't be the worst thing in the world if he started in the AHL and eventually got the call-up when there are plenty of spots available.
As for Elliot Desnoyers, his path seems a little less complicated as he would have to battle against Ryan Poehling for the fourth line centre position. The 5th round pick from the 2020 NHL Entry Draft has been nothing short of sensational ever since.
Desnoyers scored 63 goals and 137 points in his final 98 games with the Halifax Mooseheads – which included 42 goals and 88 points in 2021-22. He then added 23 goals and 44 points in 65 games with the Phantoms last year in his first professional season, while getting 4 games at the NHL-level and impressing his head coach.
The 22-year-old led the club in goals, was 6th in assists, and was 3rd in points behind only Tyson Foerster's 48 and Olle Lycksell's 45. He was also a plus-4, which ranked as the 8th-highest, and he only accrued 16 penalty minutes, which showed good discipline.
In his first game with the Flyers – on the 25th of February against the New Jersey Devils – Desnoyers played 14:53 TOI, had 6 hits and 3 blocks, and won 6 of 14 face-offs and managed to only be a minus-1 in a 7-0 drubbing. He would play three more games and averaged a solid 13:22 ATOI in his first 4 contests with 9 hits, 4 blocks, and only a minus-2 in 4 defeats.
The issue right now for Desnoyers is that if he did make the club out of training camp and ahead of Poehling, he would be restricted to 4th line duties with Sean Couturier, Morgan Frost – one would hope – and Noah Cates ahead of him in the depth chart. He would be playing alongside Nicolas Deslauriers and most likely Garnet Hathaway, which would be a very fun line to watch, but it would stunt his development at this moment.
10-12 minutes a game with less offensive options on his wings isn't what he needs and he should look to take off for the Phantoms once again. If Frost still isn't signed by the time the season rolls around, Desnoyers could make a legitimate case to start the season with Poehling in the lineup as well. However, year 1 of the rebuild shouldn't be a rush-job either and similarly to Andrae, if Desnoyers starts out with the Phantoms it could be better for his present and future than playing bottom-6 duties with the big club.
The time for the prospects to shine will come and it will be in the near future but in the mean time, the Flyers want to see what they have with their current crop of veterans and seasoned younger players before they take the plunge.
They have several expiring contracts, especially on the back-end, and eventually once the trade deadline comes and goes, there will be plenty of room for the Andraes, the Attards, the Zamulas, and the Desnoyers to roam free and make their case for 2024-25.
2024 Stadium Series Trip
Flyers Nation and Philly Sports Trips have teamed up to bring you on an amazing bus trip to the 2024 NHL Stadium Series between the Flyers and Devils. Place an early deposit to reserve your spot at the ultimate tailgate experience at MetLife Stadium before the game. The package includes a game ticket, round-trip charter bus, an all-inclusive tailgate party with unlimited cold beverages, "Philly Style" catered food, live entertainment, and more.