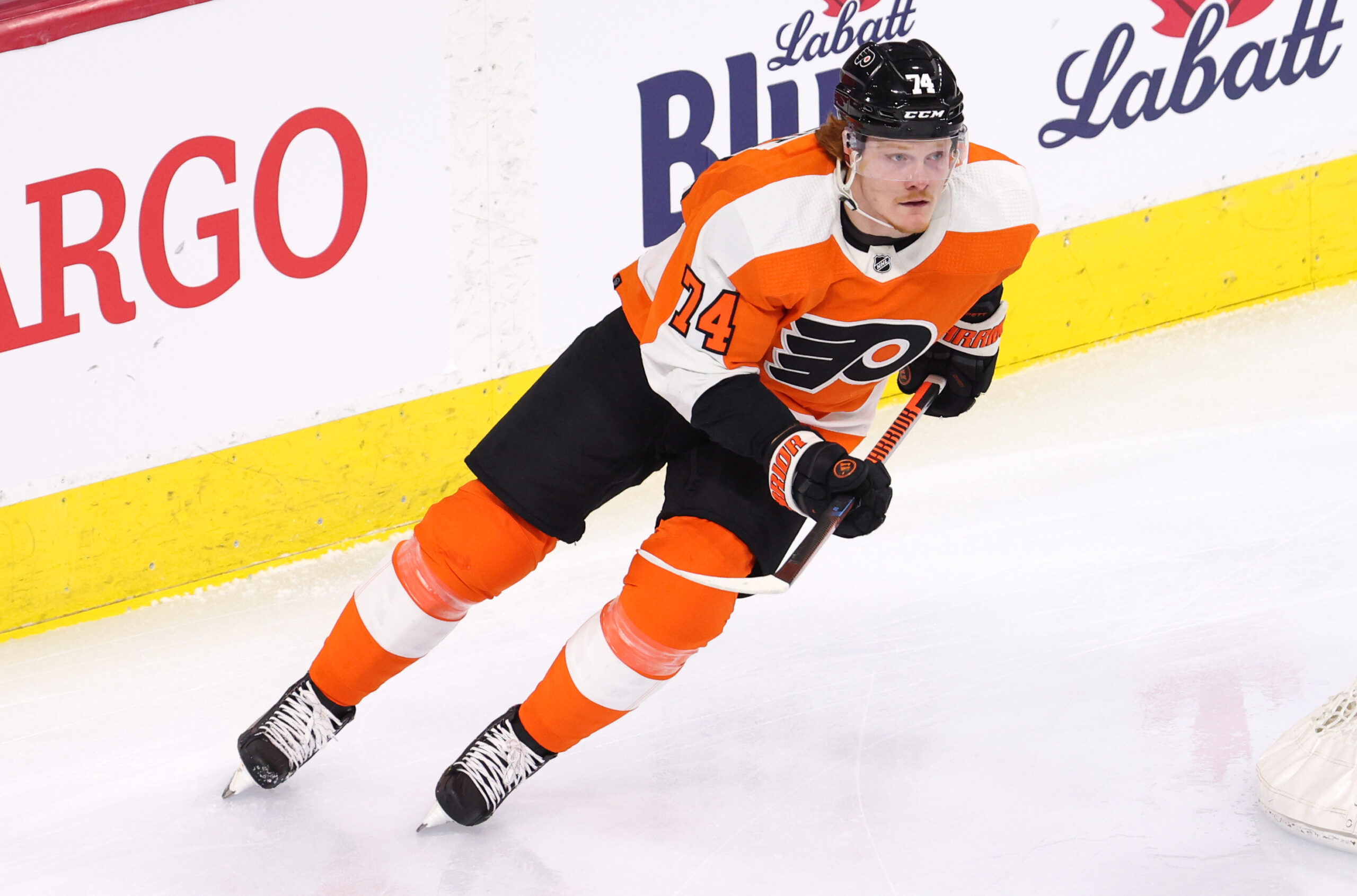 It's been one year and three days since the Philadelphia Flyers' longest tenured captain in Claude Giroux took his final lap around the Wells Fargo Center, sporting the Orange and Black one final time and saluting the fans after an emotional 5-4 victory against the Nashville Predators.
He ended his Flyers career 2nd all-time in games played with 1,000, 8th all-time in goals with 291, 2nd all-time in assists with 609, 2nd all-time in points with 900, 7th all-time in game-winning goals with 46, 1st all-time in power play assists with 255, and a ridiculous 55.76 faceoff winning percentage that includes 9,561 wins – 2nd is Sean Couturier with 5,525, for reference, since the NHL starting tracking faceoffs in 1997.
The trade rumours were only growing louder and louder with the Flyers free-falling yet again. Giroux had no intentions on leaving, but then-general manager Chuck Fletcher and the Flyers had to be realistic with their present and future.
At times, it sounded like there was going to be a bidding war for his services with teams like the Boston Bruins, New York Rangers, Minnesota Wild, St. Louis Blues, Colorado Avalanche, and Florida Panthers in the running. Colorado reportedly had the best offer on the table, but Giroux's full no-movement clause gave him full control of his destiny. He ultimately only wanted Florida and because of that, Fletcher had his hands tied, and eventually dealt the franchise icon to the Panthers in a package that landed them Owen Tippett and a future 1st round pick.
Initial reactions were not great as the Flyers' best trade chip landed them a former first round pick who couldn't get his skates through the door in Florida, a first round pick 3 drafts from that moment in time, and a third round pick 2 drafts from that moment in time. The Flyers also packaged Connor Bunnaman and German Rubtsov as well as a fifth round pick in 2024. Nevertheless, it was a chapter that had to come to an end, and the Flyers got what they wanted in a first round pick plus a young NHL-ready talent.
In his final stint with the Flyers, Giroux scored 18 goals and 42 points in 57 games, while the team stood with a 19-30-11 record heading into the trade deadline. With the Panthers, his impact was immediate as he finished the regular season with 3 goals and 23 points in just 18 games. He recorded back to back multi-assist games in his first 2 appearances and scored 18 points in his final 12 games.
The Panthers had ultimate aspirations, and they defeated the Washington Capitals in the first round of the playoffs. Giroux played a big part in that with 3 goals and 7 points in 6 games. Unfortunately, they were no match for the Tampa Bay Lightning and were ultimately swept with Giroux recording an assist in 4 games.
The Panthers swung for the fences, not just with Giroux, but traded a similar package of assets for Ben Chiarot as well. They were not able to retain either player, they then traded Jonathan Huberdeau and MacKenzie Weegar in a package for Matthew Tkachuk, and have been rather inconsistent this season with a 35-27-7 record heading into Monday. They have won 7 of their last 10 games however, and are one point out of the final playoff spot in the East, which is extremely important because Montreal owns their 2023 first round pick.
As for Giroux, he eventually went back "home" to Ottawa and signed a 3 year deal in the summer worth $19.5 million total. He has played exceptionally well for the Senators, who have only just slipped out of contention for the final Wild Card spot, sporting a 5 game losing streak. Giroux sits third on the team with 28 goals, 39 assists, and 67 points, turning back the clock on what many believed was his twilight. He only sits 10 points from the 1,000 mark, and that could be attained against the Flyers on the 30th of March, which is 6 games away.
The Flyers have made out like gangbusters because the player they received in return was exactly who the Panthers thought they were drafting 10th overall in 2017.
Owen Tippett scored 44 goals and 75 points in 60 games during his draft year, he then scored 36 goals and 75 points in only 51 games the following season. He played 7 games with the Panthers, scored a goal, but was then sent back down to the OHL's Mississauga Steelheads. He eventually got his shot with the Panthers again in 2020-21, and he scored 7 goals and 18 points before adding a goal and 3 assists in 6 playoff games. Before his trade to Philadelphia, he had scored 6 goals and 14 points in 42 games, while averaging 12:32 of ice time.
He played pretty well for a downtrodden Flyers team that was sporting plenty of youth in an injury-riddled final stretch of the season last year. Puck luck was not bouncing his way and his numbers could've looked a lot better, but the chances and opportunities were ripe for the taking. He finished with 4 goals and 7 points in 21 games, but fired 53 shots on goal in 15:12 of ice time per game. Everyone within the organization was happy with his final stretch and were hoping for a big season ahead.
John Tortorella took a liking to the young forward, and he has reaped the rewards of his system. He currently sits 3rd on the team in points with 39, 2nd in goals with 21, has broken all his previous career highs, is averaging 16:54 of ice time per game on the season, leads the team with 189 shots, and is 2nd in takeaways with 36 to 20 giveaways – Noah Cates sits atop with 47 takeaways to 11 giveaways.
It seems that everyone on the Flyers collectively slumped at the same time, because from their matinee loss to the Boston Bruins on January 16th all the way to their matinee victory against the Calgary Flames on February 20th – which was a span of 15 games – Tippett endured his worst slump of the season with only 2 goals and 6 points.
In the 11 games since, Tippett has scored 6 goals and 9 points and has averaged 21:12 of ice time per game, with only 2 games played with less than 20 minutes of ice time. He has also taken 55 shots in that span and his impact on the ice is noticeable from puck drop each game.
The Flyers finally have a goal-scorer in their midst, they finally have a player with a shoot-first mentality, and he is getting every bit of ice time that he deserves, and then some.
Tortorella mentioned that Tippett specifically asked for it and he's not one to shy away from players who speak up and speak their minds. Tortorella gets a lot of flack for his iPad ban, the benchings  and healthy scratches, and his postgame comments, but not many people talk about the rewards system that he hands out as well – see Noah Cates.
The best thing about Tippett is that he scores his goals in a variety of ways, but mostly with his lethal shot. The Flyers haven't had many 30-goal scorers since the departure of Jeff Carter, but players like Wayne Simmonds (32 in 2015-16, 31 in 2016-17), James van Riemsdyk (27 in 2018-19), and Brayden Schenn (26 in 2015-16, 25 in 2016-17) scored their goals primarily in the dirty areas, in front of the net, or through deflections.
Players who scored 30+ goals in more skillful fashion included Claude Giroux with a career-high 34 in 2017-18, and Sean Couturier who had back to back 30+ goal seasons in 2017-18 and 2018-19. Now they have Tippett in the midst of a season where 25 should be a foregone conclusion, and 30 is possible if he can stay scorching-hot with 13 games remaining.
Just recently on Friday, Tippett scored his first career hat-trick in Philadelphia's 5-2 win over Buffalo and scored his goals in a variety of ways.
On the game's opening goal, while on the power play, Tippett was set up by Cam York near the faceoff circle. He walked in before firing a seed glove-side over Craig Anderson.
Tipp top shelf. #BUFvsPHI | @ConstellationEG pic.twitter.com/g1rny1qEeJ

— Philadelphia Flyers (@NHLFlyers) March 17, 2023
On his second goal of the night and 20th of the season, Kevin Hayes made a nifty spin-around pass to Tippett who had just come off the bench. He was left all alone, unmarked, untouched at the faceoff dot and he ripped a one-timer from his knee past Anderson, who had no time to react. The shot was fired so hard that it bounced out of the net in a flash.
That's 2️⃣0️⃣ tallies for Tipp. #BUFvsPHI | @ConstellationEG pic.twitter.com/Zz4BPcPkl1

— Philadelphia Flyers (@NHLFlyers) March 18, 2023
Then his hat-trick goal was set up by an alley-oop pass from Tony DeAngelo from behind his goal-line. Tippett turned on the jets after the puck got past the Buffalo defensemen at the point. He made a hell of a move on Anderson, just barring in on him with too much speed.
A hatty for our red head on St. Paddy's. ☘️#BUFvsPHI | @ConstellationEG pic.twitter.com/8qwc0QqxBv

— Philadelphia Flyers (@NHLFlyers) March 18, 2023
He possesses a hard and lethal snap-shot, an accurate slap-shot, and a wrist-shot that can befuddle even the best of goaltenders. He can also score goals off the faceoff dot, a la Claude Giroux, as we witnessed in an earlier showdown against the Montreal Canadiens.
Tip's taking over. #PHIvsMTL | #FueledByPhilly pic.twitter.com/FCqTOtz6Yb

— Philadelphia Flyers (@NHLFlyers) November 20, 2022
Currently signed for another season at only $1.5 million AAV, the Flyers have a steal. If they can surround him with better talent, the Peterborough, Ontario native can eclipse 30+ goals on a regular basis.
Carolina Panthers quarterback Andy Dalton possesses the nickname of "Red Rifle", but I think it's more fitting for Tippett, who possesses a "rifle" of a shot and has the speed to match the nickname.
Claude Giroux will always be missed, he was a great Flyer, and is still playing at an elite level, but the rebuilding Flyers will take a 24-year-old goal-scoring winger with a heavy shot and smooth skating capabilities to head their current core.