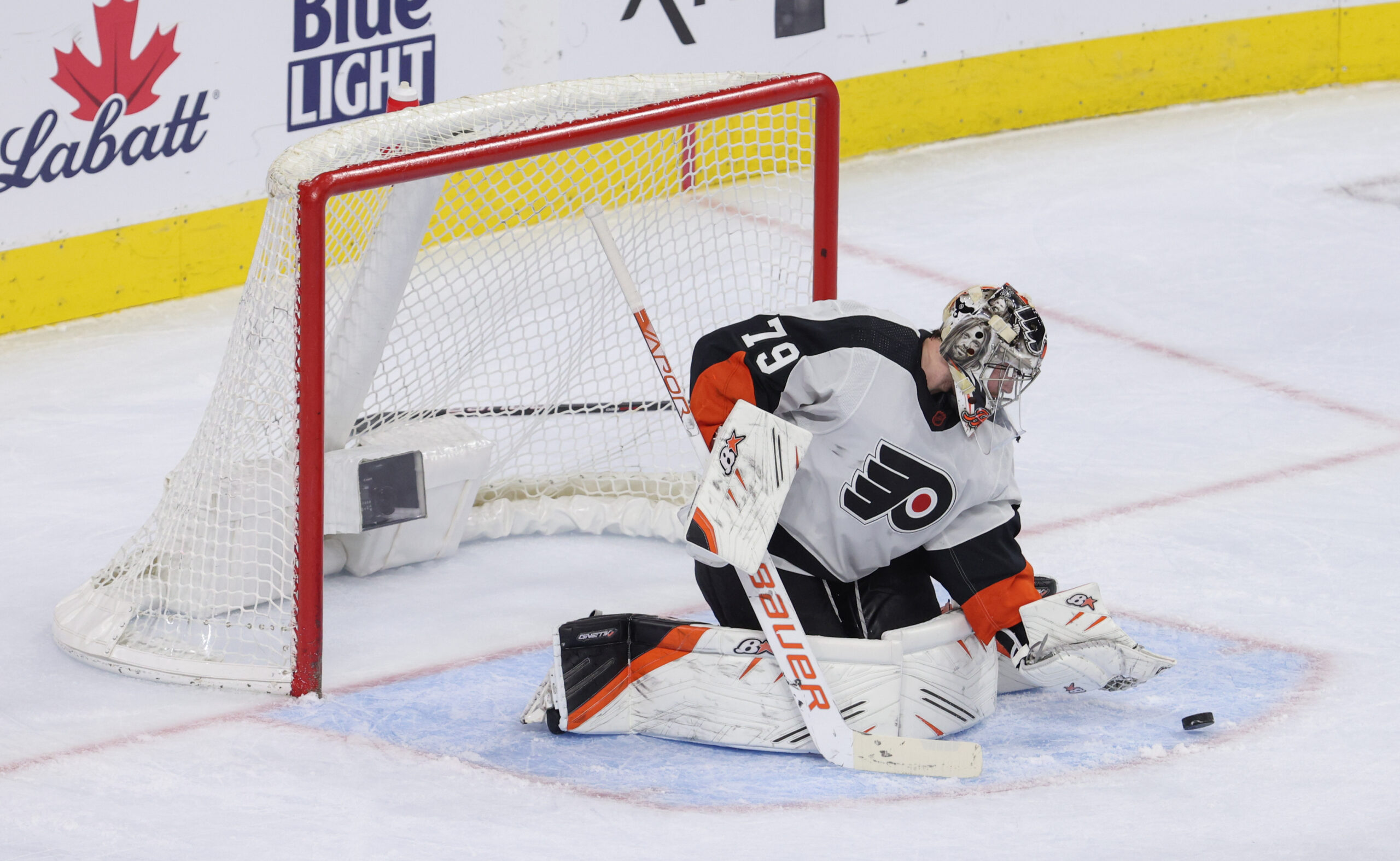 Carter Hart Trade Talk: Does his timeline make sense for a "multi-year" rebuild?
When Danny Brière stepped up to the microphone on March 12th of 2023, Danny, without hesitation, said that the Flyers are in a multi-year rebuild. After many back and forths with fans and the front office, specifically Chuck Fletcher, the Flyers fanbase felt the briefest moment of sanity over the last decade. At that moment, for me, the first thing I wondered was, "What the hell do you do with Carter Hart on your team in the midst of a rebuild?"
Let's take a step back and look at what the process may roughly look like for the Flyers, and how that bodes with Carter's age, contract, and potential extension. Philadelphia officially announced a rebuild this season, but you can argue that this started in the previous season after trading Claude Giroux and drafting Cutter Gauthier at the #5 overall pick. We say rebuilds typically take 5-8 years to go from basement dwellers to a legitimate Stanley Cup candidate. It'll be curious to see where the Flyers think they are, and do they count the last two years as years one and two? Who knows, but even when you slice 2 years, we are still talking a 3-5 year process to having any relevance to the 1st round of playoffs. Now, let's take a look at where Carter Hart stands. 
According to CapFriendly, Carter Hart's deal will run to the end of the 2023-2024 season, so the Flyers will effectively have one more year of Carter Hart. Hart's current AAV runs at about $4 million per season, and will certainly receive a raise, but how much is still unknown at this time.
It is worth noting that Hart's projected market value by The Athletic is $4 million, his current salary.
What we do know is that Carter Hart's goals saved above expected average ranks 16th in the league out of 50 goalies who have played at least 20 games. Hart's Vezina-worthy play through the first 10 games at the start of the season incidentally confirmed the bias of the front office staff that truly believed this group could be a "more than the sum of their parts" club.
In a rebuild, you ideally do not want your team to play well enough to be out of a top 5 pick, because the worst thing you can do is finish in the middle when rebuilding. All modern Stanley Cup champions have won after bottoming out and acquiring high end talent, aside from the 1 exception over the last decade that was the 2019 St. Louis Blues that featured a red-hot Jordan Binnington, who never returned to that form.
The biggest threat on the ice to the Flyers' rebuild is Carter Hart, and it's not to make an enemy out of him, it's not to cut him any credit for how he's handled himself and his play throughout the year, but it's just a fact that Hart may be "too good" for this team right now. 
His timeline doesn't make much sense with where Philadelphia is now and where they will be 5 years from now. He will be 25 when his contract expires, entering the prime of his physique and career. His next contract will likely carry him into his 30s or very close to it. By the time the Flyers are "ready", Hart will be pushing 30, and who knows what his body, mind, and performance will be like 5 years from now. Does this sound familiar at all? I'll jog your memory for you. By the time the Flyers had – some – pieces around Claude Giroux, he was years past his prime, and was not at the level he was at when Peter Laviolette deemed him the best player in the world in 2012 after being a key player in the 2012 Pittsburgh series. Look at the Sean Couturier contract. He is still out with a back injury (surgery 2x) and costs $8 million per year until he is 38 years old. That is horrifying enough, and finding ways of rebuilding around dead cap will be an entirely other feat for the front office to dawn over, which is exactly why they do not need to create more of these problems with a massive contract to Carter Hart. 
John Tortorella claimed Samuel Ersson to be "the best goalie in camp" at the start of training camp and preseason for the Flyers this year, and later doubled down on that fact this season. Ersson makes roughly under $900K under the 2023-2024 season. Considering the head coach's opinion on him, the cap hit, and term, it may make a lot more sense for the Flyers to ride Ersson to see what he's got for next season. He is 1 year younger than Carter Hart, which may or may not make a big difference in the long term, but if the Flyers like what they see from Ersson and they extend him, it would likely be below $4 million, which is what Hart makes annually right now. 
Anaheim allows the most goals in the league at 4.00 goals per game. I am not sure where the Ducks exactly are in their rebuild, but if they're anywhere close to wanting to push for a playoff seed, getting a goaltender would be a great start, especially at Hart's price, which would be over $2 million cheaper, but again the catch is that this deal expires for Hart at the end of next season. It's just that there aren't really any pieces that Anaheim could move that are young enough to be a part of the Flyers' rebuild process, and they sure aren't giving up the NHL's golden boy in Trevor Zegras anytime soon. 
Montreal hasn't been the same without Carey Price, and they allow the 4th most goals in the league. They desperately need a goaltender so the kids can learn how to win and see what it's like to get a save after the turmoil that ensued after their Stanley Cup run in 2021. I wonder if the Flyers would be interested in Kirby Dach, the 3rd overall pick in the 2019 NHL Draft, who's begun to redeem his career in Montreal. He will likely end the season with 40+ points, 30+ assists and 15+ goals, and may hit the 20-goal mark. He is still only 22 years old and plays center, which is an area the Flyers are desperately lacking in. You know the center depth isn't good when Tortorella played Kevin Hayes on the wing, who was the only natural center on the team at that point this season.
Kirby Dach could fill this role and continue to build his game. A reclamation project sounds a lot less scary when thinking about Owen Tippett's success in Philadelphia this year. Sitting at 6'4", Dach has size and skill, something the Flyers have obsessed over, sometimes to their detriment. Coming in at a similar cap hir (roughly $3.8 million AAV), the contract runs through the 2025-2026 season, and will only be 25 at that point. Kirby Dach and a first-round pick would intrigue me a lot. 
The Buffalo Sabres are a few wins out of a playoff spot, which is the closest they have been at this time of the year in over 11 years, but they still may not make the playoffs. Despite being the 3rd-best team at scoring goals per game this season, A lot of their good work in the offensive zone gets erased by their 27th ranked goals against average. Carter Hart would solve a lot of these problems, and it's not that the Sabres are lacking young prospects that could intrigue the Flyers. The Flyers desperately need a young cornerstone defenseman, and the Sabres desperately need a goaltender.
I wonder about a trade where the Flyers move Carter Hart and Ivan Provorov for Owen Power. Ivan is a strong 2nd pairing defensemen that can play 1st pair minutes when with a stronger partner. Maybe the Sabres are ready to expedite their process and take a now-ready Ivan Provorov and Carter Hart. Of course, to convince the Sabres to let go of a piece like that is nearly impossible, but perhaps with Danny Brière's history in Buffalo, there may be someone Brière can begin whispering to.