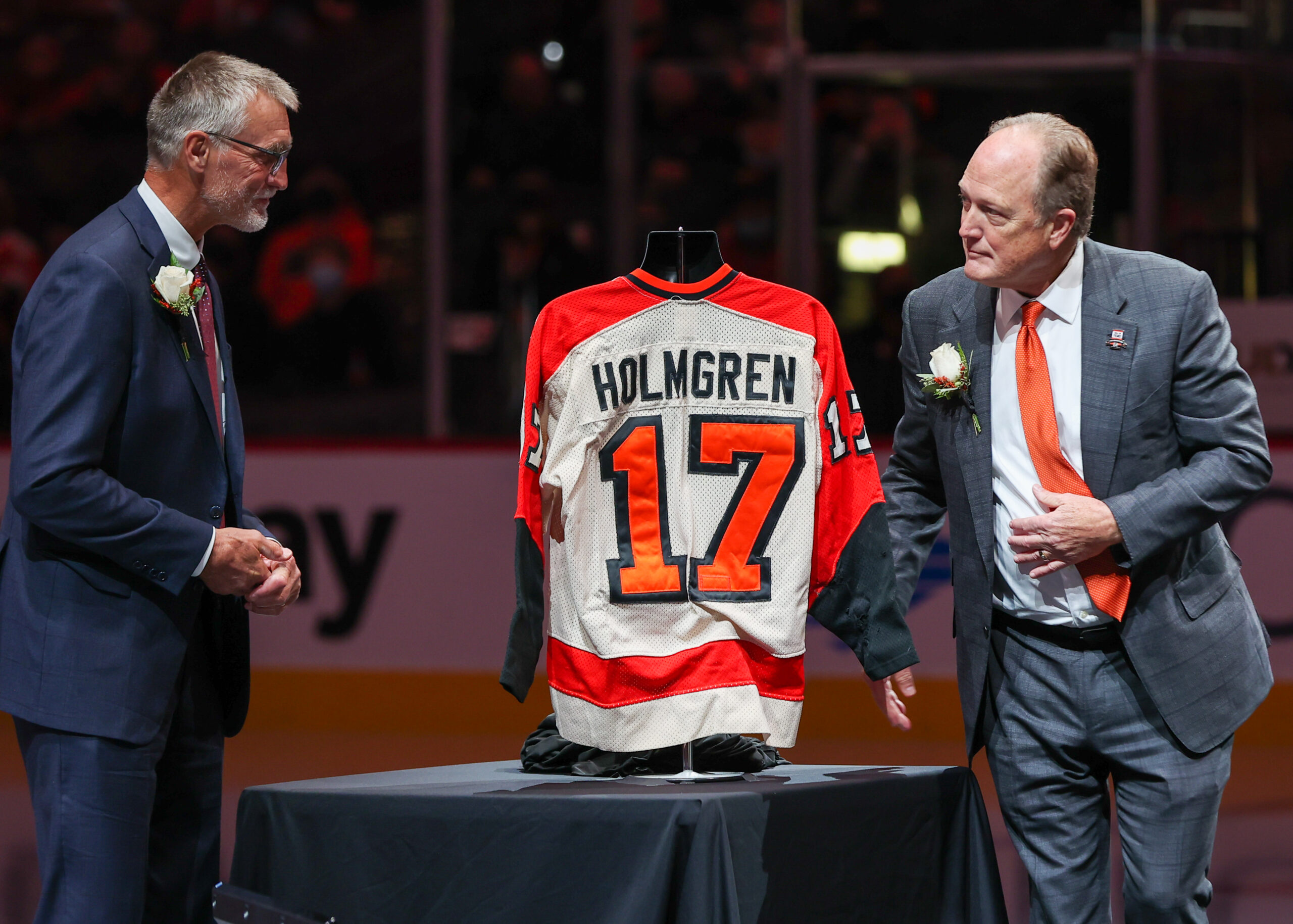 Dave Scott Reportedly Pulled Rug From Under Advisors in Move That Should Alter Future Landscape of Flyers
Oh, the tangled web keeps on weaving for the Philadelphia Flyers, but the more information that leaks out, the better for the future of this once venerable organization.
The front office and ownership group has been at the forefront of the many problems surrounding the Flyers over the last decade and a half – probably even longer – and it seems that things might finally be changing for the better.
After Chuck Fletcher was fired a few weeks ago, there seems to be a collective sigh of relief amongst the fan base that at least one of the many problems is gone. Not only was he fired as general manager, but he was also let go as President of Hockey Operations, which is something the Flyers don't generally do. Rather than completely terminating your services, they have had the tendency to promote – see Bobby Clarke and Paul Holmgren.
Marcus Hayes of The Philadelphia Inquirer reported that Comcast Spectacor CEO, Dave Scott, did not consult any of the major Senior Advisors in regard to the decision of letting Chuck Fletcher go. In fact, it was widely believed that Bobby Clarke, Bill Barber, and Paul Holmgren would've been against the idea of firing their longtime friend in Fletcher, especially to be replaced by Daniel Brière – a potential voice of modernism within the organization.
Broad Street Bullied no more:#Flyers icons-turned-advisers Bobby Clarke, Paul Holmgren, and Bill Barber, the club's Three Wise Men, had no input on firing Chuck Fletcher & promoting Danny Briere & won't guide the rebuild.https://t.co/ROrujfsSGv

— Marcus Hayes (@inkstainedretch) March 18, 2023
Hayes also reported that Brière was "always an interloper" despite being brought in as a Special Assistant to the General Manager last year and how they tried making it seem like he was being groomed for the eventual position as GM. Another sadistic attempt at satiating the fan base with words rather than actions.
This news does not come as a surprise because Elliotte Friedman and Jeff Marek dissected this subject on their 32 Thoughts podcast last week. Friedman said that it was one of the few times that part of the front office or senior advisors had no clue about the termination of Chuck Fletcher until it became official and things leaked out through the media. He insinuated that those members who were left out in the dark will most likely not be returning next year when the Flyers clean house. Now it's starting to funnel out that the ones who were left out in the dark were none other than the infamous trio of Clarke, Barber, and Holmgren who have been with the organization for decades from player to coach to front office.
Bobby Clarke is inarguably the best player in franchise history with all the accolades to his name, and most importantly being the captain to the only 2 Stanley Cups in franchise history. What many people don't know or might not remember is that he has been with the organization for well over 5 decades. He was a player from 1969-70 to 1983-84, he was also a Player Assistant Coach from 1979-80 to 1981-82, then he became General Manager from 1984-85 to 1989-90. He left the club for a small hiatus to manage the Minnesota North Stars and Florida Panthers before returning as General Manager once more in 1994-95. His second stint as General Manager lasted all the until 2006-07, when he was then promoted as Senior Vice President of Hockey Operations, a position he held from 2006-07 to 2018-19. From 2018-19 to the present, he became a Senior Advisor, a position that has given him a lot more influence than most people want to admit. With the exception of 3 years in the early '90s, Clarke has held a position of esteem since 1969 and has essentially been within the front office since 1984.
Paul Holmgren is another alumnus that has been with the organization since his playing days. He played with the Flyers from 1976-77 to 1983-84 before leaving to become a Minnesota North Star for a couple seasons. He then became an assistant coach for the Flyers from 1985-86 to 1987-88, head coach from 1988-89 to 1991-92, and then became a scout for one season in 1991-92. Similar to Clarke, Holmgren left the Flyers and went to Hartford as a head coach and general manager, for one season, before returning to Philadelphia in 1996-97 as Director of Professional Scouting. He became Director of Player Personnel in 1997-98 and 1998-99, Assistant General Manager from 1999-00 to 2006-07, General Manager from 2006-07 to 2013-14, President from 2014-15 to 2018-19, and Senior Advisor ever since.
His tenure as general manager was a bumpy ride because he did so well from 2006-07 to 2009-10, and then the wheels fell off completely after their Cinderella run to the Stanley Cup Final in 2010. He was despised by the end of his tenure, so much so that he was being booed everywhere he went as well. However, the Flyer way is always to promote, so he has been able to stick around ever since.
Barber, who played alongside Clarke, was a member of the team from 1972-73 to 1983-84, became an assistant coach from 1985-86 to 1987-88, then became Director of Professional Scouting from 1988-89 to 1995-96. He was named head coach from 1996-97 to 1999-00 for the AHL's Philadelphia Phantoms before getting the head coaching gig for the Flyers in 2000-01 and 2001-02. Barber then departed to Tampa Bay before coming back as a Team Consultant from 2008-09 to 2018-19, and since then has been a Senior Advisor like his counterparts.
It was reported by Crossing Broad's Anthony SanFilippo that Barber was the main voice in Dave Scott's ear since he became Comcast Spectacor's CEO.
.@AntSanPhilly reveals who is actually calling the shots in the Flyers front office pic.twitter.com/67ZKTuHKP7

— Crossing Broad (@CrossingBroad) March 2, 2023
Unlike Clarke and Holmgren, Barber almost slipped through the cracks through these many years, but now that information continues to funnel through, we truly see the impact that these 3 men have had on the Flyers.
Changes are coming, and Brière, who was once an afterthought in the eyes of the old guard, is going to put his stamp on the team and he's looking for inspiration in all the right places. He wants to model the Flyers into the Boston Bruins and Colorado Avalanche, he wants to bring in hockey minds of the modern game, and he has a lot of connections and good relationships already built – something that his predecessor destroyed in his short time with the Flyers.
The front office's clear-out sale is going to be a momentous occasion if and when it comes to fruition. It will signal a changing of the guard, and most importantly, it will bring about new life within an organization that has tried to keep their history alive.
The Flyers were split down the middle on several moves like the Rasmus Ristolainen trade and the Travis Sanheim extension, where one side conceded to the other because they knew their turn was coming to get what they wanted.
It was also widely reported that Chuck Fletcher did not have John Tortorella atop his wish-list before his eventual hiring, as he preferred names like John Torchetti, and no matter how much they tried to make it seem like there was no animosity, it was very obvious that there was a philosophical difference between head coach and general manager.
The general manager was changing the script every few weeks, whereas the head coach kept his "process" consistent from day one. The head coach was addressing the media and the fanbase far more often than general manager, so much so that we didn't see or hear from Fletcher in months.
Daniel Brière told TVA Sports' Renaud Lavoie that he was a part of the hiring process and that Tortorella was "his guy" and now that the dust is settling, things are adding up, and the puzzle is near completion.
Daniel Brière on John Tortorella: "I was part of the hiring process last year and he was my number one choice. He's the man for the job." @NHLFlyers

— Renaud Lavoie (@renlavoietva) March 14, 2023
Lets also not forget that if Clarke, Holmgren, and Barber did have a grand impact on the moves that the Flyers were making, that Dave Scott was being counseled by people who thought it would be best to forge ahead with quantity over quality in Mike Rathje, Derian Hatcher, and Dan McGillis instead of Scott Niedermayer – where the deal was essentially complete – or foregoing the plan to sign Curtis Joseph to go with the cheaper option in John Vanbiesbrouck, or handing Andrew MacDonald a 6-year contract extension after just one month with the team, or trading the very young James van Riemsdyk for a disappointing defensive defenseman in Luke Schenn, or the Earth-shattering cornerstone trades of Mike Richards and Jeff Carter to help make way for Ilya Bryzgalov's contract that eventually led them to lose Sergei Bobrovsky – and Bryzgalov himself – and the list goes on.
I guess a broken clock can be right twice a day, but there were so many more detrimental moves rather than positive ones that have left this once flourishing franchise in the dust.
Historically speaking, the Flyers have been one of the most successful teams in NHL history from winning percentage – before this horrid run over the last few seasons, the Flyers were 2nd-best but have dropped to 4th – they have also advanced to 8 Stanley Cup Finals and hold a myriad of division and conference titles. However, the game has changed so much over the last few decades – even just the last decade itself – but they have remained in their 70s-80s-90s bubble, living in blissful ignorance.
Clarke, Holmgren, and Barber were fantastic players, but as front office members, they "peaked" many, many moons ago. The harsh reality is finally setting in on them after decades of mediocrity, and if the Flyers are ever to become a contender again, they need to follow Brière through thick and thin, rebuild, change the landscape of the front office, and remain patient for the future – the betterment.