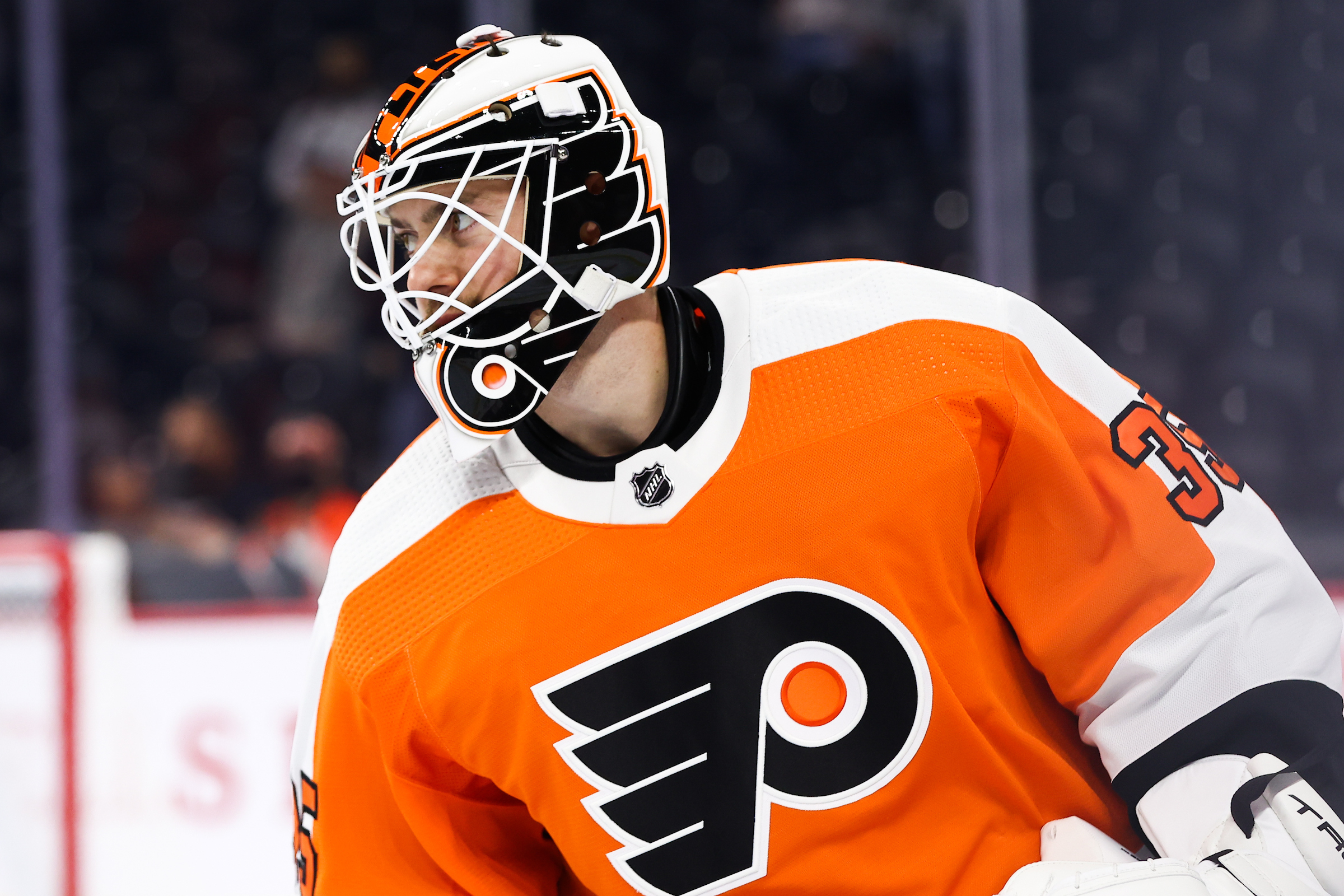 One of the most important tasks this off-season was addressing Carter Hart's backup. Brian Elliott had a valiant tenure as a Philadelphia Flyer but he got hurt several times, overworked other times, and his peripherals were lacking. He played well for his role and he was a great teammate, but it was time to find a better backup.
This was the summer for backup goalies with the likes of Jonathan Bernier, James Reimer, Jaroslav Halak, and Petr Mrazek among others. After revamping their defense before the free agent frenzy started, everyone was licking their chops at which goalie the suddenly-aggressive Flyers front office was going to target.
One by one, the names were dropping with Bernier going to the New Jersey Devils, Reimer went to the San Jose Sharks, and Jaroslav Halak signed a cheap deal with the Vancouver Canucks. Questions started to circle around the Flyers as to why none of these goalies were approached by the Flyers, especially at the price point they were signing at. 
The remaining goalies weren't show stoppers but they were the best of the rest. It came down to Braden Holtby and Martin Jones, and Holtby decided he didn't want any part with the Eastern Conference. So in the end, the Flyers chose Martin Jones on a cheap one-year deal and it was not met with eagerness. To put it lightly, he wasn't the goalie we wanted but he's sure been the goalie we needed.
Jones wasn't a popular choice because of how much he struggled before being bought out by the San Jose Sharks. His tenure with the Sharks is a tale of two halves, where he was spectacular in his first three years and then spiraled out of control in his final three. He posted three consecutive 30-win seasons, played in a minimum of 60 games, and his save percentage never went below .912.
Things were going so well for him that he even led the Sharks to the Stanley Cup Final in his first season after going 37-23-4 in the regular season. Those final three years in San Jose were different, where he had an identical .896 save percentage every year and his goals against average rose from 2.94 to 3.00 to 3.28. As he plummeted, the Sharks plummeted as well, and it was a mystery because of how many talented players they had on the roster; was it the goaltending or was it the team?
The team as a whole did not help Martin Jones' case and it was time to move on for both sides. The Sharks were getting older, they were paying a lot of veterans top-tier money, and the Evander Kane saga wasn't helping either. Kim Dillabaugh had a big say in the signing, being the Director of Goaltending Development with the Los Angeles Kings when Jones was there. In his first three years with the Kings, Jones posted a 16-11-2 record with 1.99 GAA and .923 save percentage. He was a good backup on a good team and Dillabaugh had a hand in that.
After his tumultuous tenure came to an end with the Sharks, he was looking for greener pastures in the off-season and choosing the Flyers was one of the smartest moves he could've made for his career. His downfall with the Sharks was more circumstantial than anything to do with his skill. Just like the Flyers from 2020-21, all the mishaps and down years from their star players was based on the team's circumstances and air of negativity.
It is definitely still too early to make assumptions or to call it a fantastic signing, but with the small sample size we've seen, Jones looks incredible. Playing in three games this year, he's 3-0 with a 1.68 GAA and a .950 save percentage. He has also defeated the Boston Bruins, Vancouver Canucks, and Washington Capitals; three teams that aren't easy wins. He looks calm, cool, and collected and never looks out of position or frantically trying to regain his position. We saw that a lot with goalies from years past, including Elliott.
Now he's playing in front of a much better team than he had in San Jose as the defense is far more intimidating to play against, the offense is a lot more balanced, and the coaching staff has a rejuvenated feel to them after getting a vote of confidence from Chuck Fletcher in the off-season. It was a recipe for greatness for both sides and so far it's paying off. Slotting a goalie like Jones, who has the capabilities of be a starting goalie is a boon for the Flyers.
The Flyers don't want to overwork Carter Hart just yet but even if they give him 55-60 starts, they won't have to worry about the remaining 20-25 games. Jones has shown in the past that he's capable of playing certain roles and he's at a point in his career where he knows being Hart's backup can only lead to better pastures.
He performed well as the Kings' backup to start his career and then he performed admirably in the first three years as a starter for the Sharks. For now we can forget about his last three years with the Sharks and hope it was nothing but an outlier after his tremendous beginnings and start enjoying his early success wearing the Orange and Black.