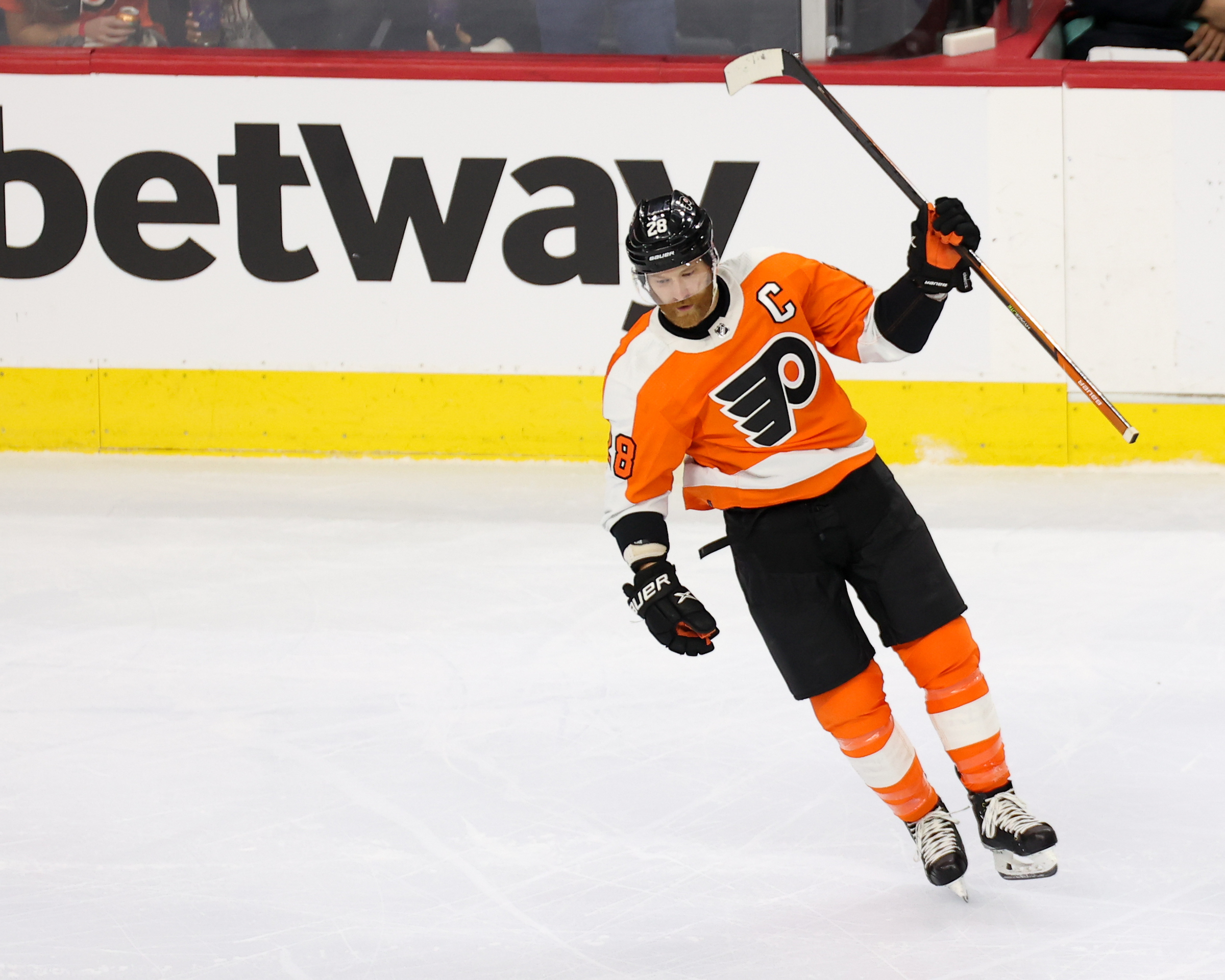 It has been a resurgent season for Philadelphia Flyers captain Claude Giroux in the early going of the 2021-22 season. Giroux has racked up 5 goals and 7 assists for 12 points in the Flyers' first ten contests thus far, with his 12 points being tied for the team lead with linemate Sean Couturier, who is also off to a fantastic start.
Giroux, who in the past has been prone to and criticized for slower starts in seasons prior, has looked like his old self since game one. He was buzzing on opening night against the Vancouver Canucks and played the hero role like he has so many times in his career, as he netted the tying goal with 2:12 remaining in the third period to help the Flyers earn a point in a shootout loss.
Since that game, he has tallied at least one point in every single game the Flyers have played this season with the exception of their 4-0 loss to the Calgary Flames back on October 30th. That includes a six-game point streak in which he recorded 4 goals and 4 assists for 8 points to begin the 2021-22 campaign, the longest in Giroux's NHL career to start a season with.
The captain has not only led offensively, but he's been remarkably sound on the opposite end of the ice as well this season. He's been getting 53 percent of his starts in the defensive zone at 5-on-5, a testament to the defensive skill Giroux possesses and the trust that the coaching staff has in him. Giroux currently owns a 54.7 Corsi-For Perecentage at 5-on-5 as well, and his Relative Corsi For Percentage at even strength sits at 8.9 at 5-on-5.
Giroux also maintains a 63.5 faceoff winning percentage, currently a career high albeit in an incredibly small sample size on the best faceoff team in the league. His winning percentage leads all Flyers and is currently good for third in the league among qualified skaters behind St. Louis' Ryan O'Reilly and Carolina's Jordan Staal.
Giroux is remarkable at helping the Flyers get out of the defensive zone and his line will usually outshoot and outchance whoever is on the ice against them. In all honesty, Giroux is the Flyers' second-most productive two-way talent behind Sean Couturier, and he's not missing a beat with age either.
Being in a contract year, Giroux is perhaps playing with a chip on his shoulder considering he's a pending unrestricted free agent at the end of this season. But Giroux has enjoyed playing and living in Philadelphia, and there's no reason to think he'll leave, and he'll hopefully sign on a deal that's friendly for both player and team in the summer.
Giroux's strong and consistent play has helped give Philadelphia a major boost this season as the captain has led by example time and time again. The Flyers currently sit third in the Metropolitan Division with a 6-2-2 record behind the Carolina Hurricanes and New York Rangers, though the Flyers have two games in hand on New York and maintain a better points percentage as well.
A lot of the chatter about the Flyers in the offseason and preseason revolved largely around the team's new additions and whether or not the goaltending would be back to playing to the ability it should. But Claude Giroux has been a resounding source of consistency for the Flyers this year, and should it continue, this team could be a bigger force this season than anyone could have imagined.