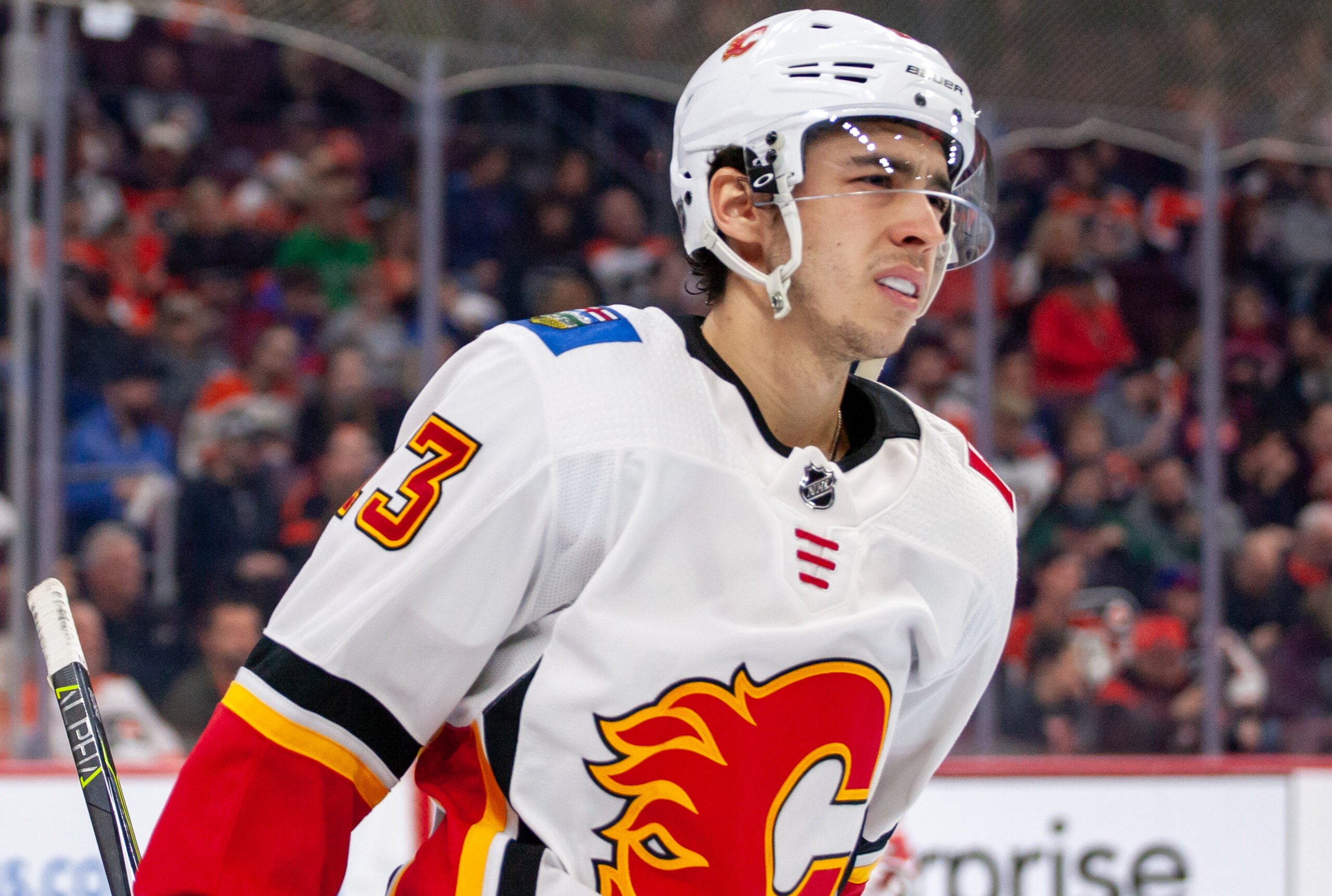 Let the Johnny Gaudreau Rumour Season Begin
With the Calgary Flames' season coming to a disappointing end, the rumours circulating Johnny Gaudreau's UFA status are going to take over the NHL, Calgary, and even Philadelphia. After finishing in first place in the Pacific Division, having the third best record in the Western Conference, and the 6th best record in the NHL, the high-powered Flames had Stanley Cup aspirations this season. They had to go the distance in their first round matchup against the Dallas Stars after Jake Oettinger almost pulled off the upset, but the Flames persevered in overtime in Game 7 to set up the highly-anticipated matchup against the Edmonton Oilers. 
The Battle of Alberta was a wild one with the Flames taking Game 1 in a 15 goal affair. However, Connor McDavid and Leon Draisaitl helped propel the Oilers to four straight victories as they were able to take down their provincial rivals on their home turf in overtime. Draisaitl had 2 goals and 15 assists in the 5 games, including 11 assists in his final 3 games, while McDavid provided 3 goals and 9 assists and the all important series-clinching overtime winner. 
Not how the Flames wanted to go down, especially after the season that their prolific top-line had. Elias Lindholm had 42 goals and 82 points, Matthew Tkachuk had 42 goals and 104 points, and Johnny Gaudreau had 40 goals and 115 points. Add in Andrew Mangiapane's 35 goals and the Flames had four 30 goal scorers on top of their Vezina-finalist goaltender Jacob Markstrom and his 9 shutouts. Now the Flames head into a very critical off-season because Gaudreau, Tkachuk, and Mangiapane all require new contracts after having career seasons. 
Currently on CapFriendly, the Flames have $55.575 million spread around 12 players with Gaudreau, Tkachuk, Mangiapane, and Oliver Kylington being the bigger names requiring contracts. Trevor Lewis, Calle Jarnkrok, Brett Ritchie, Ryan Carpenter, Erik Gudbranson, Michael Stone, and Nikita Zadorov are also on expiring contracts. In total, the Flames have $26.925 million in open cap space with the cap going up by $1 million next season to $82.5 million. The lone bright spot of this dilemma is that Tkachuk, Mangiapane, and Kylington are RFAs so the Flames possess their rights and will have a chance to match any offer sheets if teams are feeling villainous enough. 
Tkachuk is coming off a 3-year deal that paid him a $7 million AAV, Mangiapane is coming off a contract that paid him $4.85 million over the course of 2 seasons, and Kylington is coming off a one-year deal at $750,000. All 3 players will be getting raises for their performances this season and if the Flames choose to prioritize these 3, primarily due to age and available money, the Flames might not have enough left over to keep Gaudreau in the fold. It's been one of the worst kept secrets around the NHL for years in relation to the Flames and Gaudreau. For years, the Canadian media has been speculating his departure and have pegged the Flyers as a viable destination due to his fandom at a younger age, his close geographical proximity, and the fact that even he's mentioned it a few times in passing. 
When the rumours were being speculated by the Canadian media, the Flyers weren't as bad as they are now. Whether or not the last two seasons has made an impact on his decision remains to be seen, but you know Dave Scott and company will do whatever it takes to bring him to Philadelphia. Earlier in the season, Elliotte Friedman reported that the Flyers will be pursuing a big free agent after Scott's "blank cheque" statement and he narrowed it down to either Nazem Kadri or Johnny Gaudreau. The Flyers are desperate to bring the fans back into the fold after seeing a huge drop off in season tickets and TV viewership and there's no one who would be able to do that better than Gaudreau.
Drafted in the 4th round in 2011, Gaudreau has spent his entire career with the Flames, scoring 210 goals, 399 assists, and 609 points in 602 games. He's been apart of 5 playoff seasons, where he's played in 42 games, adding 11 goals and 22 assists, and most recently having scored 14 points in 12 playoff games in 2022. He won the Lady Byng Memorial in 2016, has represented the United States over several different tournaments including one World Junior Championship where he won the gold, won the Hobey Baker Award in 2014, and has represented the Flames in 6 All-Star games. Gaudreau should easily command upwards of $9 million per season and it wouldn't be out of the realm of possibilities if he were to get $10 million. After signing Tkachuk and Mangiapane, the Flames might feel Gaudreau's request could be too large, which allows other teams to circle the situation like vultures. 
The Flyers have a lot to do in the meantime to free up cap space for an eventual run for the best free agent in the class of 2022, they also need a new head coach which may or may not impact free agent decisions, and have a few question marks currently on the roster in terms of "do they stay or do they go?". According to CapFriendly, the Flyers are currently equipped with $5.11 million in open cap with Morgan Frost, Zack MacEwen, Owen Tippett, and Wade Allison needing contracts as expected RFAs. Nate Thompson, Keith Yandle, Kevin Connauton, and Martin Jones are impending UFAs but most likely won't be brought back.
To free up the necessary money to chase Gaudreau, the most logical decision will be trading James van Riemsdyk's final year of his contract which is worth $7 million AAV. It's not a desirable contract, but luckily he only has one year remaining and we have seen several teams over the years, primarily Arizona, take on bad expiring contracts to reach the minimum cap floor and take on future assets. The Flyers will have to sweeten the deal but without a second round pick in the next two drafts, it's going to be interesting to see what other teams will be asking for, one has to wonder if the Florida 2024 pick is on the table due to it still being a first round pick but most likely a very late one. 
The Flyers won't have much leeway in a deal like that if they want the other team to take on the entire contract but they do own several third round pick over the course of the next two seasons. The only issue is that the going rate keeps rising over the years as we've seen teams dole out 1st or 2nd round picks to get undesirable contracts off the book a la Marc Staal, Andrew Ladd, Shayne Gostisbehere, etc. 
In any case, the Flyers will then need to unload another contract as well, in the very likely case that they need to explore depth options for their forwards and defense. This year might be the first time in a long time that the Flyers won't be exploring a veteran backup goalie as they just recently signed Ivan Fedotov and have Felix Sandstrom waiting and ready in the wings should he re-sign. Oskar Lindblom's $3 million AAV could be explored further depending on where they see him fitting in their future plans. He played a lot of 4th-line minutes near the end of the season, had a very up-and-down season even after the coaching change, and that $3 million might be very valuable for the ultra-aggressive Flyers front office. 
Gaudreau will be looking to maximize his finances ahead of a very hot summer free agent market. After the season he just had, it will shock no one if he's had in the 10 million dollar neighbourhood. He's an elite player, he can score goals while being a playmaker as evidenced by his 40 this season, he's an elusive talent that the Flyers don't have, and he's "box-office" as Stephen A. Smith would say. The Flyers want to be popular again, the Flyers want the fans to come back flocking the Wells Fargo Center, and most importantly they want to win games right away. Will Gaudreau be able to help? Yes, and it really does help that he has some familiar ties to the organization as well with Kevin Hayes being close friends with Gaudreau.
The rumours are going to be insane moving forward, best to keep an eye on who's spreading them first, but it's still going to be a little fun having the Flyers involved even in the slightest form with some of the bigger names on the market. Friedman has already alluded to the fact that some teams will be calling the Flames in short order about possibly trading for his signing rights; just something to think about.