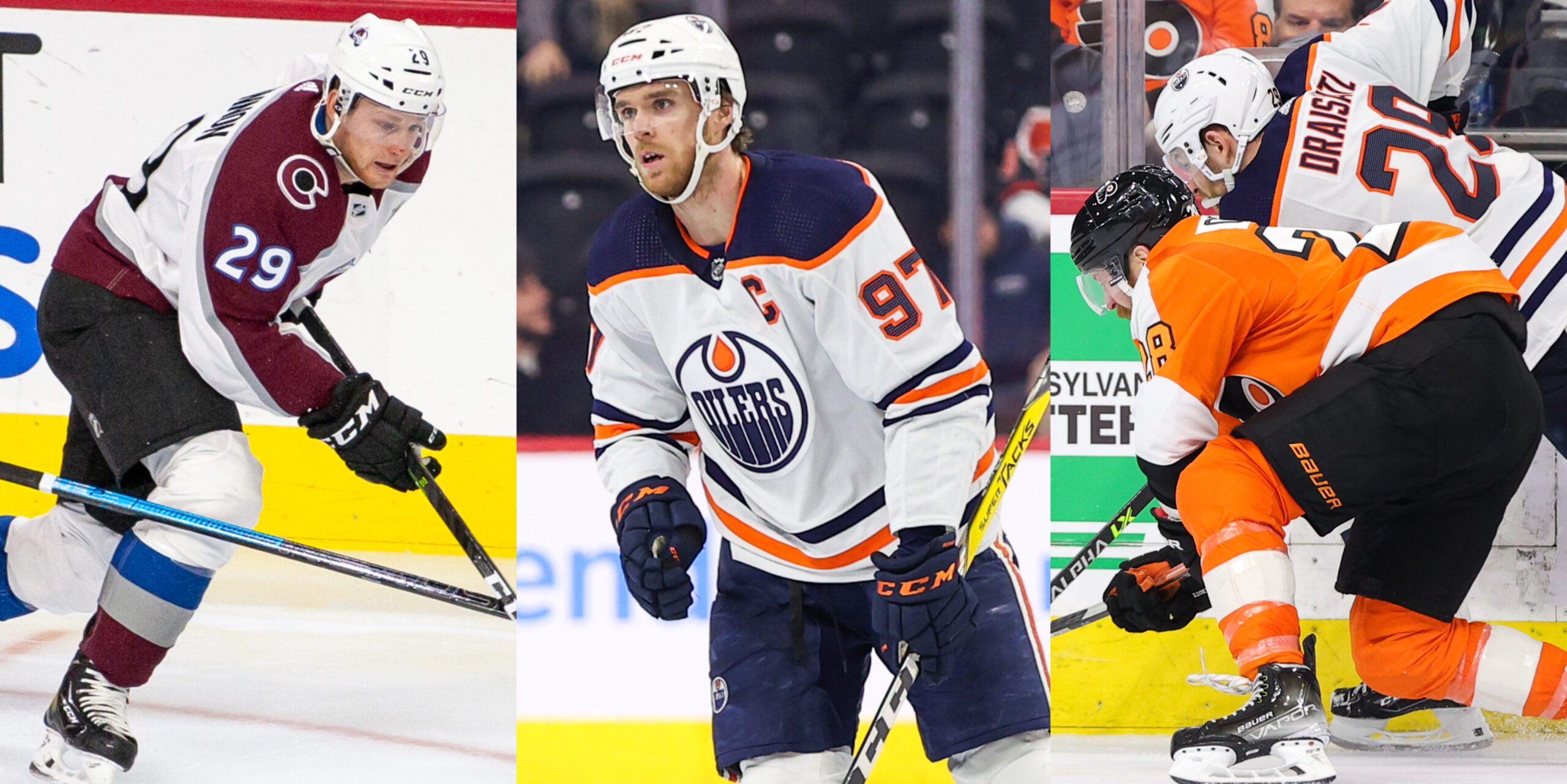 The Oilers and Avalanche Are Proving That Teams Generate Success, Not Individuals
Due to the fact that the Philadelphia Flyers haven't had a lick of success for well over a decade, it hangs over the franchise and the fan base like a dark shadow. It stirs up debates, arguments, and finger pointing that leads nowhere until the next debate, argument, and finger pointing article or news-piece; which brings us to Exhibit A: Claude Giroux and the Flyers from 2012-13 to the present. He was the face of the franchise, the captain, and the de facto leader during the most troubling times in franchise history, or at least in recent memory. The 10-game losing streaks, the alternating playoff years, the coaching carousel, the different general managers, and the identity being sucked out of the team has fallen onto the former Flyer for years. 
Is a captain really that all-mighty and powerful character that can will a team on his own? Definitely not, we've seen great captains over the course of many decades go ring-less or even playoff-less. We just saw the best player in the world in Connor McDavid, alongside his top-3 teammate in Leon Draisaitl, finally advance to the third round of the playoffs to face off against arguably the second best player in the world in Nathan MacKinnon in his first Conference Finals appearance. If they get no blame, or at least not the brunt of it, then why did Giroux – who, no slander intended, was not as touted or skilled as McDavid, Draisaitl, or Mackinnon – get every bit of the brunt in Philadelphia? 
Believe you me, going through the emotional roller coaster ride as a Flyers fan over the last decade and a bit has been stressful, unnecessary, and draining, however the architects of the teams deserve either the same amount of blame as the best players or more. This topic is like beating a dead horse but Giroux had some of the more untalented teammates that the best players in Flyers history never really had to deal with. Maybe we can't really say much about the 70s or even the 80s but between the 90s to the present, whoever the alpha male was, they had better players than Giroux was afforded. Paul Holmgren started this mess when he went Cup-hungry after losing in 2010, giving Ron Hextall the glorious job to fix his mess and try to steer the team towards relevancy again. 
Hextall's rebuild didn't really pan out, Giroux and Jakub Voracek had to play their best seasons with mediocre cast-mates, and even when they somehow made the playoffs after miraculous seasons by Giroux and Voracek, they were met by true playoff teams who knew how to shut down the opposition's best players; and it just so happened that the Flyers' dynamic duo were on the same line. You can make the case that Wayne Simmonds and Brayden Schenn were good to great players who don't get enough credit, but they were strictly power play players who didn't do enough or didn't drive play at 5-on-5. 
After that you had players like Valtteri Filppula, Jori Lethera, Dale Weise, Matt Read, Chris VandeVelde, Ryan White, Michael Raffl, Vincent Lecavalier, R.J. Umberger, Sam Gagner, and Nick Cousins, among many others who played a prominent secondary roles behind Giroux, Voracek, Simmonds, and Schenn. Sean Couturier was regulated to bottom-6 until 2017-18, Matt Read had 2 good seasons, Michael Raffl was a good bottom 6 player but not much of a top 6 player, Valtteri Filppula and Jori Lethera were afforded plentiful roles by Dave Hakstol when they weren't warranted, and Vincent Lecavalier and R.J. Umberger were way out of their primes. 
Defensively, the Flyers ran out with pairings that included Nick Schultz, Carlo Colaiacovo, a very injured and slow Mark Streit after a few years of productivity, a significant drop-off from Braydon Coburn, Pavel Kubina, Nicklas Grossmann, Brandon Manning, Andrew MacDonald, Luke Schenn, and Radko Gudas, among several others. Certain players played well like Streit, Gudas, and even Kimmo Timonen, but most played more than they should've and were tasked with much larger roles than necessary.
Last but not least, the goaltending was good when the offense struggled a la Steve Mason, but the Flyers relied on oft-injured goaltenders like Michal Neuvirth and Brian Elliott so much so that they were a tandem at one point, but could never be relied upon to combine for the 82 games. 
Which brings us back to the notion that a team is required to win hockey games, playoff series, and ultimately the Stanley Cup. Alexander Ovechkin, arguably the greatest goal scorer of all-time, played in over 1,000 regular season games and 13 seasons before he was crowned a champion. It took Steven Stamkos 803 regular season games and 12 seasons to be crowned a champion even after all the seasons surrounded by stacked talent and some could argue he wasn't "worthy" of that Cup because he was injured for all but one playoff game; luckily for him he was a huge part of the 2020-21 Lightning championship team. 
Former greats like Mats Sundin never won the Cup no matter how hard Toronto tried in the late 90s and early 2000s. Paul Kariya was one game short of delivering Anaheim their first Cup but never came close enough after 2003. Jarome Iginla spent 20 seasons in the NHL during his illustrious career but was never able to bring home the bacon, specifically for the Calgary Flames. He came close a few times, once with the Flames in 2003-04 and once with the Pittsburgh Penguins in 2012-13, falling to the team he vetoed a trade to initially in the Boston Bruins. Eric Lindros, who we all know so well from his time Philadelphia, was a fantastic player and a great captain but was never able to win a ring either.
Even if you want to bring in goaltenders into the equation, Roberto Luongo, Carey Price, and Henrik Lundqvist are a few modern names who played their hearts out, were fantastic for most of their career, if not the entirety, and were unable for one reason or another to help backstop their team to victories. Goaltenders are obviously different than regular players, but we've seen over the years several goalies be able to backstop their teams to wins, but it took a miraculous run from guys like Jonathan Quick or Jean-Sebastien Giguere, even though the latter fell in Game 7 of the 2003 Final before finally winning in 2007. Take out the outliers and you're stuck with the same conclusion that one great player, maybe even two, aren't enough to win you a championship in the NHL, no matter how talented or skilled they may be.