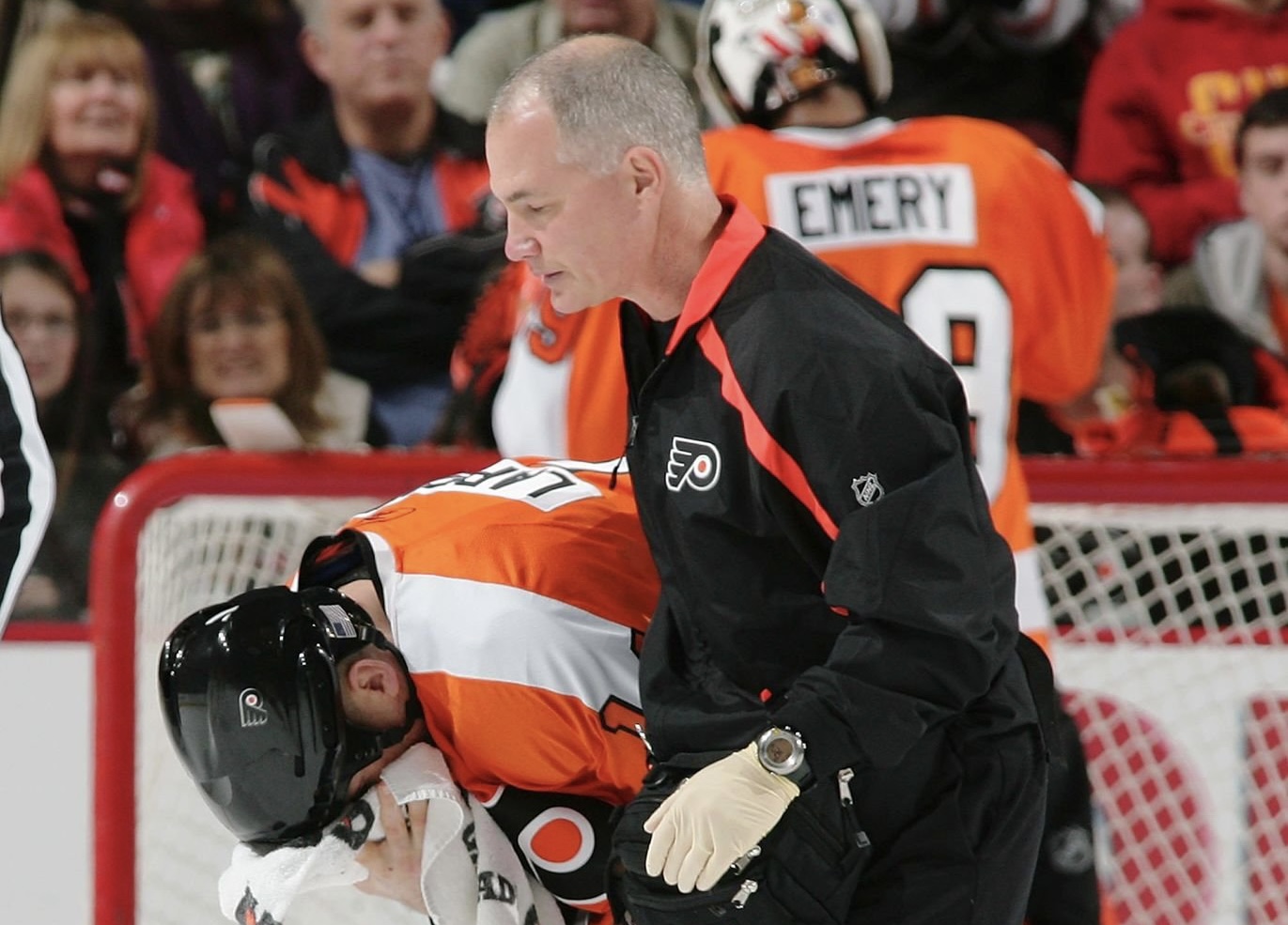 According to Philadelphia Flyers general manager Chuck Fletcher, the Flyers have not only kept Jim McCrossin around, but they have promoted him to a more prominent role in the organization.
McCrossin went from being the director of medical services for the club to taking a senior advisor role to the management team. Being one of the longest tenured members within the Flyers organization – since 2000 – the Flyers are seemingly very proud to make this announcement as they have a tendency to keep people around for a long time and promote from within.
According to Broad Street Hockey, Chuck Fletcher sent an email to other employees regarding the situation that read:
"This new role will allow Jimmy to step back from his day-to-day work with our players and will have him providing critical input and guidance to me and our entire staff as we move into the upcoming season.
As many of you know, Jimmy has dedicated more than two decades to caring for Flyers players, coaches, and many others – and we are excited that he will remain with the Flyers family in his new role."
McCrossin has been behind the bench for as long as we can remember and has tended to the needs of the Flyers for 20+ years and then some. He will always be remembered for his role as team doctor, however we also can't forget that just as recently as April, McCrossin and athletic trainer Sal Raffa were diagnosed with different forms of cancer that they allege came from chemicals from the Zambonis at the Flyers Training Center in Voorhees, New Jersey.
They ultimately sued and the case is still ongoing, with not much comment coming from either side ever since. However, it didn't help the cause when the Flyers insisted that both of their claims had no merit.
Raffa will also remain with the Flyers, but his role with the club has not been announced yet.
The Flyers' medical team has been under scrutiny over the last few years, especially with all the injuries piling up and most importantly all the re-injuries upon returning to the team – like Ryan Ellis and Kevin Hayes. Last month, the Flyers hired Ian McKeown as Vice President, Athlete Performance and Wellness. He was an outside global hire and is essentially in charge of all the comings and goings related to the health, wellness, conditioning, strength, and diet among other things.
Music City Hockey Trip
Take a three day vacation to Nashville with Philly Sports Trips this October! The package includes direct flights, a three night stay at the Cambria Hotel Nashville Downtown, an all-inclusive tailgate, and tickets to the Flyers Predators game. $100 cash for anyone who shows proof they went to the Flyers game on the trip.