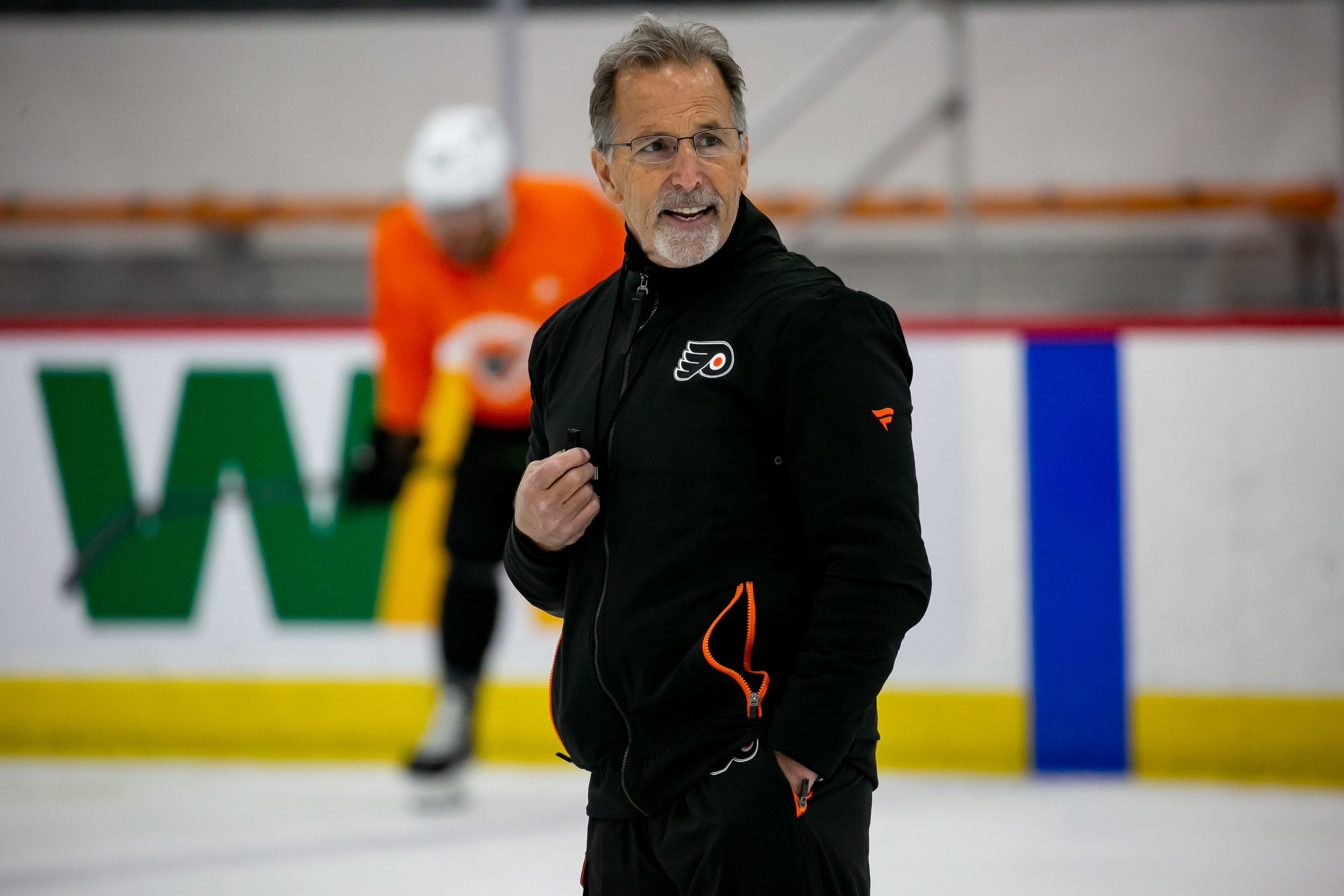 News and Notes from the First Day of Training Camp
Training camp has officially begun for the Philadelphia Flyers and as anticipated, head coach John Tortorella, put his team to work.
The legs feed the wolf. pic.twitter.com/V05wBYJcZB

— Philadelphia Flyers (@NHLFlyers) September 22, 2022
For the last couple of weeks, anyone representing the Flyers who has spoken to the media had made mention that training camp isn't going to be a joke, they're going to be worked to the brink of exhaustion, and Tortorella is going to instil a sense of team, comradery, and a system right away.
For those who attended the first day of camp, there was a consensus agreement that Tortorella was assertive, loud, and demanding. His voice could be heard all the way up in the press box, he had them taking on high-volume skating drills right off the hop (which included 17 consecutive minutes of laps), followed by suicides goal-line to goal-line, and by the end of it the players were "wobbly and hunched over".
While the skating drills were difficult for several players, the Flyers were happy to see guys like Kevin Hayes, Ivan Provorov, James van Riemsdyk, and even Nick Seeler excel in the drills. The drills and the bag skating were all fine and dandy for the first day, and the assertiveness coming from the head coach is exactly what we were promised but all of that was shrouded and covered by the dark cloud that is the injury report.
Flyers general manager Chuck Fletcher addressed the media and went into some detail regarding the status of their injured players that included Ryan Ellis.
.@NHLFlyers GM Chuck Fletcher gives a glum injury report. pic.twitter.com/VBBCNkPOTa

— Sam Carchidi (@BroadStBull) September 22, 2022
Last year the Flyers were without Ellis, Sean Couturier, and Kevin Hayes for a lengthy amount of time and they were hoping that by the start of the 2022-23 campaign, at least 2 of the 3 would be suiting up for the opener. It seemed like that was going to be case as well until Sean Couturier re-injured his back and now has a herniated disc, which will keep him sidelined for at least 12 weeks, and maybe the entire season, but they want a second opinion before making any sudden moves.
To most, if not all, Ryan Ellis was never going to suit up this season, especially due to the fact that he had not gone under the knife and that his rehab hadn't really begun yet. Ellis only suited up for four games last year, injured himself after the third game, returned a few weeks later only to re-injure himself, and then we never really heard much else until March when the Flyers declared he would not return. He went from day-to-day, to week-to-week, to 4-6 weeks, to out for the season and as usual the Flyers remained mum about it all.
There was belief it had something to do with his hip, some believed it had something to do with his core, and now we're finding out it's both and then some as he has a psoas muscle tear. "There's a psoas component, there's a hip component, there's an abductor component, so I'm not sure if you go in and repair on part it's going to fix everything." Due to the severity of the injury, the Flyers announced earlier today that Ellis is going to miss the season, won't undergo surgery (just yet), and maybe it's career-ending. Losing your supposed number-one defenseman as well as your number one centreman while the season has yet to begin is a bad omen.
Chuck Fletcher also announced that Patrick Brown underwent back surgery over the summer and probably won't be ready for the season opener, and that Joel Farabee is progressing better than expected but is still set to miss at least the first week or two of the season. All in all, the general manager mentioned that Couturier was seeing a specialist today where a treatment plan will be decided but that the injury didn't occur during a training session like previously mentioned. Patrick Brown had offseason surgery, Farabee is cleared for no-contact practice, Bobby Brink is nine weeks post-surgery and his timetable to return to play is somewhere in December or January, and Ryan Fitzgerald is out for 1-2 weeks with a lower body injury.
On the bright side – if there is one – Fletcher mentioned that the Flyers have begun contract negotiations with Travis Sanheim, who is set to become an unrestricted free agent at the end of the season. Sanheim signed a two-year contract extension last summer when the team filed for arbitration – a contract that counts against the cap at $4.675 million.
Fletcher said that "he's probably the only player on the Flyers who played to his capabilities last year" and it has been reported that the Flyers and Sanheim have mutual interest in getting a deal done. With several comparable contracts on his own team, Sanheim will be looking to cash in on his renaissance second half from last year when he went from 3 points in his first 22 games to 28 points in his following 52 games with a new head coach at the helm.
Ivan Provorov looked exceptionally good today and as we all know, he is a machine who constantly churns. His work ethic has never been in question, he is always in fantastic shape, and he was most definitely the best skater out of everyone from today's drills – so much so that he might've even lapped a few guys.
As for the fans that want more kids and prospects in the lineup versus the usual veteran-filled bottom-six, Tortorella said, "I'm gonna play the kids. We need to get a foundation going here. We need to get it back on the rails," and that is coming off the heels of Fletcher saying there could be at least 10 players under the age of 25 cracking the lineup – which was the "core" he was talking about at the end of the season. This is fantastic news for players like Morgan Frost, Wade Allison, Owen Tippett, Noah Cates, Jackson Cates, Tanner Laczynski, and Cam York, who are all looking to solidify themselves as every day players for the Flyers this season.
Tortorella was pleased with what he saw from his players today and understands that he put them through the gauntlet with the skating drills. He was watching and looking for their mental strength as they went through the laps and said that players go through mental and physical tests all season without even realizing it.
He was happy that they pushed through and mentioned players by name like Nicolas Deslauriers. "I went to Nic Deslauriers, he was ugly as hell after skating, he never stopped, and finished. As long as the finish was there. Mental toughness."
As for the outside noise and all the skepticism, Tortorella wants nothing to do with it and tries his best to shut it all out. He wants to bring "Hockey and Hounds" mentality to Philadelphia as he brought to Columbus and it all starts with the first day, the effort, and the mental strength.
Music City Hockey Trip
Take a three day vacation to Nashville with Philly Sports Trips this October! The package includes direct flights, a three night stay at the Cambria Hotel Nashville Downtown, an all-inclusive tailgate, and tickets to the Flyers Predators game. $100 cash for anyone who shows proof they went to the Flyers game on the trip.