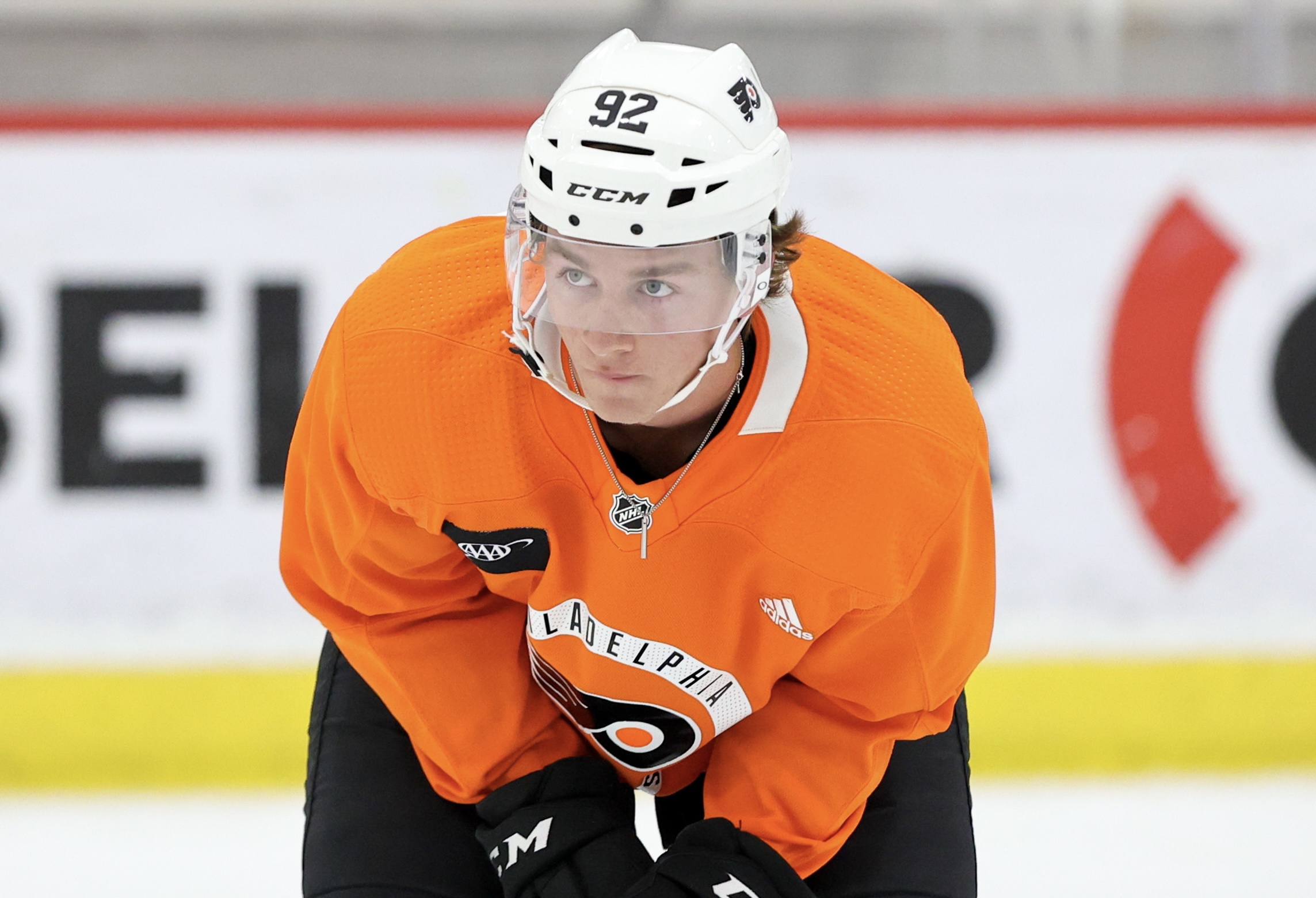 It May Be Too Early to Tell, but Alexis Gendron is Looking Like a Steal for the Flyers
Yes, it's obviously far too early to classify a 2022 NHL draft pick as a steal only one year later, but Alexis Gendron just had a fantastic season in the QMJHL that was split between the Blainville-Boisbriand Armada and Gatineau Olympiques.
The QMJHL is notoriously known for its high scoring games and prospects accruing well over 100+ points on a consistent basis. In fact, the same can be said about the OHL and an argument can be made for the WHL as well. However, drafted with the 6th-last pick of the 2022 NHL Entry Draft, Gendron finished 2nd in goals league-wide and 14th in points.
The Philadelphia Flyers drafted Cutter Gauthier (5th overall), Devin Kaplan (69th overall), Alex Bump (133rd overall), Hunter McDonald (165th overall), Santeri Sulku (197th overall), and Gendron (220th overall) to round out their 2022 draft class.
Gauthier finished his first season at Boston College with 37 points in 32 games, added 10 points in 7 games at the World Juniors, and currently has 2 goals at the World Championships. Kaplan finished his rookie season at Boston University with 23 points in 40 games. Bump played for both the Omaha Lancers and Tri-City Storm of the USHL with a combined 14 goals and 39 points in 48 games. McDonald scored 1 goal and 14 points in 35 games in his first season at Northeastern University of the NCAA.
The Flyers' original 7th round pick was used on Sulku, while the 7th round pick they acquired in the Tony DeAngelo trade was used on Gendron. The Flyers sent a 2022 4th round pick, 2023 3rd round pick, and a 2024 2nd round pick to the Carolina Hurricanes in exchange for the rights to the pending RFA defenseman and a 2022 7th round pick. The Flyers then immediately signed DeAngelo to a 2-year deal worth $10 million, while then announcing at a press conference that they actually focused all of their attention on acquiring DeAngelo rather than what many thought was going to be the summer of Johnny Gaudreau or even Alex DeBrincat.
The trade still doesn't look great, but at the very least they have something worthwhile – even if it's just after one completed season post-draft – in Gendron who scored 55 goals and 81 points across 63 games. The Flyers shelled out more valuable draft capital that they'd desperately wish to have back at the moment as they haven't owned their own 2nd round pick since 2021 and won't be selecting in the second round again – barring a trade – until at least 2025.
Gendron might make us feel a little better as he did chip in with 14 goals and 19 points in just 13 playoff games for the Olympiques. The Flyers have also had some success in the past with QMJHL players with the likes of Simon Gagne, Claude Giroux, and Sean Couturier, while also not forgetting about recent standout Elliot Desnoyers.
Gendron was a rookie in the QMJHL in 2020-21 for Blainville-Boisbriand and scored 9 goals and 14 points in 31 regular season contests before adding a goal and 3 assists in 9 postseason games. The following year – his draft year – he scored 30 goals and 46 points in 66 games and added 4 goals and 5 points in 6 post-season games. He took an even larger leap this season and recorded 22 goals and 34 points in just 29 games for the Armada before being traded to the Olympiques, where he added 33 goals and 47 points in his final 34 games.
EliteProspects' 2022 Draft Guide had this to say about the diminutive forward who stands at 5'9:
"He can pull the puck through opponents, make passes off walls, place the puck inside space for teammates, has decent off- puck instincts — where to go at what time — and generally shows anticipation in the game. There is deception, too."
Flyers website contributor Bill Meltzer had this to say about the prospect after he was drafted:
"However, Gendron rates highly in the areas of hockey intelligence and quickness. He's adept at using defenders as a screen. He has deceptive hands and ventures willingly into traffic. He also has a knack for anticipating where the puck is going; something that can't be taught. He has a quick stick and tracks the play well for a teenage player."
"In short, while one should not get too excited over Gendron's QMJHL scoring stats at the more typical draft-plus-two prospect age, it's also not fair to pigeonhole him solely because he was a late-round pick. There's some upside here, and the youngster has shown this season that his family ties to the Flyers organization via his father were not what spurred his Draft selection by Philadelphia."
Alexis Gendron's father, Martin, was a scout for the Minnesota Wild from 2015-16 to 2018-19 before joining the Flyers in 2019-20 – another one of Chuck Fletcher's many former Wild hires. It was reported by Meltzer that the elder Gendron excused himself from making the selection.
"As with his fellow Flyers scouting/development colleagues, Quebec-based scout Martin Gendron would have preferred if his son, Alexis, had been selected by a different organization in the 2022 NHL Entry Draft. The former NHL player recused himself from assessing whether the Flyers should consider taking his son if he were available in the latter rounds of the Draft.
However, based on the recommendation of fellow QMJHL-based scout Todd Hearty and the observances of Flyers assistant general manager Brent Flahr, Philadelphia selected Alexis in the seventh round (220th overall) in the 2022 Draft. In terms of pre-Draft national rankings, the player was ranked No. 141 by Central Scouting among North American skaters, while McKeen's ranked Gendron 71st overall among all draft-eligible players."
While the inflated numbers at the QMJHL-level should be taken with a grain of salt, let's also not forget that Gendron is just 19-years-old, he was also drafted with the 6th-last pick of the draft, and I don't think anyone should or would be expecting a 7th round pick to ever score 50+ goals in their draft+1 season. He will need to mature, play a more well-rounded game, and maybe add a few pounds to his 5'9″ frame – although 175 is rather stout for that height – Gendron has plenty of time to develop and could become a sneaky sniper for years to come.
Elliot Desnoyers was a 5th round pick out of the QMJHL in 2020, scored 35 points in his draft year before exploding for 21 goals and 49 points in 37 games the following season, and then took an even larger step forward with 42 goals and 88 points in 61 games in 2021-22. He ran with the momentum and confidence and translated that to scoring 23 goals and 44 points in 65 games for the Lehigh Valley Phantoms in his first professional season, while impressing John Tortorella and company in his short 4-game stint with the Flyers.
Gendron has a few former and current Flyers to look up to as he tries to follow their lead and make it on the big stage.