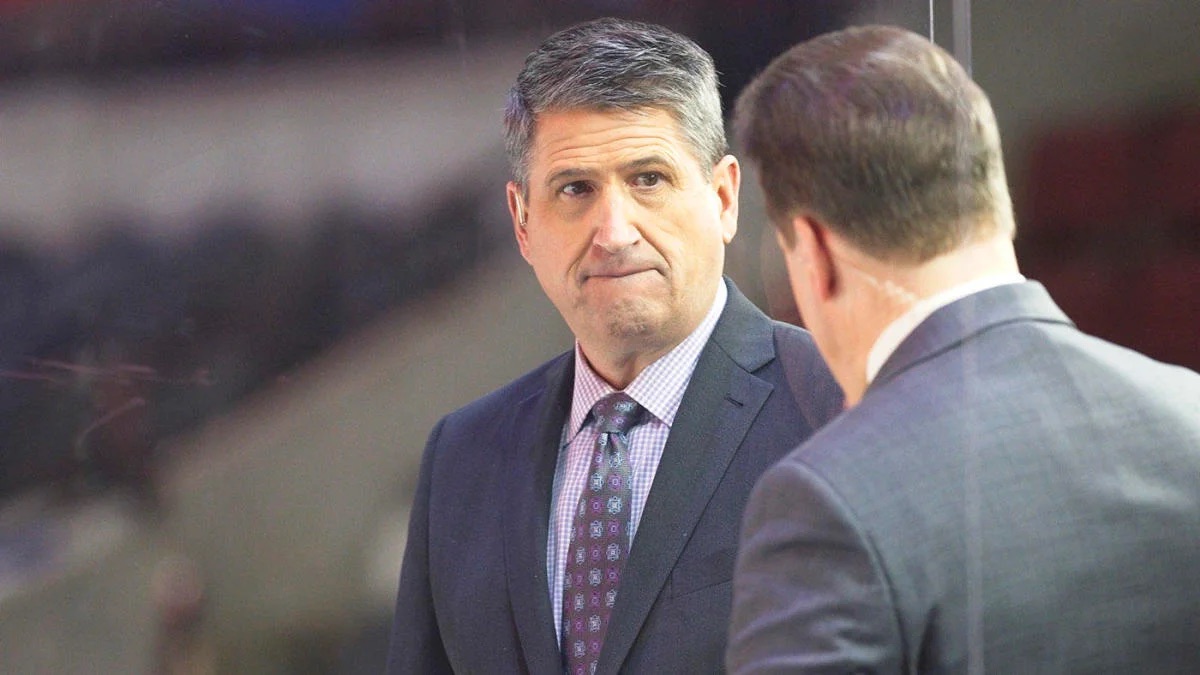 Keith Jones Wants to Build an "Advanced Back End", Believes in Tortorella's New Position, Can't Wait to Lend Helping Hand to Brière
The Philadelphia Flyers' newly minted President of Hockey Operations, Keith Jones, took to Frank Seravalli's podcast Frankly Speaking recently and the two former Flyers' media members talked about a variety of topics that Jones was able to discuss with a little more detail than his press conference when he was seated with Daniel Brière, Dan Hilferty, Valerie Camillo, and John Tortorella.
The #Flyers are attempting something no team has in cap era: Give the coach an equal seat at the table in player personnel decisions.

How will it work? Keith Jones explains.

Frankly Speaking | Ep. 14: https://t.co/XRheRuUuNE

Presented by @OLGproline: https://t.co/W0NLcrQgeP pic.twitter.com/z80z8v94Ii

— Frank Seravalli (@frank_seravalli) May 17, 2023
A big snippet that came from the 25 minute episode was how he wanted to essentially build this team from the back end and model it to one of his previous general managers when he was a player in David Poile. Poile's Nashville Predators, especially in the modern age, have always had stout defensemen, a strong core on the blueline, and were always a team built from the net and the defense than the other way around. They went from Kimmo Timonen and Marek Zidlicky to Shea Weber and Ryan Suter, to Seth Jones and P.K. Subban, to current captain Roman Josi and Dante Fabbro.
The Flyers tried that method when Ron Hextall was in charge because Paul Holmgren essentially left him with no pipeline, barely any promising prospects, and a defense that was aging and injured. Holmgren's final draft as general manager bore witness to him reaching for Samuel Morin in the first round, Hextall then proceeded to reach for Travis Sanheim the following year, before adding Ivan Provorov in 2015. The Flyers had also drafted Shayne Gostisbehere in the 3rd round in 2012 and Robert Hägg in the 2nd round in 2013 before signing Phil Myers as an undrafted rookie.
Fast forward more than half a decade later and Morin never really made it to the big leagues, Hägg was shipped off to Buffalo after a few disappointing seasons, Gostisbehere was traded as a cap casualty after a few quiet offensive seasons, Myers went from being touted as a fantastic rookie to disappearing into the press box the following year as he was shipped out to Nashville, and only Provorov and Sanheim remain, with the former almost likely being traded due to the latter's insanely large contract that is near-impossible to move.
Jones believes he can make it work, might have to make some moves here and there, but he wants an "advanced back end".
"And to really define what makes a team win and the blueline matters, the blueline to me is the most important thing. I learned a lot about that from David Poile when I played for him and there's a reason why David has been in the business for as long as he has, he always built an outstanding blueline. Would've loved to have seen him get over the top and win a Stanley Cup, there's some luck involved with that obviously but we want to have a really advanced back end." 
The Flyers have been porous defensively for well over a decade and that's putting it lightly. Anything and everything that they've tried to do over the past 3-4 seasons to mend the blueline has failed miserably.
Matt Niskanen was brought in and played incredibly well for one season before retiring, the Erik Gustafsson experiment failed miserably – his only career blemish offensively came in that one season with the Flyers – the Ryan Ellis trade bared no fruit whatsoever with an immediate LTIR injury, the Keith Yandle experiment was worse than the Gustafsson one, the Flyers overpaid and doubled down on Rasmus Ristolainen – who for his credit, had a good finish to his 2022-23 – and the Tony DeAngelo move could also be deemed an overpayment.
The Flyers are currently left with Provorov, Sanheim, Ristolainen, DeAngelo, Nick Seeler, and Cam York as their top-6 with Ronnie Attard, Egor Zamula, and Emil Andrae knocking on the door. However, the rumours will never end with Provorov and with how the season unfolded and subsequently ended, DeAngelo shouldn't feel safe either.
The Flyers could attack this problem through a variety of ways, but none more important than the upcoming NHL Draft. They were awarded the 7th overall selection and once the top-5 follows as it should with Connor Bedard, Adam Fantilli, Leo Carlsson, Matvei Michkov, and Will Smith off the board, the Flyers will have a some interesting choices after the Arizona Coyotes make their selection at number 6. It could be anywhere between Zach Benson, Ryan Leonard, Oliver Moore, or Dalibor Dvorsky – all forwards.
This draft is supposed to be very forward-heavy and the first defenseman shouldn't be taken within the first 10 picks. David Reinbacher and Axel Sandin-Pelikka should fall within the 12-18 range and amongst those teams, the Coyotes and Detroit Red Wings each have a second 1st round pick. Perhaps the Flyers can trade back into the first round, swindle a deal with either team or perhaps a more aggressive team looking to retool like the Buffalo Sabres (13) Pittsburgh Penguins (14) , Calgary Flames (16), or Winnipeg Jets (18).
Seravalli chimed back in with how the Carolina Hurricanes have built their team from the defense out and compared to many teams in the league, have done exceptionally well even with 3 of their top scorers out of the lineup these playoffs:
"It's interesting to hear you say that because I think that's one of the things that the general media standpoint we've missed in this year's playoffs is that everyone's talked about the Carolina Hurricanes missing 3 of their leading scorers, but look at their back end, it's probably as talented as any in the league and deep 1 to 6 as any for sure, that's obviously a big part of their success."
Jones and Seravalli essentially acknowledging that the old mantra of "defense wins championships" can still ring true. With the 4 remaining teams in the playoffs, the Hurricanes have Jaccob Slavin, Brett Pesce, and Brent Burns, the Florida Panthers have Aaron Ekblad, Brandon Montour, and Gustav Forsling, the Dallas Stars have Miro Heiskanen, Esa Lindell, and even Thomas Harley, and the Vegas Golden Knights have Alex Pietrangelo, Shea Theodore, and Alec Martinez. Each team still possesses good to great depth pieces too in Shayne Gostisbehere, Brady Skjei, Radko Gudas, Ryan Suter, and Brayden McNabb.
So when it comes to building a defense that could even slightly resemble any of the 4 remaining conference finalists, the Flyers will have to make some trades as well and not just try to build within the draft. Part of the art of negotiating is finding the right partners and suitors but also having a good reputation and good relationships yourself; something that Jones believes he possesses and can't wait to utilize alongside Brière.
"I'm so pleased that I'm in a position where I can help Danny, I do have a lot of great relationships around the league. As you know when you're starting to make deals and make trades, there's a lot of different people you wanna be able to talk to before you end up making that big trade. I've been called many times, by different people throughout the industry when they're looking to know a player a little better. I'm gonna be able to use a lot of those assets and a lot of the people that were reaching out to me, I'm gonna be reaching back out to them and introducing Danny to some of the guys he may not know.
"Those relationships really matter, I grew up with Rob Blake (in LA), was very good friends of course with Joe Sakic who I played with, Chris Drury is out there doing his thing in New York, Tom Fitzgerald – we both played together – there's a lot of guys that I'm connected with that are doing the best that they can for their teams."
It seemed like Chuck Fletcher had lost all semblance of respect by the end of his tenure in Philadelphia and when it came to trades or trade offers, and the Flyers always got the short end of the stick. James van Riemsdyk didn't have a good 2022-23 season but Fletcher made it out like it was the toughest trade to make and that he was almost a burden. He apparently had to remind rival general managers that van Riemsdyk was still good, the Flyers would retain half of his salary, and that he was ready and ripe for the taking. No one jumped at the offer as he allegedly only received 1 offer from Detroit, which was then taken back in the dying seconds of the trade deadline.
The Flyers also tried to trade van Riemsdyk last summer in a way to alleviate cap space for what many thought was going to be the signing of Johnny Gaudreau. The Flyers had no takers and any team that was going to take the final year of his contract was also interested in the Flyers first round selection that summer – the 5th overall pick. Many thought they could dangle the 2024 1st round pick from Florida, but somehow no one even considered it.
We saw almost every contending team adding 1-2-3 players at the deadline, a lot of them having similar skillsets and roles to van Riemsdyk. Some were even lesser players compared to the veteran, yet somehow the Flyers were the only team incapable of moving a 50% retained 2-time 30-goal scorer.
With Fletcher out of the picture and a new front office taking shape, John Tortorella has gained a lot of notoriety and presence within the organization. The fiery head coach will now have a seat at the dinner table and will have a lot of sway and say in terms of player personnel – the ins and outs of the roster. Jones has no problem with that. In fact, he is very excited that the Flyers are currently one of the few teams doing that.
"I really liked the concept behind it, I think it's really unique, I don't think it's something that's been done around the league. People around this area want change, they want things to be different, and this is different. I so much look forward to the conversations with Torts, I've known him a long time away from the rink, I know how much he cares, I think that is the number one thing.
"He wants this team and this organization to get back on the map, his intentions are in the right place. He talks a lot about accountability, so when a coach has a little bit more say, he's got probably a lot more accountability in my eyes. So he's going to be putting his word out there and he's going to be looking to back it up with the players that come in and join this team.
"He has a great feel how to build a team, I have no problem in sharing ideas with him. We're gonna have some arguments, I'm sure along the way, but I appreciate his opinion, I appreciate what he's done throughout his National Hockey League career, I've watched it closely, I've had many conversations with him, we see the game a lot alike, and there's some things that we – that I – would do differently, and that's what we're going to communicate about with Danny of course, and I think it's interesting and unique concept that I think we're gonna have some really good results with, but obviously time will tell that story but I'm pretty confident about it." 
Having Tortorella behind the bench was one of the reasons why Jones was even interested in the position in the first place. He has mentioned it countless times now but of course it's a very prestigious position, he was a former player, he wants to bring Philadelphia hockey back from the dead, and all his past experiences as a player and broadcaster made this choice a slam dunk. However, if this was presented to him 2 years ago, things might've turned out differently.
"2 years ago was about as bad as it's been, I would've been a lot more hesitant on taking over this job based on what was happening 2 years ago. I do think that John Tortorella did an outstanding job and started to build this team back in the right direction.
"I think, obviously, we have a long way to go but the foundation is starting to come together, I feel a lot more pleased about the opportunity based on what I saw last year. 2 years ago in contrast when the Flyers were down 3-0, 3 to 1, that game ended up 6-2, sometimes 8-2, it was not a team that battled through and made you feel that they were making steps in the right direction. Last year, they got down 3-0, they often came back and tied it 3-3.
"They might've lost 4-3 in the end, but they were much more competitive and made you feel a lot more pride when you left the building based on the advances they were making. I only think that's going to get better in the future, not sure about the near future, but I know that the compete level is going to be there in the future."
As the colour commentator and covering countless games for this franchise, Jones had a different outlook and insight on the Flyers. He might not have been able to share his exact opinions on air, but there were times where you could tell that both he and Jim Jackson were fed up. Even with their high-ranking positions, they are fans just like all of us and they want what's best for the club first and foremost. 2 years ago, this team looked dead in the water, they were losing games before they even dropped the puck, and the body language was bad as it could get.
Of course, last year wasn't a great season categorically, statistically, and everything in between, however it is hard to deny that there was a different feel to this rendition of the Flyers. Tortorella tried his damnedest to weed out the outliers, the undesirables, and the players who didn't want to be here.
It is now up to the new "three-headed monster" to turn things around in a more modern-approach to managing a hockey team. It won't be just one voice, there will be 3, however it seems that that's the way they want it and most importantly all the background people and noises will be effectively shut off.
Jones, Brière, and Tortorella have a tough task ahead of them, but at the very least they're saying the right things, and it's all about executing from here on out, which starts with the draft.