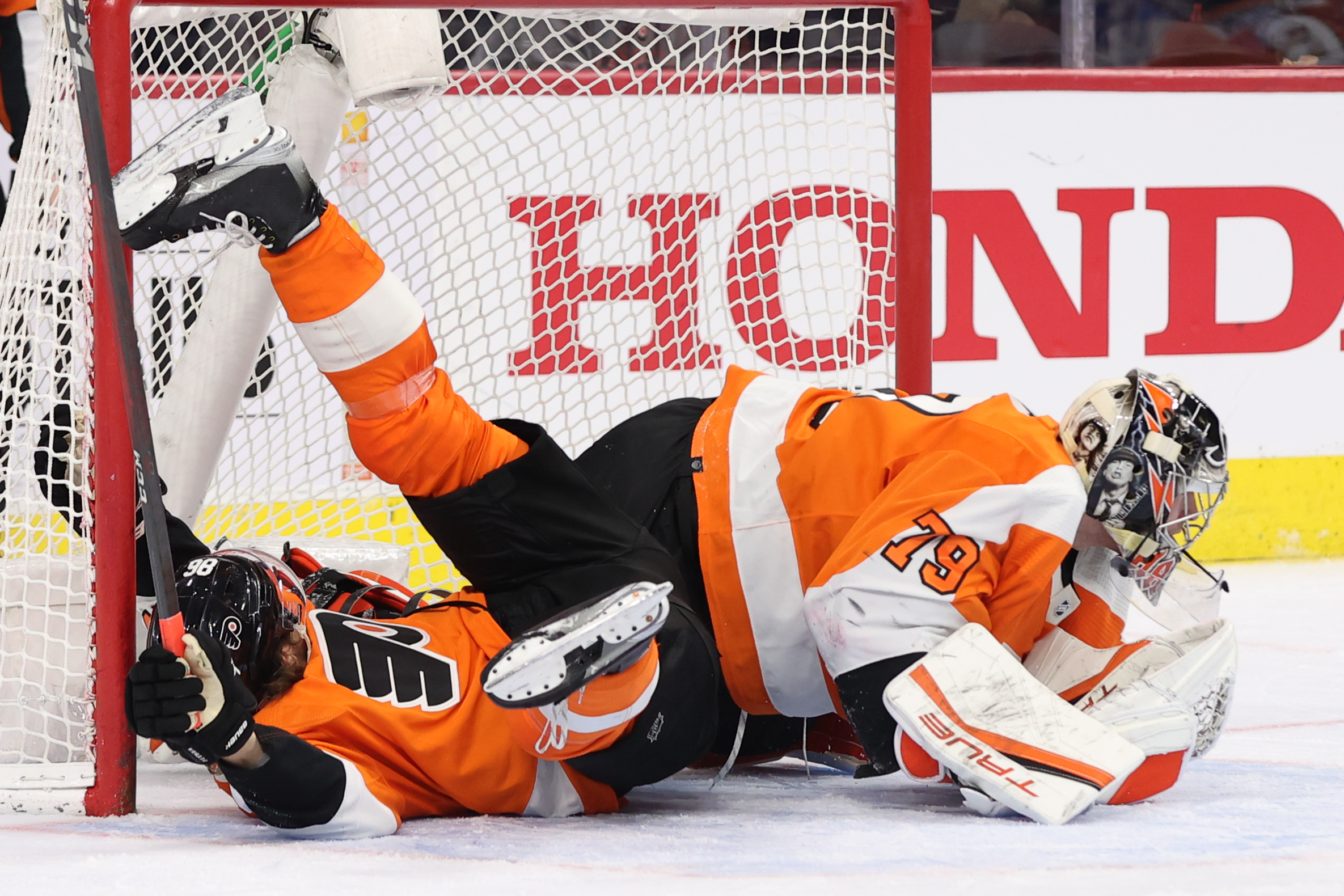 No matter how bad things get in Philadelphia, the Flyers' management group, their executives, and the front office personnel will never admit to or commit to a full-scaled rebuild.
The mindset that remains amongst this group is that the Flyers can finagle their way back into contention with a little bit of luck and re-tooling. This might've worked in the old NHL, where the salary cap didn't exist and the Flyers actually fielded a team that was capable of making a run.
However the current state of the organization – or at least the last decade – has them stuck in a middling purgatory, where they aren't good enough to make a deep run but they're also not bad enough to get the first overall pick and start from the ground up.
The latter option has a lot to do with the men in charge and after going through the Ron Hextall era, it doesn't seem like they want to go back – in fact, it seems like they believe that was the wrong course of action. You can play both sides of that argument because what Hextall tried to accomplish didn't come to fruition. With all the picks he hoarded, with all the prospects he selected, the Flyers are no better off than when they started the rebuild.
However, Hextall's stated from the beginning that it was going to take 4-5 years to get the Flyers out of salary cap hell, re-stock the pipeline, and build from within. He was dismissed before his vision was supposedly going to be set in motion as they were entering the summer of 2019 with almost $35 million in projected cap space.
For lack of a better word, his prospects and his dream of building from within didn't work as we all had thought and hoped for. Yes, the Flyers have Ivan Provorov, Travis Konecny, Travis Sanheim, and Carter Hart – which is a good start – however not much of his other picks worked out, a lot of his higher draft picks haven't panned out, and the jury is still out on a few first rounders.
Even with the aforementioned quartet, it hasn't been smooth sailing in the slightest as they have all struggled mightily over a stretch of 2 or more years and even though they represent the young nucleus of the team, they have also found themselves on the chopping block over the last few seasons, probably with the exception of Hart.
When Hextall took over, the Flyers had recently lost in the Stanley Cup Final after a Cinderella run in the spring of 2010. They remained elite for a few more seasons but flamed out in the playoffs via a second round sweep in 2011 by Boston and then a disappointing second round defeat at the hands of the New Jersey Devils in 2012. Then the coaching carousel began, the locker room division started to grow, and the Flyers started alternating between making and missing the playoffs for a solid decade.
Within that decade was a lot of fluff, a lot of promise, a lot of inexact truths, and overall a waste of 10-12 seasons. Once fired, the front office and higher executives started throwing shade towards the old regime of Ron Hextall, stating he was dictatorial, there was only one way of doing things, he kept them out of the dark, and how it was almost a waste of time.
Nothing burns the fire more than bringing up the Nolan Patrick debacle in the summer of 2017. After jumping 11 spots in the draft lottery, the Flyers found themselves in the mix for Nico Hischier or Nolan Patrick – two seemingly bonafide future studs that would help the team move their rebuild a little quicker than anticipated. The Devils selected Hischier with the first overall pick, the Flyers selected Patrick, and then Miro Heiskanen, Cale Makar, and Elias Pettersson followed. There were rumours even back then about Patrick's supposed work ethic and attitude problems, but not entirely enough to get him out of the 1-2 conversation.
Fast forward a few years later, Patrick flopped in Philadelphia after several seasons of no production and a slew of injuries, Heiskanen, Makar, and Pettersson came out of the gates red hot, and the Flyers traded the disgruntled forward as a part of a three-team trade in the summer of 2021.
Bobby Clarke mentioned on a podcast earlier this season – and it was also mentioned a few times over the years – that the Flyers' scouts tried their best to sway Hextall's mind away from drafting Patrick as they were enamoured with either Makar or Heiskanen. The former general manager said that the Flyers were irate with the selection, left in the dark with the Brayden Schenn trade that followed, and disagreed with several picks he ended up making in high-leverage positions.
A lot that has been done since his dismissal seems to be a way of trying to purge the seasons between 2014-2019. A lot of his prospects have either been let go, not signed, or traded, and a lot of his players soon left the team. Even the entire front office got remodelled.
Chuck Fletcher was more of a Paul Holmgren and Bobby Clarke-type general manager to begin with as their philosophies matched, their desire to make big moves were on par, and they also had the same passion for moving future assets in an attempt to win now. The Flyers came to a realization that the "rebuild" under Ron Hextall did not work, therefore they can now forego any thought of another one.
This team was then placed in an unfortunate win-now mode and they need it more than ever because they were afraid of how the team stood amongst the fanbase and the other sports teams in the city. It seems like a lot of the moves they've made over the last few seasons have failed and failed miserably, yet they are still on the same course and trajectory that they set out from their successful campaign in 2019-20.
You would think after two consecutive failed seasons, a third surely coming up, a pipeline not yet ready to burst, and a current NHL roster that doesn't compete with many teams in a difficult division and conference, that they would sit back and realize a rebuild is required. The Flyers were out of the playoff picture last season in December-January, and they had 3-4 more months of hockey still left on the docket to come to this realization, yet they bungled their trade deadline, did nothing in the offseason leading up to the draft, and then floundered when the free agency window opened, only for more misfortunes to follow well after all the bigger names were signed and/or traded. For a team that spoke so highly about re-tooling and making the required moves to get them into contention now, they fumbled the bag on Alex DeBrincat and Johnny Gaudreau, two players who surely would've helped them reach their unrealistic goals.
Now, I think most fans within the fan base understand that a rebuild is necessary, but what we want is irrelevant to what the team is actually going to do. We can kick and scream about the moves they should be making or the moves they need to make, but the front office and ownership group sees this team in a much different light than we do.
They want a winner now, they want the playoffs now, they want to boost and increase revenue and profit now, and they don't want a third, fourth, fifth, or sixth consecutive failed season. This is a team that failed to make the playoffs a grand total of eight times from 1967 to 2012 – five of which came in consecutive seasons in the late 80s and early 90s – they don't want to keep falling in the eyes of the city, they don't want an empty Wells Fargo Center on a consistent basis, and they don't want the hate and vitriol to continue. In their minds, another re-tool is the solution. However as much as they don't want the rebuild, the universe keeps throwing a wrench in their plans and might be helping the rebuild come to pass.
Ryan Ellis' injury is freakish in nature and in length as it seems like he's going to miss all of the 2022-23 season after missing all but 4 games this past season. Sean Couturier re-injured his back after gaining clearance about a week ago and his season hangs in the balance due to the nature of a herniated disc. Joel Farabee had a freakish injury in the offseason, Kevin Hayes is coming off a season where he had a myriad of costly injuries before puck drop, and even young prospects like Bobby Brink are out long-term. Add in the unfortunately bizarre tale of Ivan Fedotov, the fact that teams wanted a 2023 first rounder for James van Riemsdyk, and that the Flyers couldn't afford a hometown boy in Gaudreau because they instead chose to prioritize Tony DeAngelo helps the cause a little – the cause being a rebuild without being able to utter the words.
The Flyers are about to enter the season without their top forward or defenseman, likely without them for an extended period of time that could stretch into 2023-24, and no salary cap to work with without the help of long-term injured reserve. Once placed on LTIR, the Flyers will be walking around with a lot of cash but no one to spend it on as they are well past the free agency window, not many players to trade for, and not many exciting or attractive assets to trade away.
For a team that was against another rebuild, for a team that was so sure they were going to be able to contend if healthy, and for a team that balked at the chance of actually improving their team with big moves over the summer even though that's what they kept saying they were going to do, it sure seems like a rebuild is afoot. The universe has spoken and it's taking care of business the way it should – in theory.
In its cosmic magic, we are witnessing one problem after another and the issues are getting worse by the day. If it wasn't bad enough that Fedotov wasn't going to be able to suit up for the Flyers, he was detained and is going to remain in Russia for an extended period of time.
If it wasn't bad enough that Ellis missed all of last season, didn't opt for surgery the entire time, and his said rehab and rest was going to be the plan, he is now set to miss the entire 2022-23 season and still isn't opting for surgery any time soon.
If it wasn't bad enough that the Flyers were plagued with injuries early last season, they now have to deal with it again as Farabee and Couturier won't be ready.
If it wasn't bad enough that Martin Jones wasn't the capable backup goalie the Flyers were hoping for, they now are rolling with the inexperienced Troy Grosenick or Felix Sandström.
That's also not forgetting how the offseason unfolded with the opportunity to acquire a big name player but instead the Flyers opted for bottom-of-the-lineup depth in Nicolas Deslauriers and Justin Braun.
However you roll the dice, it isn't looking good as the Flyers are approaching Park Place and Boardwalk with hotels on both with very little money in hand.
Nevertheless, new blood is required, a new leader is absolutely necessary, and a new voice needs to be behind the Flyers moving forward. Whether or not Dave Scott and company find a new general manager remains to be seen, but one would have to think that Fletcher is on really thin ice right now. It wouldn't be all too surprising either if they decide to keep him for an extended period of time. The way they talk about his tenure, how he's built a team, and what the prospects look like for the future seasons, it sounds like they're more than happy with how things are going and will continue to hope for a bit of luck in their future endeavours.
As of right now, it seems like the team sees their future in a much different light than the fan base but one thing is for certain and that is this upcoming season is going to be a gruellingly long and tough one without the services of Couturier, Ellis, or any bonafide stars. After selecting fifth overall in this last draft, the Flyers might be in the mix for a really good young player in the summer of 2023.
The hiring of John Tortorella wasn't a rebuilding move as he was the only coach on the market that could actually be able to turn things around. He is the last hope and the last string to cling on for this current regime, and if things don't pick up in a hurry, changes are afoot in Philadelphia.
Music City Hockey Trip
Take a three day vacation to Nashville with Philly Sports Trips this October! The package includes direct flights, a three night stay at the Cambria Hotel Nashville Downtown, an all-inclusive tailgate, and tickets to the Flyers Predators game. $100 cash for anyone who shows proof they went to the Flyers game on the trip.