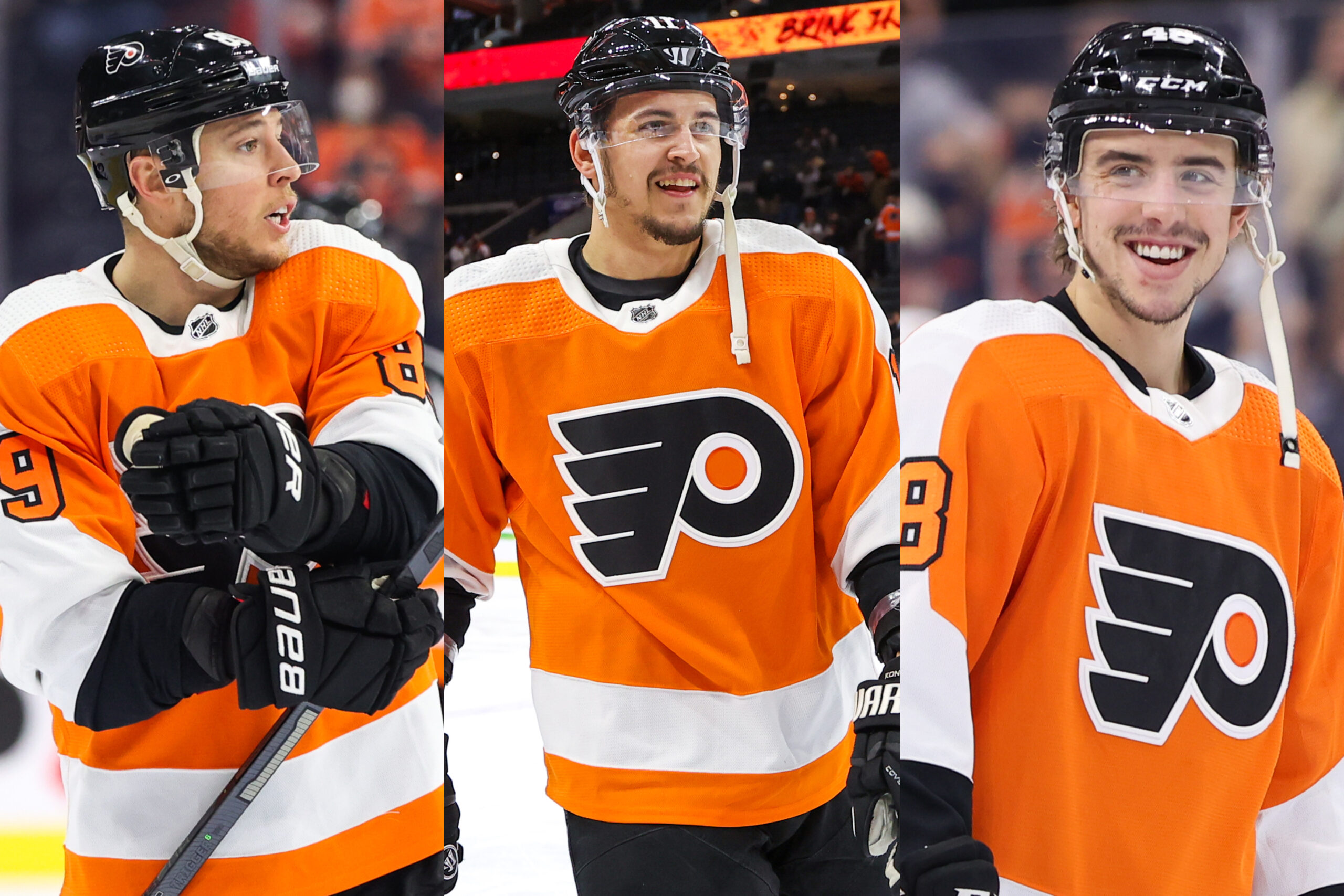 One Forward Primed for a Big Season Versus Two Forwards in Need of a Big Season
We don't want to see another failed season, we don't want to have to sit through another seven months of head-scratching hockey, and for that to not happen there are certain players that have to step up and make a difference from the moment the puck drops on the 13th of October at the Wells Fargo Center.
Amongst the forward group, there are several players primed for a good season and then there are several players who are in need of a big season – for one reason or another. Before the injuries started to pile up, the Flyers needed everyone to be on the same page, but now it's more important than ever without the services of Sean Couturier and Joel Farabee to start the season.
If there is a silver lining it's that the Flyers at least have Kevin Hayes healthy and raring to go, Cam Atkinson looking to improve on a pretty good first season in Philadelphia, and Travis Konecny looking to lead the team in points for the third time in 5 years, among several other possible standouts. For this exercise we look at one player primed for an opportunistic season and two players desperately in need of a good season.
Forward Primed For a Big Season 
To choose one player for this category is a little tough this season but I think if there is one player who is raring to get on the ice and show off for his new head coach it would be Cam Atkinson. The right-winger and former Columbus Blue Jacket came to Philadelphia in a draft day trade in 2021 in exchange for long-time Flyer Jakub Voracek.
The Flyers were purging their roster, yet again, of the negativity and Voracek was one of the few players who was clashing with the then-coaching staff that comprised of Alain Vigneault and Michel Therrien.
In Atkinson they were getting a shoot-first player, a good penalty killer, constant energy and effort, and a goal scorer. Atkinson was coming off a six-year stretch where he played in 408 games, scored 154 goals and 290 points while firing 1,298 shots, added in 14 shorthanded goals, and that included seasons with 35 and 41 goals, respectively. Both teams were looking for a change, both players were on their former teams for a very long time and felt a change of scenery would be best.
Atkinson chipped in with 23 goals and 50 points in 73 games in his first season in Philadelphia and was more or less the best forward on the team, especially after the departure of Claude Giroux. His season, like the Flyers', started off great as he scored 6 goals in his first 5 games, including two game-winning goals. Then he went on a little bit of a tailspin as the team started to falter in the standings as well as he only scored one goal and 4 points in the following 15 games.
Once Vigneault was let go, it seemed like the dark cloud was floating away for several players, Atkinson included. He started to light up the boxscore after a disappointing run of 15 games, he chipped in with 10 goals and 26 points in his next 28 games. With the trade deadline looming and the rumours intensifying on the Claude Giroux front, Atkinson finished off the remaining 12 games with his line-mate adding 5 goals and 9 points. All in all, he scored 15 goals and 35 points in a span of 40 games after an early-season bump.
Once Giroux was traded, the team continued their downward spiral and Atkinson wasn't averse to that trend either. Before ending his season on the injured list after a check from Tom Wilson, Atkinson went on a 13 game stretch where he only scored 1 goal and added 3 assists. The season was over a long time before the Giroux trade but you could tell there was a different feel once he found himself on the Florida Panthers. In fact, Atkinson finished the final seven games going pointless and finishing with a -8 rating. However, as is the case with goal scorers, there are going to be lulls in a season.
To make matters worse, the Flyers were dealing with injuries to key players and were fielding a very young team by the mid-way point of the season. Scoring 23 goals and 50 points in 73 games for a very bad team is a pretty good feat nonetheless.
Taking into account how well he played in that 40 game run midway through the season, how the Flyers are fielding a somewhat healthier team heading into October, and that he was a big reason in the Flyers going after John Tortorella, it seems very likely we see a repeat of last season and then some. At the end of the season, he went up to the management team and asked them to pursue Tortorella and he was vocal about his time with the head coach in Columbus and how he made him a better player (as evidenced by his 41-goal season), and that the Flyers needed a new voice and a system in place for relative success.
After getting his feet wet in his first season, getting the head coach he vouched for, and at least having Kevin Hayes to play with, Atkinson is primed for a big season and if he remains healthy he should easily be vying for a 30-goal season – something the Flyers haven't had since Sean Couturier's back-to-back 31 and 33-goal seasons in 2017-18 and 2018-19.