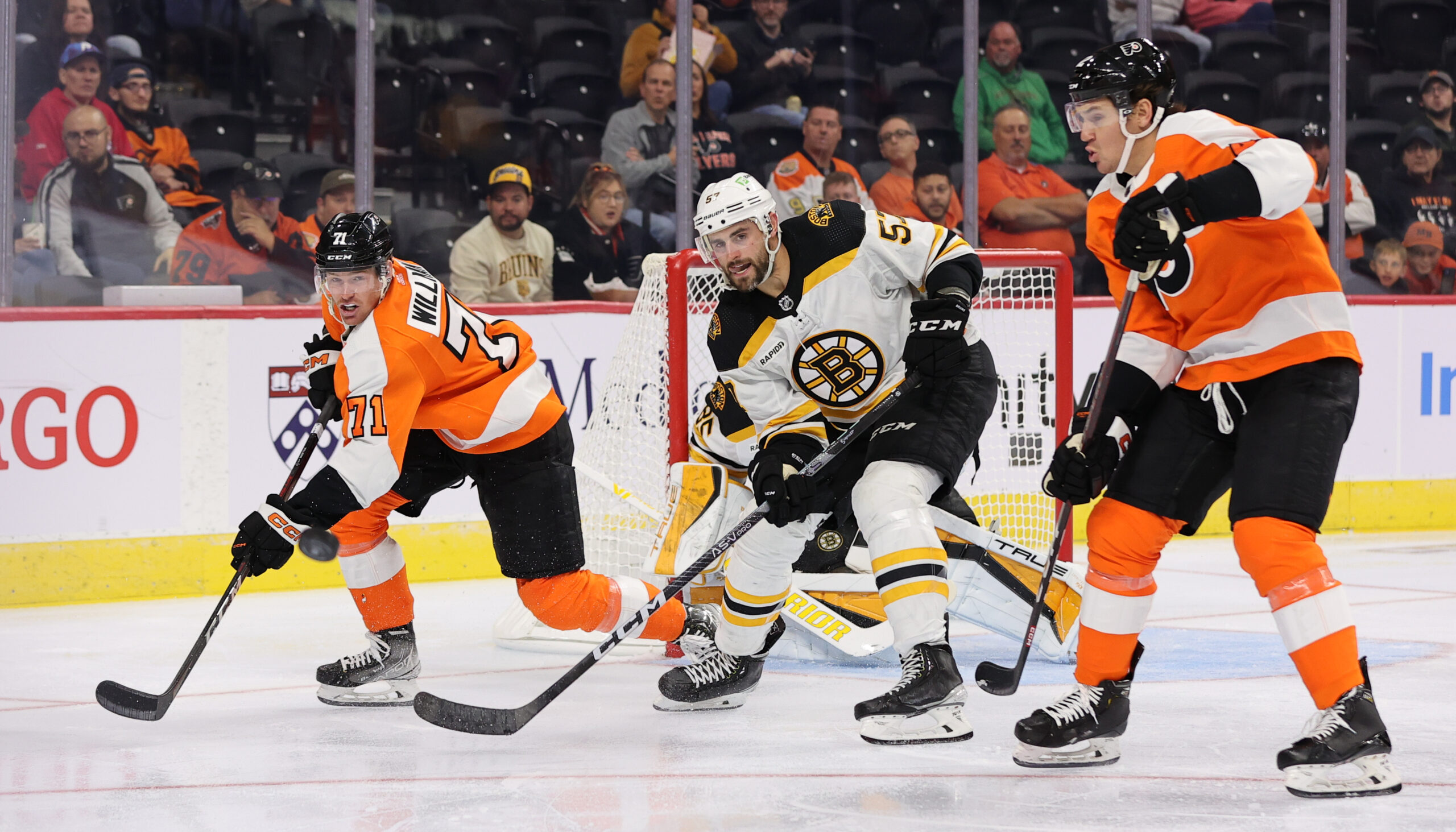 Flyers look to repeat success from team's first win against today's foes, avoid three-game skid
The Philadelphia Flyers, while making visual improvements to their two-way game, have not been scoring a lot of goals.
In their last two games, they have failed to score more than 1 goal, and it's something that needs to improve at the midpoint of the preseason. Many will look forward to seeing the Cates brothers return, and hopefully provide a boost in the offensive zone.
We expect Felix Sandström to start and Troy Grosenick to play as backup. Sandström gave the Bruins fits in their first match of the preseason, stopping all 17 shots he faced in the 2-1 win last Saturday, followed by Grosenick stopping 14 of 15 shots and getting the win.
Bruins projected starting goalie Linus Ullmark will make his preseason debut today. The Bruins are coming off of a 3-2 overtime victory in TD Garden, tying the game in the third period and then evidently winning in overtime.
The Flyers, while anxious to halt their first three-game losing streak of the preseason, have played more games than Boston. The Bruins last played on the 27th, while the Flyers played on the 27th and the 28th.
We'll also see a stronger lineup with more NHLers, and the others who survived the first big round of cuts before the season starts. We look forward the the Cates brothers' return, and some more execution and delivery by some of the veterans and new players on the team.
Last Game PHI: 9/28/22, 3-1 L vs Capitals
Last Game BOS: 9/27/22, 3-2 OTW vs Rangers
When: 1:00pm ET
Where: TD Garden, Boston, MA
PHI Goalie: Felix Sandström (0-4-1, .910 SV%, 3.23 GAA, 0 SO w/PHI, 16-18-5, .902 SV%, 2.89 GAA, 2 SO w/LHV in 2021-22)
BOS Goalie: Linus Ullmark (26-10-2, .917 SV%, 2.45 GAA, 1 SO w/BOS in 2021-22)
PHI Projected Lineup
#62 Olle Lyckell – #13 Kevin Hayes – #74 Owen Tippett
#25 James van Riemsdyk – #59 Jackson Cates – #42 Hayden Hodgson
#49 Noah Cates – #48 Morgan Frost – #52 Tyson Foerster
#22 Adam Brooks – #58 Tanner Laczynski – #17 Zack MacEwen
#6 Travis Sanheim – #55 Rasmus Ristolainen
#54 Egor Zamula – #24 Nick Seeler
#45 Cam York – #47 Ronnie Attard
#32 Felix Sandström
#29 Troy Grosenick
BOS Projected Lineup
#18 Pavel Zacha – #37 Patrice Bergeron – #74 Jake DeBrusk
#71 Taylor Hall – #46 David Krejci – #21 Fabian Lysell
#17 Nick Foligno – #92 Tomas Nosek – #14 Chris Wagner
#11 Trent Frederic – #19 John Beecher – #26 Marc McLaughlin
#28 Derek Forbort – #67 Jakub Zboril
#65 Nick Wolff – #75 Connor Clifton
#54 Jack Ahcan – #60 Kai Wissman
#35 Linus Ullmark
#30 Keith Kinkaid
News and Notes
– Olle Lycksell made a heavy push for a roster spot and has so far looked like he's belonged here, which was reflected in a somewhat surprising update that he was not a part of the roster cuts. While he still has a long road to go, he's legitimately created a chance for himself to start the season with the Flyers. Keep your eyes peeled on him, we'll be seeing him sooner than later in the NHL.
– The Debut of the Provorov – DeAngelo pairing on Wednesday looked very much like a pair of guys who've never played together. Whether or not this ends up working, only time will tell.
Broadcast Info: TV – NBC Sports Philadelphia+, Radio – 93.3 WMMR
Music City Hockey Trip
Take a three day vacation to Nashville with Philly Sports Trips this October! The package includes direct flights, a three night stay at the Cambria Hotel Nashville Downtown, an all-inclusive tailgate, and tickets to the Flyers Predators game. $100 cash for anyone who shows proof they went to the Flyers game on the trip.