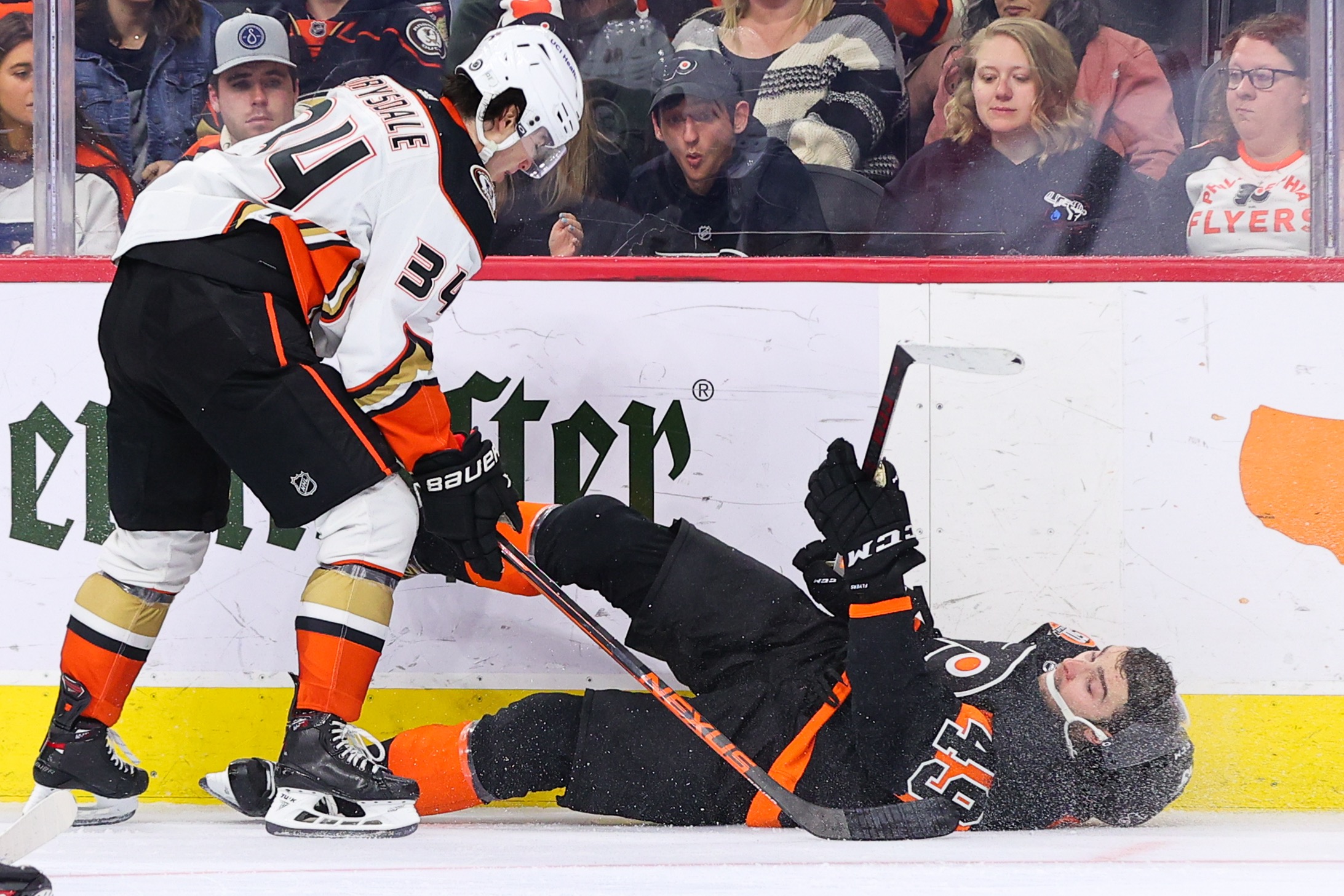 Flyers fall to Ducks after taking early lead on Lou Nolan Night
The Philadelphia Flyers came out with a dominant first period after the pregame ceremonies that honored public address announcer Lou Nolan, but they were unable to carry the momentum through the next two periods, and fell 5-3 to the Anaheim Ducks. Philadelphia's goal scorers were all defensemen this game, with Travis Sanheim (7), Ivan Provorov (8), and Ronnie Attard (1) scoring in their loss against the Ducks. Anaheim's goal scorers were Sonny Milano (13), Zach Aston-Reese (4), Trevor Zegras (19), Troy Terry (32), and former Flyer Derek Grant (13).
1st Period 
Travis Sanheim & Ronnie Attard scored early in the first that forced a Ducks timeout less than two and a half minutes into the game. The team was buzzing and they ended up outshooting the Ducks 16-6 by the end of the period. Sanheim scored first in the high right circle via a clean feed by Morgan Frost, behind the net, trickling in behind Anthony Stolarz.
Too Strong Travis Sanheim. #ANAvsPHI | #BringItToBroad pic.twitter.com/gdFX2tPrXZ

— Philadelphia Flyers (@NHLFlyers) April 9, 2022
Then just a minute and a half later, Ronnie Attard would send a blast from the point and just beat Stolarz's glove to give his first NHL goal. The goal was initially credited to Hayden Hodgson, but Attard was properly awarded the goal afterwards.
🔥 Came out FIRING. 🔥#ANAvsPHI | #BringItToBroad pic.twitter.com/IXzr5WYgRA

— Philadelphia Flyers (@NHLFlyers) April 9, 2022
Despite going through a drought, Cam Atkinson had a few close opportunities to score, and appeared to just miss due to unlucky puck bounces. Sanheim was roaring the neutral zone and causing havoc after every puck touch. Anaheim looked very much like a team that has lost 13 out of their last 14 games. Martin Jones too looked sharp, denying the speeding Jamie Drysdale on a breakaway, securing some confidence with the skaters defending him. Sadly, things flipped quickly between breaks.
2nd Period
We expected the Ducks to come out with a bit more pep in their step, and they did, but the Flyers still found a scoring chance to disrupt their comeback. Owen Tippett made a great read on the forecheck and stole the puck and released it off his stick in one motion, hitting iron (ever heard that before?). Then, Sonny Milano scored off a prime rebound chance from Drysdale, beating Cam York and Martin Jones to the puck, slicing the lead in half. The Ducks weren't done yet either. Henrique was able to float a wrister from the point just about a minute and half after their goal, and had his shot deflected by Zach Aston-Reese, tying the game up just like that, in the first five minutes of the middle period.
Anaheim would continue to control play, but then Morgan Frost made a unbelievable 360° pass in the offensive zone to James van Riemsdyk, who passed the puck to Travis Konecny, who appeared to have a wide open net and completely whiffed on the puck. It would not be too long after that play that Trevor Zegras would take the lead for Anaheim for the first time all game on the power play. This period ended with the a 17-4 shot advantage for the Ducks, totally flipping the game for the Flyers at home.
3rd Period
It was just a one-goal lead for Anaheim, and Ivan Provorov erased their first lead of the night less than four minutes in off a give-and-go pass with none other than Nate Thompson.
A picture perfect give-and-go from @NateThompson44 and Provy. #ANAvsPHI | #BringItToBroad pic.twitter.com/p5NE7ARJk3

— Philadelphia Flyers (@NHLFlyers) April 10, 2022
Zegras would go on to put Cam York on a highlight reel about eight minutes later, making a spin pass behind the net to Troy Terry, who nipped one by Jones's glove to regain the lead halfway through the final stanza. Just three minutes later, Derek Grant would pot a tap in goal via a slap pass from Andrej Sustr, landing the final nail in the coffin for any realistic shot for a comeback.
Up Next
The Flyers visit the Washington Capitals at Capital One Arena on Tuesday night on the first leg of a divisional back-to-back, before heading home to Philadelphia the next night to host the New York Rangers.